Looking for a healthier alternative to candy this Halloween? Try printing custom stickers with your own spooky design! They're sugar free and more importantly, they don't go in your mouth so they don't spread germs!
Also, our high quality vinyl stickers last a lot longer than candy! Your ghosts and goblins will enjoy your custom stickers for years to come.
At StandOut Stickers, we have had an influx of spooky, scary sticker designs come in just in time for the Halloween season and we're loving it.
Check out this creepy sticker design we just printed for Cavity Colors.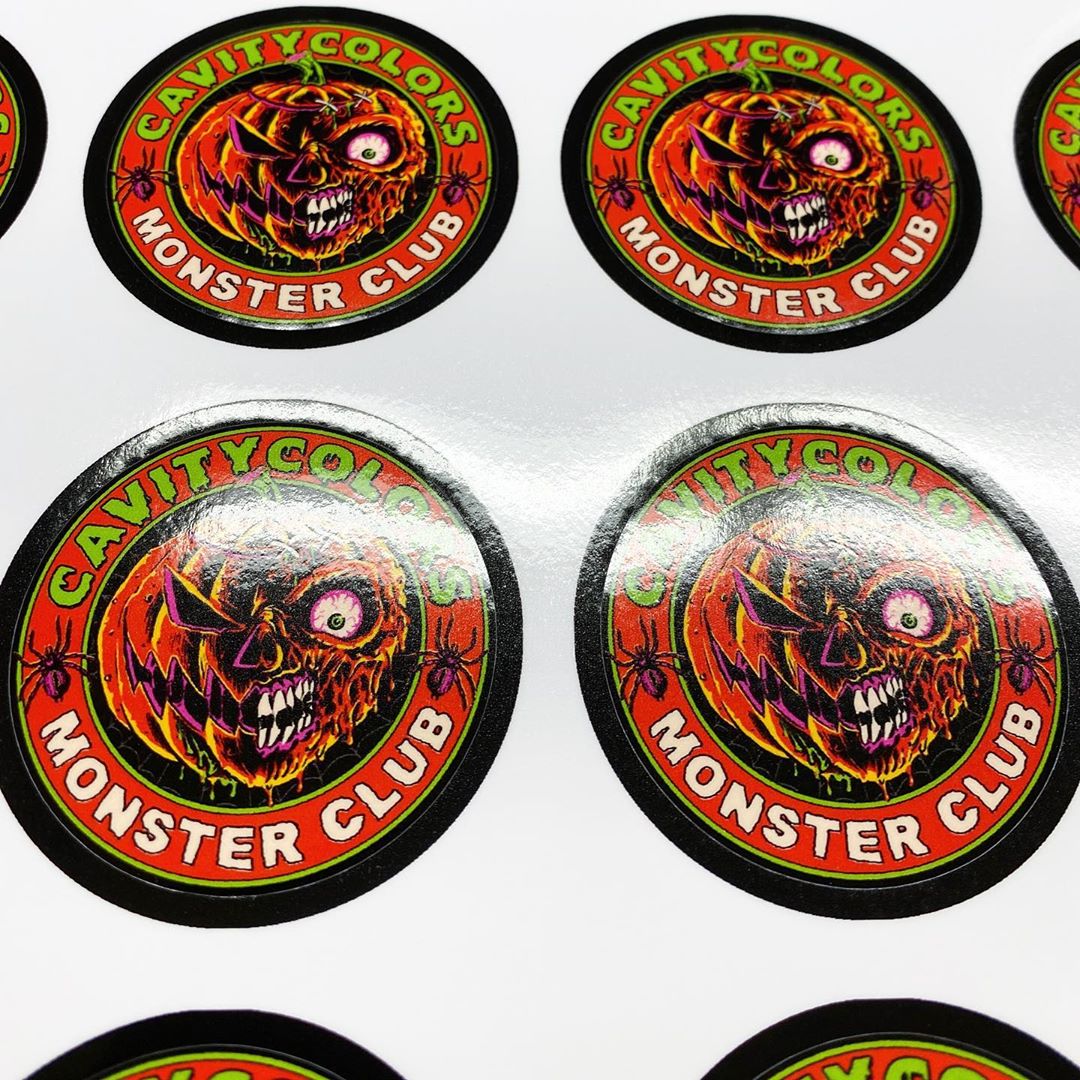 We make it easy to order custom stickers at StandOut Stickers – Simply choose a vinyl sticker size and shape, then upload your design, or create one in our free and easy online tool. You'll get a free digital proof and free shipping to cont. USA with code FREESHIP on orders over $25.
Our sticker printing is unmatched in quality, speed and professionalism. Give us a shot and you'll agree!
Stay safe and healthy this holiday season but don't forget to get creative with social distancing and have spooky fun in new ways!
Last Modified: October 14th, 2020
Vinyl stickers are king! Ok, we're biased, but hear us out. When you're looking to print custom stickers, you need to consider a lot of factors beyond price.
It's true that vinyl stickers are a bit pricier than paper labels, but they offer many advantages. These advantages increase the value and quality of anything the stickers are affixed to.
At StandOut Stickers we specialize in printing stickers on high quality weatherproof vinyl. We believe our vinyl stickers are superior to other types of paper stickers or paper labels.
Our stickers can be used on a variety of products. Whether installed indoors or outdoors, they offer many great benefits over cheap inferior sticker options.
When choosing a type of custom sticker to promote your brand or adorn your products you must consider the following:
Sticker Material Quality
The first thing to consider is the quality of your custom stickers. What kind of material are they printed on?
We print on 3mil thick vinyl sticker material. The vinyl sticker material is flexible but resists tearing. Unlike paper stickers, vinyl stickers are more durable.
After printing your custom stickers, we laminate them in your choice of satin matte finish, or original gloss finish. This 3mil thick UV resistant laminate protects the full color sticker printing from fading for years of outdoor exposure.
Finally we run your printed stickers through our Swiss computer guided cutting machines to produce a die cut sticker printed with extreme precision. This is the same precision machine that cuts our vinyl lettering and custom decals.
We only use the highest quality vinyl sticker material to ensure that we are printing the most durable vinyl stickers available.
Sticker Lifespan
How long do you need your custom stickers to last? If you're just looking for a cheap throwaway label, then look elsewhere. But if you want something that stays looking great for a long time, then you've found your sticker company.
Vinyl stickers resist fading, tearing and peeling compared to paper labels or cheaper sticker materials. They are built to last in extreme outdoor conditions, and last much much longer when used indoors.
We say that our full color stickers are guaranteed to last 3-5 years outdoors. However, we have applied many stickers that have lasted much much longer. The lifespan of your vinyl stickers really depends on the application location and weather exposure. See more notes on water and temperature resistance below!
Sticker Thickness
In most things, thickness and weight means great quality. Our high quality vinyl stickers measure 6mil thick- thicker than most competitors.
Why does thickness mean quality? Thicker vinyl material is less prone to cracking, peeling and shrinking. Thick sticker material is easier to peel and apply and has an overall richer feeling in your hands.
Sticker Flexibility
Vinyl stickers are flexible and can be applied to many smooth surfaces, contouring to the shape. For example- round poles, vehicle window glass and so much more. Our vinyl sticker material will hold to any clean surface it is applied to.
Sticker Removability
Have you ever tried to peel off a sticker or label and had it tear? This frustration is caused by stickers printed on cheap paper label material. It is one of our top pet peeves.
We don't print stickers that do that.
We do not print roll stickers on cheap paper material. Our cut to size stickers come as individual pieces.
All of our custom stickers are thick and durable. They stick where you want them but can be easily removed because the material is strong and doesn't crack or tear.
Outdoor Exposure
Our custom vinyl stickers are guaranteed for 3-5 years outdoors. Many customers have reported their bumper stickers looking great for much longer!
Since the printed stickers are coated in a UV-Resistant laminate, they look great in any season, rain or shine.
Water Resistance
Our vinyl stickers are printed on weather resistant waterproof vinyl material with eco-solvent inks. These are permanent inks that do not bleed or fade when exposed to water.
To make our custom printed vinyl stickers bulletproof we laminate them with your choice of matte or high gloss finish. This lamination step further protects our durable full color stickers.
Go ahead, put our vinyl stickers on your surf board and hang ten!
Temperature Resistance
Summertime heat can be harsh on anything, but our vinyl stickers can take a beating and keep looking great.
We have even tested our vinyl stickers on cups and water bottles that regularly go through the dishwasher. They stay looking great!
The vinyl sticker material used at StandOut Stickers does not degrade like other inferior materials under high heat environments.
UV Resistance
Every vinyl sticker printed by StandOut Stickers is coated in your choice of satin matte or gloss laminate. This UV resistant coating helps ensure the durability of your custom vinyl stickers for years in any scenario.
We have done the research. We tested competitor stickers and labels next to ours in outdoor sun exposure tests. StandOut Stickers vinyl stickers won every time.
Conclusion
When choosing a material for your custom stickers it is important to consider more than just cost. Vinyl stickers have always been and will continue to be the superior option for sticker products.
StandOut Stickers is a great choice for custom sticker printing. We offer free shipping and quick turnaround in 3-5 business days. Try us out!
Last Modified: October 6th, 2020
Ever wondered how we accomplish some of the finest sticker printing in the world? It's a relatively simple process that takes several talented professionals and some very advanced sticker printing and die cutting technology. Continue reading to see how the stickers get made at StandOut Stickers.
Sticker Artwork
When you order custom stickers from StandOut Stickers you must submit your sticker artwork before you complete your order. Your sticker artwork can be as simple as a photograph, a logo, or a more complex piece of art; perhaps a sticker sheet with several kiss cuts defined. We like to see artwork that is high resolution. Ideally sticker artwork is created at 300dpi in CMYK but we are ready to help if you do not understand these terms. Send us what you've got and we'll help turn it into awesome stickers!
We offer professional sticker templates to set up a number of standard sized sticker shapes. We also accept orders of custom stickers in any dimension or shape and offer a general die cut or custom size template with a few helpful setup notes included in the document.
Regardless of the quality or state of your sticker artwork, we are ready to help you set up a successful sticker for printing. Simply place an order and include any notes or concerns you have about your art in the notes field during checkout.
Sticker Proofs
Once we have your order and artwork, our team of in-house graphics professionals will review your art file and set it up as a free digital proof. A digital proof is a representation of the final printed sticker shape with final size and cut path denoted. Think of it as an extra quality assurance step where you get to check and approve that the sticker artwork is set up properly on our end.
If you have ordered a die cut sticker with a custom shape, we check that your unique cut line path is ready for printing and make necessary adjustments to ensure a clean finished product. If you need help creating a cut path, it's no problem.
If there is an artwork problem or question, this is the step where we reach out before we begin proofing. All orders get a free digital proof that you must approve before we print your stickers. This helps ensure that your stickers come out looking perfect every time. Digital proofs are sent via email within 24 business hours of placing your order, but often much faster!
Sticker Set Up
When your digital proof is approved, our professional graphics department is ready to set up your sticker design for printing on our large format digital printers. We put your artwork into a layout file that repeats your design in efficiently spaced rows to maximize the sticker material that is used and reduce waste. We run some quality assurance checks and queue your job on one of our many large sticker printers.
Sticker Printing
Now your sticker artwork is being printed on our high quality vinyl material! We load our large industrial sticker printers with rolls of super durable and high quality 3mil thick vinyl sticker material. As the stickers are printed, the material passes through the printer and wraps onto a second roll. When a roll of material is completely printed, we remove the printed roll and set it aside for lamination.
Our large format digital printers use vivid full color eco-solvent inks to reproduce your artwork with ultra fine detail and impressive resolution. Our printers use several more colors than a standard CMYK printing process to ensure perfect gradient blends and color accuracy. We've even been awarded G7 Master Facility status for color reproduction!
Sticker Finishes
Once your custom stickers have been printed they run through our laminator machine. Laminate is a durable, clear material with several protective and aesthetic benefits! When you order, we call this the sticker "finish". We laminate your custom stickers with either gloss finish or a satin matte finish; your choice at no additional cost. This 3mil laminate material protects your printed stickers from harmful UV rays, weather, and scratches to ensure that our stickers are some of the most durable custom stickers you can buy! The laminate finish also gives the stickers a hefty thickness, quality you can feel! The total 6mil thickness of our stickers is vastly superior to competitor stickers.
Die Cut Stickers
Now that your stickers have been proofed, printed and laminated, they're almost done! We finally load the roll of printed stickers onto our incredible flat bed digital cutting machines. These precision machines feature a computer-guided cutting blade. The machine is programmed with your unique die cut path and the roll of printed stickers is aligned and synced with the cutting machine to ensure precise cuts. As the robotic arm sweeps across your roll of printed stickers, it pushes the blade through the sticker material; all the way through the vinyl sticker material and the backing material for the outer cut line, and only partially through for kiss cuts. (Kiss cuts are lighter cuts that do not cut the backing material, so you can peel off a section of your printed sticker.)
Finally, the die cut stickers are collected into tidy stacks and shrink wrapped before heading to shipping!
Shipping Stickers
Once your sticker order arrives at shipping, it is promptly packed in an appropriately sized box with your order slip and stickers, as well as recycled paper or other biodegradable packing materials to help reduce shifting in transit.
We use branded tape to seal every box unless otherwise requested. "Blind shipping" is one of the free additional services we happily provide for many vendors and resellers. We ship via UPS and USPS. Once the shipping carrier of your choice picks up your order, we wave goodbye as your lovingly crafted custom stickers make their way to your doorstep.
All in a day's work at our humble sticker printing company: StandOut Stickers.
Last Modified: September 30th, 2020
At StandOut Stickers, we want to make printing custom stickers affordable. While we've got the highest quality stickers available, we are still at the mercy of USPS and UPS for delivery services.
We recently published a covid-19 shipping notice explaining that some rush delivery options may be less reliable or not guaranteed due to civil unrest or natural disasters. Unfortunately these types of events are out of our hands.
Our sticker production speed is still a quick 5 business days or less. So before you know it, your custom printed stickers will be shipped out in a lovingly-packed box.
Shipping services get more expensive by the day, but we're here to help! Every order over $25 shipped to the contiguous USA can score free shipping by using coupon code FREESHIP – this is a coupon that we've offered for many years now and it is our most popular coupon!
We want you to try our high quality stickers made of thick vinyl material and coated with your choice of a gloss or matte laminate finish. This laminate coating helps protect the vivid full color ink from UV rays and all types of weather; helping your full color stickers remain free from fading, scratching or peeling. We are one of the only custom sticker printers to offer a choice between two unique sticker finishes.
So give us a shot, save on shipping, and put a smile on your face with StandOut Stickers!
Last Modified: September 28th, 2020
Looking for a way to advertise and promote your brand? Or maybe you're getting a new company or a band started and you need to get your name out there. Our custom stickers are perfect advertising vehicles. Your stickers are exciting, collectable, and most importantly FLAT which means they can be shipped cheaply in a standard letter envelope!
Our high quality stickers will elevate your brand and make you look professional. Stunning high resolution sticker printing with your choice of gloss or satin matte finish, our weatherproof vinyl stickers set the gold standard for custom stickers.
Our minimum order is just 75 stickers for our standard shapes, but we also offer completely custom shaped die cut stickers with a minimum of just 125 stickers. We offer big discounts on higher sticker quantities and offer 15% off all reorders when you run out, which is sure to happen when everyone wants one of your awesome custom stickers.
In these trying times your comeback story starts here with custom stickers by StandOut Stickers!
Last Modified: September 1st, 2020