Custom Stickers Blog
Welcome to the StandOut Stickers Blog! Here you can find news about our high quality kiss cut stickers, die cut stickers, coupons for cheap stickers and other posts about our custom vinyl stickers. But it's not all sticker talk! We also feature content and sales on custom magnets, custom floor decals and cut vinyl decals.
Die Cut Magnet Examples
Our amazing new Die Cut Magnets can be printed in any size or shape! Just like our die cut stickers, when you order die cut magnets you upload your custom artwork and within 24 hours we will reply with your free digital proof! Your die cut magnets are then manufactured with premium 22mil thick magnetic material and printed in vivid full color with our eco solvent inks.
Custom magnets printed by StandOut Stickers have an 60lb per square foot magnetic pull rating, which means they're effective at any size, but the larger magnet you order, the stronger they hold! Die cut magnetic signs can be cut in large custom shapes and make for effective signage.
If you need logo magnets, our die cut magnets are the perfect solution. Create a magnetic logo that people will be proud to display and enjoy introductory low pricing on all custom magnet orders for a limited time!
Die Cut Magnets are durable, fun, collectable and reusable! Order Die Cut Magnets today or check out more Die Cut Magnet Samples on our website!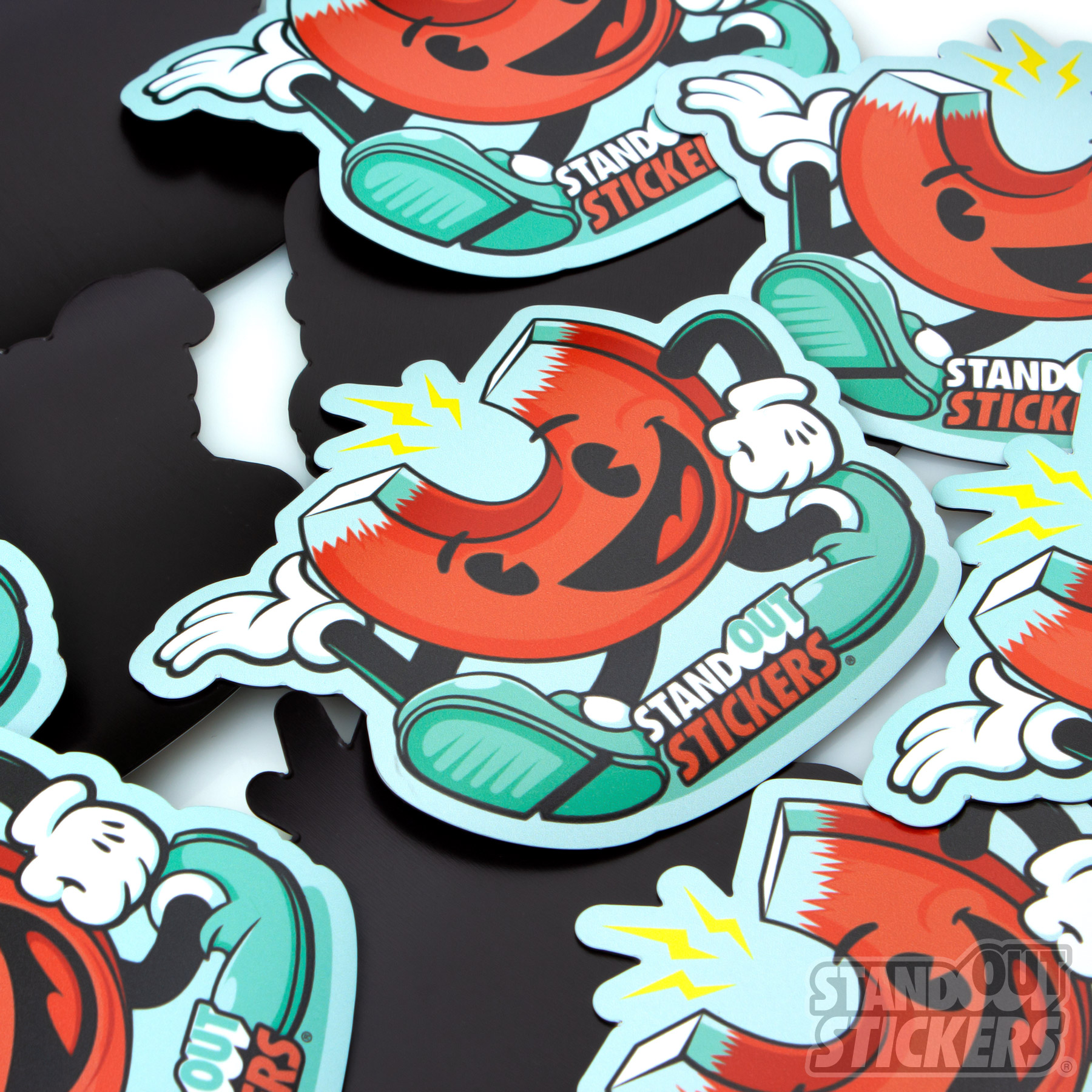 The above photo of die cut magnets feature our new flexible magnets character! Get one of these magnets free in any order from StandOutStickers.com or PureButtons.com for a limited time.
Our die cut magnets are printed in vivid full color like the example above for Happy Hour Shades. Our eco solvent inks are bright and durable, for sharp and impressive printed magnets!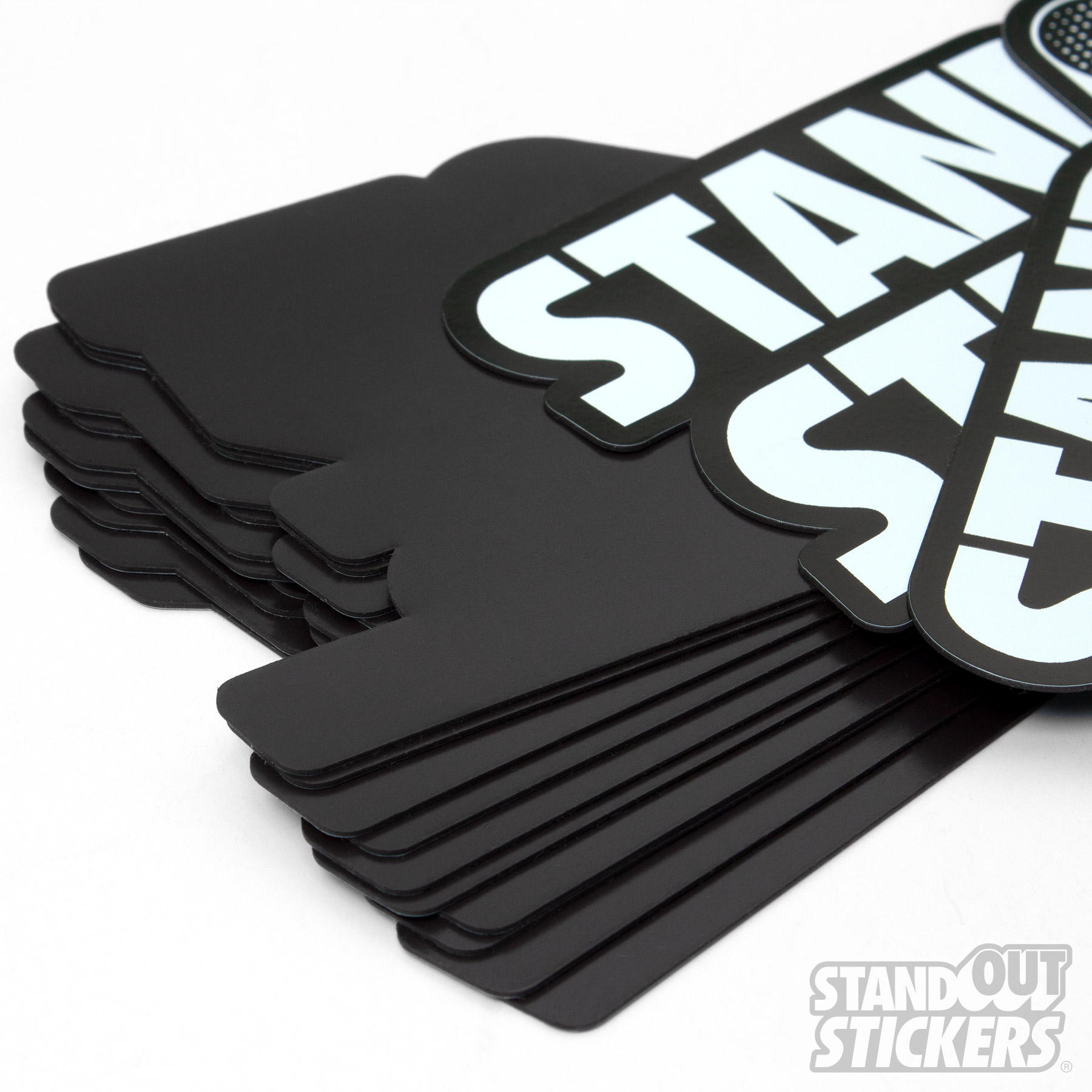 The photo above of StandOut Stickers logo magnets show the thick material of our custom magnets. Each magnet is 22mil thick (.56mm) and features 60lb per square foot of magnetic pull!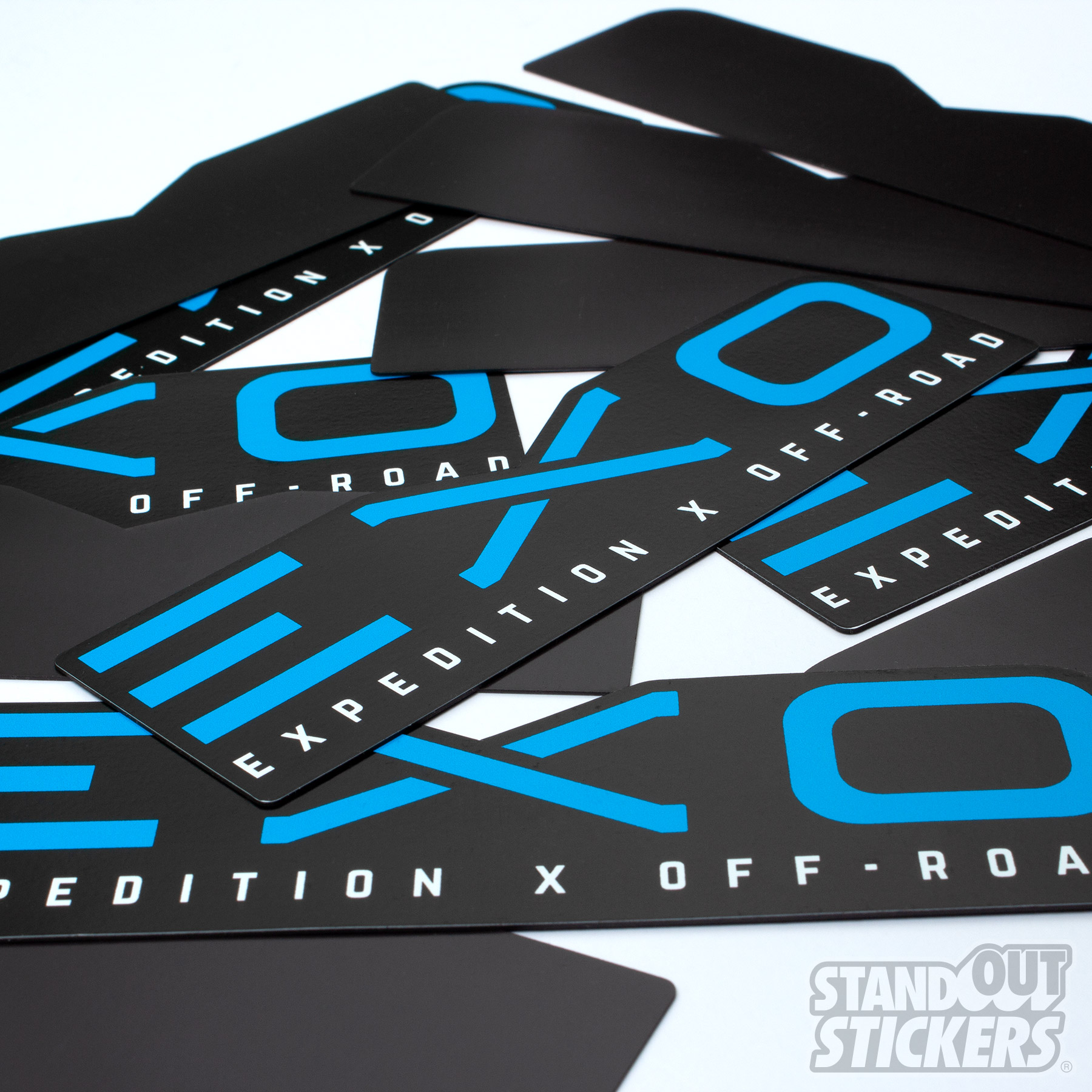 Logo magnets are a perfect use for our die cut magnets. The above photo of magnets for Expedition Off Road feature a subtle die cut shape that sets off the logo design more than a standard rectangle shaped magnet would. If you need a collectable and reusable way for customers and fans to display your logo, choose our die cut magnets.
Custom Magnets now available!
We are pleased to announce our first new custom product since we opened in 2009: Custom Magnets!
You can now create flexible custom magnets in any size or shape. Ordering custom magnets is just like the process when you order Custom Stickers. Custom magnets are available in all of the same shapes and sizes as custom stickers and you can use our free online tool to design custom magnets in your browser! When you do, you'll get an instant digital proof to approve before purchasing.
Enjoy limited introductory pricing on our custom magnets! No additional costs for die cut or unique size magnets. Our custom magnets can currently be purchased for the same or less than our custom stickers!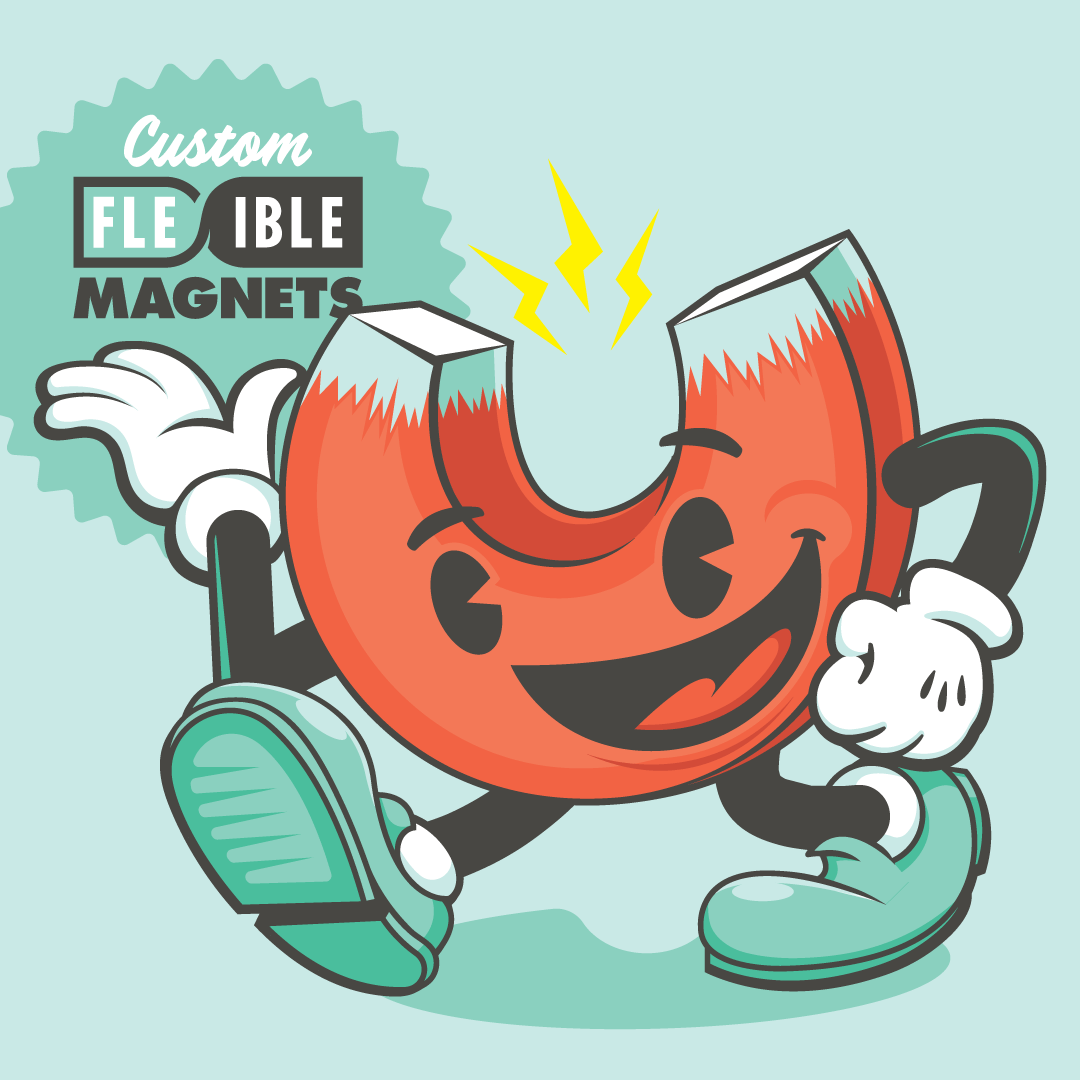 Our high quality custom magnets are printed on thick magnetic material (22mil) and feature vivid high resolution graphics printed with our premium eco solvent inks. These flexible fridge magnets feature 60lb per square foot of magnetic pull. What's that mean? It means they cling tight to any magnetic surface, and the larger they are, they better they stick!
Custom magnets are perfect as fridge magnets or magnetic signs. You can create logo magnets or magnetic business cards, magnet Save The Dates, photo magnets and more. The limit is your imagination!
If you need a unique magnet shape, go with die cut magnets which can cut to any size or shape. Our expert art team will send you a free digital proof to approve before printing to ensure die cut perfection, every time! Die Cut Magnets can be ordered as few as 125 magnets.
If you're looking for standard shapes like circle magnets, oval magnets, square magnets or rectangle magnets, you can order as few as 75 magnets.
We have new galleries of custom magnet samples for you to check out before you buy! But rest assured that all custom products by StandOut Stickers are high quality and you won't be disappointed!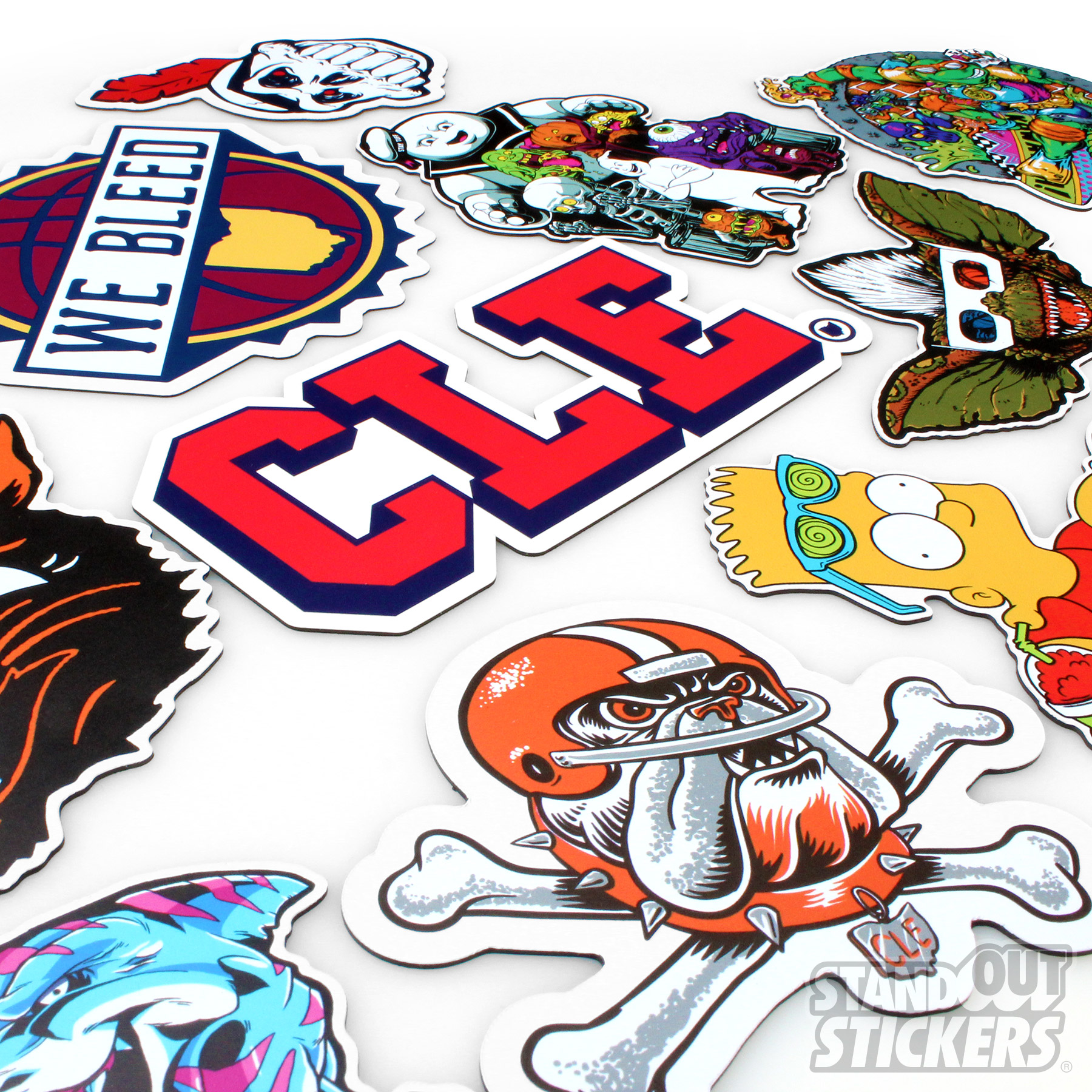 20% Off Coronavirus Floor Decals
We are pleased to announce a sale on our popular coronavirus floor decals. Many companies and cities across the country have chosen these durable and high quality floor decals to help maintain social distancing and remind people to wash their hands during this difficult era of COVID-19.
These custom floor decals measure 11.5″ wide and feature a stronger adhesive than our custom stickers. Our floor decals are made of a high quality pvc vinyl with a textured non-slip surface for safety. This thick and durable floor decal is designed as temporary signage. Lifespan of the floor graphic depends on the density of foot traffic in the applied location.
Choose from our two high quality floor decal designs. The Keep Your Distance Floor Decal will remind people how to form a line while keeping 6 feet from the next person to help reduce the spread of disease.
Our excellent Wash Your Hands Floor Decal is suited for bathrooms and kitchens, or anywhere people may need a reminder to maintain proper hygiene.
Use code FLOOR20
to take 20% off when you order floor decals.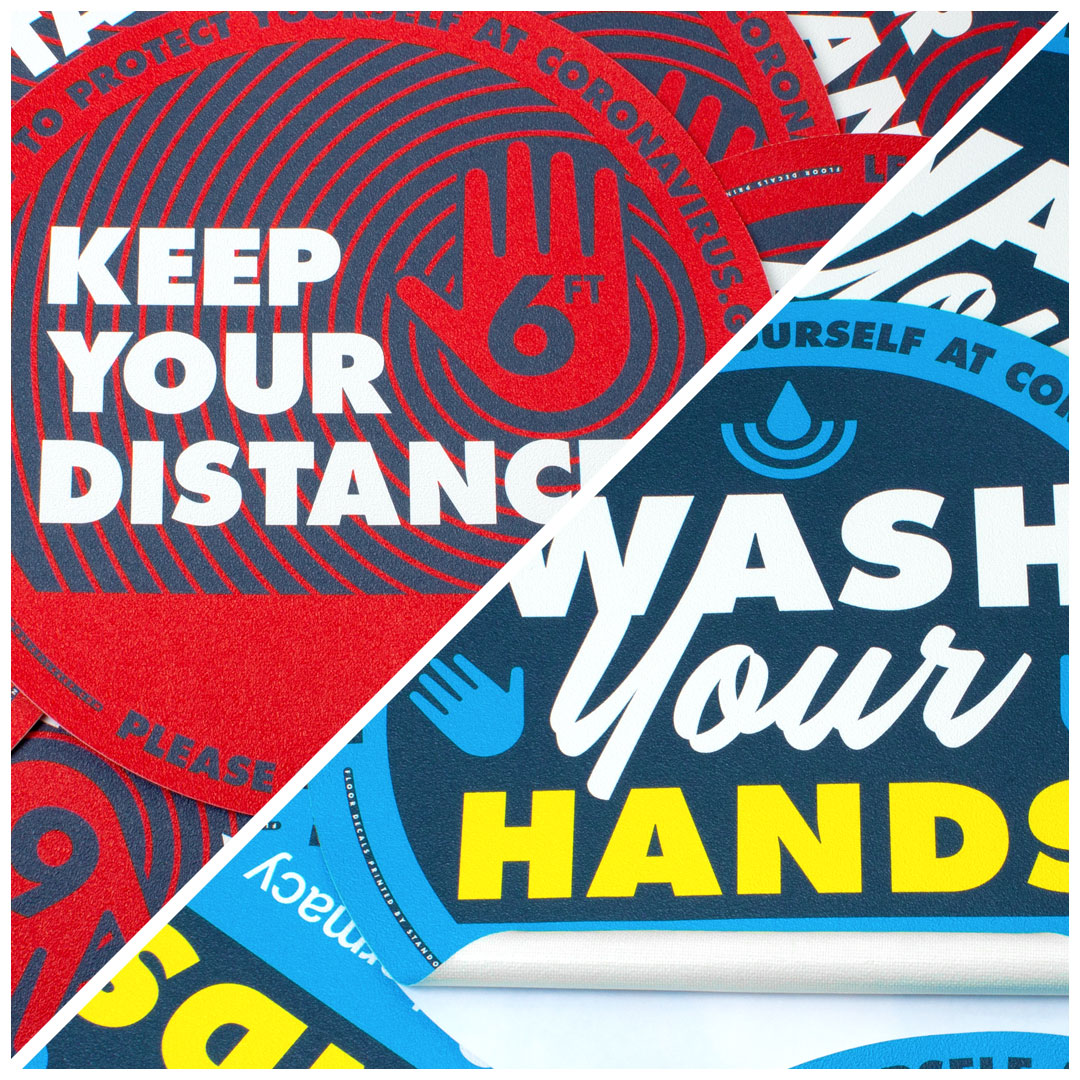 Customize Your Own Coronavirus Stickers
We are pleased to announce that our popular coronavirus stickers are now available for you to customize in our easy art tool! Simply choose "Customize Your Own" from the dropdown under your preferred designs.
The coronavirus sticker design will quickly load in our online tool where you can drop in your logo or custom text and approve your instant digital proof before you buy!
We also offer these coronavirus stickers with StandOutStickers.com branding on the bottom at a 20% off discount. As always, you can add one of each of these designs to your cart for free, just pay shipping!
Update: We just added these designs into our free customizer tool. Simply click to add an image/text and "choose from designs" in the options menu. You'll see the coronavirus gallery of designs available for you to drop into any size of sticker. You are also able to alter the colors of the designs using this method too!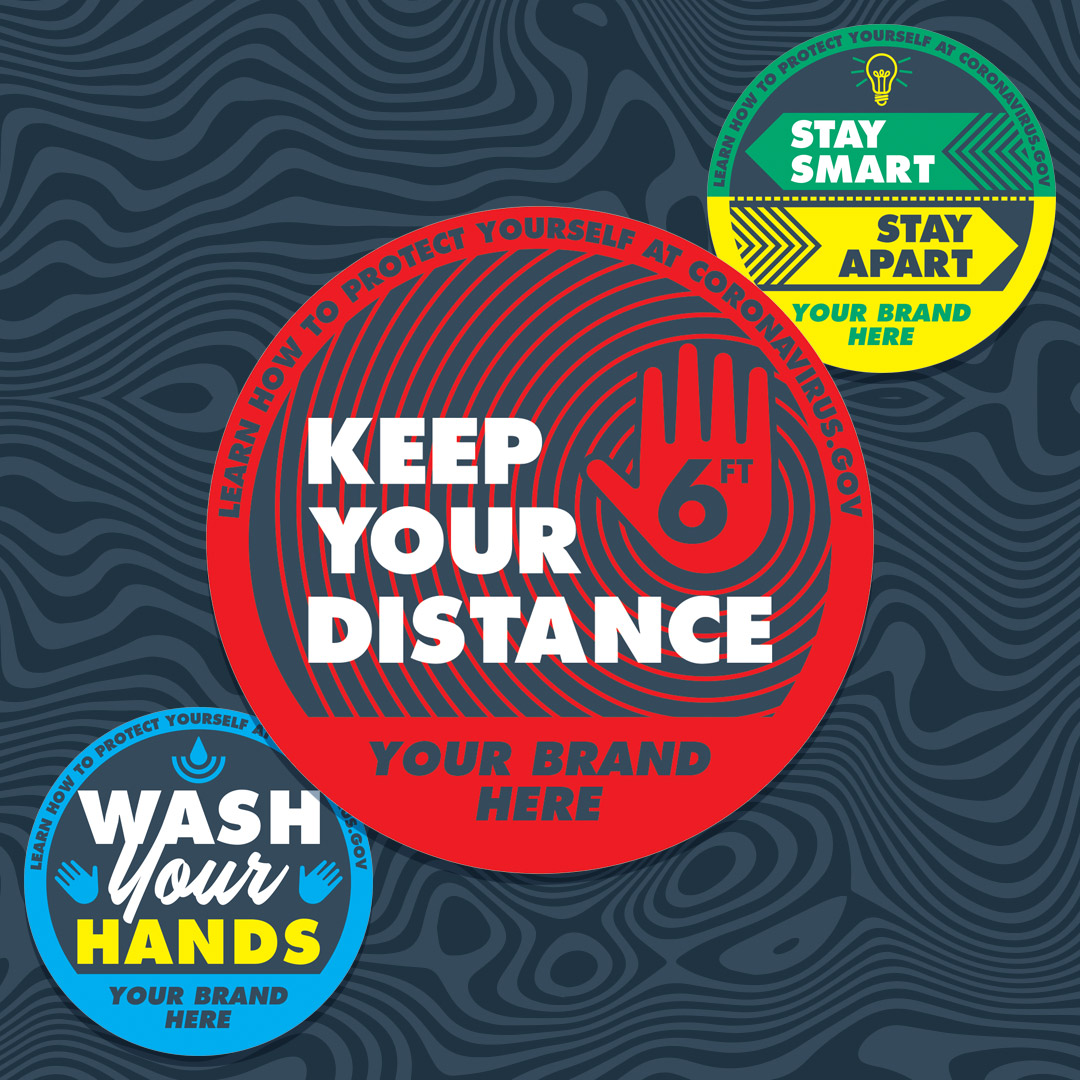 Keep Your Distance Floor Decal
We are pleased to announce a new product! Floor Decals! These KEEP YOUR DISTANCE Floor Decals are 11.5″ wide and are made of a durable PVC material with a non-slip texture and stronger adhesive than our custom stickers.
We also offer a WASH YOUR HANDS Floor Decal for purchase! Our coronavirus floor decals are offered for a limited time for just $5 each.
If you'd like to design custom floor decals, please contact us.
Floor decals are meant as temporary signage and stick strong while removing with minimal to no residue. Floor Decal printed graphic lifespan depends on the installation location and amount and type of foot traffic.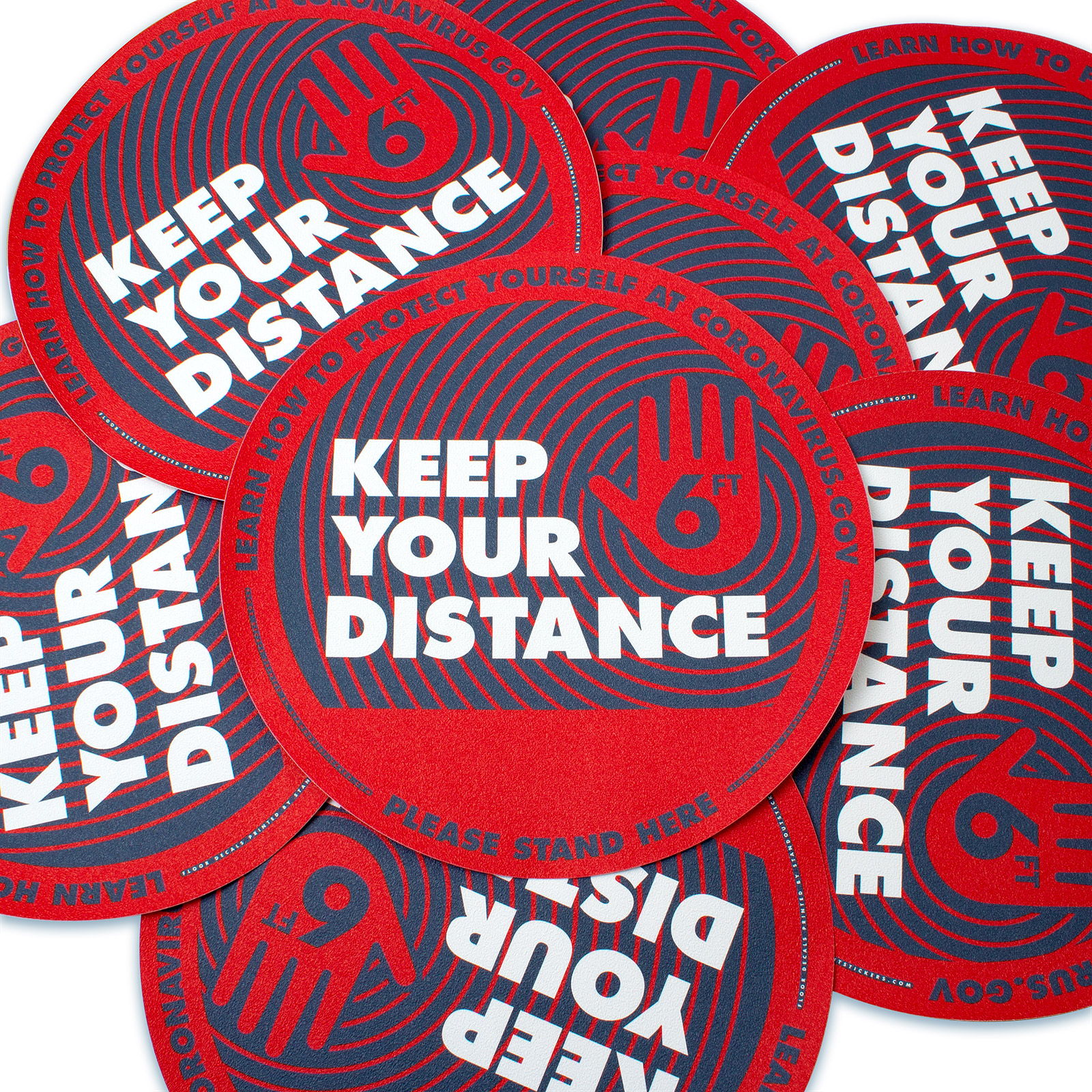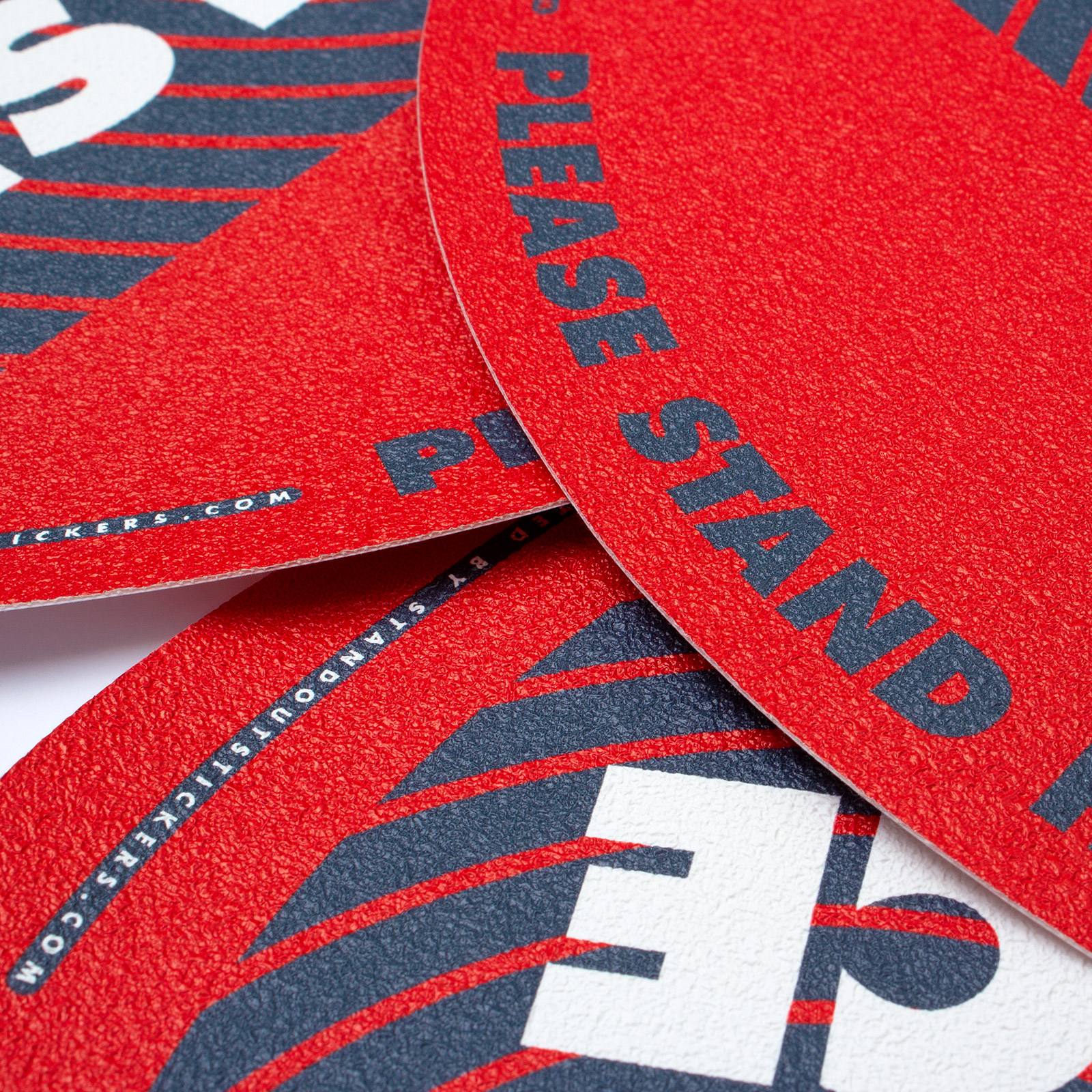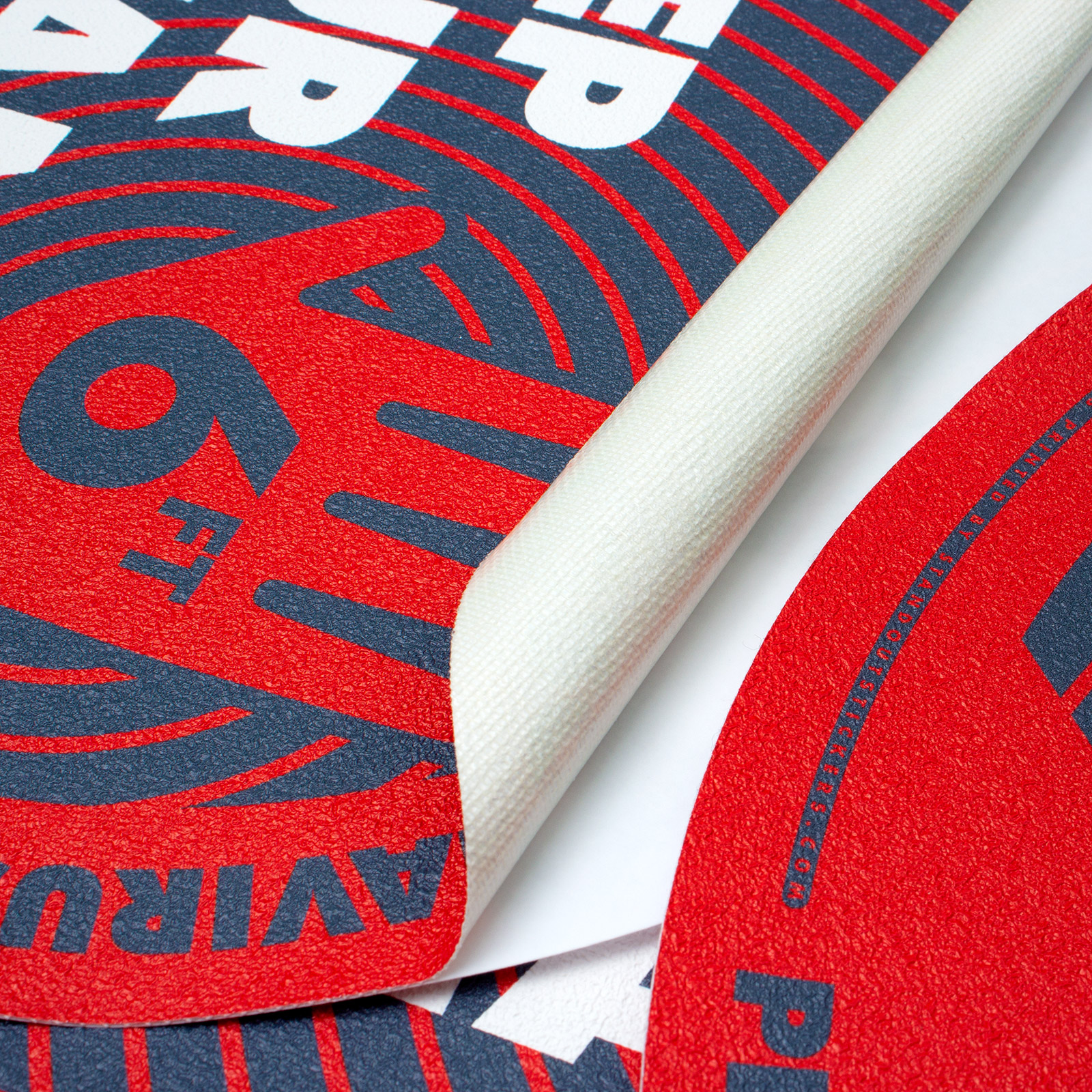 Call 800-710-2030