Custom Stickers Blog
Welcome to the StandOut Stickers Blog! Here you can find news about our high quality kiss cut stickers, die cut stickers, coupons for cheap stickers and other posts about our custom vinyl stickers. But it's not all sticker talk! We also feature content and sales on custom magnets, custom floor decals and cut vinyl decals.
Custom Floor Decals Available Now
We are pleased to announce our second new product line this year! Custom Floor Decals are now available to order online. Your floors have a LOT of potential for advertising to or informing your visitors, so why aren't you putting them to work?
If you're familiar with our website and ordering process, we offer the same shape options when ordering floor decals:
Die Cut Floor Decals
Circle Floor Decals
Square Floor Decals
Oval Floor Decals
Rectangle Floor Decals
Simply choose the floor decal shape you desire and enter a size and quantity. Our standard shaped floor decals have a minimum of 75 floor decals (circle floor decals, square floor decals, oval floor decals, rectangle floor decals) and our die cut floor decals have a minimum of 125 decals.
If you're interested in ordering large floor decals, our minimum quantity lowers based on surface area per decal. 100 sq inches per decal (10″x10″) has a minimum order of 10 floor decals. 144 sq inches per decal (12″x12″) has a minimum of 5 floor decals. Floor decals with a surface area of 400 square inches or more have a minimum order of just one floor decal. Please contact us to place a low minimum quantity order of large floor decals.
For floor decals under 144sq inches (12″x12″), you can design them in your browser in our free customizer tool and get an instant digital proof to approve before you checkout.
Our custom floor decals are made of a heavy duty, thick pvc vinyl material with a textured slip-resistant surface. Floor decals are reinforced with a fabric material and strong adhesive on the back.
Floor decals are meant as temporary floor signs and can be removed easily with little to no residue left behind.
Take a look at our Custom Floor Decal Samples below to see the incredible textured anti-slip surface of our full color floor decals.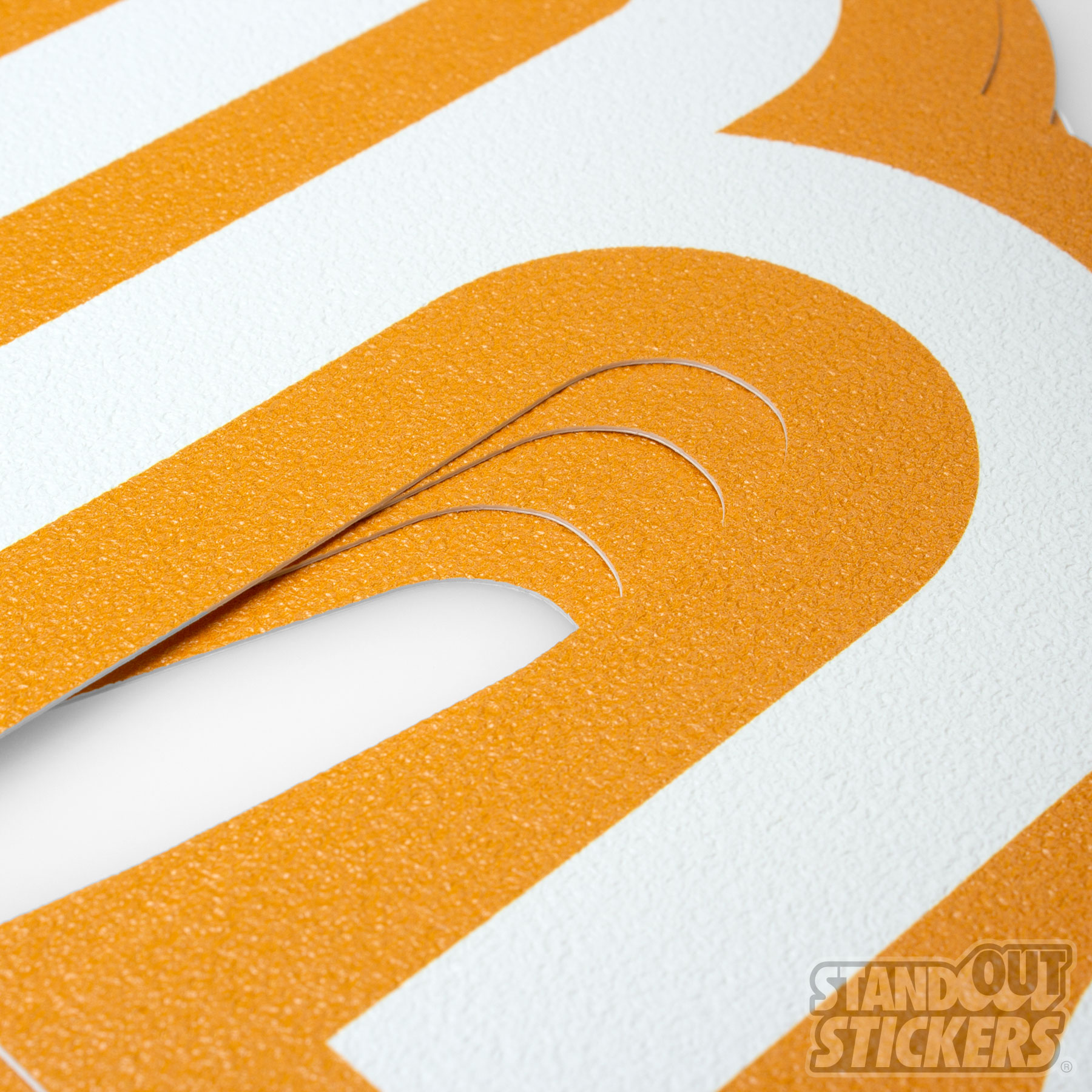 Our floor decals have a textured anti-slip surface seen above. We print our full color floor graphics with resilient eco-solvent inks for brilliant color reproduction.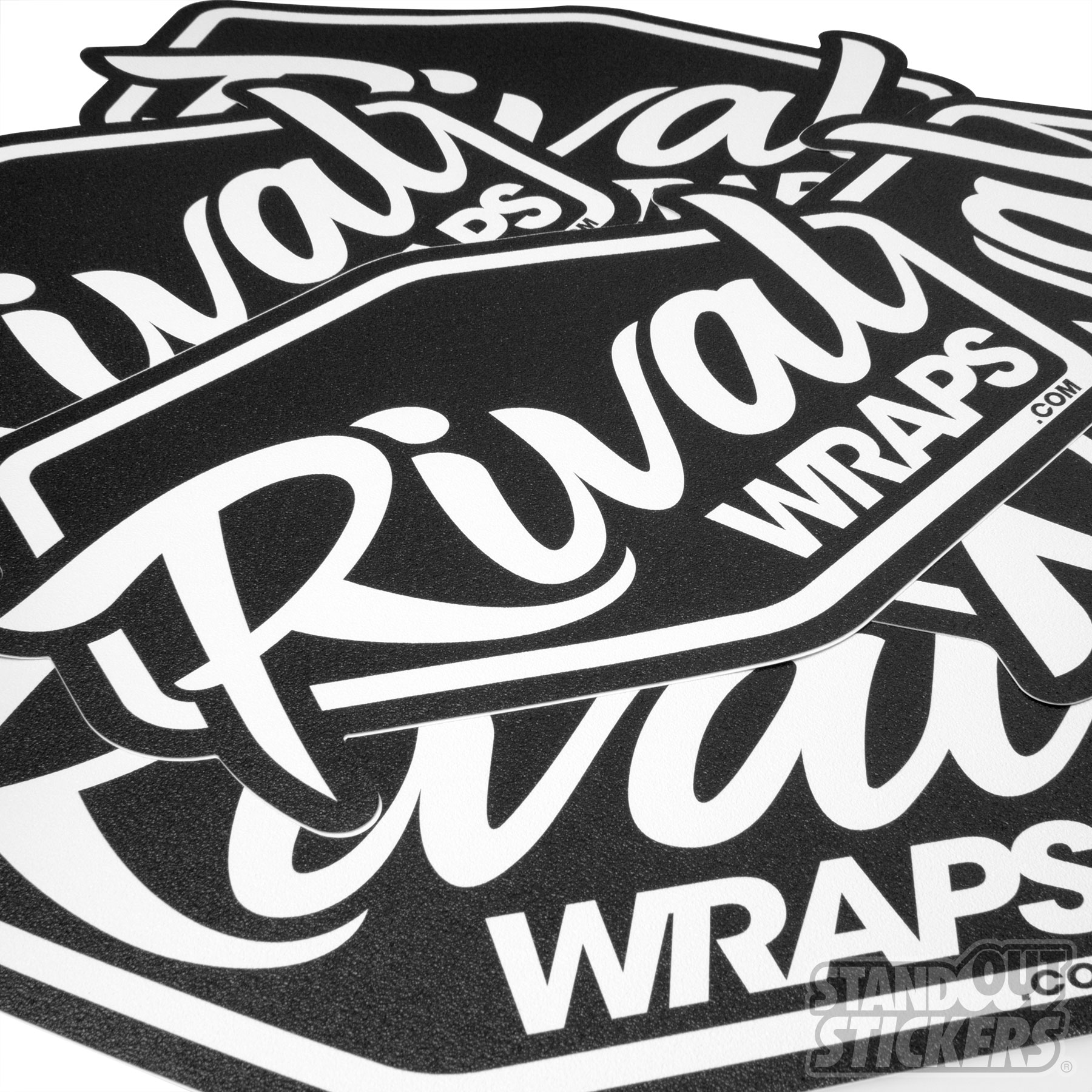 We print full color floor decals but the black and white floor decals for Rival Wraps pictured above are stunning. Consider a bold floor graphic design for floor decals that will get noticed!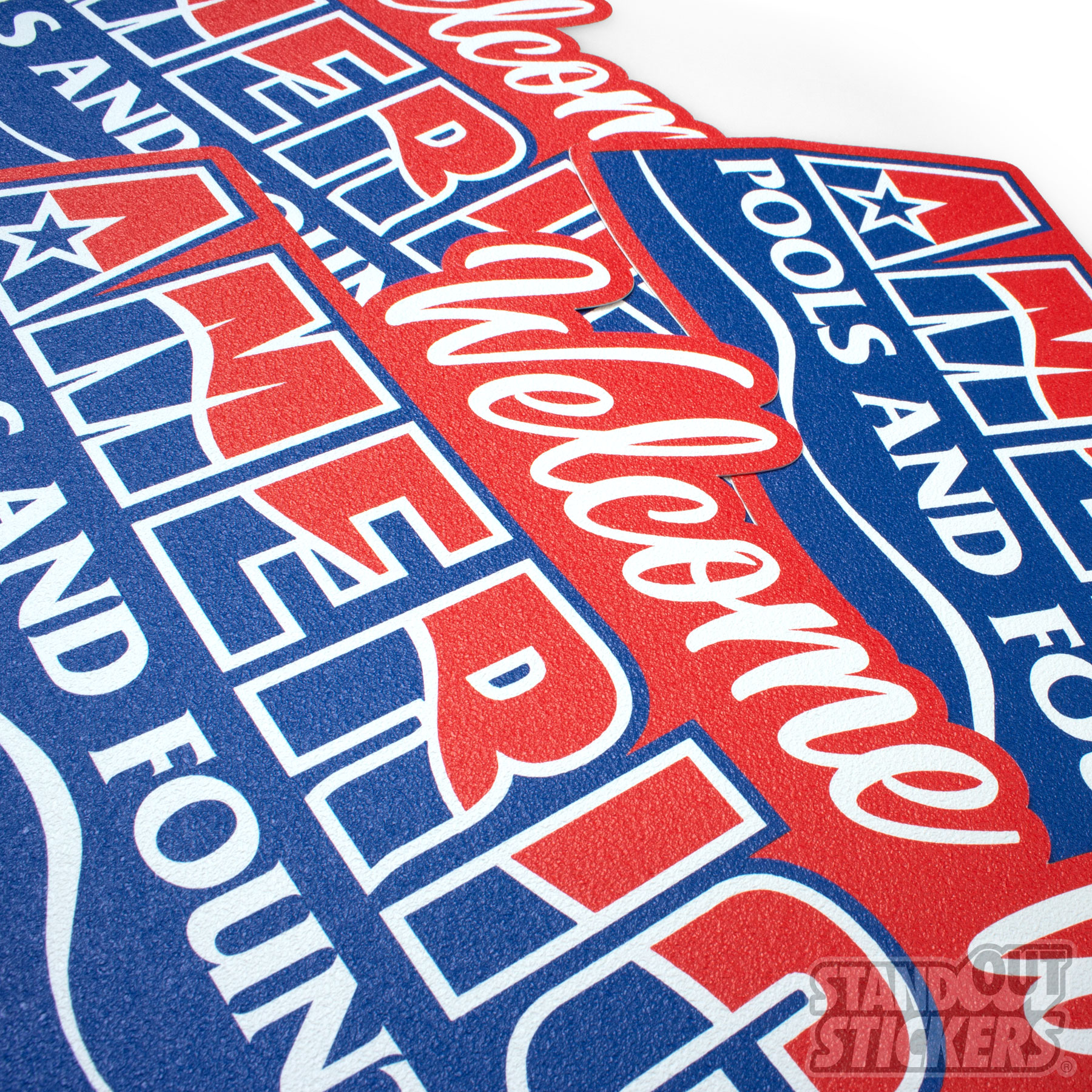 Use our custom floor decals to welcome visitors to your business. The die cut floor decal above welcomes visitors to American Pools and Fountains.
Whether you call them floor decals, floor signs or floor graphics, our newest product will help you grab attention. This versatile product can help direct foot traffic, encourage social distancing, advertise, or welcome visitors. Order custom floor decals today and put your floors to work for you!
Create logo magnets in minutes!
You need to keep your name on your customers' mind. Why not give them a way to easily hang your logo on their fridge or in their office with high quality logo magnets?
Simply choose the magnet size and shape you want and upload your logo. Our team will quickly be in touch with your free digital proof!
We can print logo magnets in any size or shape! Whether you need a large logo magnet or a small business card magnet with your logo on it, we will print your logo magnets in stunning full color and give you a free digital proof with every order.
Order Custom Magnets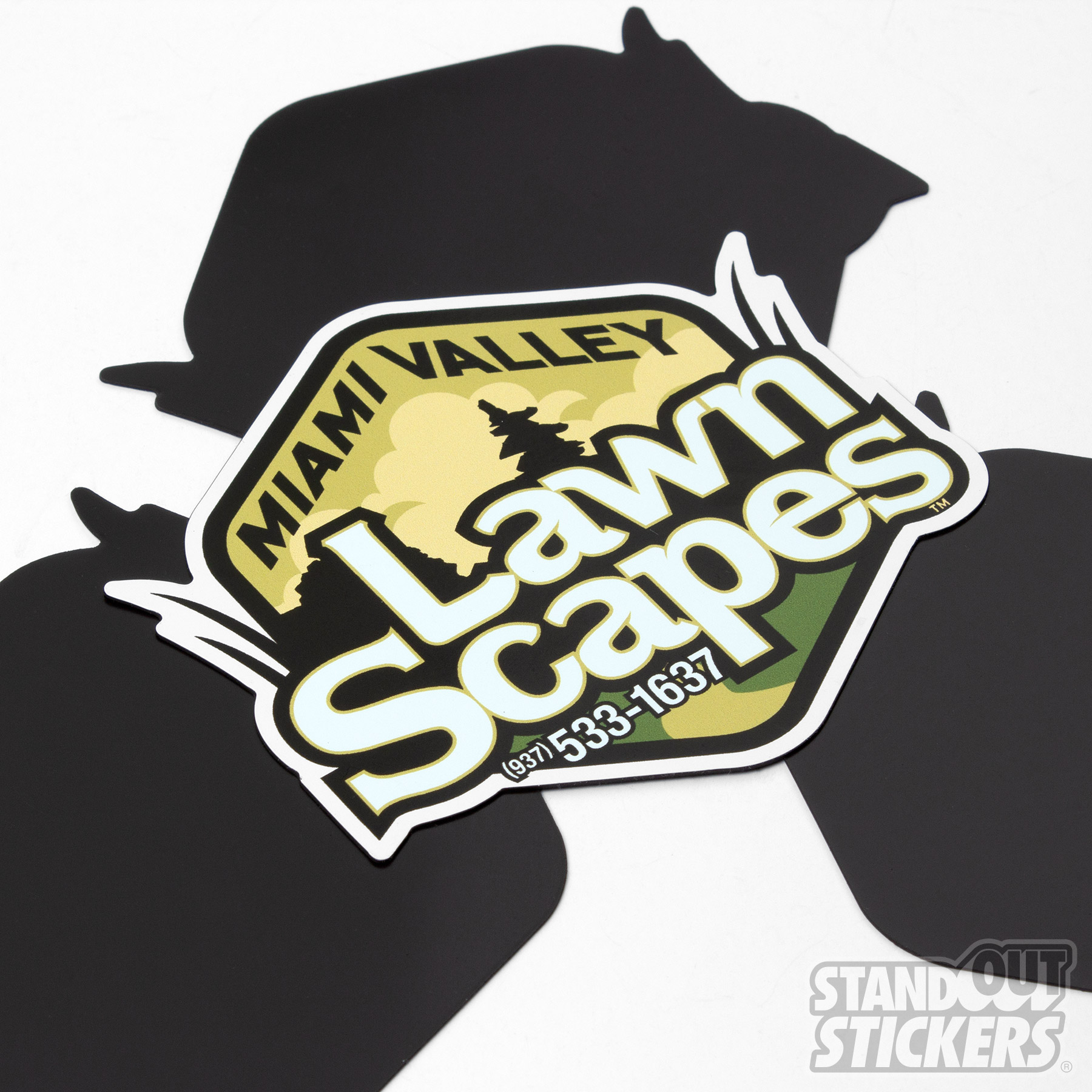 Campaign Sticker Templates Added to Our Free Online Tool
PureButtons' popular campaign button designs have now been added to the StandOut Stickers customizer tool! Create your own campaign stickers online and get an instant digital proof to approve before you checkout.
These free campaign sticker designs can be edited with your own color choices, photos, custom text and logo. The designs can be accessed by choosing "Add Image + Text" and then "Choose From Designs". They are under the "Campaign Stickers" design gallery. In this menu you will find all of our other assets provided to help you create a professional custom sticker design right in your browser!
These campaign sticker designs can be added to any of our customizable full color products like custom stickers or custom magnets.
Try it out today:
Design Custom Stickers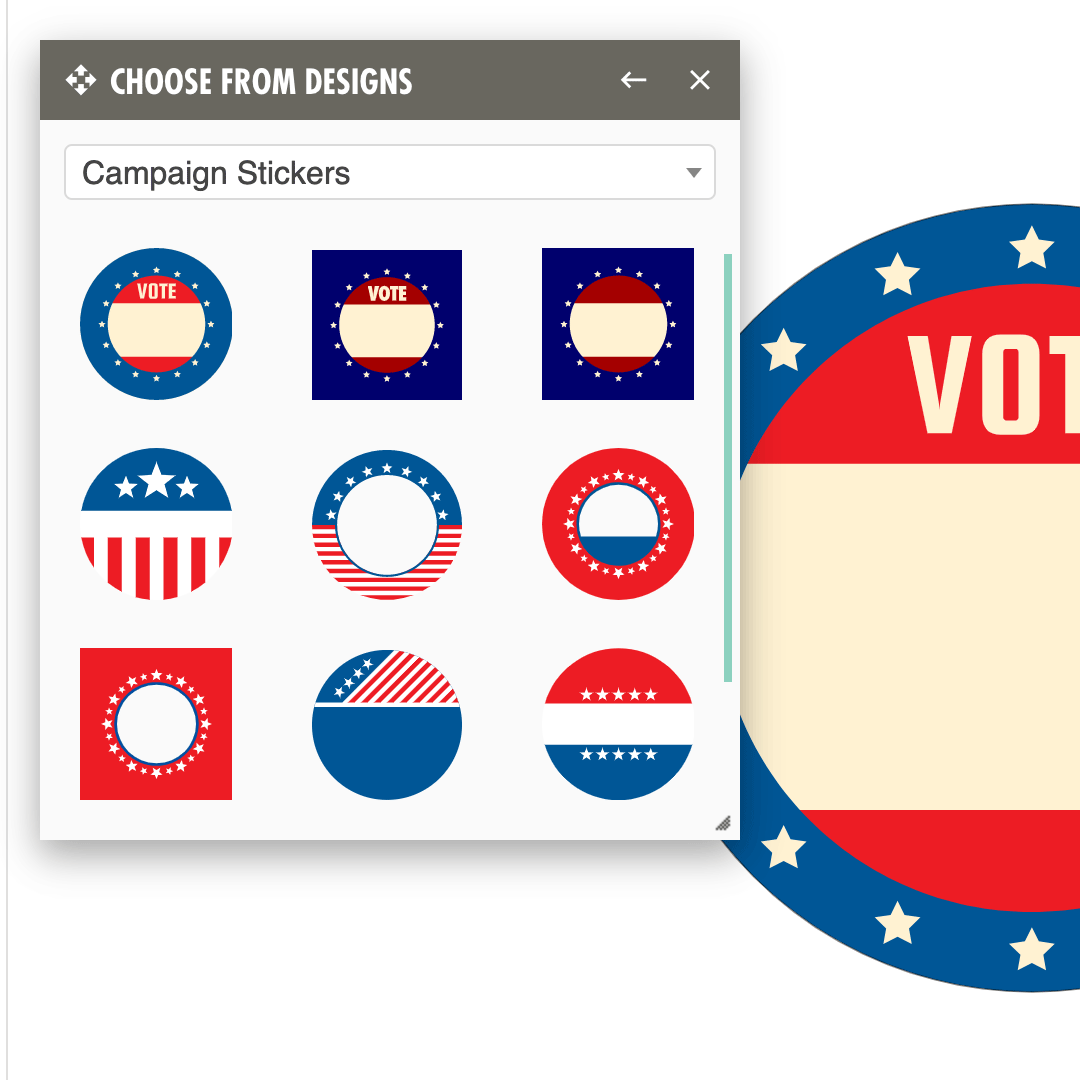 Examples of our Slip Resistant Custom Floor Decals
We have recently unveiled a series of helpful floor decals to direct foot traffic and remind people to keep social distancing and increase hygiene.
These slip-resistant floor decals feature a textured pvc surface and strong adhesive that removes with little to no residue. Take a look at the photos of these excellent floor decals and see if you could use them in your place of business.
Order Custom Floor Decals & for a limited time we are offering 20% off floor decals with code FLOOR20
These high resolution floor decal sample photos showcase the unique anti-slip texture that is only available on our custom floor decal product!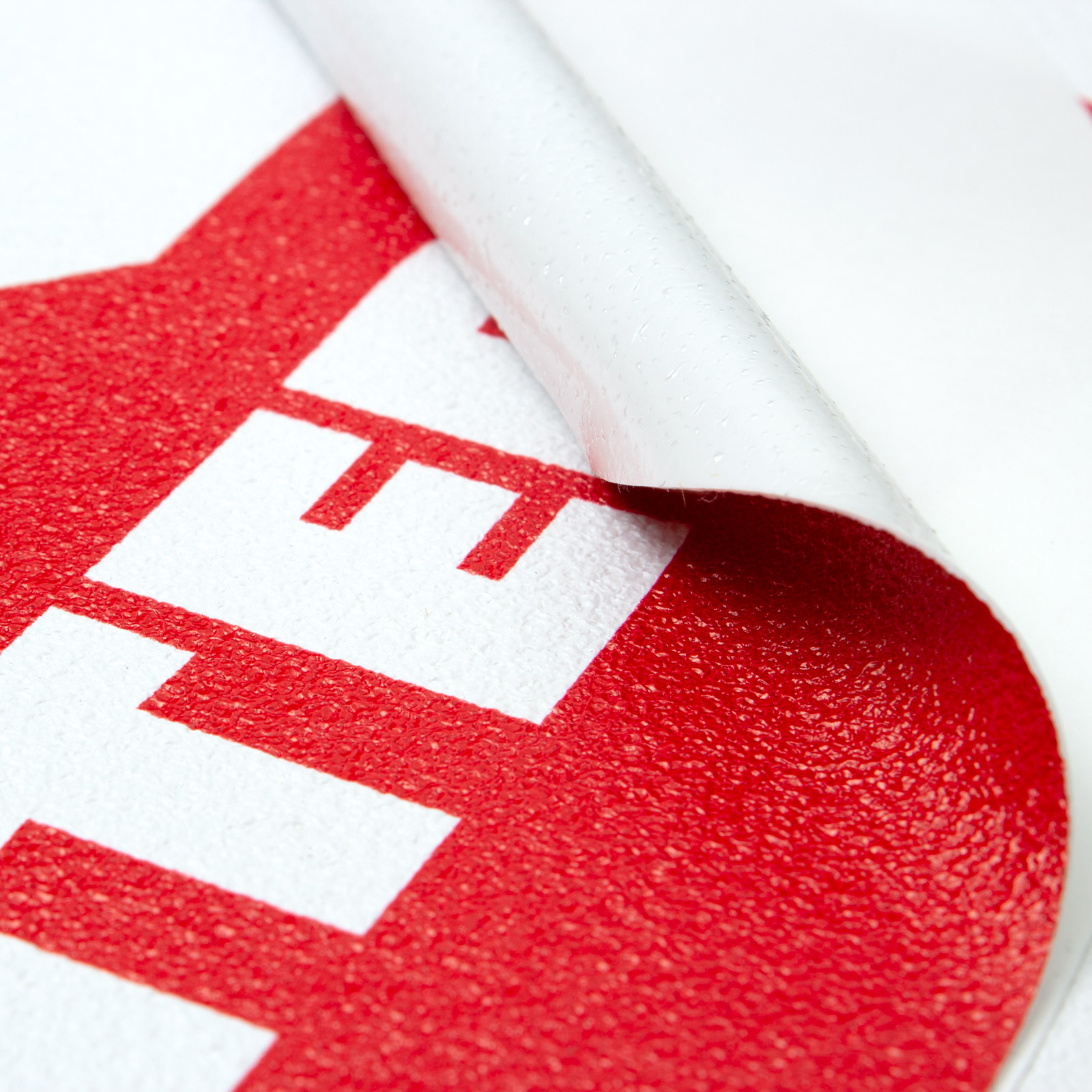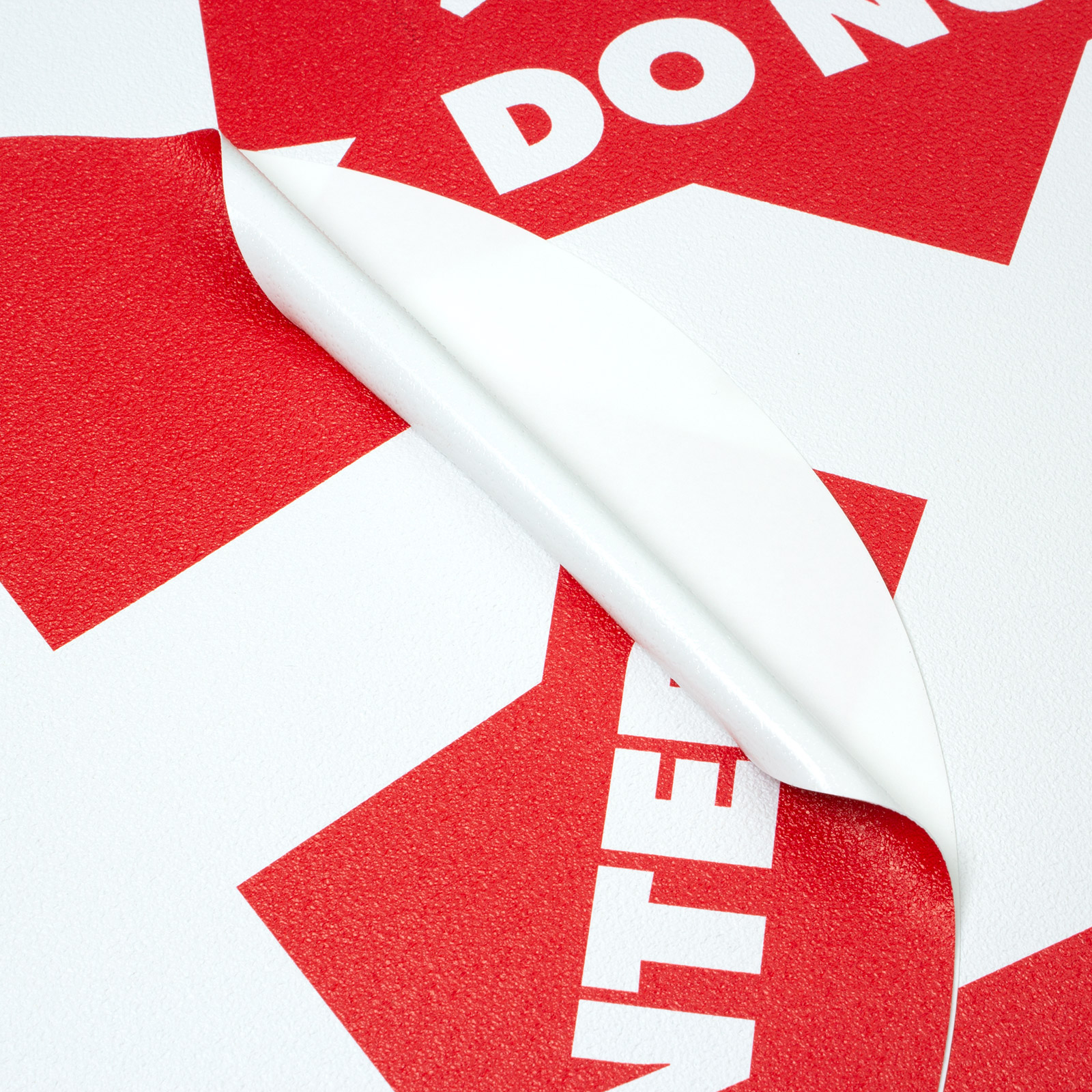 The floor decals above are our Do Not Enter Floor Decal. This floor graphic features a bright red design and a slip-resistant floor decal texture which ensures that these floor decals do not pose a tripping hazard. Use these directional floor decals to help create a directed flow of foot traffic to increase social distancing among the visitors to your business or facility. You can even use these to just mark locations that are off limits to non-employees or visitors.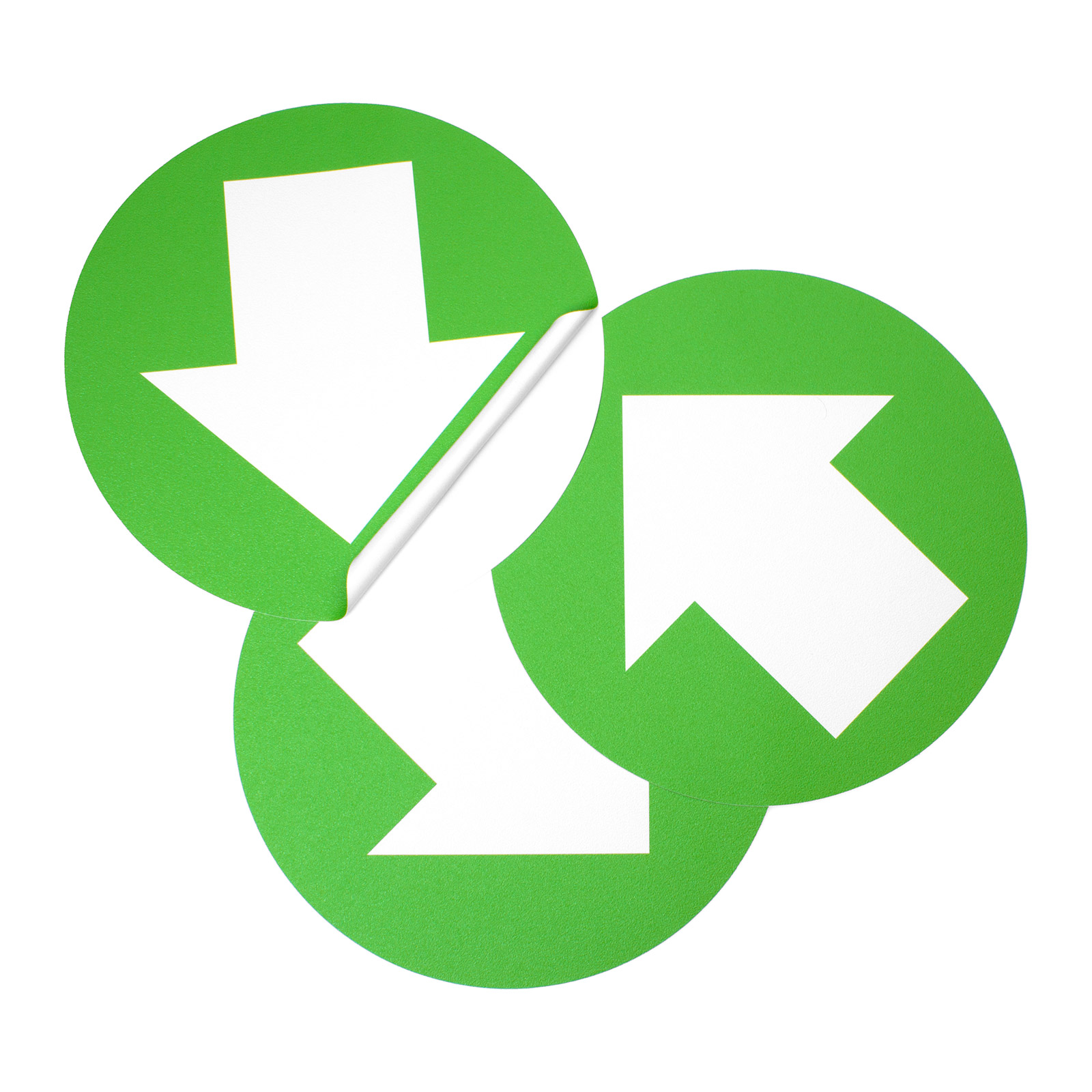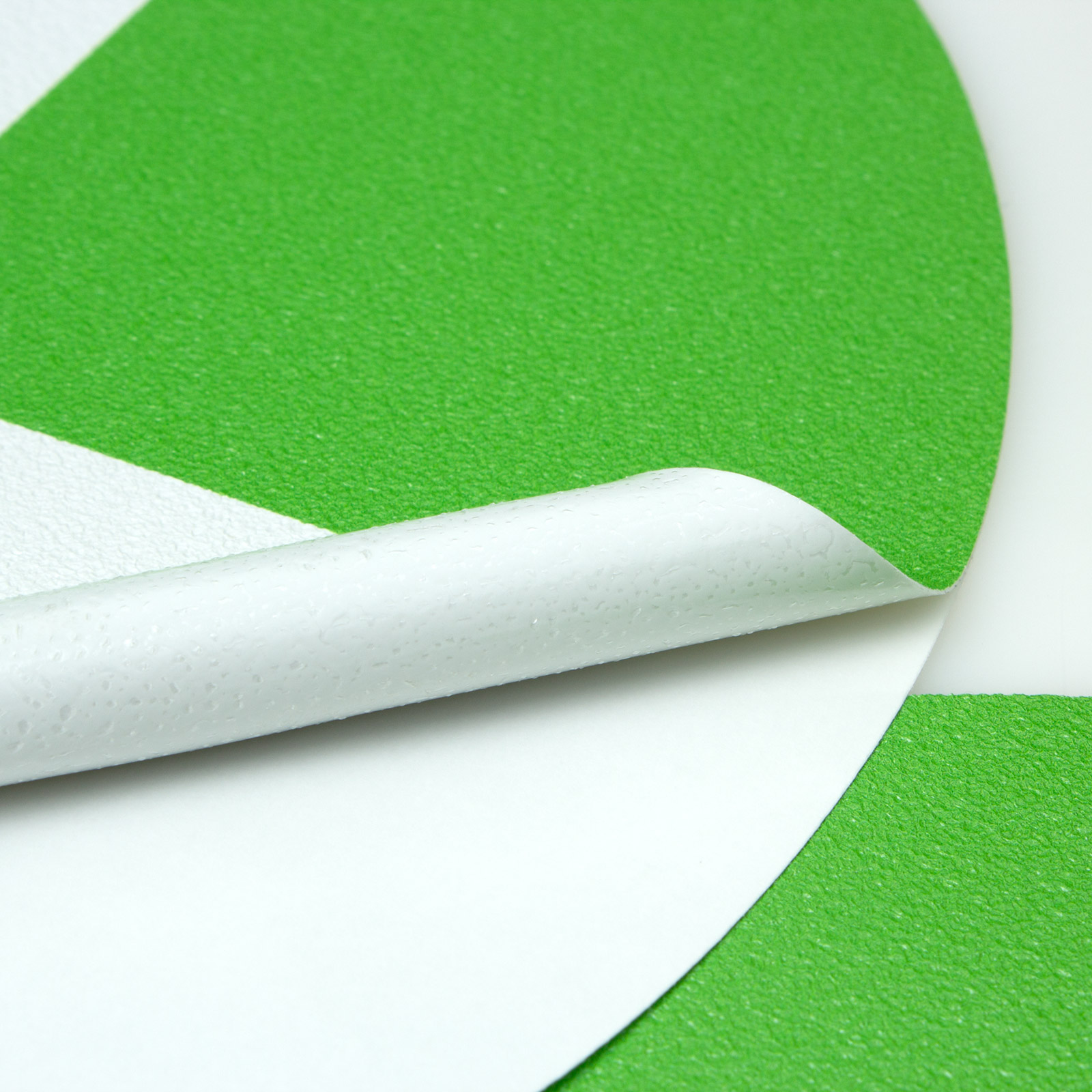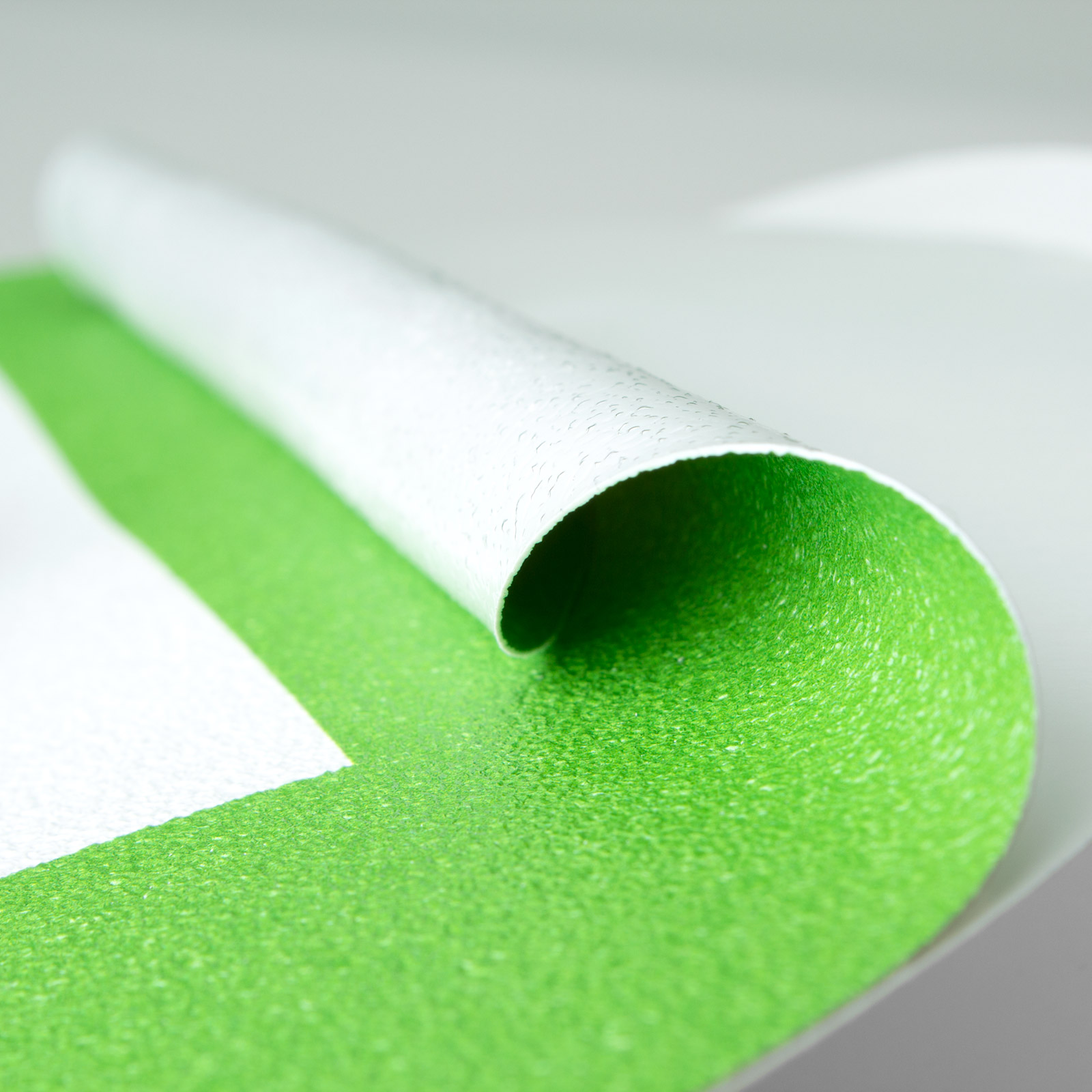 These Directional Arrow Floor Decals are perfect for directing foot traffic to help enforce social distancing. You can also use these arrows anywhere you could like to give a visual cue to your visitors. These floor graphics can be installed in any position making them a truly versatile floor decal design!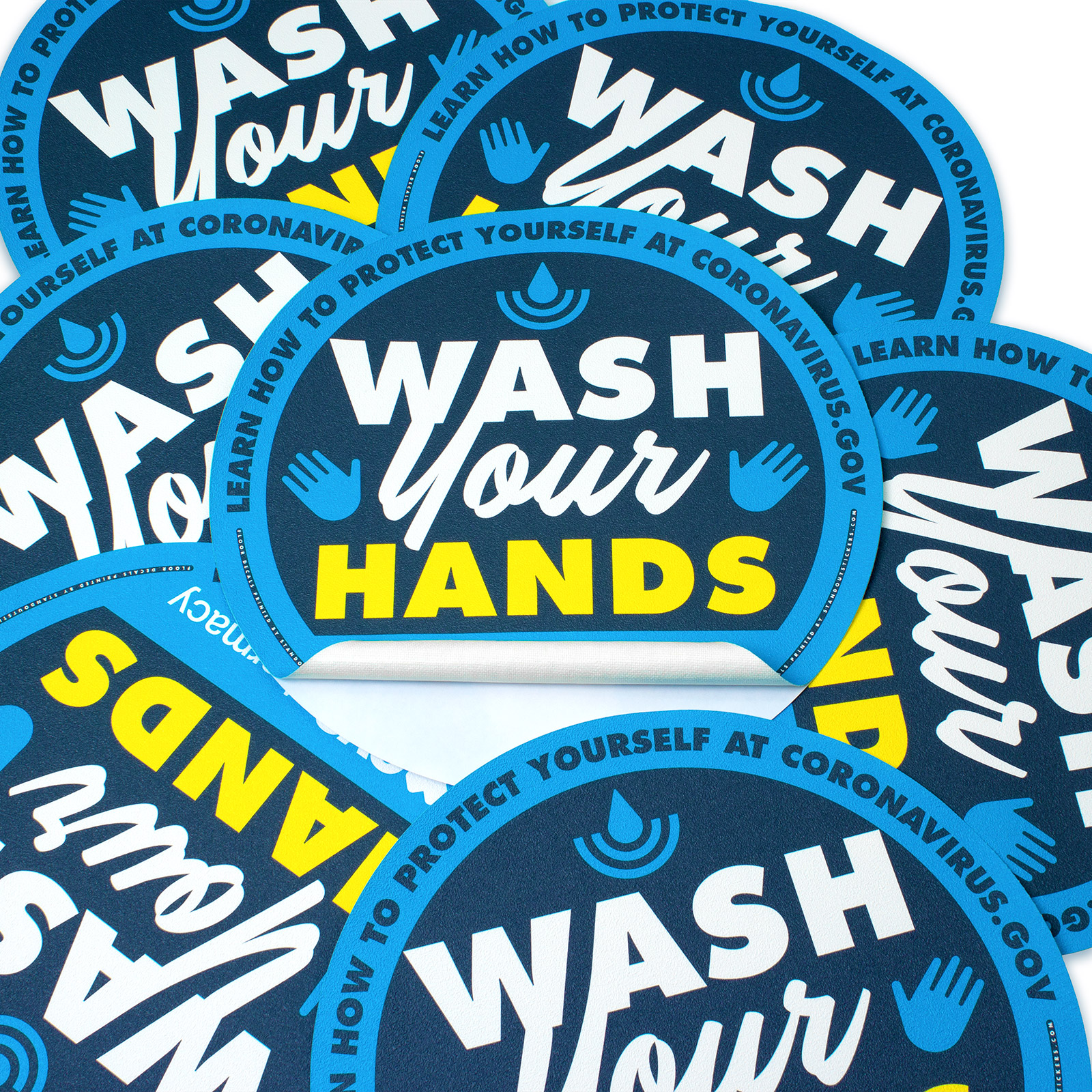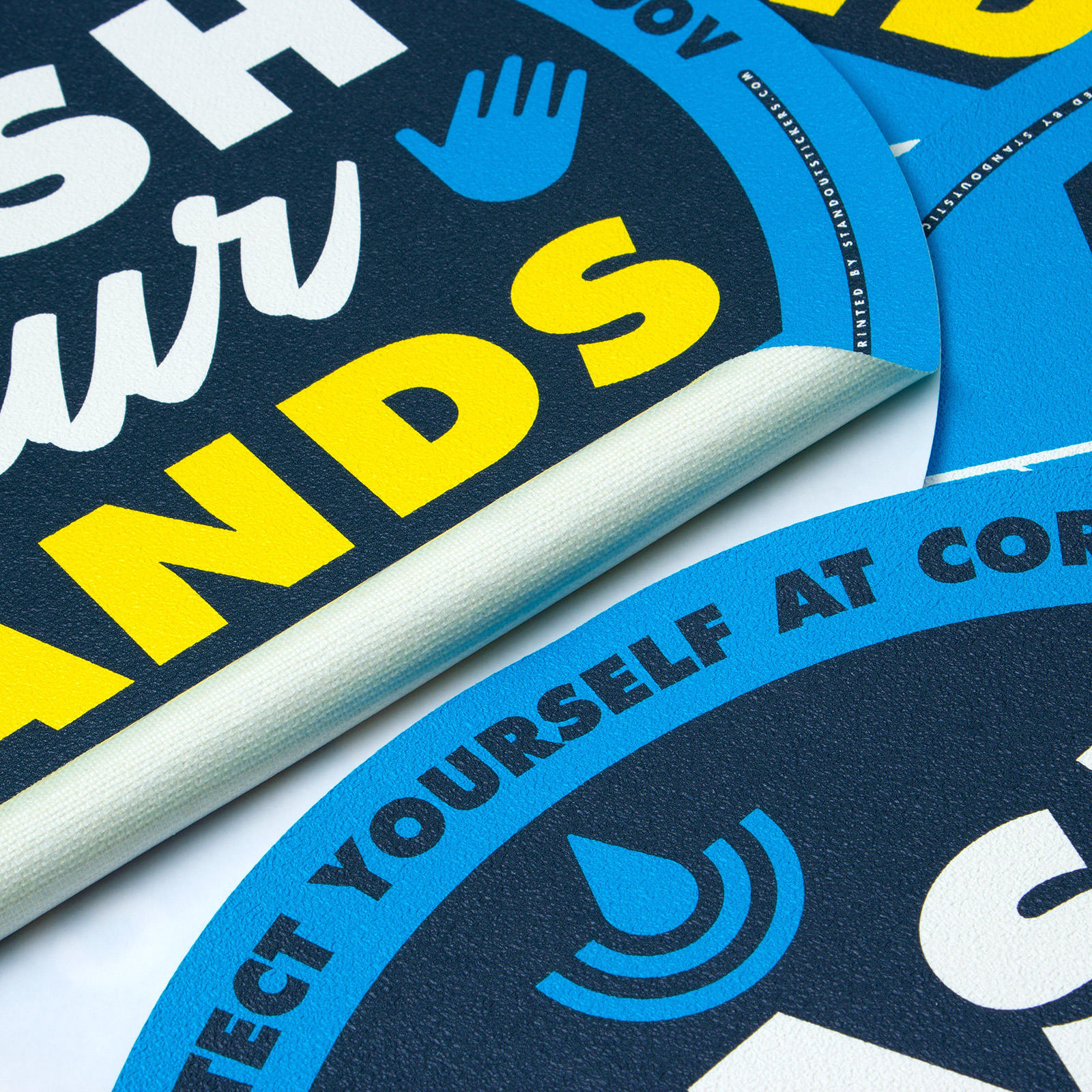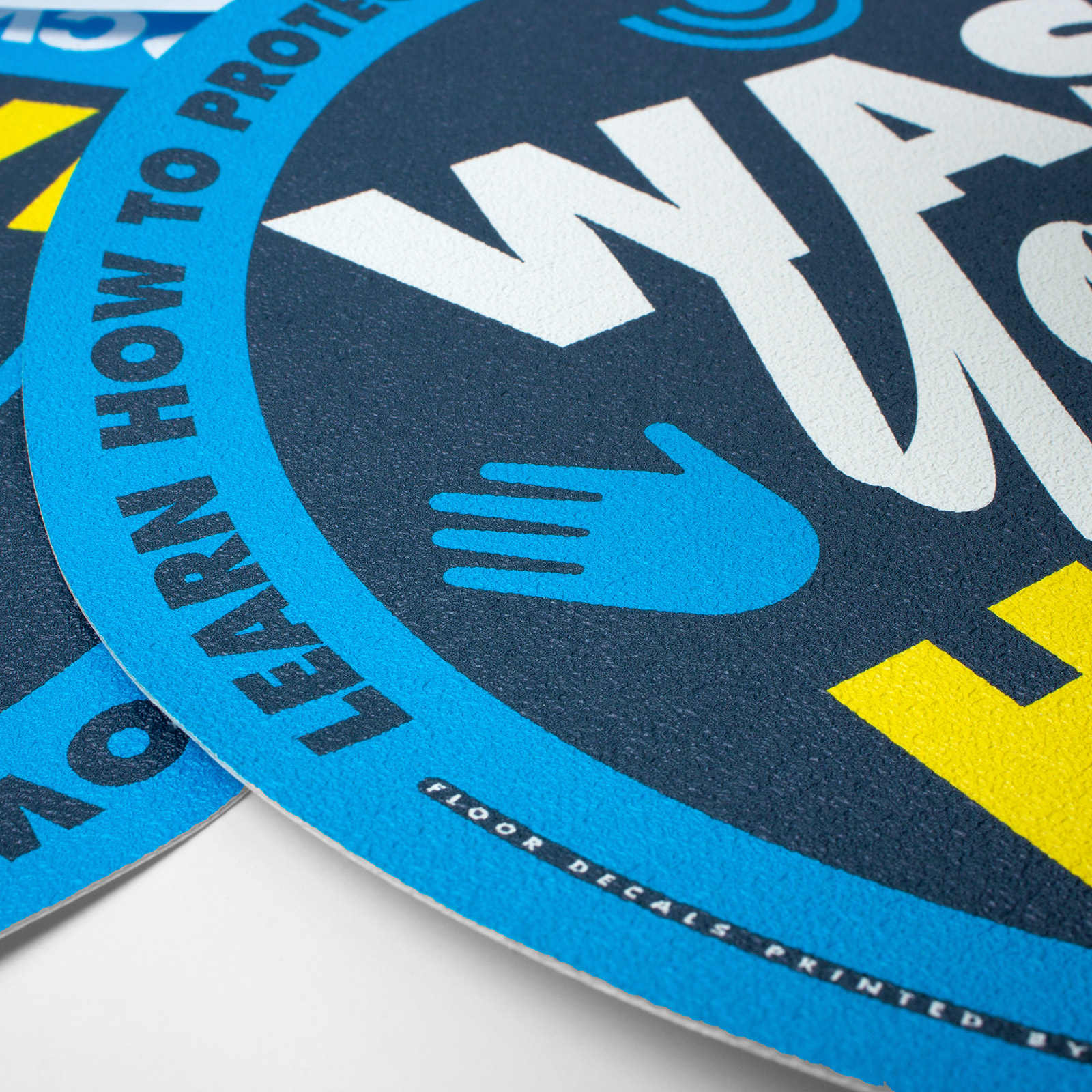 These Wash Your Hands Floor Decals help remind people to keep up their hygiene to reduce the spread of disease. These high impact floor decals are perfect for application in kitchens and bathrooms where people may need a little reminder to wash their hands. Our custom floor decals have a slip-resistant texture which makes them perfect for environments where there may be occasional wet surfaces.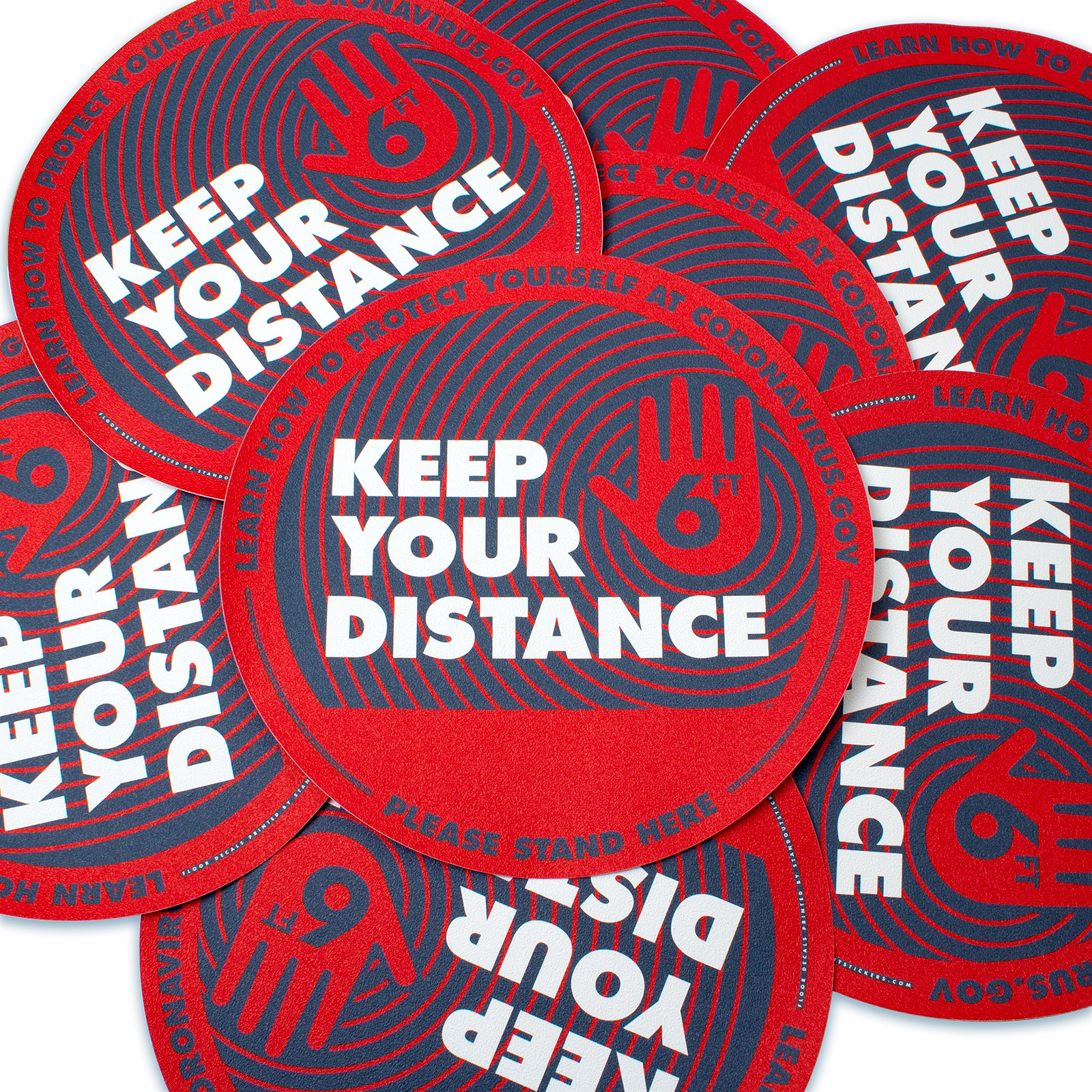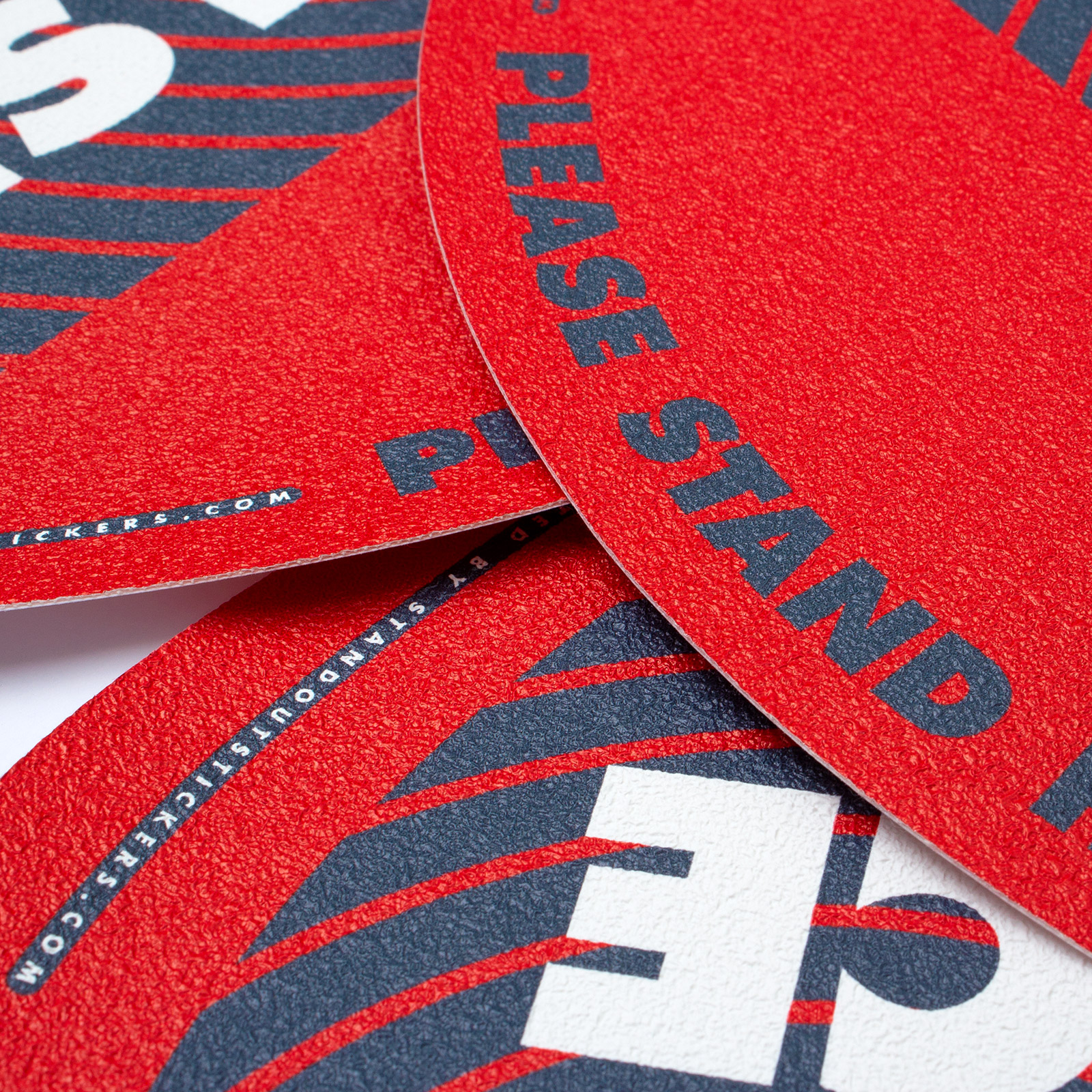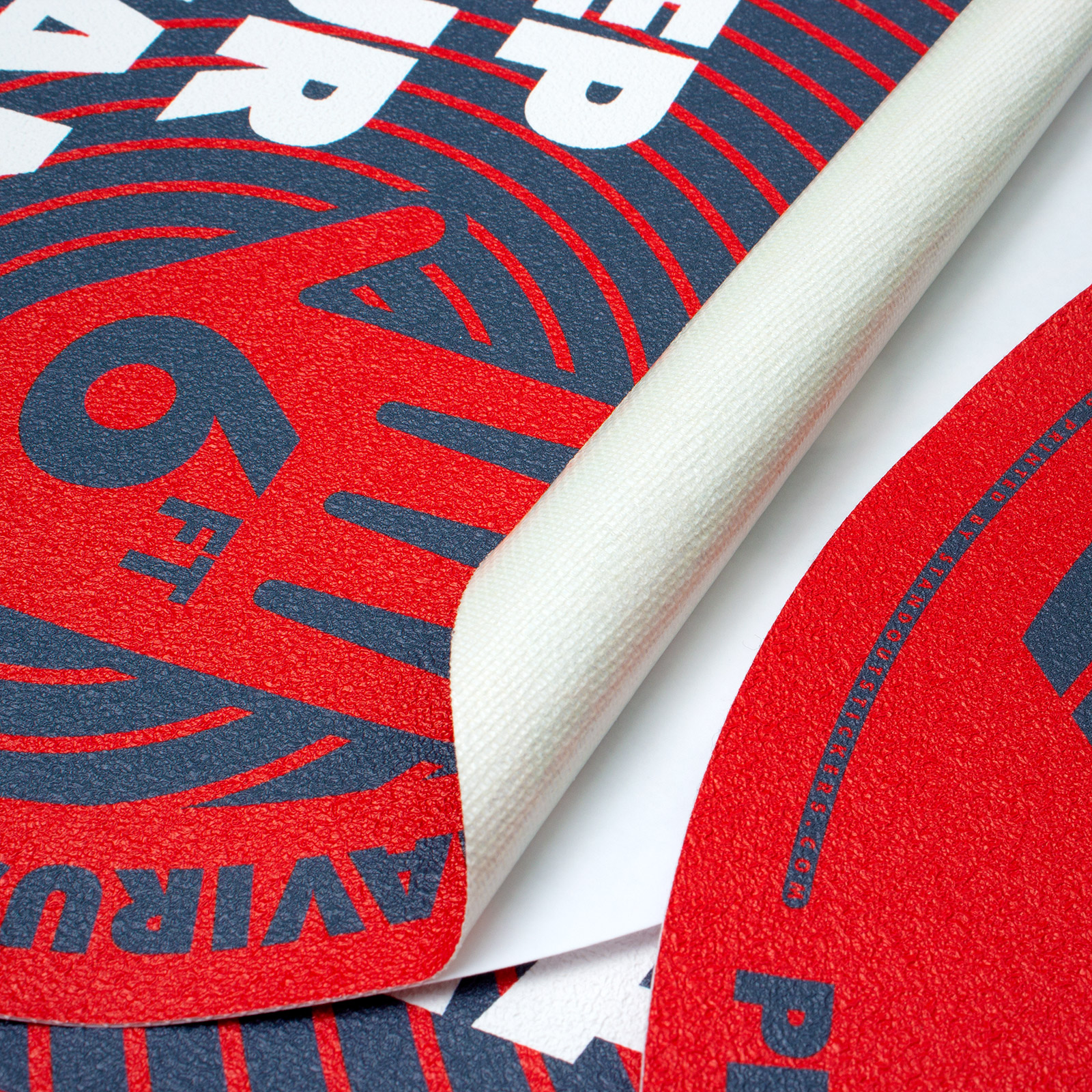 Finally, our most popular floor decal design is the Keep Your Distance Floor Decal which can be installed with 6 foot spacing between them to help guide your visitors or workers to maintain a 6 foot distance and encourage social distancing. These high quality floor graphics get noticed due to their vivid full color printing and 11.5″ wide size.
Square Magnet Examples
Square Magnets use every possible inch of magnetic material which means you maximize your magnetic pull! Our flexible magnetic material features 60lb of magnetic pull per square foot. Customize this thick magnet material (22mil / .56mm thick) with your own full color artwork and create a collectable, reusable, fun square magnet that your customers and fans will proudly display.
Our square fridge magnets can be ordered in any size and designed right in your web browser. Our easy customizer tool has all the fonts, colors and clip art you might need to create an excellent square magnet design, and you can also drop in your favorite photo, artwork or logo with ease. Instantly get a free digital proof to approve before you order and our checkout process is quick and easy.
When ordering square magnets from StandOutStickers.com you will also have the option of rounded or straight corners. Whichever corner option you choose, the custom magnet template generated by our online art tool will represent this choice.
If you want a logo magnet or have some artwork that you'd like printed on the magnets, it is also ok to just upload your file. Our fantastic magnet art team will prep a free digital proof for you to review and approve before we print your square magnets to make sure the magnets turn out perfect every time.
Take a look at the square magnet photos below to get an idea for how to design your own custom square magnets! If you're looking for more square magnet sample photos, visit our website.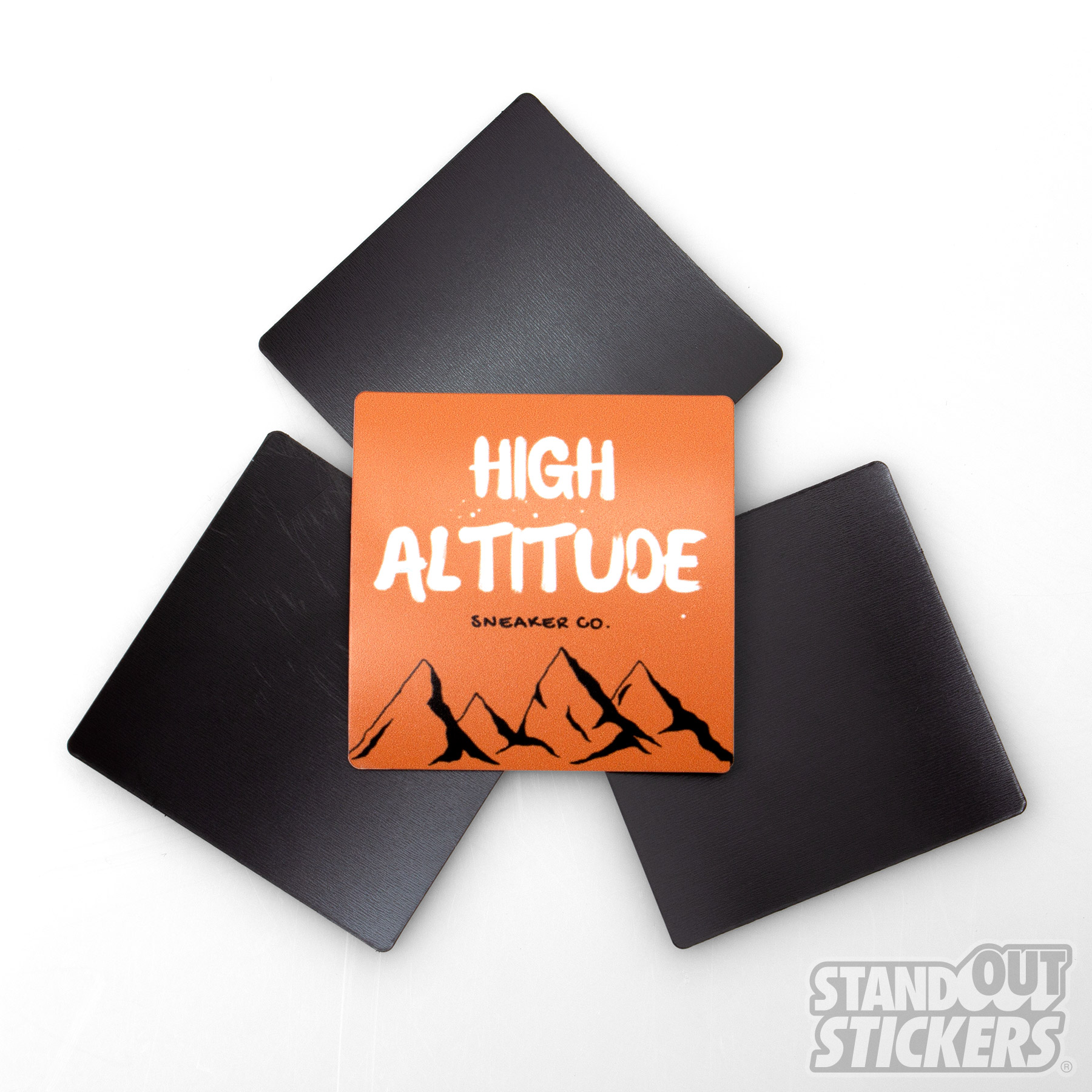 The square magnets above for High Altitude Sneaker Co are fairly small. You can see the slight texture of our high quality magnetic material with this close up magnet photo.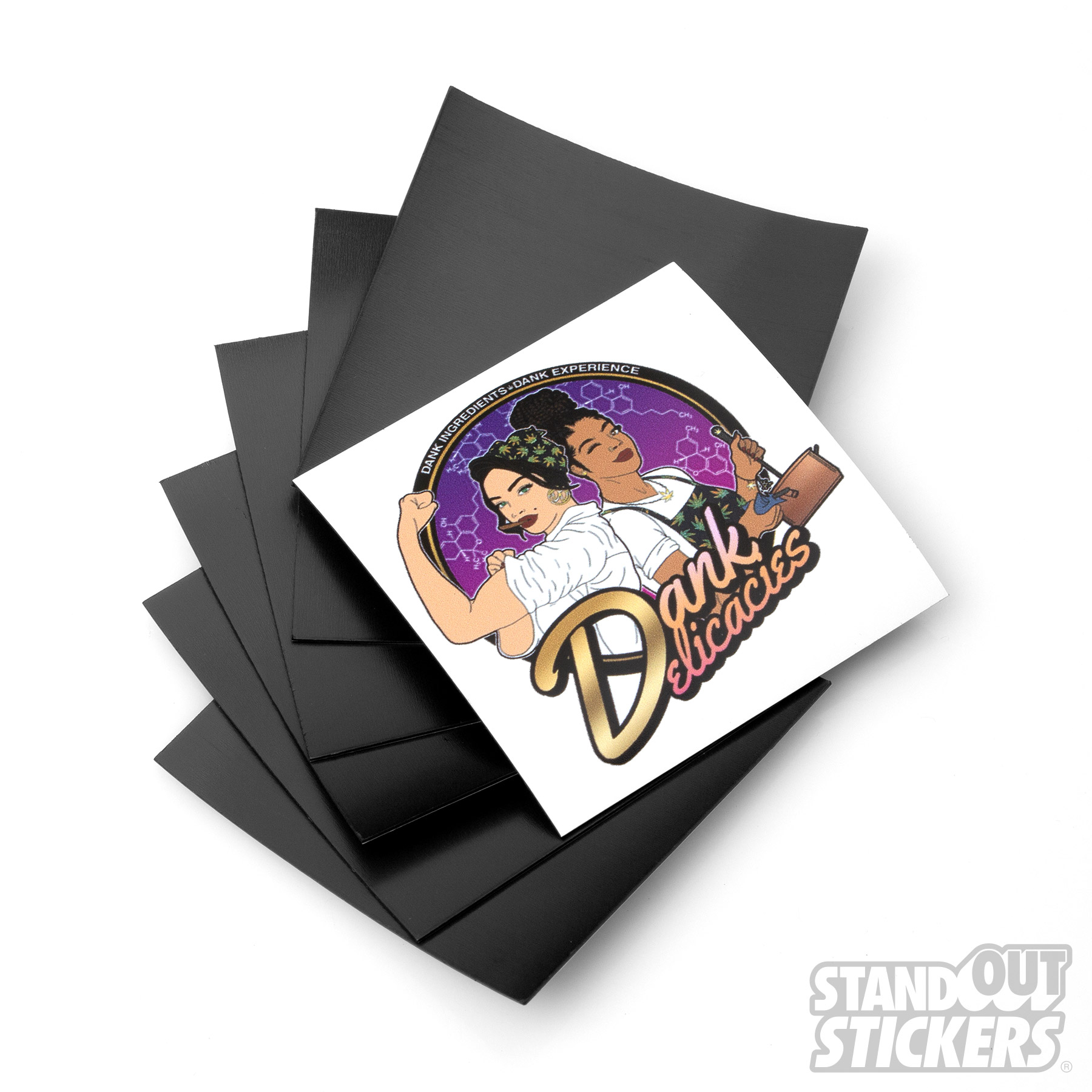 Dank Delicacies chose to advertise their business with square magnets featuring creative hand drawn artwork. Our square fridge magnets are perfect for advertising your restaurant, food delivery or catering service. Square custom refrigerator magnets are usually hung where customers are thinking about your food!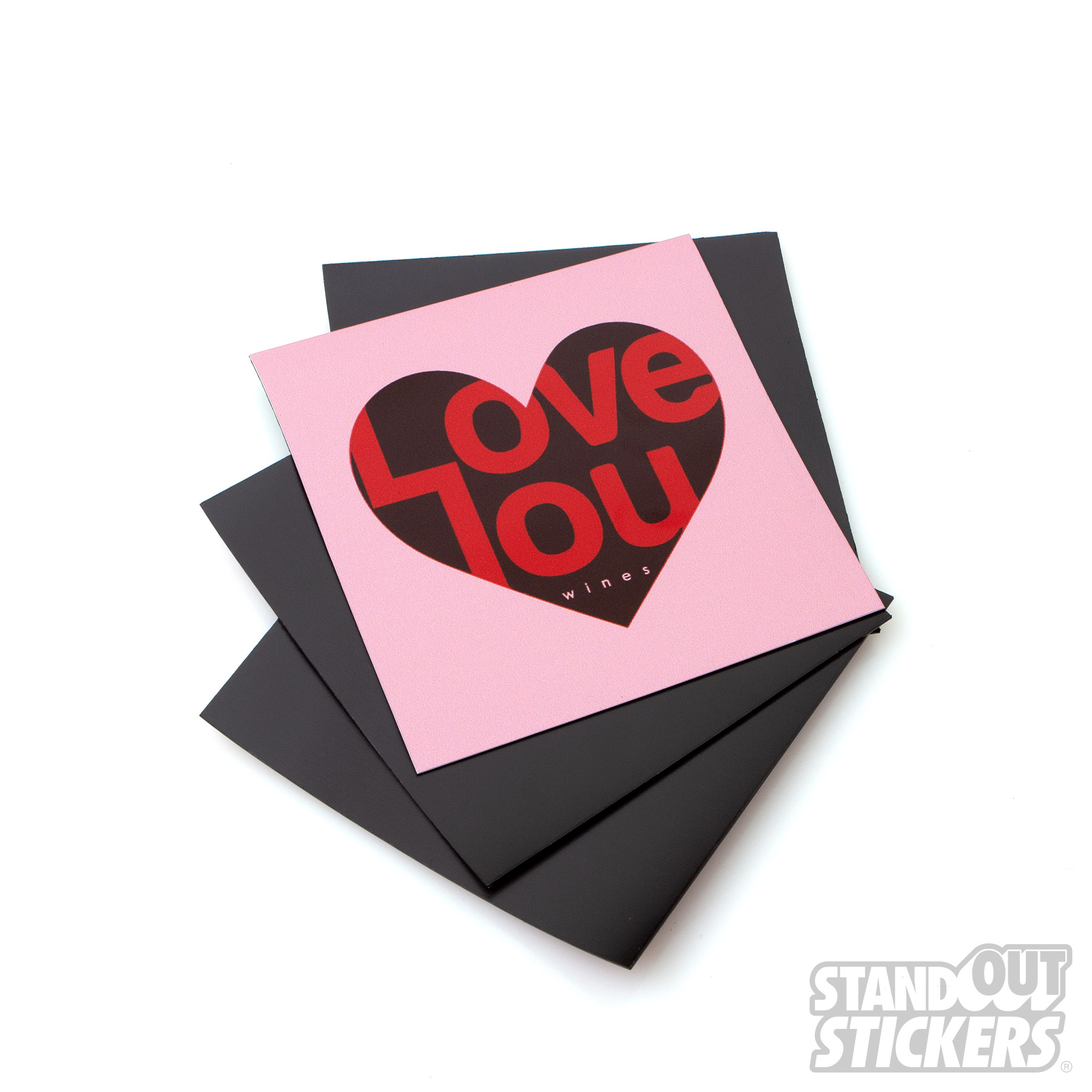 I Love You Wines chose square magnets to advertise. Again, a square fridge magnet is the perfect promotional product for any food industry because customers will enjoy displaying your name in the same environment they think about your product: the kitchen!
Order Square Fridge Magnets and get free shipping on orders over $25 shipped to the cont. USA with code FREESHIP
Call 800-710-2030