Custom Stickers Blog
Welcome to the StandOut Stickers Blog! Here you can find news about our high quality kiss cut stickers, die cut stickers, coupons for cheap stickers and other posts about our custom vinyl stickers. But it's not all sticker talk! We also feature content and sales on custom magnets, custom floor decals and cut vinyl decals.
Oval Stickers are on sale this week!
Another week, another featured custom sticker shape on sale! This week try our Oval Stickers and take 20% OFF with code OVAL20
As always oval stickers of any size or shape can be designed online and you'll get an instant digital proof to approve before checking out.
Our oval stickers come in three finishes: glossy stickers, matte stickers, and even glitter stickers! The premium glitter finish is even 20% off with code OVAL20
Order Oval Stickers today!
Everyone is loving oval shaped stickers as oval car stickers. The hottest new bumper sticker shape can be yours at a deep discount when you use this coupon at checkout.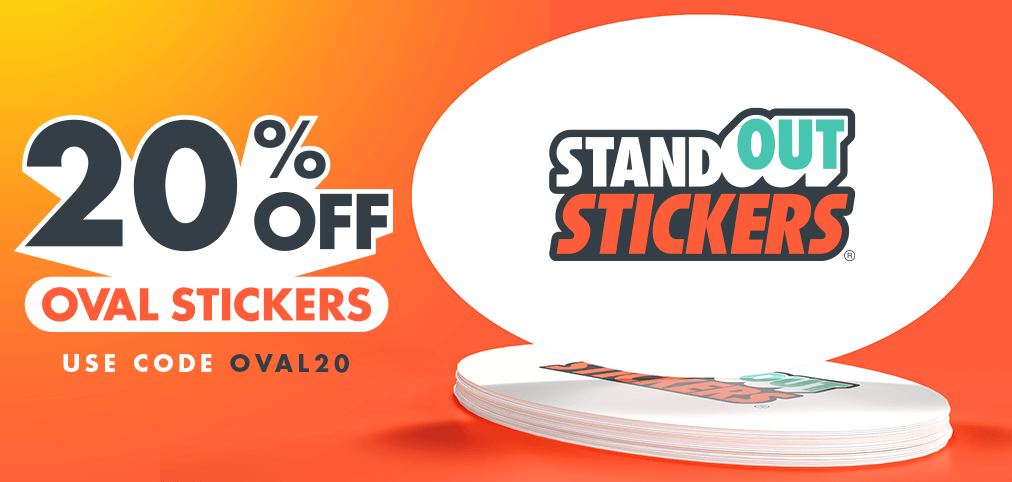 Need more oval promotional products?
Check out the sale our sister company Pure Buttons has going on this week! You guessed it: Oval Buttons are 20% OFF with code OVAL20 this week only!
These pin-back buttons come in one size: 1.75″x2.75″ Oval Buttons and can be personalized online. Choose finishes for your oval buttons like Glossy, Soft-Touch Matte, and Metallic. (the soft-touch matte is a different kind of matte than what is used at StandOut Stickers. It feels soft between your fingers!) Minimum order is just one oval button and you can experience a familiar customization tool with an instant digital proof at Pure Buttons!
Rectangle Stickers are 20% OFF This Week!
It's time to save big on our rectangle stickers, any size! Use coupon code RECT20 to take 20% off any order of rectangle stickers. Feel free to add kiss cuts for an incredible sticker sheet, or design the ultimate bumper sticker, right in your browser!
Choose from three high quality finishes including glossy, matte, or you can even take 20% off the premium glitter finish with this coupon code.
You can enter any unique sticker size into our website and our free online customizer tool will generate an in-browser template for you to customize. In minutes you can have a professional looking sticker design and an instant digital proof to approve before checking out!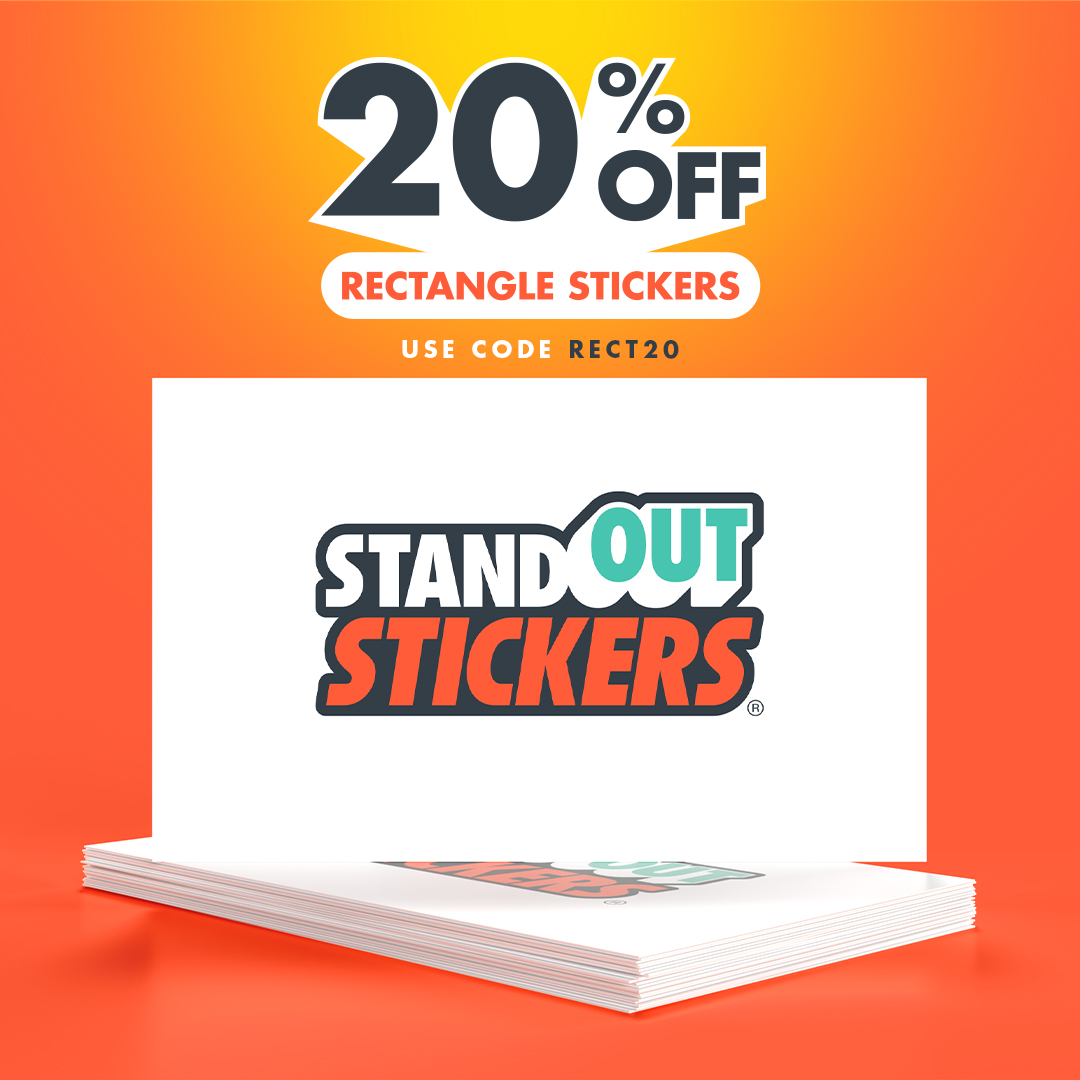 Looking for more rectangular promotional products?
Our sister company Pure Buttons has their rectangle buttons on sale this week too! Choose from four unique rectangle button sizes and enjoy a familiar customization experience! These pin-back buttons are great for name tags or just grabbing attention in retail environments, conventions, summer camp and more!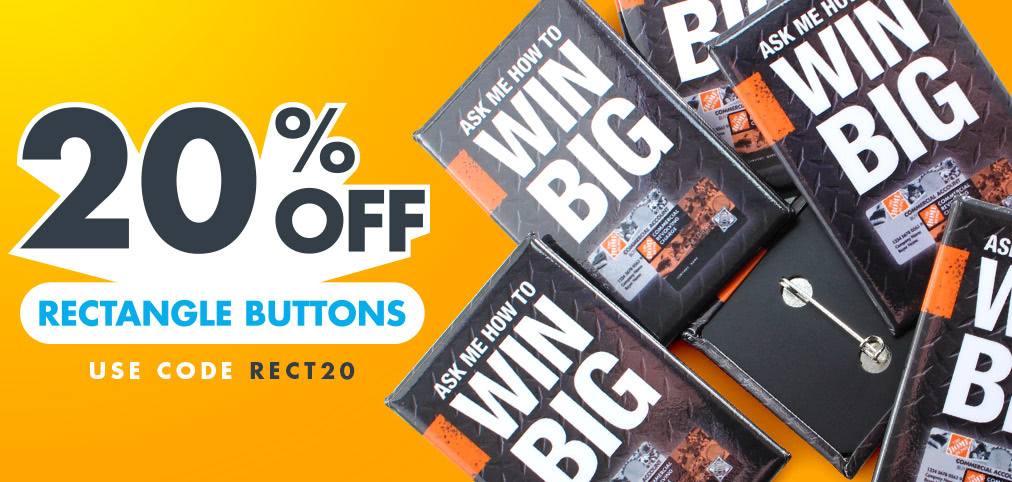 UPS Carbon Neutral Deliveries Are Now Standard
As we look toward the future at StandOut Stickers we look for ways of reducing our carbon footprint. Being a mostly online company requires the majority of our orders to be shipped via ground or air delivery and these services all come at a "carbon cost". The pollution generated by the shipping industry in general is getting more and more scrutiny and for good reason. While we all rely on shipping services to operate in the modern world, we must do better when it comes to the environmental impact of these conveniences. That is why we're excited to announce that we have made all UPS shipments carbon neutral through the UPS carbon neutral program at no additional cost to our customers at StandOut Stickers and Pure Buttons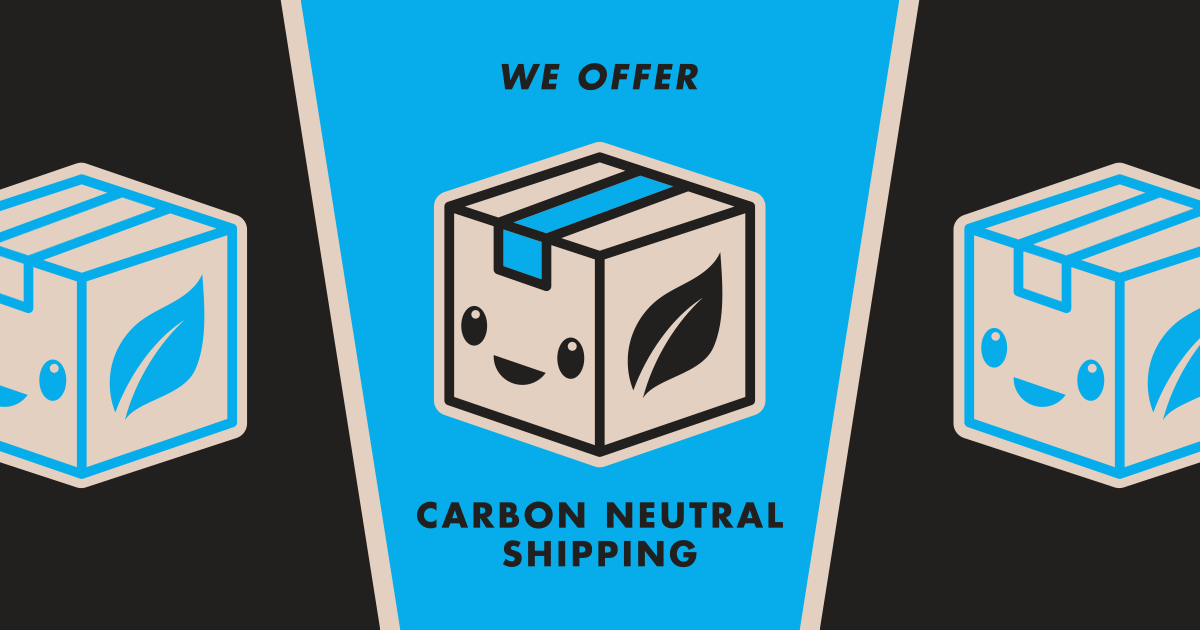 What makes a shipment carbon neutral? Each package that is shipped has an environmental "carbon cost" that varies based on the weight and size of the box, the destination distance, and the method of transit: air, boat, truck or rail. This carbon cost can then be effectively offset and made "net zero" with investments in projects like tree planting, rainforest preservation, carbon capture, and green energy projects. The UPS carbon neutral program invests in a variety of carbon credits to offset the carbon cost of shipping these packages. The program is certified with the CarbonNeutral Protocol by Natural Capital Partners and verified by Société Générale de Surveillance (SGS).
How can I choose carbon neutral shipping? During checkout, look for this 🌱 seedling emoji. We have labeled our UPS carbon neutral options with this to make them easy to spot. All of our UPS shipping options will be sent carbon neutral from now on. And remember, this is a program we are investing in outside of standard shipping costs. This service is offered at no additional cost to our customers.
Can I get free carbon neutral shipping? Our FREESHIP code is valid on orders over $25 shipped to the contiguous USA. The way the code is programmed, it gives customers the cheapest shipping option for "free" and then reduces the cost of all other shipping options by that same dollar amount. Sometimes on larger orders, UPS is cheaper than USPS, so it would be the free option. In other scenarios where the USPS option is cheapest, you can still enjoy UPS carbon neutral shipping at a reduced cost with this coupon code.
Unfortunately USPS does not offer a carbon neutral option yet. Once they do, we will be sure to offer it. For now, you must choose a UPS shipping option to get carbon neutral shipping.
Thanks for helping us reduce our carbon footprint by choosing UPS carbon neutral shipping!
Square Vinyl Stickers and Custom Buttons 20% OFF
This week it's hip to be square! Take 20% OFF our vinyl square stickers with code SQUARE20. You can customize your sticker design online and get an instant digital proof before checking out.
Our square stickers come in three unique finishes. All sticker finishes provide weather-resistant protection and help keep your square stickers looking great for years to come. Choose our glossy sticker finish for ultimate shine and bold colors. Try our satin matte finish for a more luxurious look, and pick our newest Glitter stickers finish for a sparkle and shine that grabs attention!
Order Square Stickers and use coupon code SQUARE20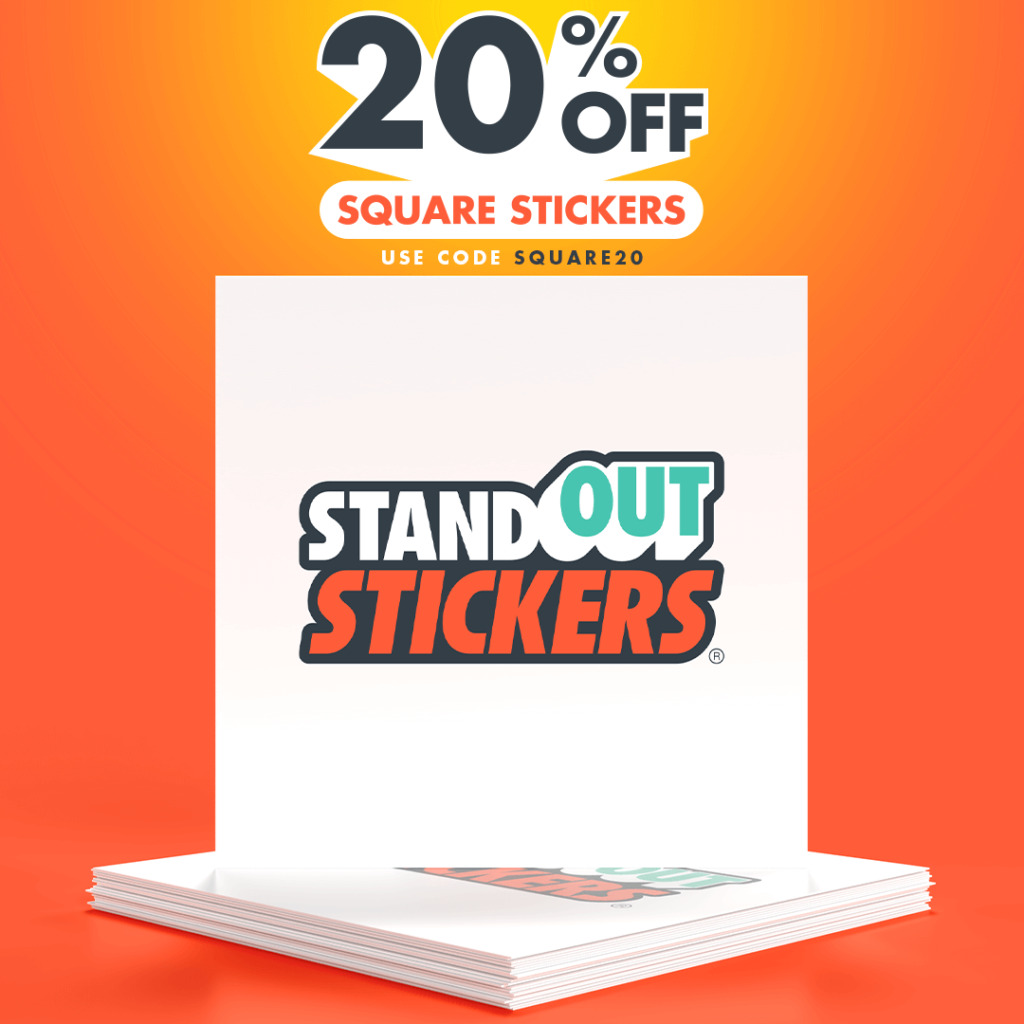 We offer huge discounts on bulk orders, so it pays to stock up. Now with this 20% OFF coupon, you can save even more off our already low custom sticker prices.
Looking for another square way to promote yourself?
Our sister company PureButtons.com has square buttons on sale this week as well! Enjoy a similar customization experience when you use the same art tool to personalize square buttons in five different sizes from 1″ to 3″ wide.
Custom buttons by PureButtons.com feature three finish choices (glossy, soft-touch matte, and metallic acetate finish) and are the gold standard for pin-back buttons. Try them and see why pin-back buttons are an eternally popular promotional product!
Use the same coupon SQUARE20 to take 20% OFF square buttons as well.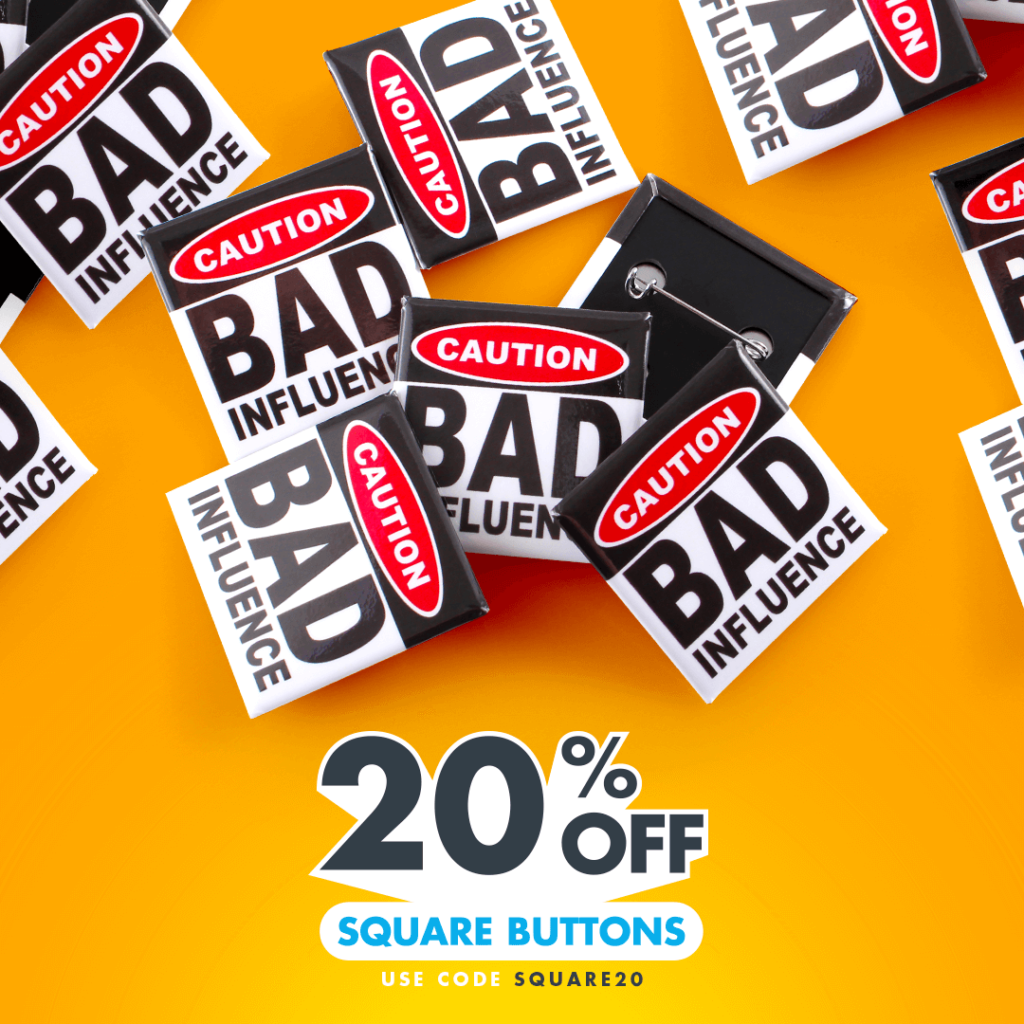 Our Outdoor Stickers Look Great Rain or Shine!
If you're looking for a high quality sticker that will stand the test of time outdoors, look no further. Our outdoor stickers are built to withstand all weather and daylight conditions for years to come.
We print our custom stickers on durable weather-resistant vinyl material. Your full color sticker design is then protected by a 3mil protective laminate layer in your choice of glossy, matte, or glitter.
This combination creates a weather-resistant outdoor-suitable sticker that you can trust to last for a very long time.
We see a wide variety of use cases for our custom weatherproof stickers and wanted to write a little about how you can use these incredible stickers in a variety of outdoor applications.
The circle stickers shown below read CERTIFIED FORKLIFT DRIVER. These stickers could be attached to hard hats, ID badges and more. They feature a glossy finish and are built to stay brightly colored and readable in any weather conditions.

The die cut stickers below feature graphics for the East TX Jeep Club. These are more than likely going to be used as bumper stickers or car window stickers, so their weatherproof glossy finish is perfect for looking good on the road.

The rectangle sticker below is more like a standard bumper sticker. True Temper steel bicycle tubing used our weatherproof outdoor stickers to advertise their durable products.

The warning labels below are built to go on some dangerous electrical machinery. In an application like this, it is important that the colors stay vivid and readable for years to come. Our weatherproof stickers are up to the task!

The rounded rectangle stickers below are for an industrial training organization. They deal with a lot of outdoor machinery and safety training. These outdoor stickers will remind people to stay safe when operating dangerous machinery.

The Kenyon Noble hardware store in Bozeman, MT printed these small die-cut logo stickers to advertise with their customers. Surely many of these stickers made their way onto trucks, toolboxes and hard hats over the years. Their outdoor durability lets them stay looking great and serve as an effective advertisement for many years to come.
Finally we have these excellent die cut logo stickers for Enkei Wheels. As an automotive wheel company, these stickers are likely to find their way onto many outdoor surfaces like car windows, bumpers, toolboxes and more. Our high quality full color printing and durable laminate finishes will ensure that these weatherproof stickers look as great as Enkei's high quality products.

Call 800-710-2030