Custom Stickers Blog
Welcome to the StandOut Stickers Blog! Here you can find news about our high quality kiss cut stickers, die cut stickers, coupons for cheap stickers and other posts about our custom vinyl stickers. But it's not all sticker talk! We also feature content and sales on custom magnets, custom floor decals and cut vinyl decals.
Strand Bookstore Stickers: Customer Showcase
One of our favorite customers is the famous Strand Bookstore in New York, NY. Strand is a gigantic bookstore offering a very valuable service and something that is becoming more and more rare: A place where you can go find actual books in person and get curated suggestions and help from real book-loving people.
Strand Bookstore claims "18 miles of books" and The New York Times called Strand "the undisputed king of the city's independent bookstores". Strand sells a wide variety of creative custom merch including many of our high quality custom stickers.
We recently found many of our custom stickers for Strand in the Stationery section of their webstore, and you can order from anywhere! Take a look at the unique sticker designs and see if any appeal to you! Many of the sticker designs feature New York landmarks but also cute, funny, or crass phrases.
Most of our custom stickers printed for Strand Bookstore are printed as sticker hang tags, making it easy for them to resell the stickers in a retail environment.
Here are a few of the excellent stickers Strand sells, printed by StandOut Stickers!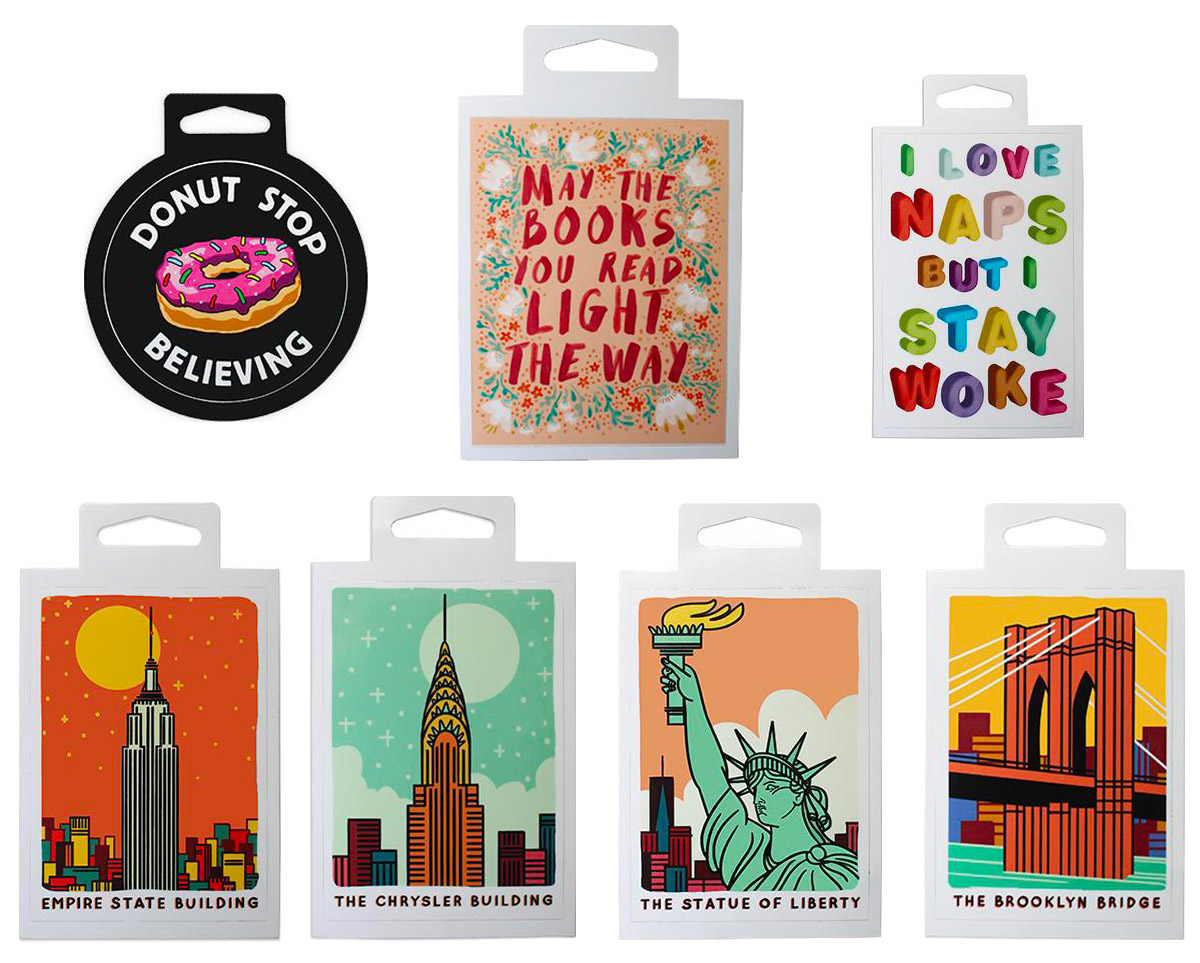 From left to right, top then bottom we have a fun circle sticker hang tag with a Donut Stop Believing Sticker design. The rest of the stickers are nice rectangle stickers with a hang tag feature. May The Books You Read Light The Way features a hand painted look. I Love Naps But I Stay Woke features a fun twist on a popular phrase.
The bottom row are nice clean vector illustrations of New York monuments:
1) Empire State Building Sticker
2) The Chrysler Building Sticker
3) The Statue of Liberty Sticker
4) The Brooklyn Bridge Sticker
All of these New York monument Strand Bookstore stickers are designed in the same way, so collecting them all would make for a nice collection!
Strand Bookstore have several other sticker designs available on their website, so please visit them and order something to support one of the greatest bookstores in the country, and a great StandOut Stickers customer!
Massive Custom Wall Graphic! Wall Decal Design & Installation for Montrose Ford
The gang at StandOut Stickers have been dipping our toe into wall graphic and wall decal printing in recent months. We have shared a few images on our instagram of these products in production. While we do not yet offer them on our website, we have begun working with local businesses for wall graphic design and installation services under the name Rival Wraps.
Recently Rival Wraps had the unique opportunity to work with an area Ford dealership to do something special for their Roush Performance showroom.
Concept
Montrose Ford had a massive blank wall that was begging for something unique to help showcase their collection of Roush Performance vehicles. Roush Performance offers a line of premium performance-oriented Ford vehicles such as Raptors, Super Dutys, Mustangs and more.
Clocking in at 13 feet tall by 65 feet wide, this jumbo blank canvas was transformed with an industrial brick and steel beam look wall graphic featuring exciting photos of Roush vehicles in action.

Design
During the design phase, several concepts were tested, and finally it was decided that an industrial brick look was the one to go with. We would split the wall into sections using steel beam graphics and this would allow us to feature photographs of vehicles that use diffrent lighting and source quality, while still feeling as if they were part of a cohesive design. To add excitement, we created the graphic as if these vehicles were tearing out of a printed poster. We added smoke and dirt effects to give a bit of life to these static images.
A large part of the design phase was considering the logistics of such a large canvas. What DPI should the final artwork be? What kind of computer is needed to process such a massive design? When designing graphics for such a large surface, you usually assume that they will be viewed from a considerable distance, but this graphic would be right next to people, even on the door they pass through, inches away from eyes. Extreme care needed to be taken with resolution and image quality.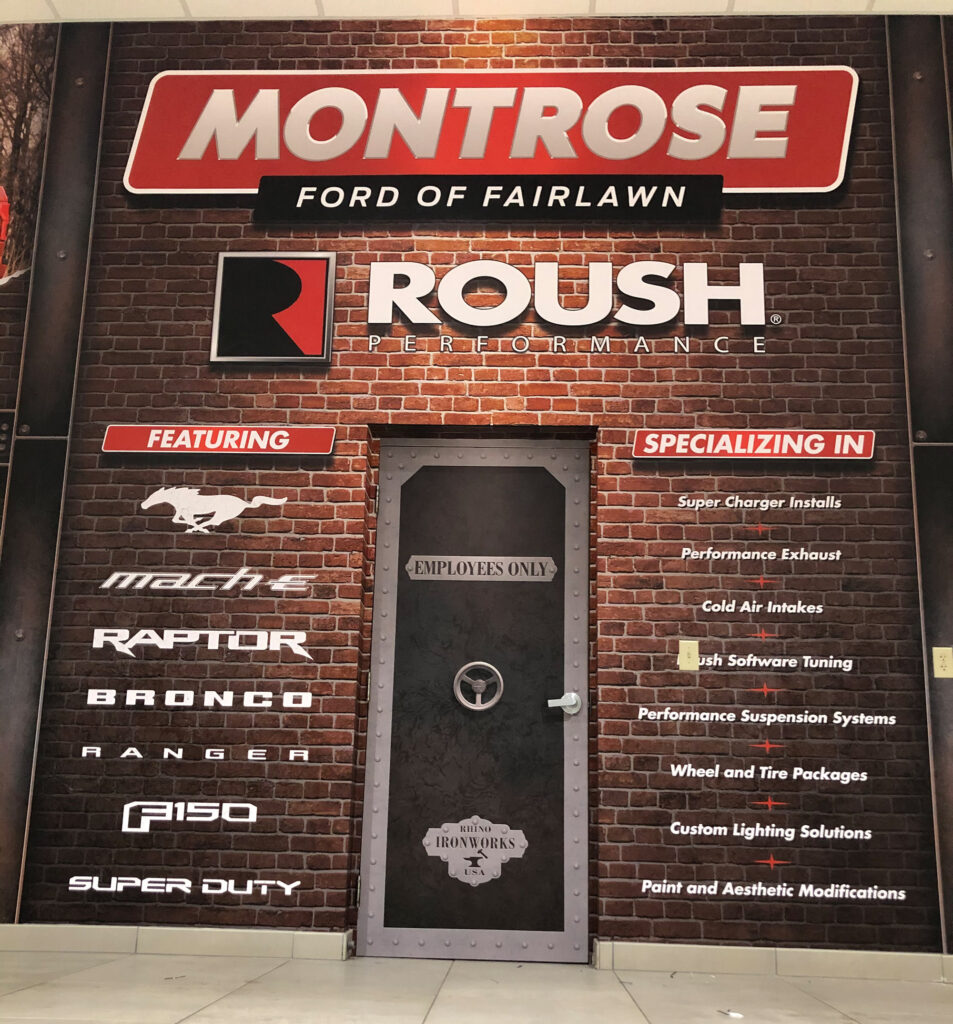 The plain white doorway was reimagined to look like a steel safe embedded in a brick wall. Flanked by logos and a menu of services. (the light switch was wrapped after this photo was taken to give a more seamless look)
During the design phase it was decided that the dealership logo and text around the doorway was the best anchor point to begin installation. In the process of setting up the panels for printing, the design was sliced in a way to facilitate installation anchored around the doorway.
Printing
The entire wall graphic was split into 16 unique panel files. Four inches of bleed was provided to account for any irregularities encountered during installation with 1/2 inch of overlap between panels.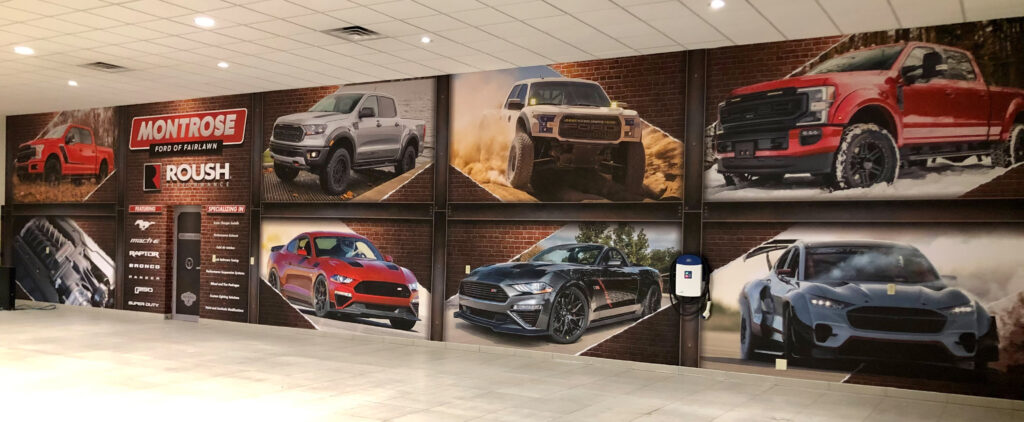 Our wall graphic material is a highly textured vinyl with a stucco look. This adds organic appeal to the surface and helps to hide some irregularities or seams in the installation surface. This texture also adds some three dimensional depth to the printed wall graphic.
The massive wall graphic panel files were then printed on a wide format sticker printer, filling the roll of material as wide as it could go, and then printing over 13 feet of length per panel. Extra care was taken to make sure such a large printing job did not encounter any visual flaws. Ink levels were closely monitored as over 845 square feet of image area was printed in rich saturated colors.
The printed panels were rolled carefully and set inside the orignal material boxes awaiting the installation team.
Installation
How do you start installing a graphic this large? Our friends at Apex Sign Works took the lead on installation. With years of experience installing larger than life decals on everything from walls like this to semi trucks and more, they were ready to tackle the job which only took about 8-10 hours from start to finish.
Starting over the doorway, the wall graphic panels were then installed to the left and right. Each panel included one half inch of overlap to help the seamless look of the installation.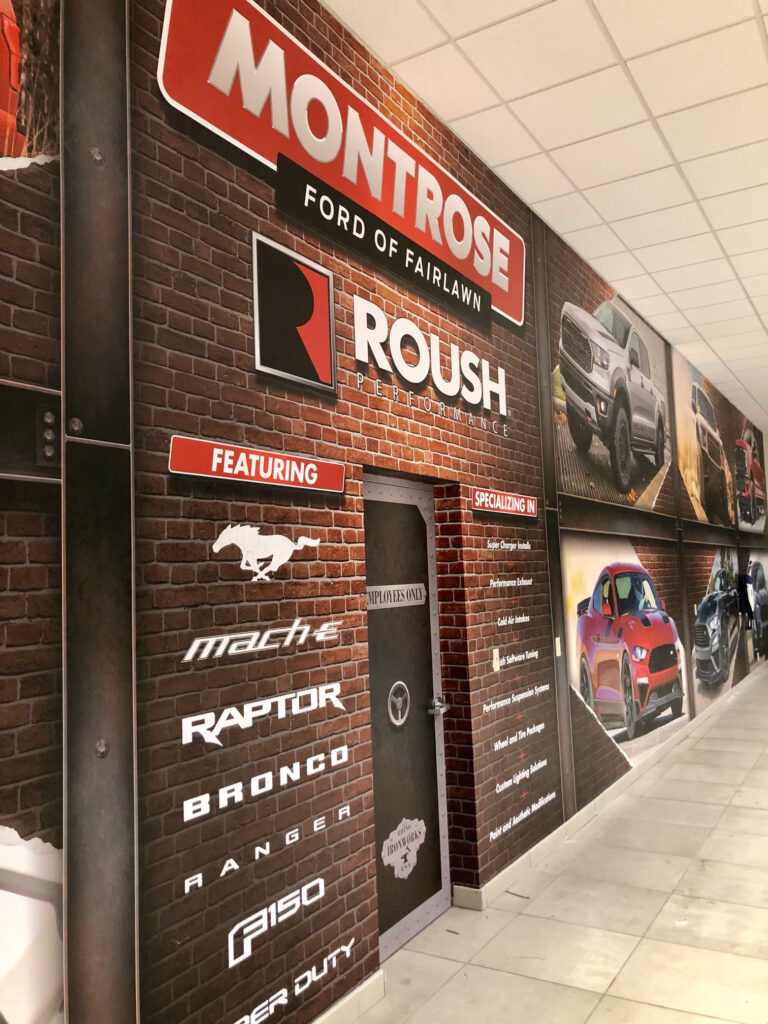 Extra care was even given to wrapping the inset doorway, with extra brick pattern wrapped into the threshold and a fully designed door graphic fashioned after an industrial metal safe.
The giant wall graphic installation was completed with precision in just one day. Using a scissor lift, the team carefully installed 17 panels that spanned from floor to ceiling. Taking extra care to align the large wall graphic panels for a seamless look was tricky, but in the end, it came look looking incredible!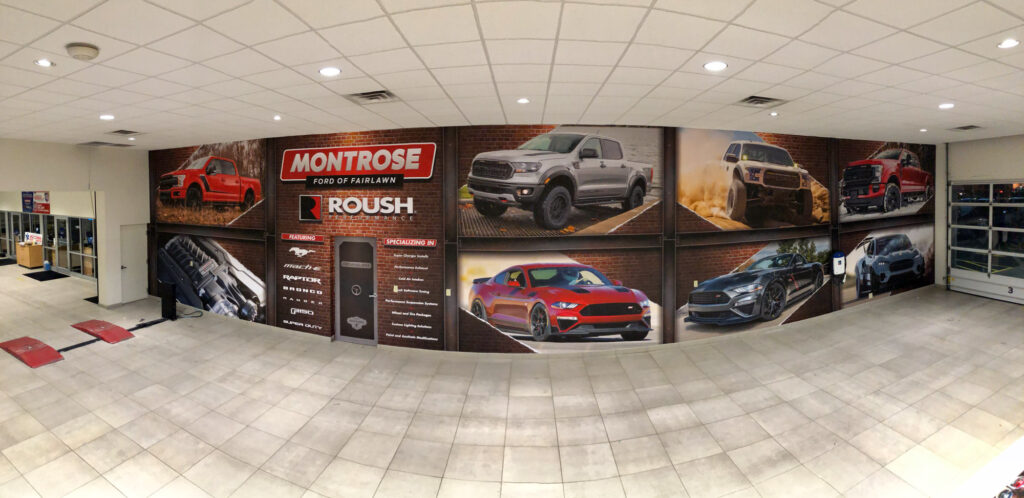 If you are in the northern Ohio area and are interested in a truly outstanding custom wall graphic design and installation like this, contact us to get started.
New and Improved Sticker Pack Quality
We are excited to announce that the top cards of our sticker packs now feature improved print quality due to our investment in a brand new cutting-edge digital printing press.
This new printing press is used to print our high quality sticker pack top cards and has improved handling of the card stock material we use in our custom sticker packaging. The new printer also produces improved color and print clarity on the top card material.

Take a look at our sticker pack samples to get ideas for building your own packs. Packs are a great way to increase the retail value of your custom stickers. Our sticker packs are 100% retail-ready and can be manufactured with or without hanger holes.
Every pack is unique and we can even include vinyl decals, custom magnets or any of our other products. Mix and match various sticker finishes, sizes and shapes for a unique pack that your customers will be excited to buy!
Our packs are hassle free and come pre-assembled, ready to ship to your customers.
Our top card and pack assembly pricing is very affordable. Contact us today for a quote on your unique pack.

Circle the wagons! Circle Stickers are 20% off this week!
Our circle stickers are 20% off this week only!
Use coupon code CIRCLE20
Now is the time to order circle stickers of all sizes. Every circle sticker qualifies, even reorders.
Why not take this opportunity to order round Glitter Stickers and take 20% off with code CIRCLE20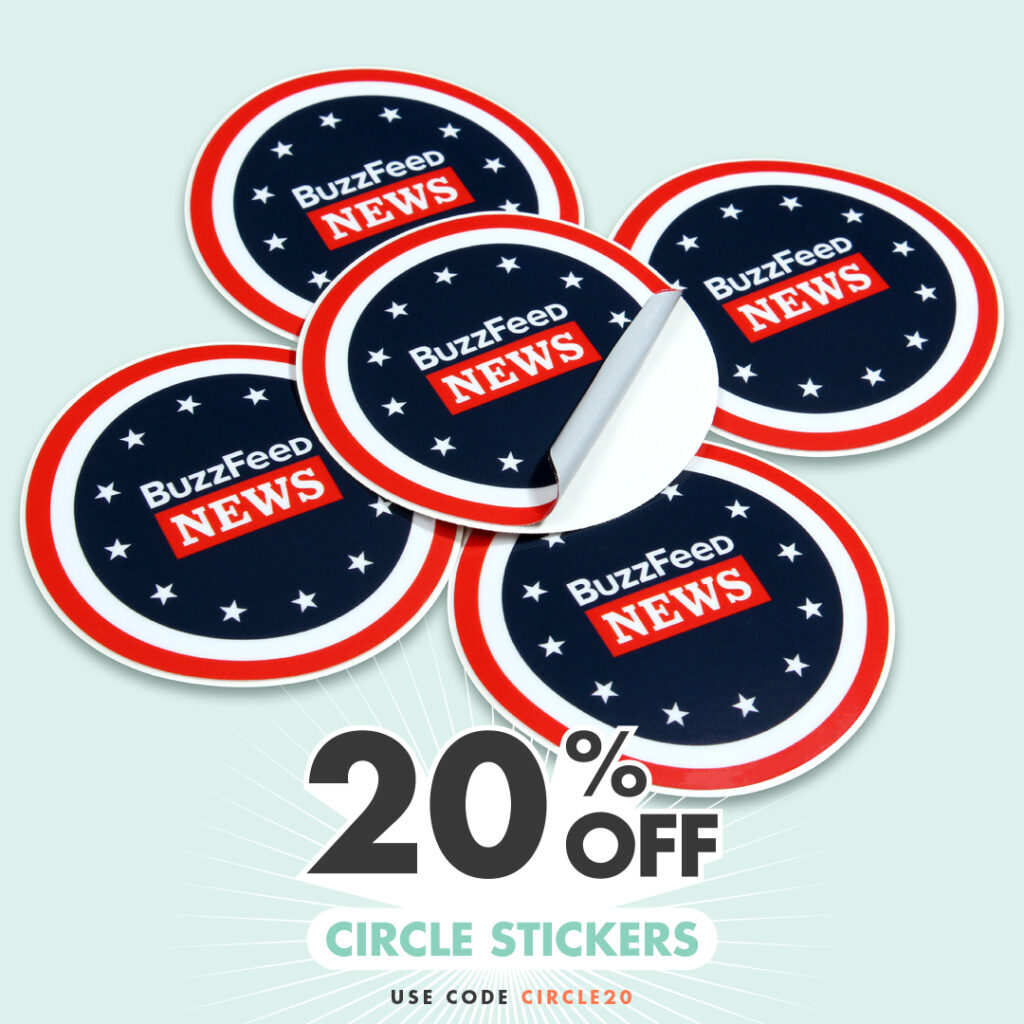 Get Your Shine On! Introducing Glitter Stickers!
We began our sticker journey with our original high quality vinyl glossy stickers. Years later, we added Matte stickers to our lineup and they were wildly popular. Now we present to you our exciting custom Glitter Stickers!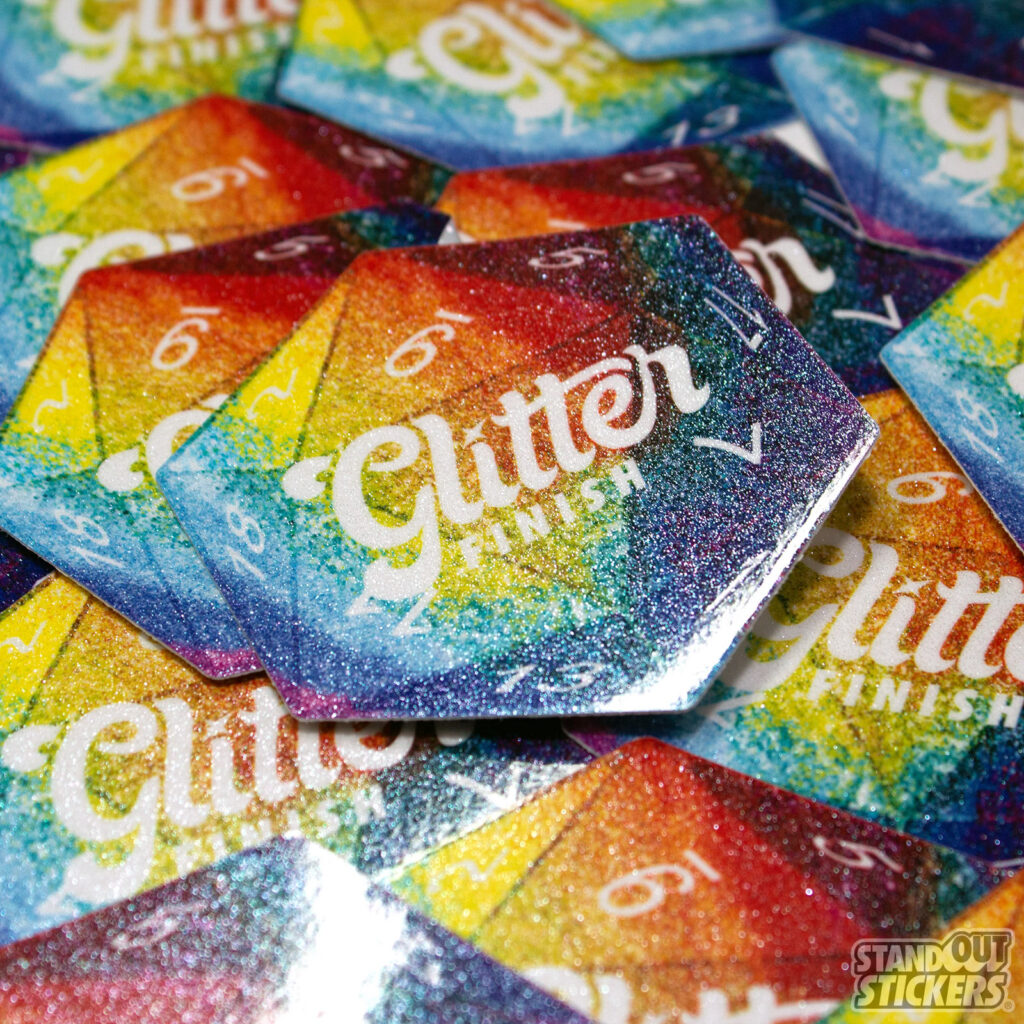 This new glitter sticker finish offers an ultra high gloss appearance with the inclusion of super fine, transparent metallic glitter. This is not a holographic foil effect, but instead real glitter flake similar to the finish you'll find on automobiles and boats.
Like all of our custom sticker finishes, this glitter finish protects your vinyl stickers from fading, peeling and cracking or scratching. Our durable glitter stickers will shimmer and sparkle indoors and outdoors, rain or shine for years to come.
Our original glossy sticker finish is the choice for those looking for accurate color reproduction with rich, deep and vivid color appearance and a high-gloss shine.
Our matte sticker finish is for those looking for an upscale look. This low shine lustrous finish gives a high-end look to custom labels and logo stickers.
Our glitter finish is for anyone who wants to stand out! This new finish features an ultra glossy, wet-look surface with millions of super tiny transparent metallic glitter flakes that will flash and shine in the light and really get noticed. This finish may alter the appearance of solid colors a bit due to the way it reflects light and the base color of the silver metallic flake, however due to the high gloss nature of the finish, colors in your sticker design will look deep and vivid.
Take a look at our glitter sticker samples below or view all samples at the link. We prepared three colorways of the same sticker design to help you see how this glitter sticker finish reacts on different colors and textures.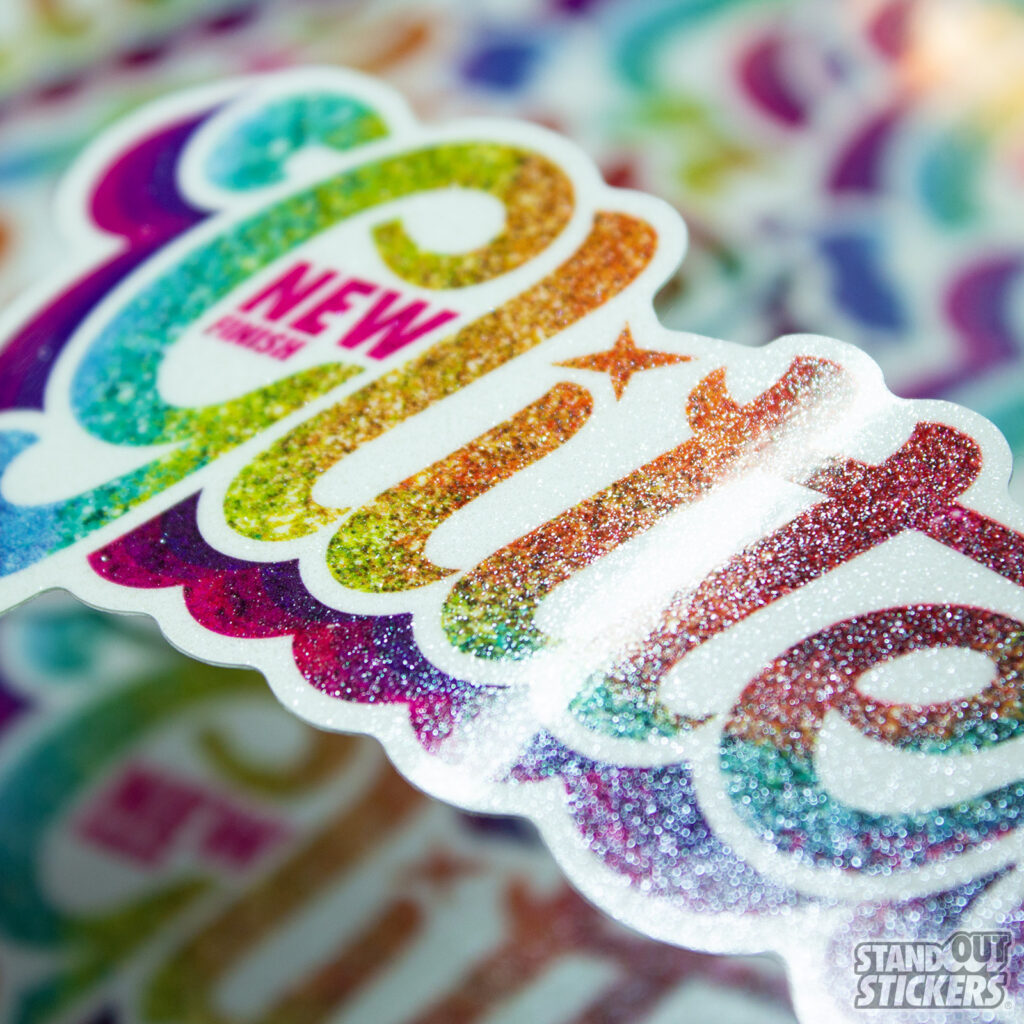 Notice the sparkle across the glitter sticker design as a hard beam of light shines on its glossy surface. On the areas without direct light you can see the bright colors of the sticker design coming through with less visible glitter flakes.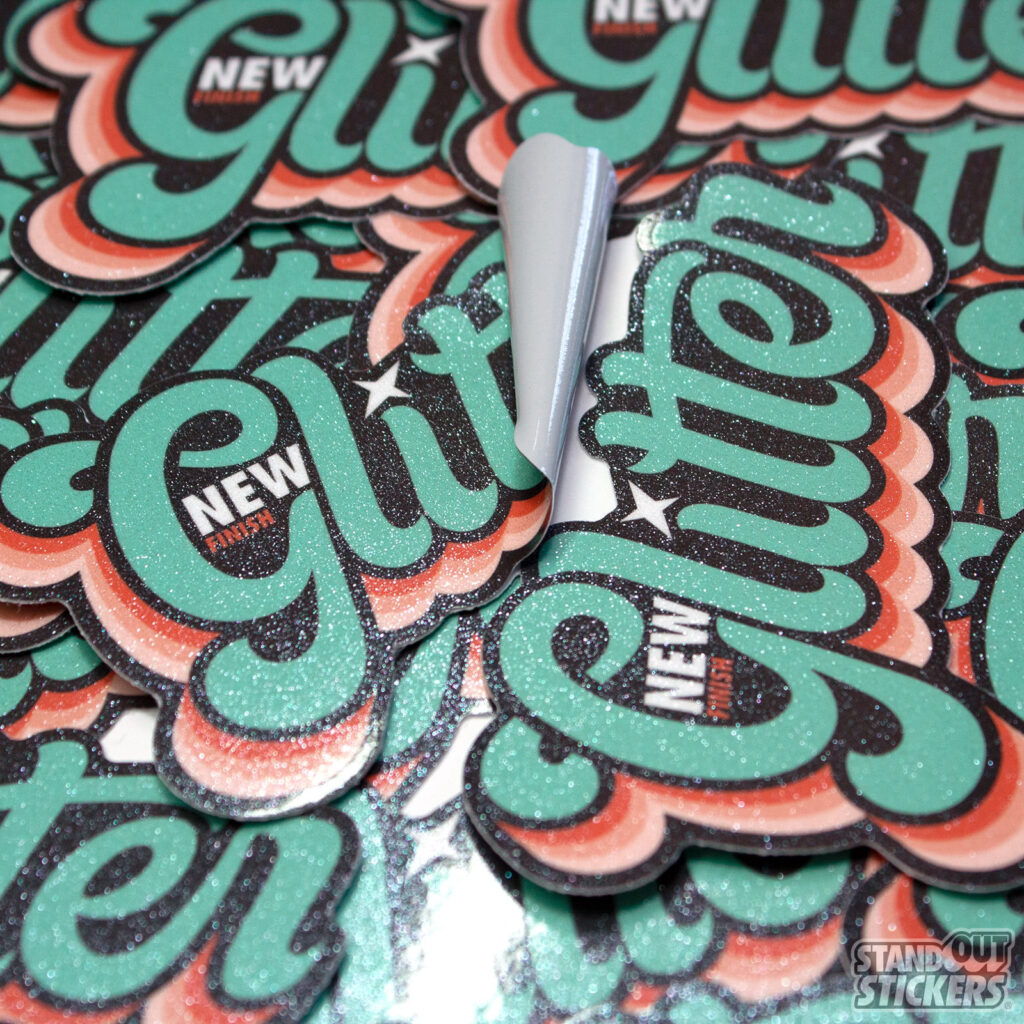 The colorway above is done in our StandOut Stickers color scheme and you can see the glitter shining lightly across certain portions of the sticker design.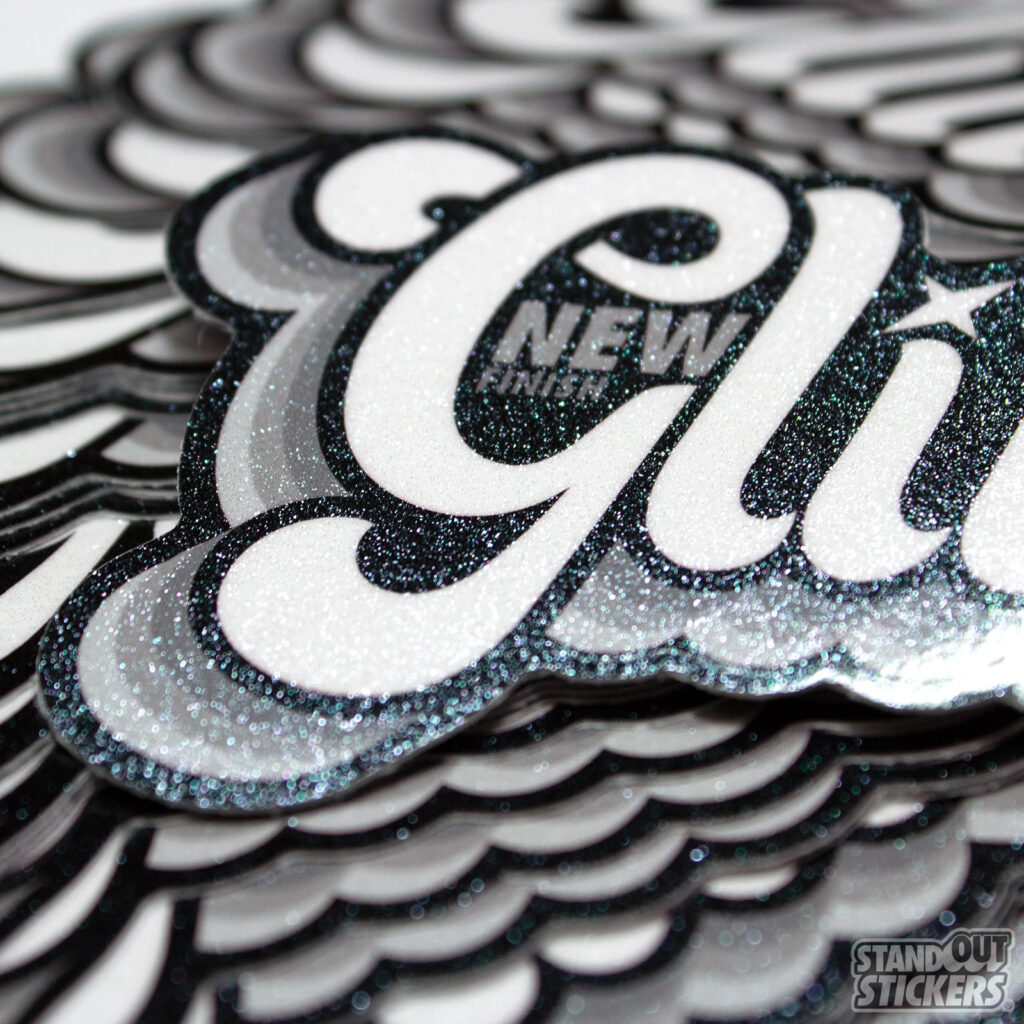 The black and white colorway above really shows how a flash of light really lights up the glitter in an exciting way.
There are many more sample photos on our website to help you get a better idea of what this sticker finish looks like at a variety of angles. That being said, it's difficult to represent our glitter effect of this sticker finish in a single still photo. You really need to see it shimmer and shine for yourself!
Our glitter finish is available now as a premium upgrade on any of our custom stickers. To get started, simply order custom stickers of any size or shape and choose "Glitter" under the finish options.
Call 800-710-2030