We have launched our newest sticker style with a sale! For a limited time, take 20% OFF our dazzling holographic stickers with code HOLOGRAPHIC
Take a look at our holographic sticker samples for ideas of how our unique rainbow foil material will transform your regular sticker designs into something magical.
This unique holographic foil material features clear adhesive and can be printed and cut to any size or shape. We protect your printed stickers with our durable and UV-resistant glossy finish for ultimate shine, vivid colors, and protection from the elements.
When you're ready, order holographic stickers and use code HOLOGRAPHIC for 20% off.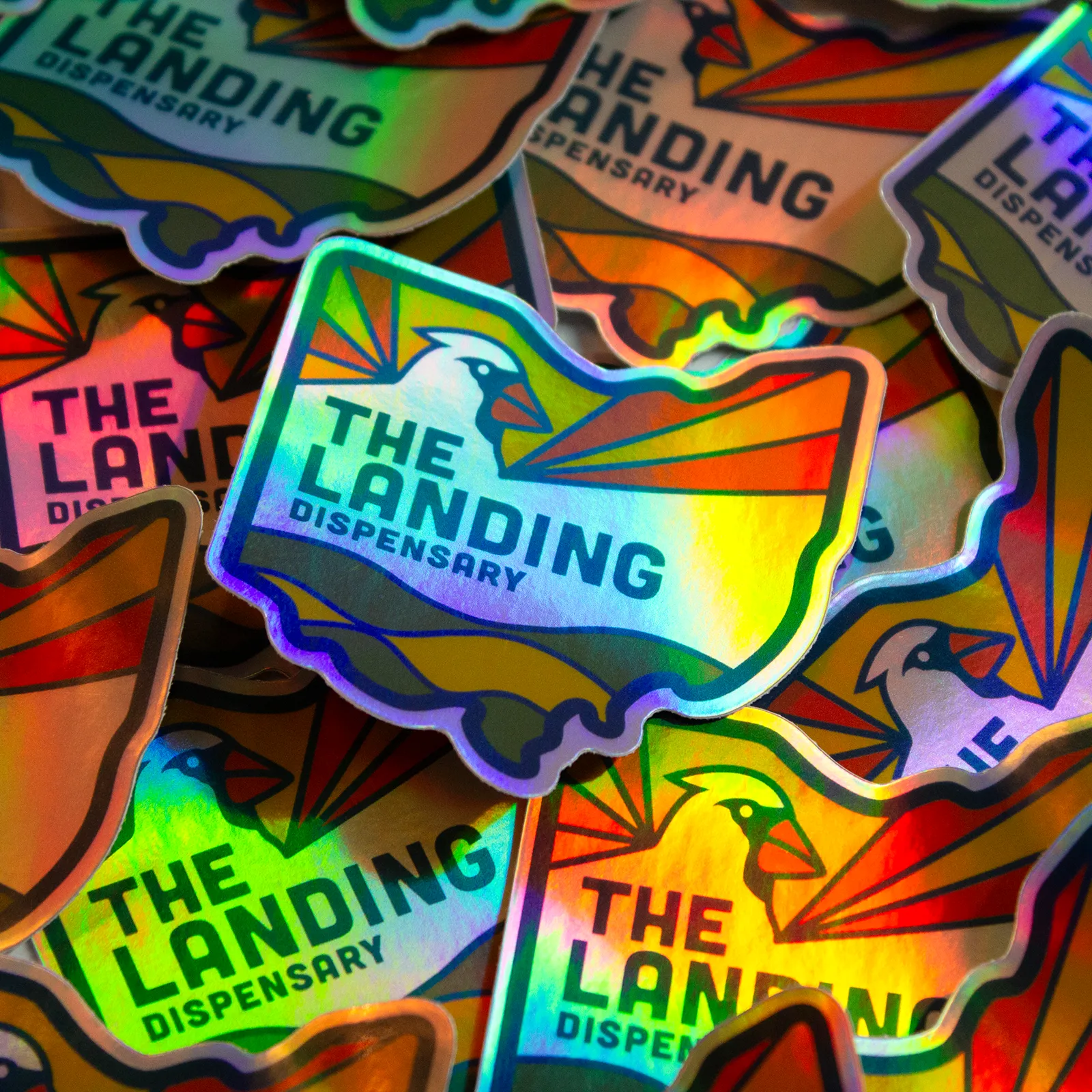 Last Modified: October 10th, 2023
You may have noticed that our website has gotten a little more colorful with the addition of our gleaming and glossy holographic stickers! Now available for purchase in any shape or size, just like the rest of our custom stickers.
We start with a high quality seamless rainbow foil holographic sticker material and print your sticker artwork with the same high quality digital printers using eco solvent inks. The transparent inks become imbued with the reflective holographic colors of the material that shift and change in the light.
Then we protect the stickers with our durable, UV-resistant glossy laminate which adds thickness, durability and protection from fading and scratches. The glossy finish also makes colors POP!
Lighter colors will be more holographic and black will totally block the holographic effect. Use this knowledge when designing your own holographic stickers! See examples below of this effect.
You can design custom holographic stickers online in our free and easy tool. Just upload your logo or artwork and approve your instant digital proof. Checkout is a breeze and USA shipping is free with code FREESHIP
Take a look at some of these gorgeous holographic sticker samples and then head over and order some for yourself. You'll find pricing surprisingly affordable and as always we offer bulk discounts.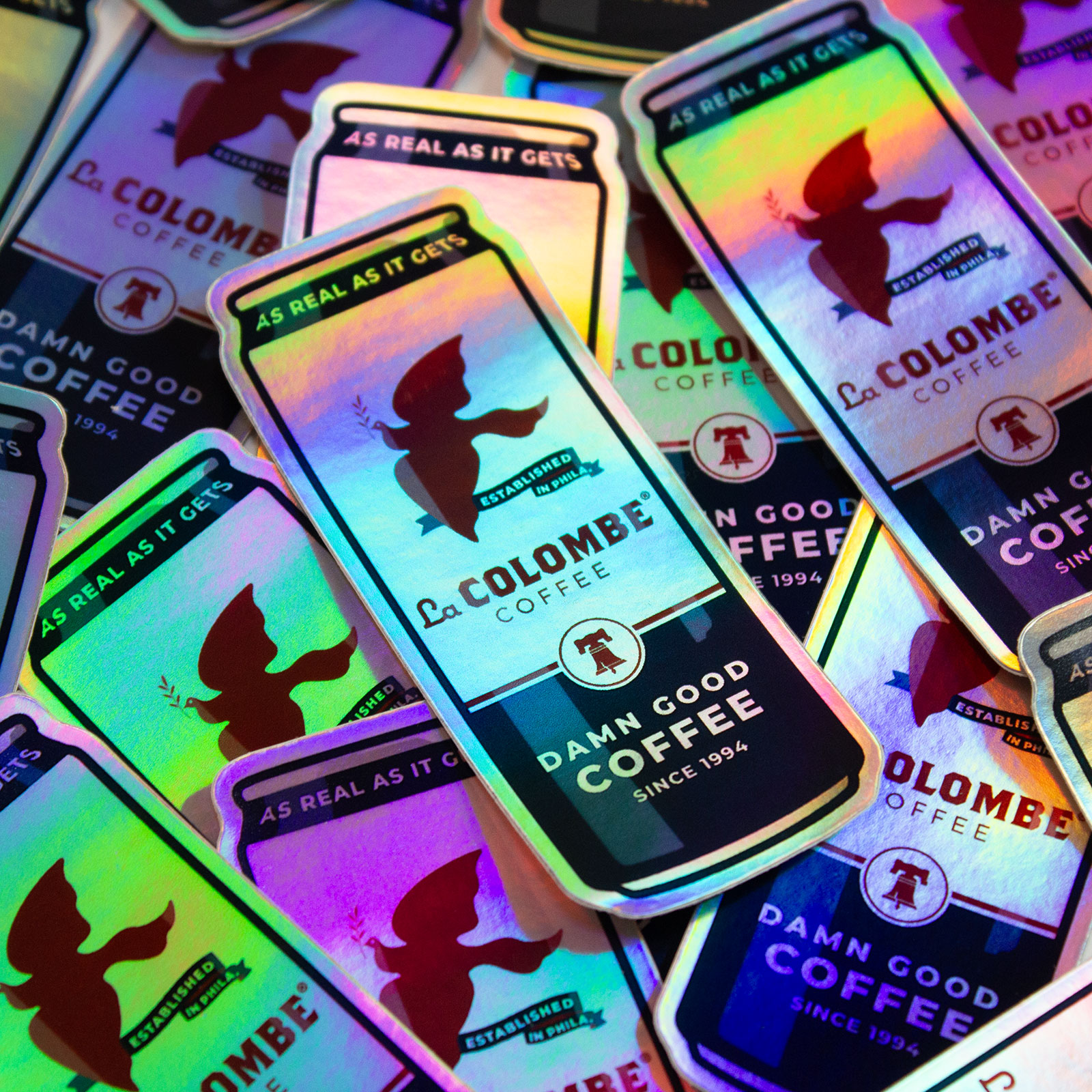 The holographic foil material really brings these coffee can-shaped die cut holographic stickers to life. La Colombe Coffee has been a long time customer of ours and we printed a recent sticker design of theirs as holographic with fantastic results. It is one of our favorite holographic stickers that we've seen so far!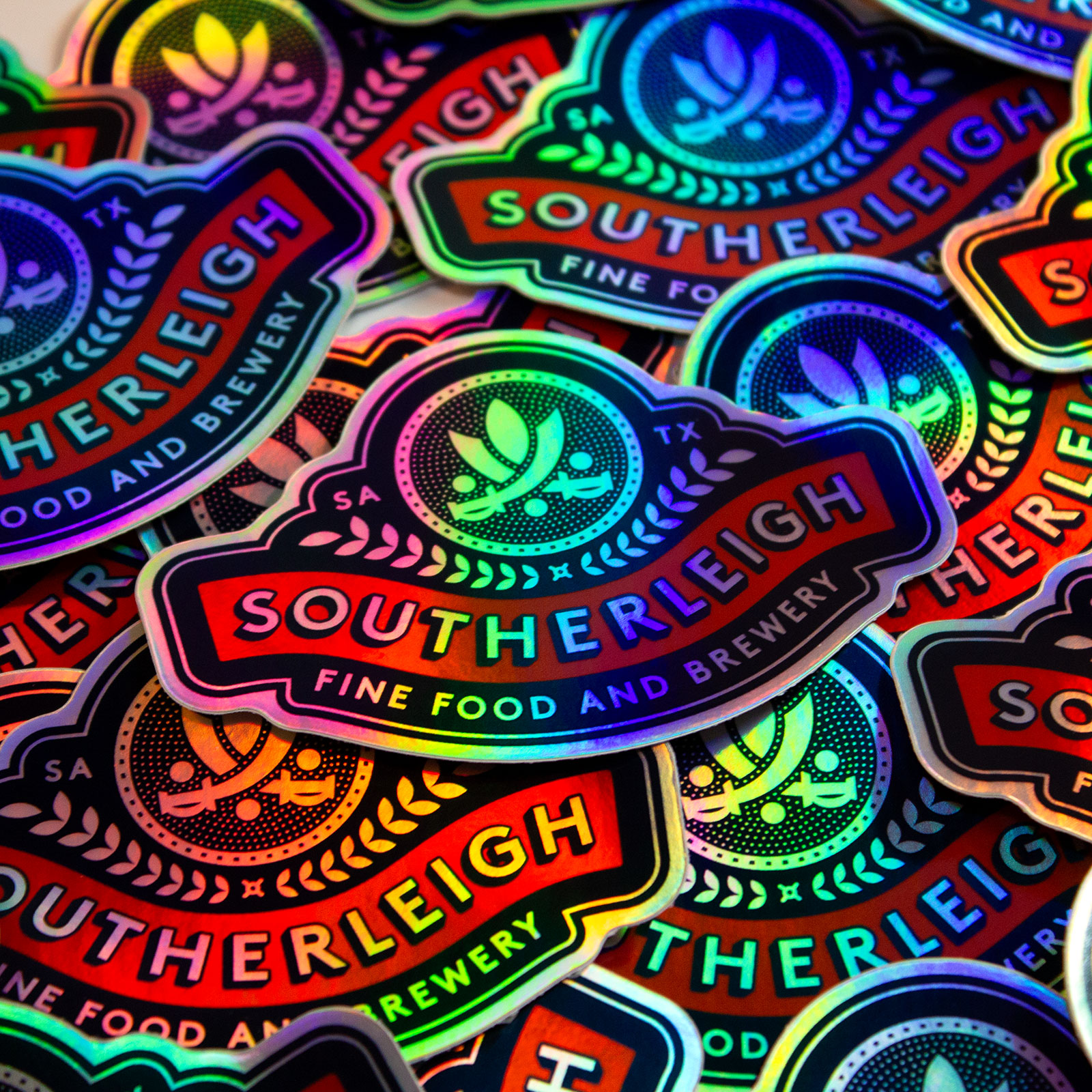 The contrast and colors in this bold custom sticker design for Southerleigh Brewery come to life with our holographic material! All of the white in this sticker design has been replaced by the gleaming light spectrum.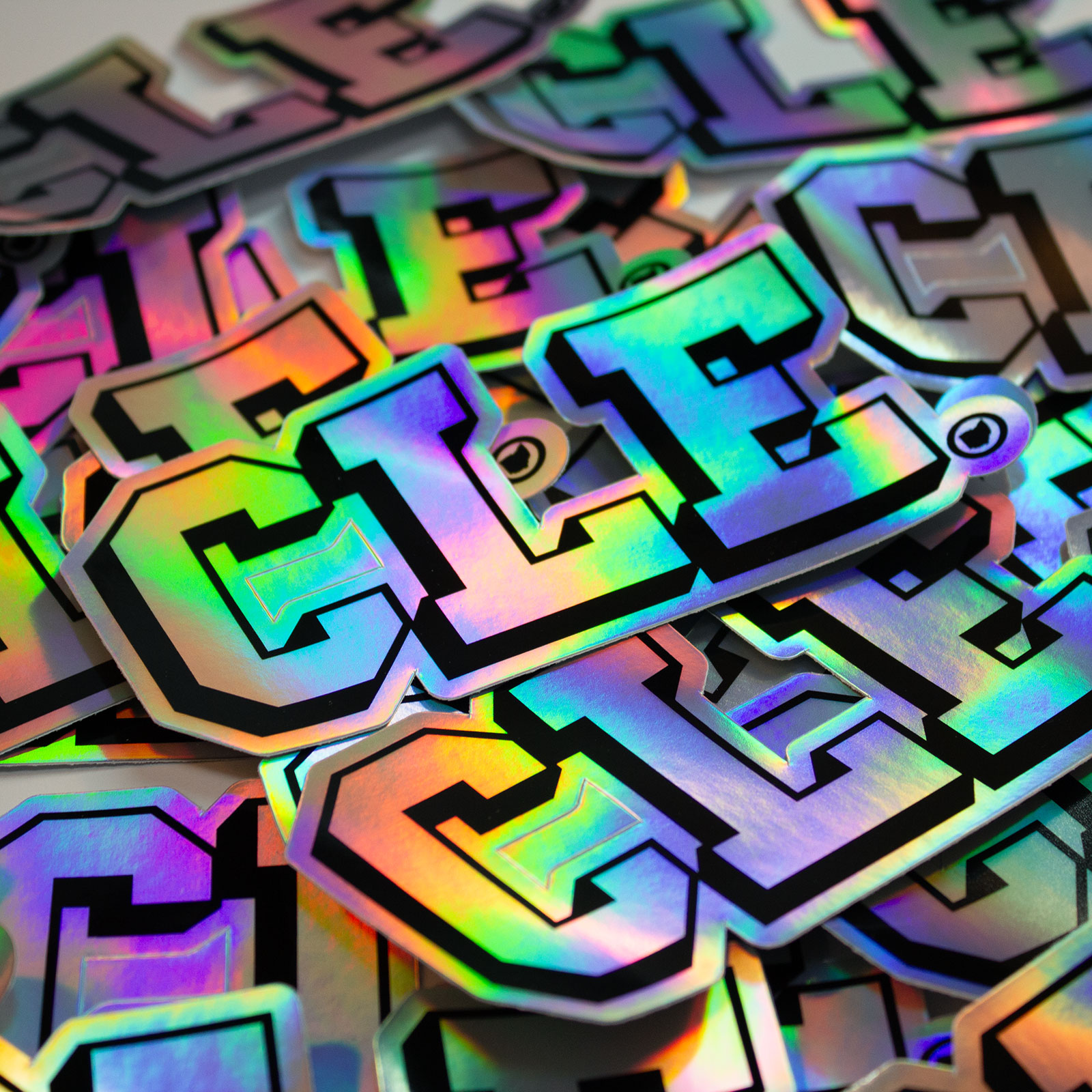 Local friends CLE Clothing Company's classic logo sticker is given fresh looks with our holographic foil material. We love seeing these around the city and beyond and our new holographic effect is perfect for turning heads while repping CLE.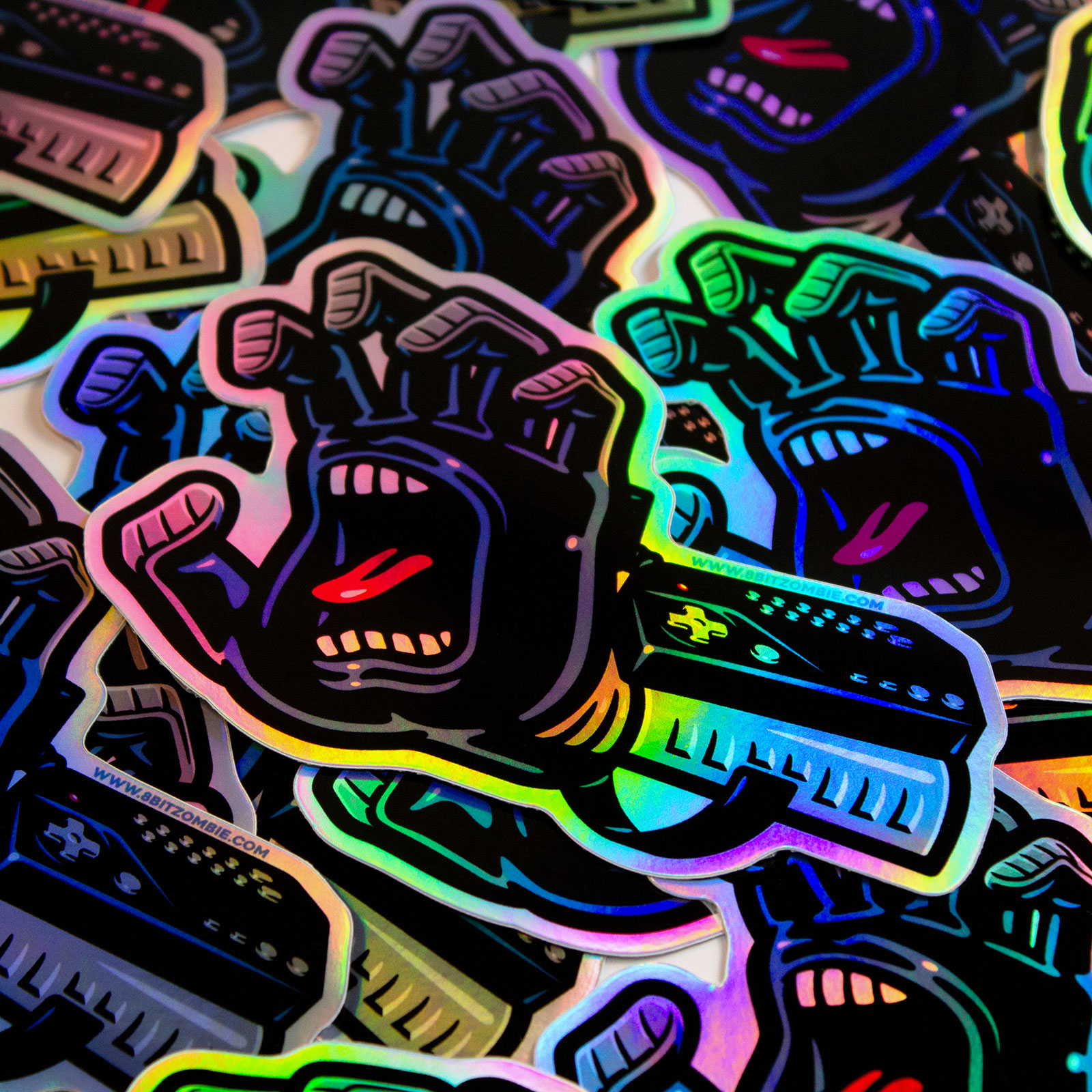 Long time customer 8-Bit Zombie's screaming powerglove design is given some unique charm with a rainbow foil look.
Holographic stickers give your designs unique desirability and collectability! Try them out and diversify your sticker offerings. You'll be glad you did!
Last Modified: October 6th, 2023