Custom Stickers Blog
Welcome to the StandOut Stickers Blog! Here you can find news about our high quality kiss cut stickers, die cut stickers, coupons for cheap stickers and other posts about our custom vinyl stickers. But it's not all sticker talk! We also feature content and sales on custom magnets, custom floor decals and cut vinyl decals.
Custom Stickers are an excellent marketing tool in these trying times.
Looking for a way to advertise and promote your brand? Or maybe you're getting a new company or a band started and you need to get your name out there. Our custom stickers are perfect advertising vehicles. Your stickers are exciting, collectable, and most importantly FLAT which means they can be shipped cheaply in a standard letter envelope!
Our high quality stickers will elevate your brand and make you look professional. Stunning high resolution sticker printing with your choice of gloss or satin matte finish, our weatherproof vinyl stickers set the gold standard for custom stickers.
Our minimum order is just 75 stickers for our standard shapes, but we also offer completely custom shaped die cut stickers with a minimum of just 125 stickers. We offer big discounts on higher sticker quantities and offer 15% off all reorders when you run out, which is sure to happen when everyone wants one of your awesome custom stickers.
In these trying times your comeback story starts here with custom stickers by StandOut Stickers!
Cute Custom Stickers for Stationery Nerd!
We recently shared these cute custom stickers on our instagram profile, which if you haven't followed yet, please do!
These adorable custom stickers are by Stationery Nerd, and you can buy these and many of her other custom sticker designs on the Stationery Nerd Etsy Shop.
We print all kinds of custom stickers for a variety of customers. Many artists and small businesses love our high quality and high resolution sticker printing services, but we also print a lot of logo stickers, bumper stickers and even product and warning labels for companies large and small.
Even if your custom stickers aren't this cute, they'll be sure to STANDOUT with StandOut Stickers!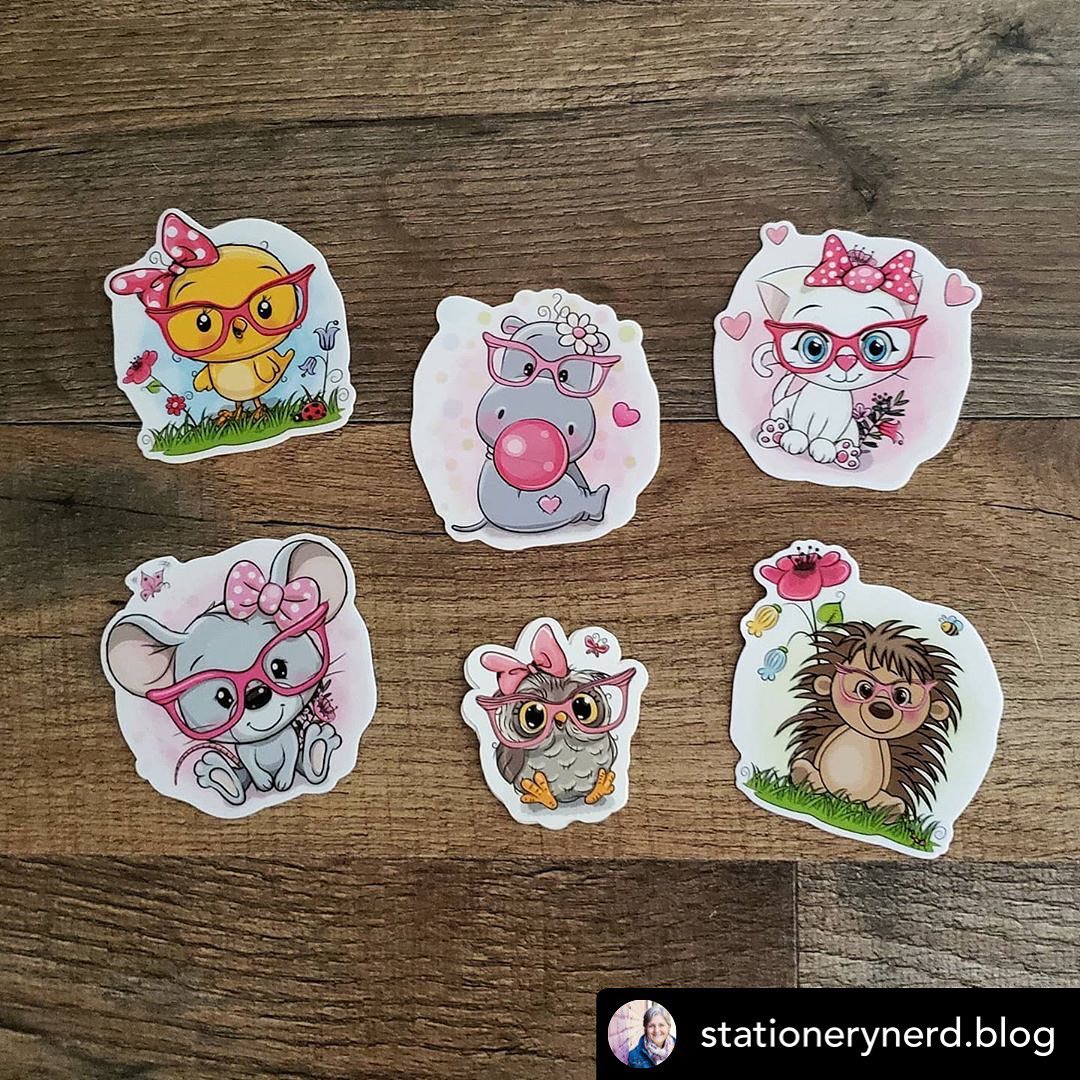 Social Distancing Signs Available Now!
When you need to advertise social distancing practices on doors, walls and windows, or any location other than your floor, look no further than our new Social Distancing Signs. These 11.5″ vinyl stickers feature bold graphics and a glossy weather-resistant finish. These social distancing signs can be installed indoors and outdoors and give you years of service in any location when installed on a clean smooth surface.
Face Mask Required Vinyl Sticker (Blue)
This large 11.5″ wide vinyl sticker features the words "FACE MASK REQUIRED – Thank You!" and a prominent illustration of a face mask. Display this sign on windows and doors to remind visitors that face masks are required in your facility. This social distancing sign can be installed indoors and outdoors. This sign design can also be purchased in a red or green color variant.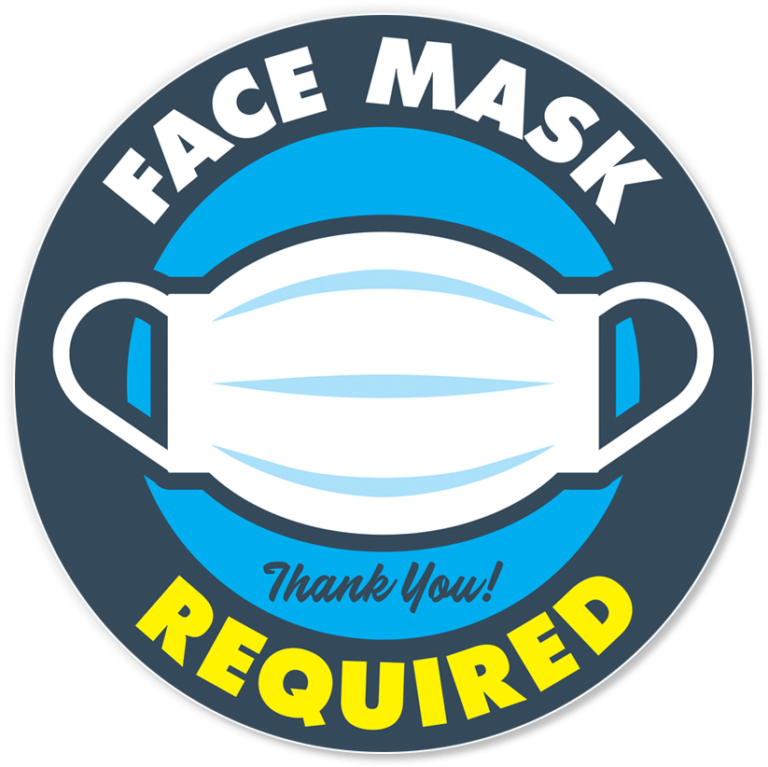 6ft Apart Vinyl Sticker (Blue)
This social distancing sign reads "Please stay 6FT APART" which will encourage people to keep their distance when forming a line at your place of business. This sign is also available in red and green color variants.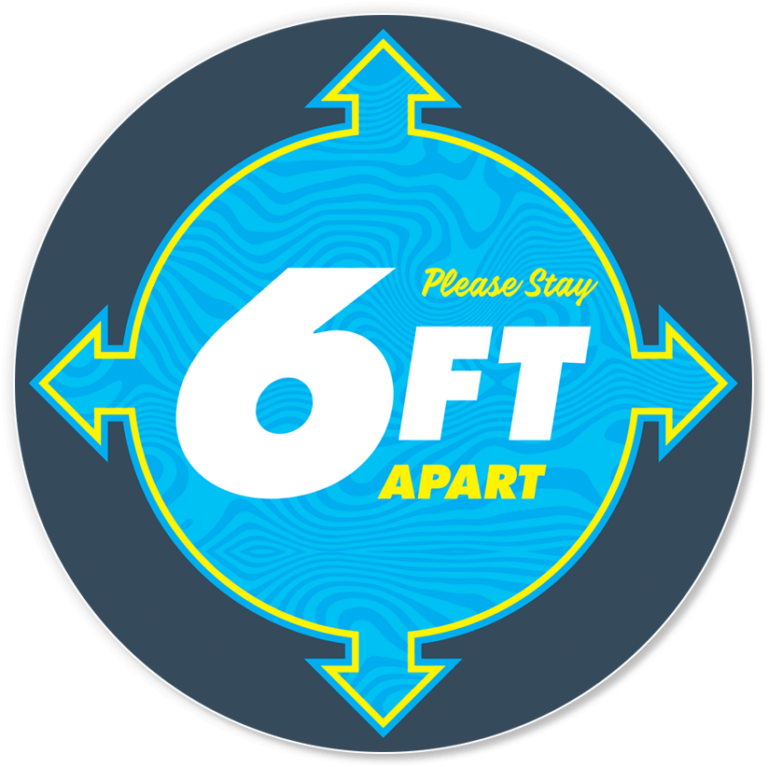 We also allow you to customize these designs using your own logo and colors when you order social distancing signs in bulk quantities of 75 or greater. Simply choose the customize option from the dropdown under your preferred design on our Social Distancing Signs page.
New Social Distancing Floor Decal Designs
We have released several new social distancing floor decals designs to help encourage social distancing and maintain a healthier and safer work environment. Our pre-designed social distancing floor decals are made available at a discounted price and our minimum order is just one floor decal.
Our floor decals feature a textured slip-resistant surface and strong adhesive. When you're done displaying them, these temporary floor signs will remove with little to no residue left behind. Our floor decals are intended for indoor use only on durable flooring surfaces like polished concrete, ceramic or vinyl tile.
Face Mask Required Floor Decal (Blue)
These social distancing floor decals are also available in red and green color variants, or you can customize your own floor decals when you order in bulk (75 or more). These high quality, 11.5″ wide floor graphics feature the words "FACE MASK REQUIRED – Thank You!" and a large illustration of a face mask.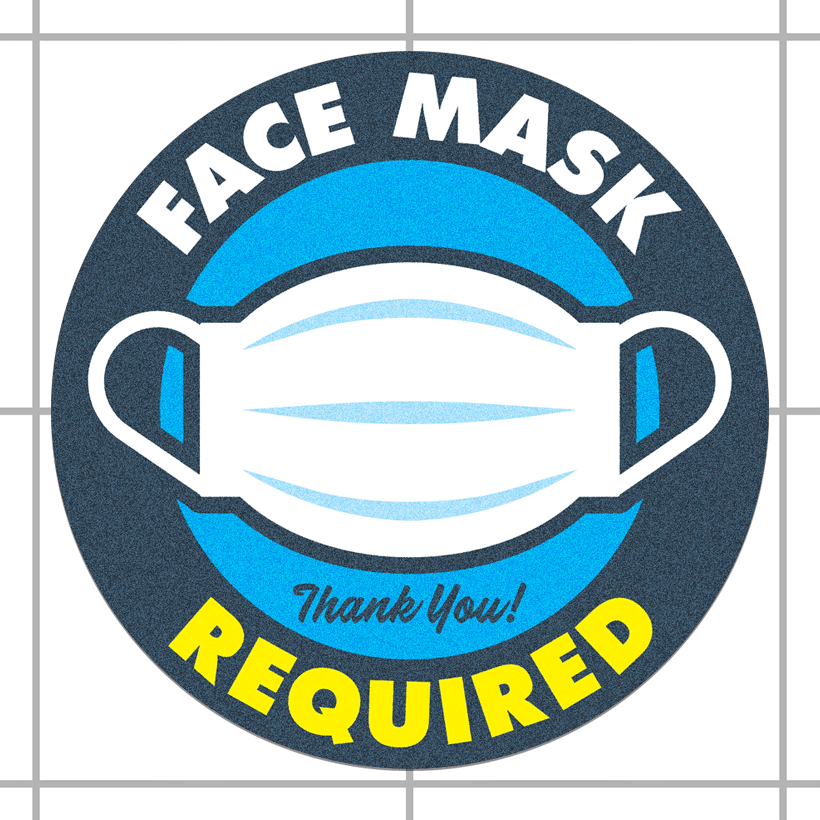 Social distancing is very important to limit the spread of viral infection. This bold floor decal features the words "Please Stay 6ft Apart" with a multi- directional arrow design. This handsome floor decal is also available in red and green color variants. We recommend placing these floor decals in 6 foot intervals wherever a line or queue forms. If you're interested in this floor decal design, you might also be interested in some of our other social distancing floor decal designs that can help you direct foot traffic. Visit our website for more floor decal designs.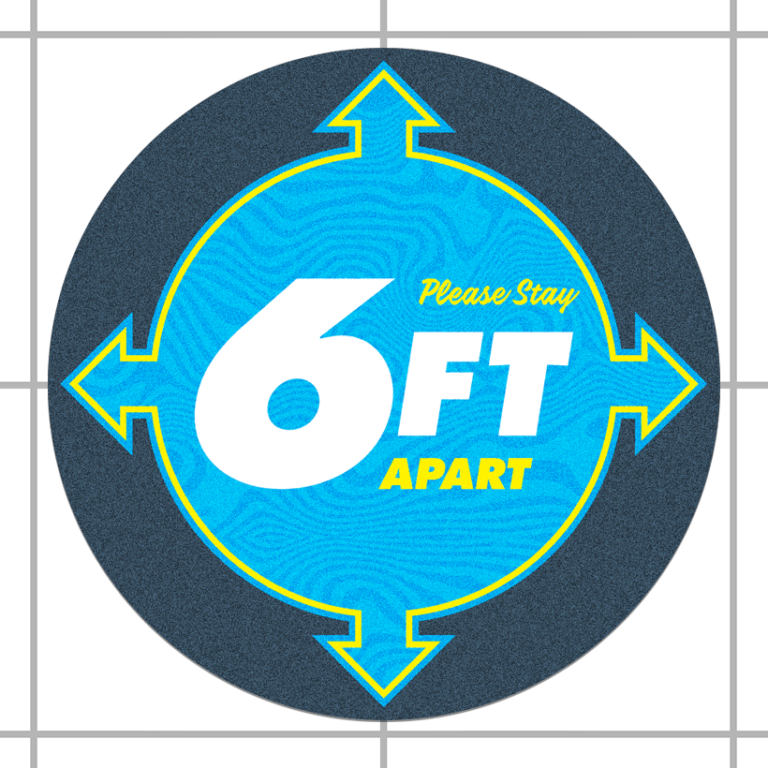 Stand Here Floor Decals (4 Pack)
This four pack of slimmer 11.5″x2.5″ rectangular floor decals gives you more value. Simple bold graphics tell people to STAND HERE wherever a line or queue forms. Use these social distancing floor decals in combination with some of our other designs that help direct foot traffic to create an orderly flow through any business.
6ft Apart Floor Decals (4 Pack)
This four pack of 11.5″x2.5″ rectangle floor decals reminds people to keep 6ft apart. You can place these anywhere a line would form to remind people to socially distance themselves.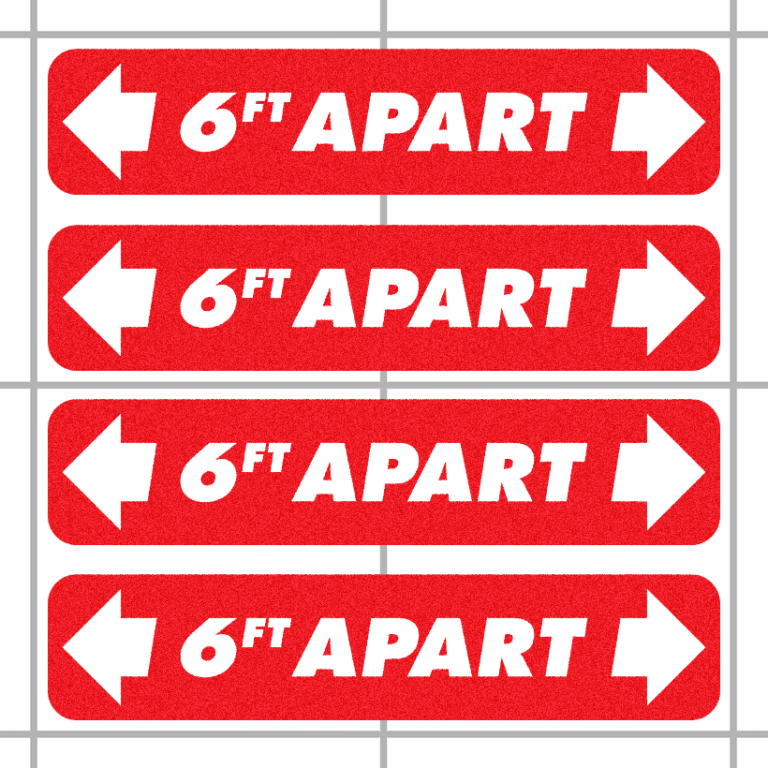 We hope to offer affordable tools to increase the health and safety of your business during the coronavirus pandemic and beyond. If you have a need for custom floor decals, please contact us. Printing custom floor decals and custom stickers is our specialty!
Rectangle Floor Decals Now Available
Make a big statement with our new rectangle floor decals, now available to order and design online at StandOut Stickers!
Our rectangle floor decals feature an anti-slip textured surface with full color graphics printed in resilient eco-solvent inks. The back of our floor decals is reinforced with fabric and super strong adhesive. Our rectangle floor graphics can be printed and cut in any size or shape.
Rectangle floor decals are meant to be installed as temporary floor signs and when it is time to remove them, they come up with little to no residue left behind! Our custom floor decals can help direct foot traffic, encourage social distancing, welcome visitors or simply advertise. The possibilities are endless and this is an exciting new tool to customize your business.
For rectangular floor decals up to 144 square inches, use our online tool to design rectangle floor decals in your browser in minutes and get a free digital proof to approve before placing your order.
Take a look at some rectangle floor decal sample photos below to see our high quality before you order!
Your floors have a lot of potential, so now is the time to put them to work for you with custom floor decals!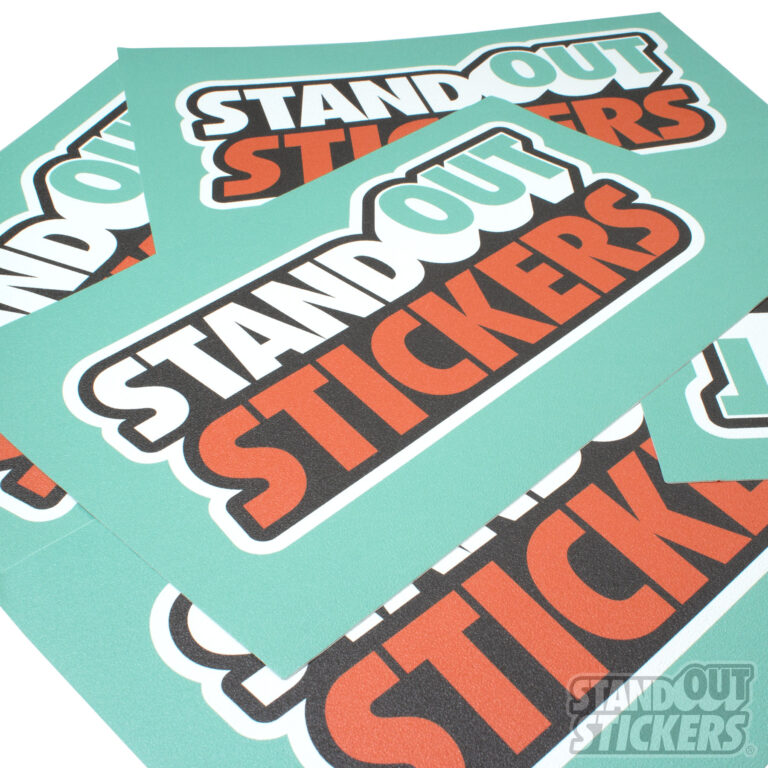 Call 800-710-2030