It has been a little over one year since we moved to our brand new headquarters in Brunswick Ohio. To celebrate, we've given our sticker and magnet printing room a makeover with fresh paint and a massive neon sign.
In all, we put up three giant neon signs in our headquarters building shared with Pure Buttons. If you're in the area, feel free to stop by and see them sometime when you pick up your order!
When you enter the StandOut Stickers office, you can see our huge sticker printing room behind a wall of soundproof glass. In this room we keep all of our wide format industrial printers hard at work producing top quality vinyl stickers and flexible custom magnets all day long. (Cut vinyl decals are "printed" in the cutting room)
The StandOut Stickers printing room has independent heating, cooling and humidity controls to make sure our sticker material performs exactly the same every time.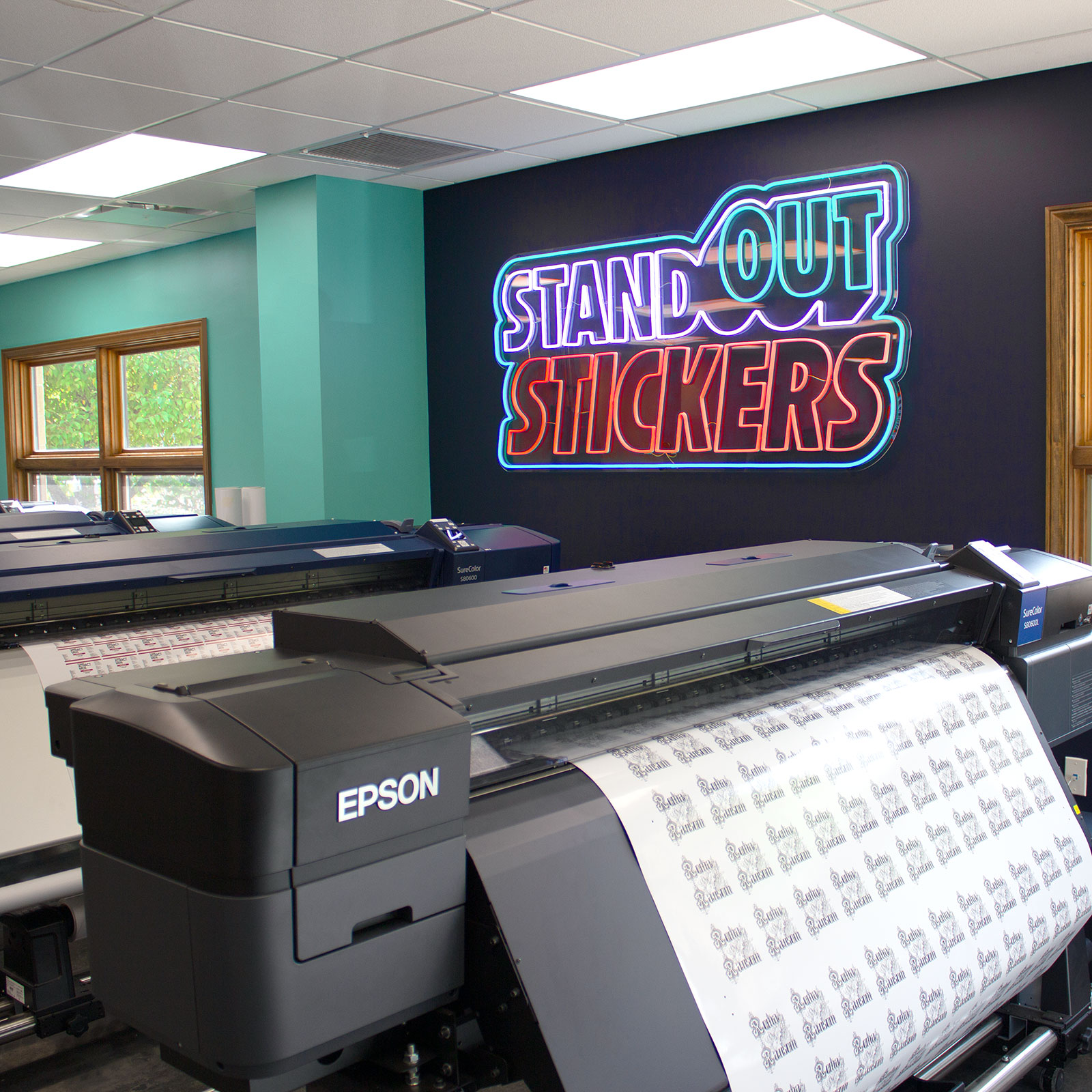 When you order custom magnets or stickers, first we prepare your artwork, then we send it to this room to be printed on a roll of either sticker vinyl or flexible magnetic material. Larger jobs may require several rolls of material just to print. But many small jobs can fit on a single roll!
Next, printed stickers and magnets head to our cutting room where they're queued up for weatherproof lamination (stickers only) and then loaded onto our flatbed cutting machines. These computer guided swiss blades cut and score any custom shape you desire. In a matter of minutes your custom stickers are rolling off the beds and ready to head to shipping.
But it starts here, in the vinyl sticker printing room. Here your artwork is now bathed in a beautiful neon glow to infuse it with cyberpunk essence before it makes its way to your doorstep.
Last Modified: September 12th, 2023