Our popular Glitter Stickers were recently affected by supply chain issues, and we had to pull them from the website for what seemed like forever. But finally we're pleased to announce that the glittery sticker laminate is back in stock and ready for purchase once more.
This special sparkly laminate is infused with semi transparent glitter which make all of your sticker designs sparkle and shine, similar to the look of a glittery car or boat paint.
Reminder, this is not a holographic 'foil' effect, but real genuine glitter stickers that offer a unique effect that STANDS OUT from the rest! Glitter stickers are a premium upgrade priced at just 30 cents per sticker.
Check out our glitter sticker samples if you want to see how this unique sticker finish reacts to light.
Choose Glitter finish when you order custom stickers of any size or shape.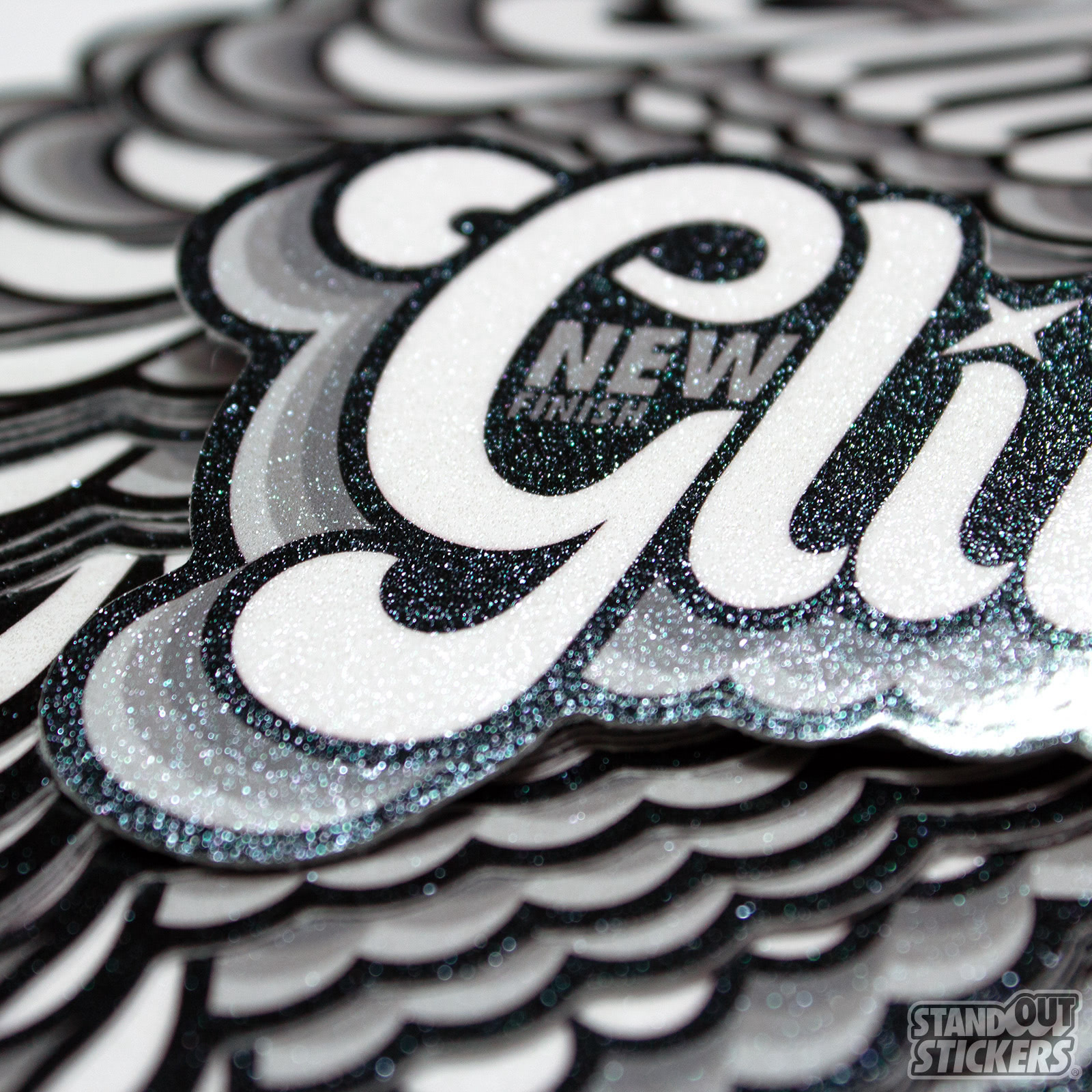 Last Modified: January 11th, 2023
We began our sticker journey with our original high quality vinyl glossy stickers. Years later, we added Matte stickers to our lineup and they were wildly popular. Now we present to you our exciting custom Glitter Stickers!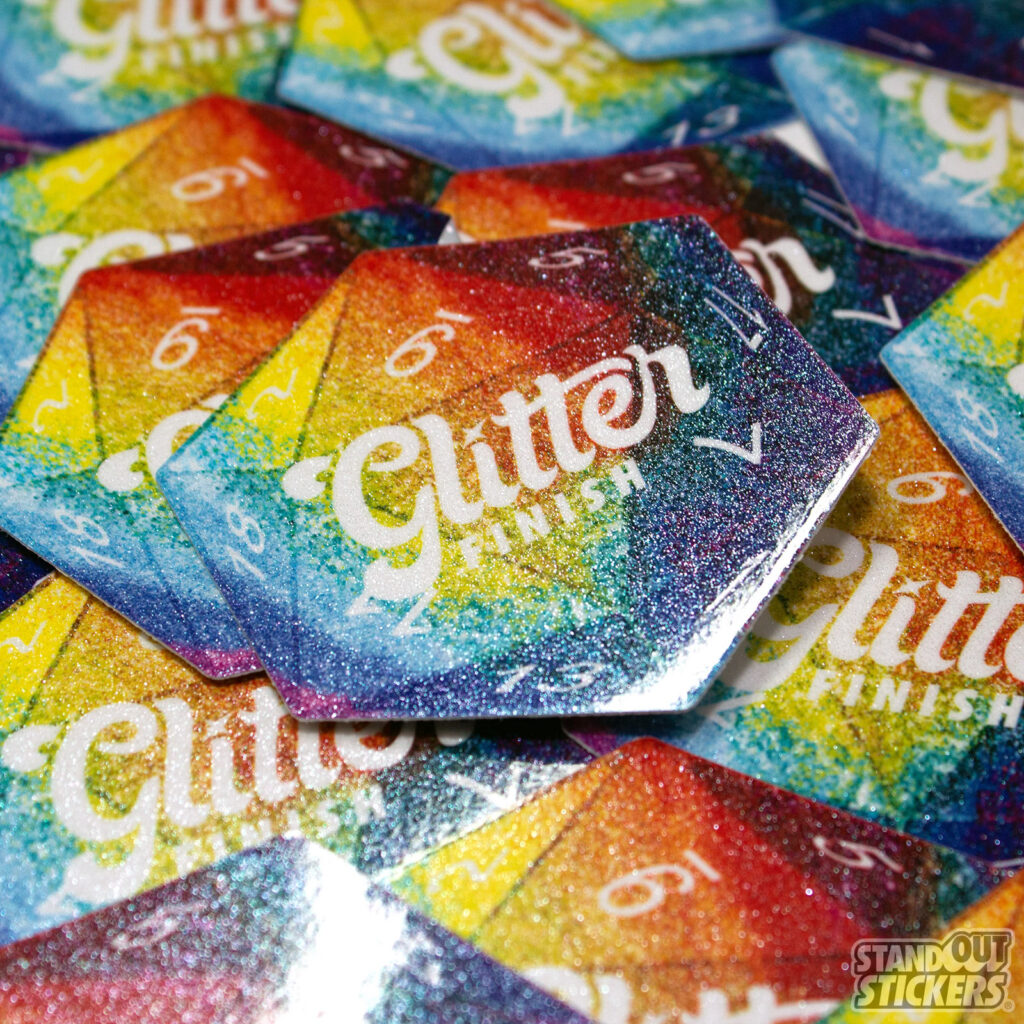 This new glitter sticker finish offers an ultra high gloss appearance with the inclusion of super fine, transparent metallic glitter. This is not a holographic foil effect, but instead real glitter flake similar to the finish you'll find on automobiles and boats.
Like all of our custom sticker finishes, this glitter finish protects your vinyl stickers from fading, peeling and cracking or scratching. Our durable glitter stickers will shimmer and sparkle indoors and outdoors, rain or shine for years to come.
Our original glossy sticker finish is the choice for those looking for accurate color reproduction with rich, deep and vivid color appearance and a high-gloss shine.
Our matte sticker finish is for those looking for an upscale look. This low shine lustrous finish gives a high-end look to custom labels and logo stickers.
Our glitter finish is for anyone who wants to stand out! This new finish features an ultra glossy, wet-look surface with millions of super tiny transparent metallic glitter flakes that will flash and shine in the light and really get noticed. This finish may alter the appearance of solid colors a bit due to the way it reflects light and the base color of the silver metallic flake, however due to the high gloss nature of the finish, colors in your sticker design will look deep and vivid.
Take a look at our glitter sticker samples below or view all samples at the link. We prepared three colorways of the same sticker design to help you see how this glitter sticker finish reacts on different colors and textures.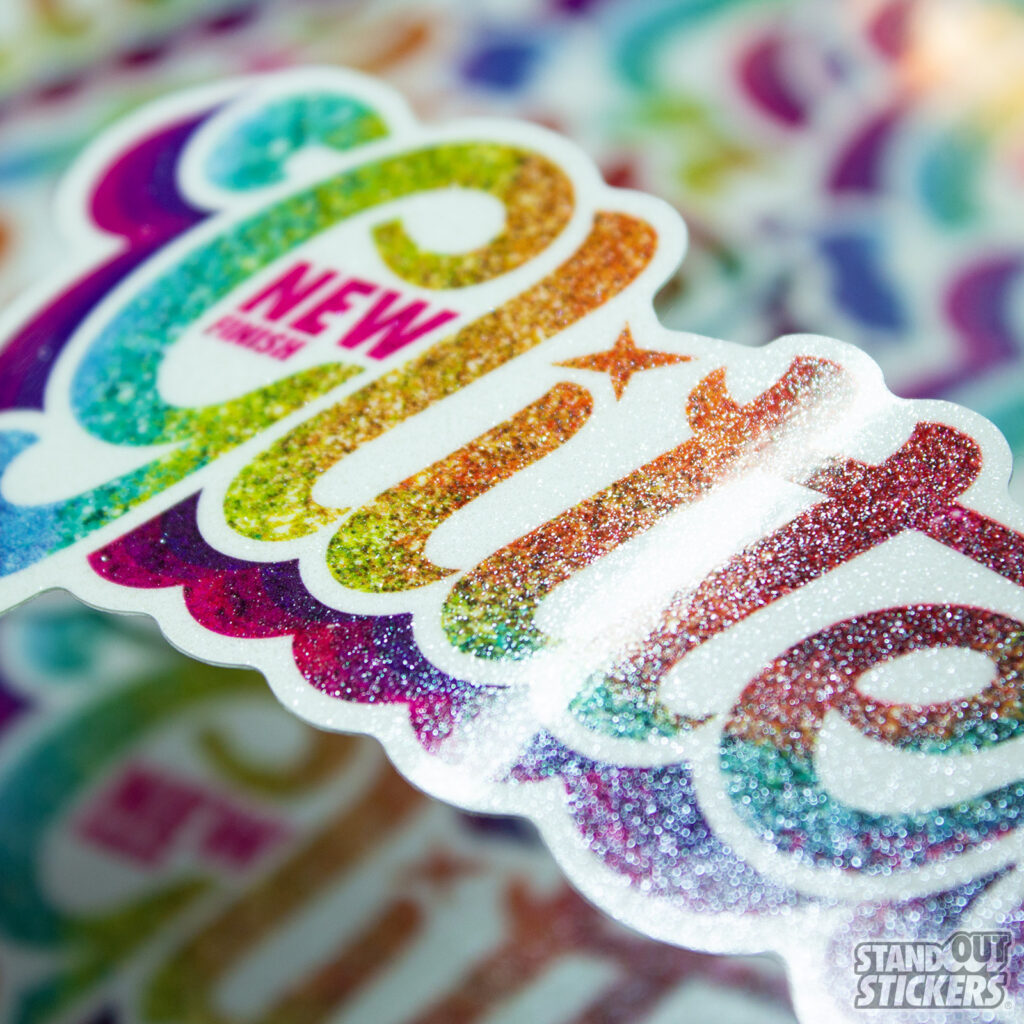 Notice the sparkle across the glitter sticker design as a hard beam of light shines on its glossy surface. On the areas without direct light you can see the bright colors of the sticker design coming through with less visible glitter flakes.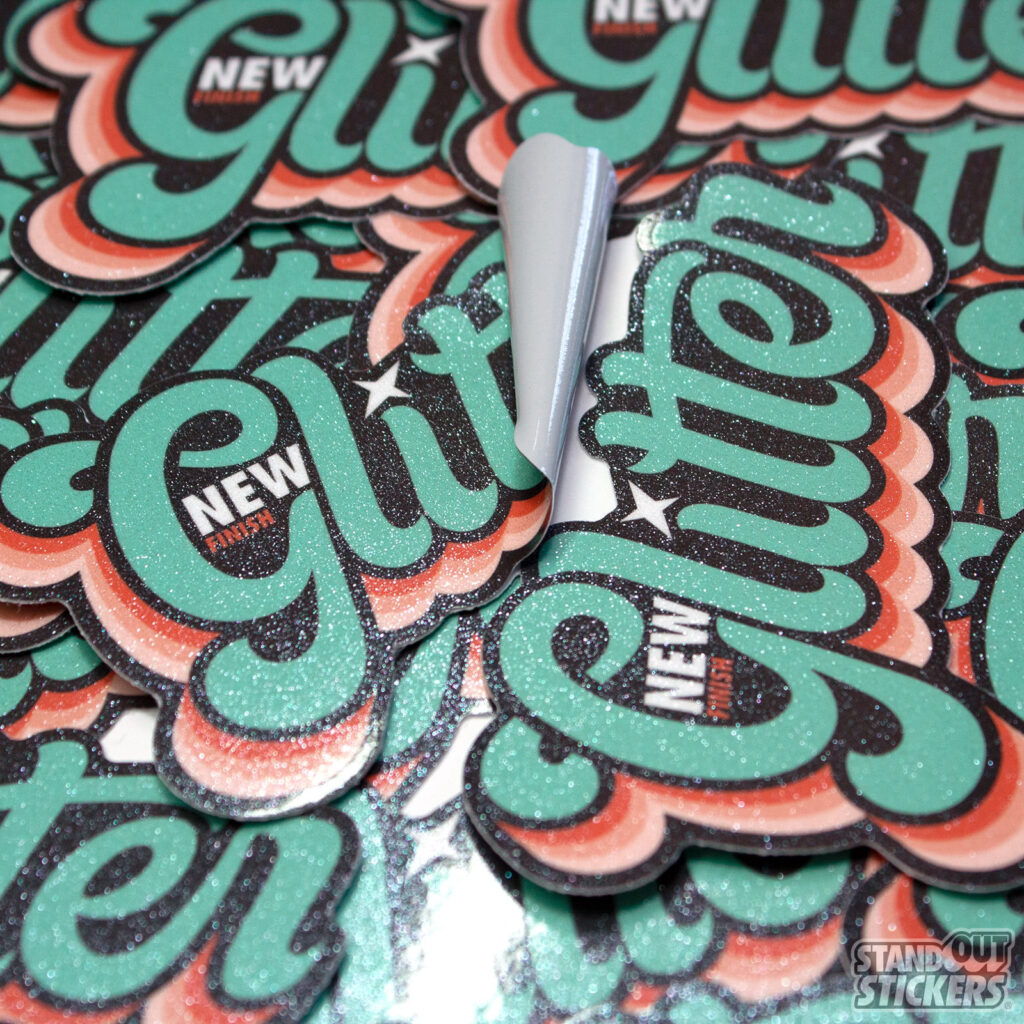 The colorway above is done in our StandOut Stickers color scheme and you can see the glitter shining lightly across certain portions of the sticker design.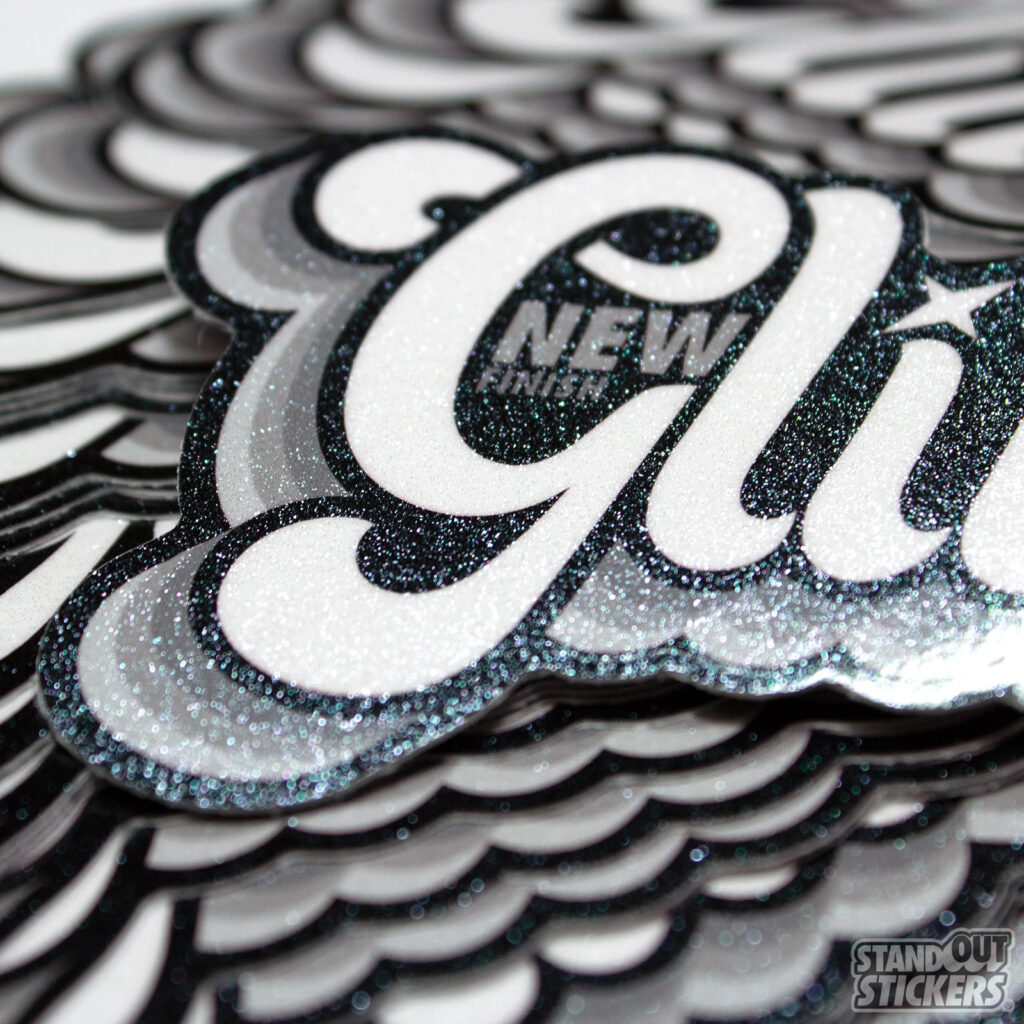 The black and white colorway above really shows how a flash of light really lights up the glitter in an exciting way.
There are many more sample photos on our website to help you get a better idea of what this sticker finish looks like at a variety of angles. That being said, it's difficult to represent our glitter effect of this sticker finish in a single still photo. You really need to see it shimmer and shine for yourself!
Our glitter finish is available now as a premium upgrade on any of our custom stickers. To get started, simply order custom stickers of any size or shape and choose "Glitter" under the finish options.
Last Modified: February 26th, 2021