Custom Stickers Blog
Welcome to the StandOut Stickers Blog! Here you can find news about our high quality kiss cut stickers, die cut stickers, coupons for cheap stickers and other posts about our custom vinyl stickers. But it's not all sticker talk! We also feature content and sales on custom magnets, custom floor decals and cut vinyl decals.
"Soldier On" Sticker of the Month by Tyler Stout
Tyler Stout's sticker design called "Soldier On" is available now for individual purchase or as part of membership. Tyler Stout is an illustrator who has become famous for his hand-drawn, highly detailed poster designs. Seen on everything from movie posters (Alamo Drafthouse), video game covers (Sleeping Dogs), and albums (Flight of the Conchords), this illustrator brings something new to the table. Get it now!
Buy One – Buy Five – Buy Ten – Become a Member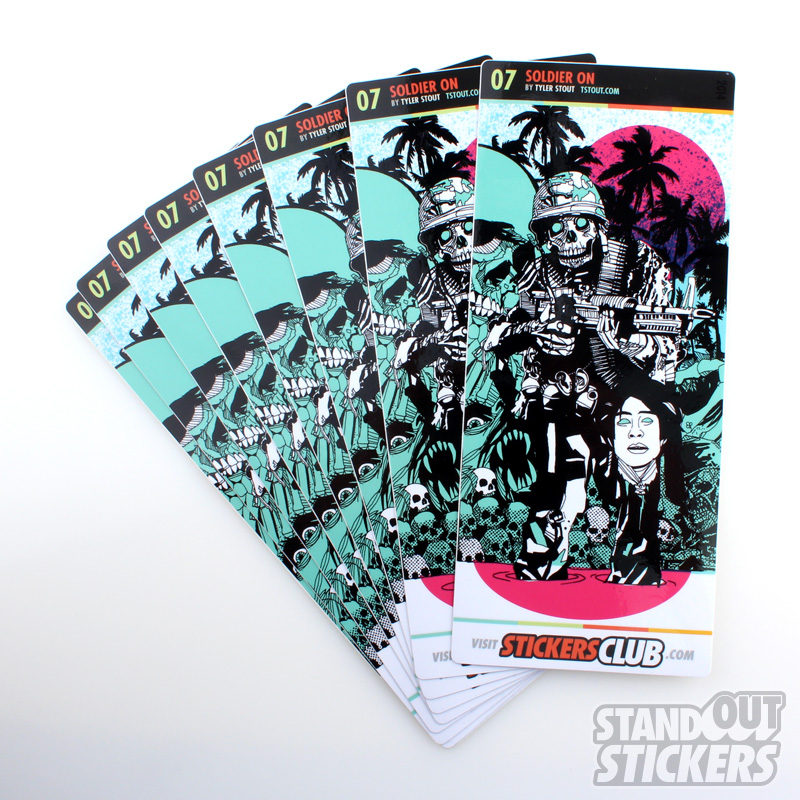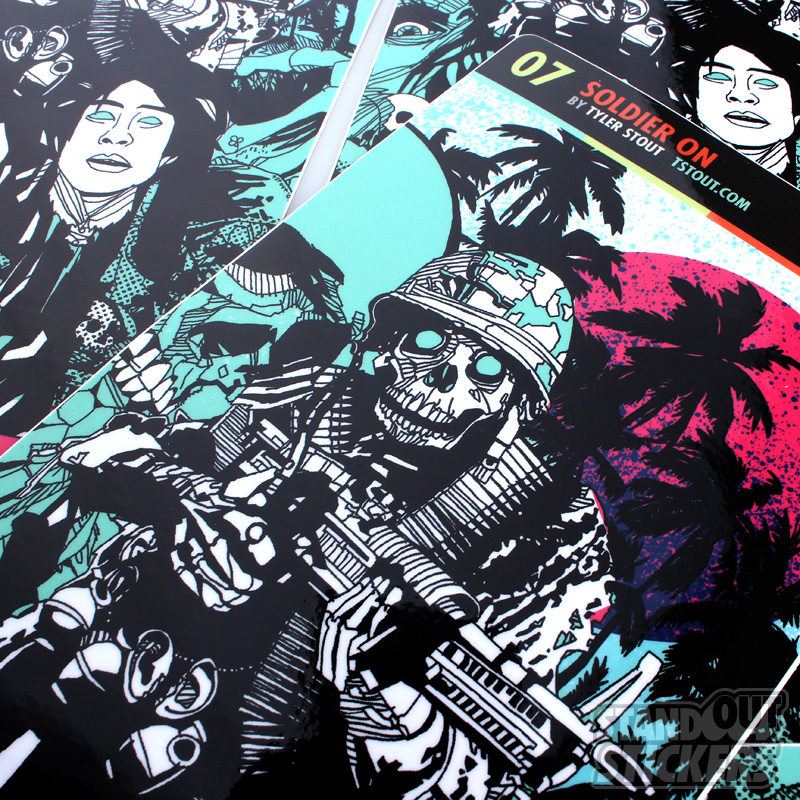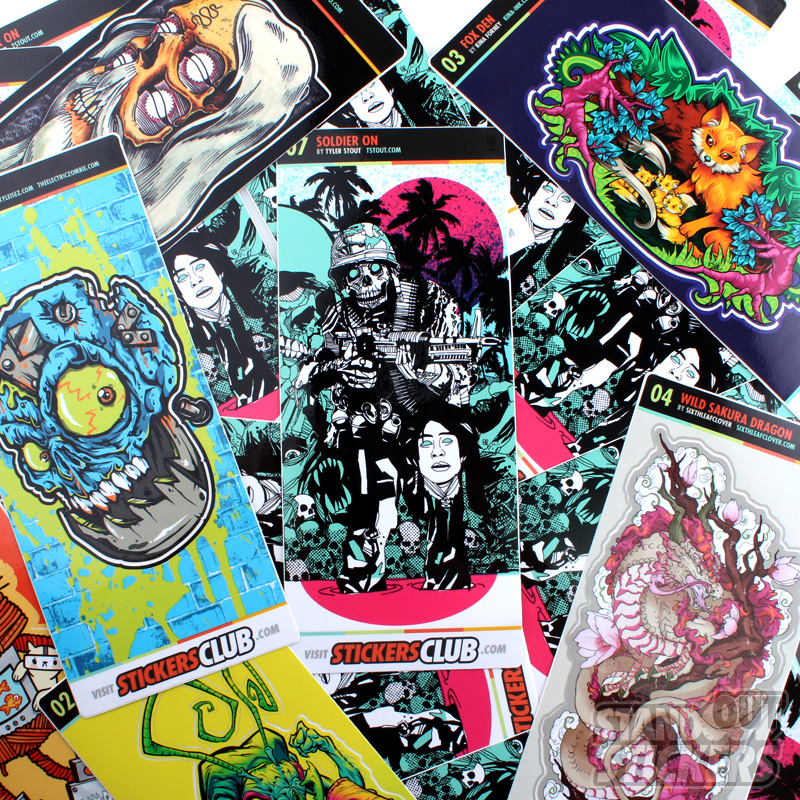 How to REorder Custom Stickers
If you'd like to place a reorder for custom stickers at StandOutStickers.com watch this video for a step by step walkthrough of our easy reorder process.
A transcript of the video is below:
Hi everybody, today we're going over reordering on standoutstickers.com.
Click the "My Account" link in the top banner. Enter your email address and password, then log in.
Under "My Account" click the "View Previous Orders" link.
This is a list of your previous orders. Click the details link on the right side of the order that you'd like to REorder.
Take a look here at your artwork, the quantity and the size.
These will all be placed into your cart.
If you need to make edits, that's something you can do.
Review your billing information, shipping information, and your contact information and click the orange REORDER button.
This adds your order to the cart.
It skips the artwork upload process. You'll notice the artwork, quantity and size have all been selected for you. You can continue to checkout right now, or you can edit your order.
Click the green edit icon to edit the quantity.
You can change the quantity now if you need more or less than you did previously.
Let's order ten thousand. Click save to continue.
Our order has been updated to 10,000 stickers.
Everything looks good let's checkout.
Your billing, shipping and contact information should be saved from your previous order.
Take a moment to review it to make sure it's correct, and continue through the checkout process.
Select your shipping option and view this Ground Shipping Map to see how long it
takes FedEx to get your order from us to you with the Ground Shipping method, our cheapest shipping option.
Click continue. Enter your payment information and review your order.
Everything looks good! Ten Thousand stickers on the way! Click the finalize order button to finish your order.
Order received, thank you! Take a minute to review the information on this page and share the love on twitter, facebook and google plus.
Review our digital proof notice and if you have any more questions, contact us at info@standoutstickers.com or livechat on regular business hours.
Wow my stickers turned out great!
Thanks for watching! StandOutStickers.com
How To Install Cut Vinyl Decals
We have two new videos showing cut vinyl decals installation tips and examples. A transcript of the first installation video is below:
Stand Out Stickers makes high quality cut vinyl decals. This video will show you how to install them.
Use a straight edge like a credit card to smooth out the decal and adhere the vinyl to the top installation layer. Take your time with detail areas of your design.
Slowly peel the decal away from the background. You'll see the sticky side of the decal is now exposed.
Take your time with this installation process, you only get one shot.
Press the decal down on one end and smooth it out on the surface slowly from one end to the other to prevent bubbles and rippling. Again, use your straight edge on the decal to press the decal into the installation surface.
Slowly peel back the top layer. Use the tool to press any pieces that want to come up with the top layer.
Press out any minor air bubbles with your fingers or smooth straight edge tool.
Your decal is now installed and ready for years of use.
Thanks for watching! StandOutStickers.com
Also, make sure to take a look at our gallery of high quality Cut Vinyl Decal sample photos.
How to Order Custom Stickers
We recently put together an informative page to explain our ordering process and some helpful tips on creating artwork and using our templates. Check out our brand new 'How to Order Custom Stickers' page to get educated on our sticker order process. You'll be rewarded with things like low res vs high res doge: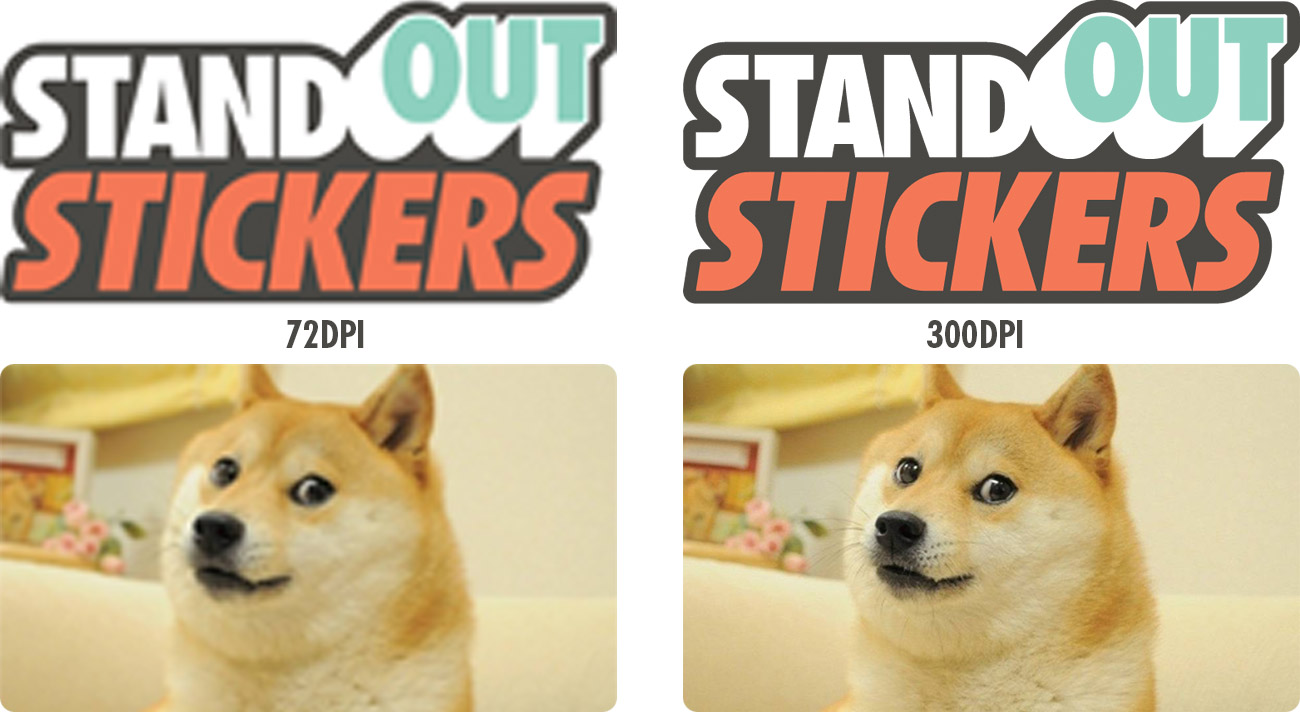 We are here to help you create the highest quality custom stickers possible! Our weatherproof, full-color custom stickers are high quality and low cost! Order Custom Stickers today and make your order process easy after reviewing our handy ordering guide.
Brian Morris / ooo000ooo June Sticker of the Month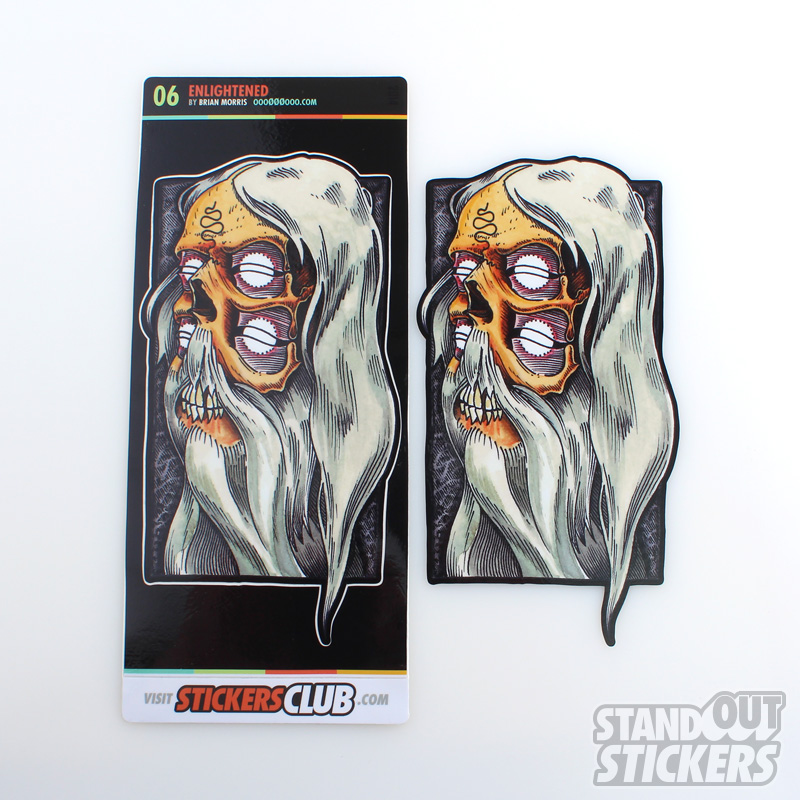 Brian Morris is famous for his black and white skulls. For his Stickers Club entry he's brought some watercolors into the mix, which offers a fresh alternative. Bring a little dread into early summer with this wise old bearded skull sticker! Grab one, 5, or 10, or join the club and get two of all of our stickers for the year!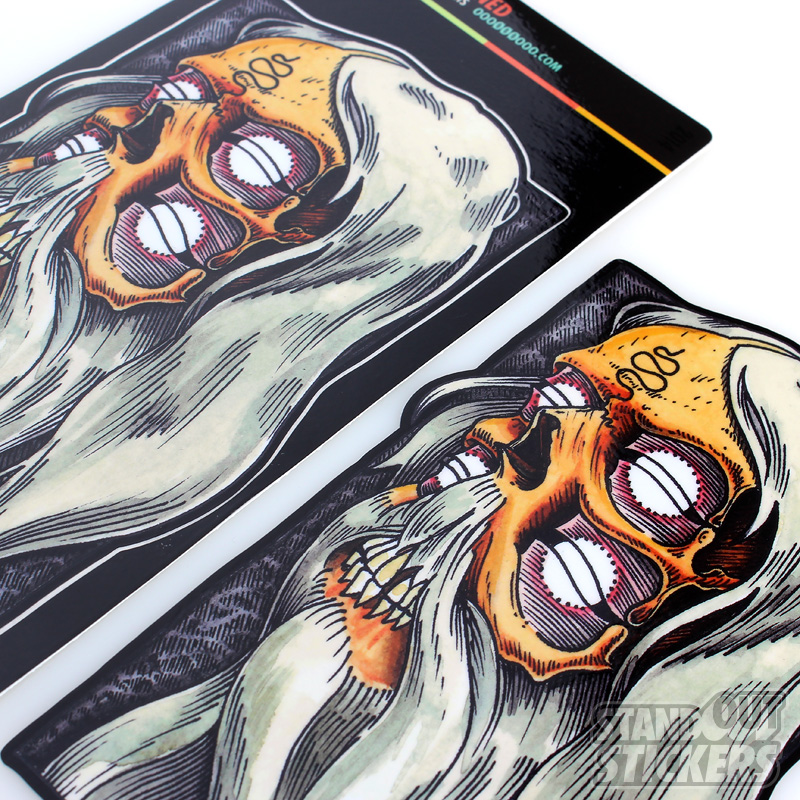 Every month we invite an artist to create a design for our sticker club. Our stickers are high gloss, weather resistant and suitable for indoor and outdoor sticking.
As a member, you get TWO of each sticker released in the year of your membership, along with members only bonuses not available anywhere else!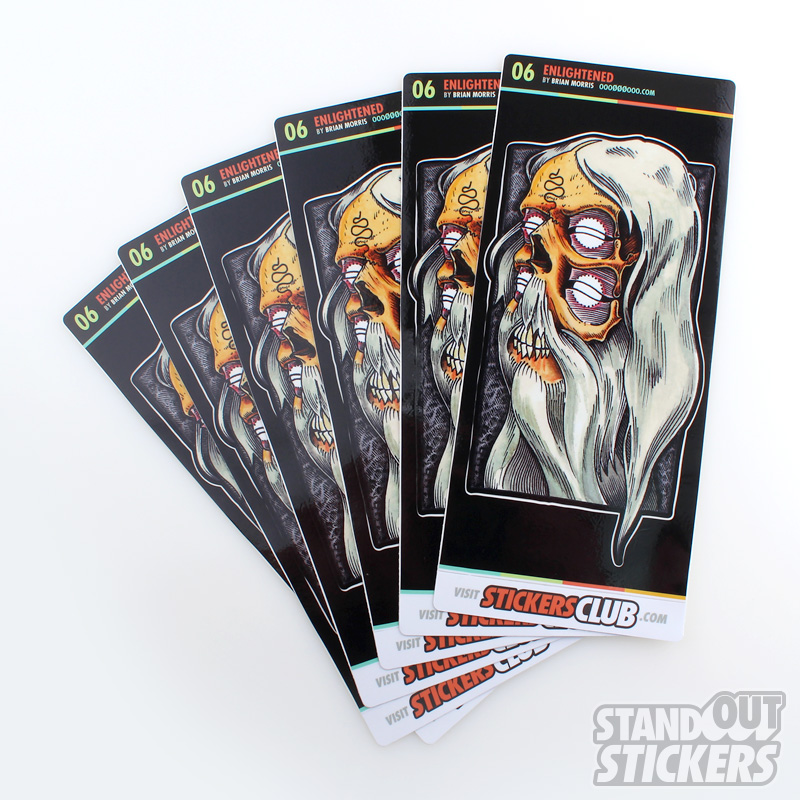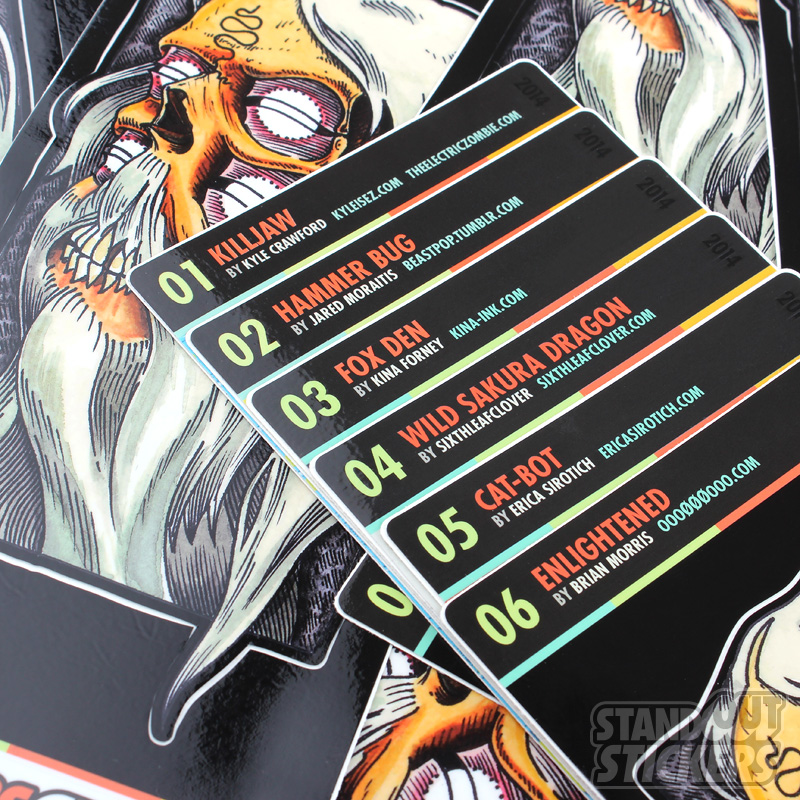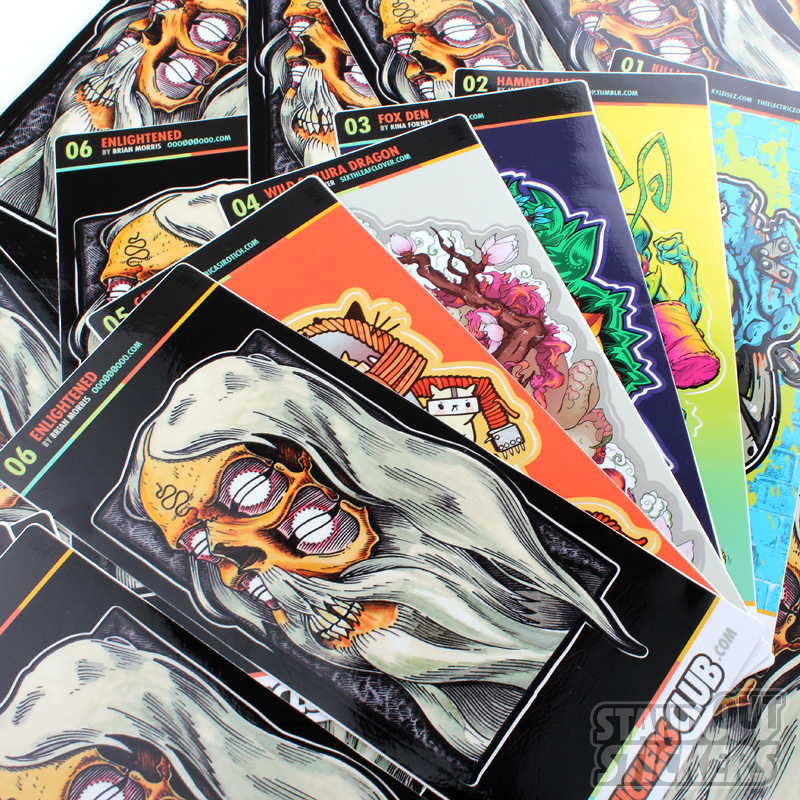 Most designs are available for purchase individually, but some are only available to members.
The Stickers Club is a great way to support independent art and makes a great gift!
See more sample photos and check out our other amazing sticker designs at StickersClub.com
Call 800-710-2030