Custom Magnets
Welcome to our Custom Magnets category! Below you will find articles, posts, coupons or samples featuring Custom Magnets. To see our latest content, visit Home.
Die Cut Stickers, Magnets & Floor Decals New Lower Minimum!
We are pleased to announce that our high quality die cut stickers, die cut magnets, and die cut floor decals now have a minimum order of just 75 pieces per design. This is lowered from the previous minimum of 125.
Now all of our custom products have the same low minimum of 75 pieces, making printing die cut stickers and the rest more affordable than ever!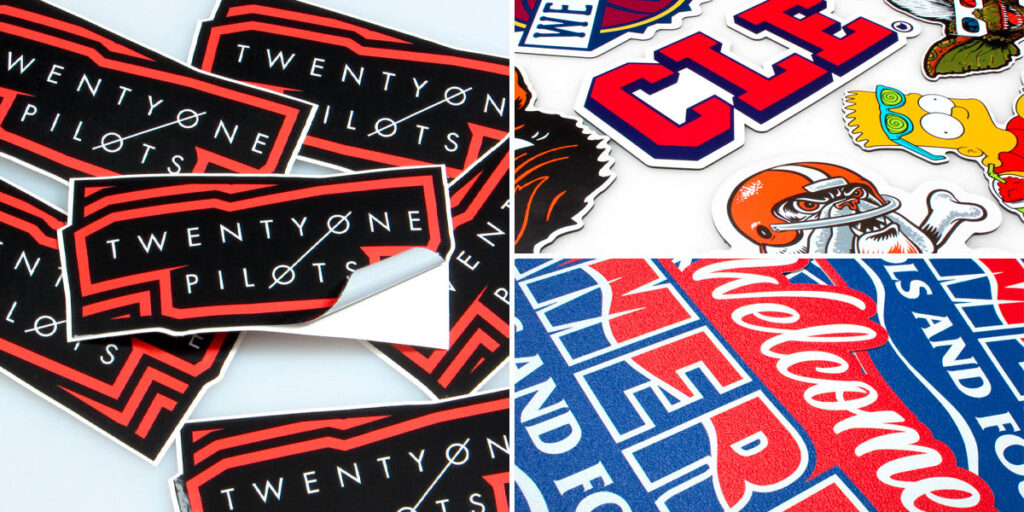 Why did die cut stickers have a higher minimum quantity?
Die cut shapes simply take longer to produce. 1) Setting up a unique path takes longer for our art team to carefully craft. 2) The physical act of cutting the unique shape is a slower process than clean and simple standard shapes like circle, square, oval, and rectangle.
In the past, we established incentives like a lower minimum quantity and lower pricing for standard sticker shapes because of how much easier they are to print and cut.
Now that we've grown, we have more printers and cutters available to produce more intricate stickers in better time, so we brought die cut stickers down to a lower 75 piece minimum! You can now order die cut vinyl stickers starting at just $25 with free shipping to cont. USA when you use coupon code FREESHIP
Our custom sticker pricing remains some of the lowest in the industry, however our quality remains as excellent as ever. Our thick vinyl stickers, flexible die cut magnets, and anti-slip die cut floor decals are all of the highest quality and sure to make your brand look its best.
Unfortunately die cut shapes are not available to be designed online. They require our expert art team to make sure the cut line looks perfect… but simply upload your artwork, logo or photo and provide cutline notes in the provided fields. Our team will get you a digital proof to approve before we print, and make any changes you request.
We take the hassle out of printing custom stickers and more at standoutstickers.com
It's time to restock: 20% OFF Reorders for a limited time!
The groundhog has spoken. More winter is coming.
But we won't let it get us down!
Bundle up a bunch of your previously ordered sticker designs and take 20% off with code REORDER20
This offer is available for a limited time only!
Coupon code REORDER20 is valid on any previously ordered custom stickers, custom fridge magnets, or custom floor decals but is not valid on our gift cards.
Visit My Account > Order History to get started!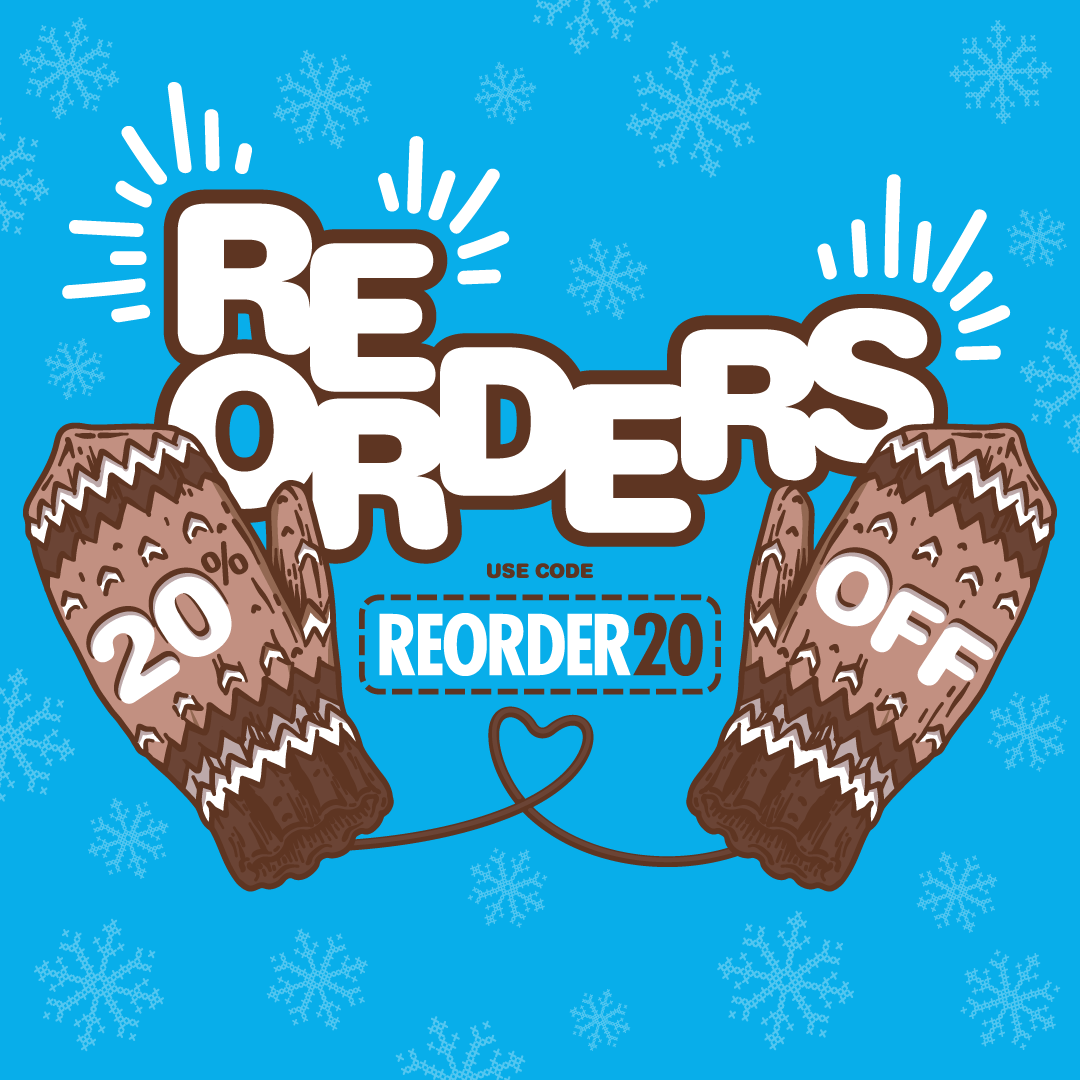 Large Custom Magnets – New Low Minimum Quantity!
If you need a large magnetic sign or a large custom magnet for any use, you'll be happy to hear that our new minimum quantity for custom magnets is now as low as ONE large custom magnet.
Custom magnets that measure 400 square inches (20″x20″) or greater have a minimum order of just one (1) magnet.
Custom magnets that measure 144 square inches (12″x12″) or greater have a minimum order of five (5) magnets.
Custom magnets that measure 100 square inches (10″x10″) or greater have a minimum of ten (10) magnets.
We hope these new large magnet minimums will help you when deciding what size of custom magnets you should order.
Contact us to order large custom magnets. Our world-class customer service will make the whole magnet ordering process easy!
Create logo magnets in minutes!
You need to keep your name on your customers' mind. Why not give them a way to easily hang your logo on their fridge or in their office with high quality logo magnets?
Simply choose the magnet size and shape you want and upload your logo. Our team will quickly be in touch with your free digital proof!
We can print logo magnets in any size or shape! Whether you need a large logo magnet or a small business card magnet with your logo on it, we will print your logo magnets in stunning full color and give you a free digital proof with every order.
Order Custom Magnets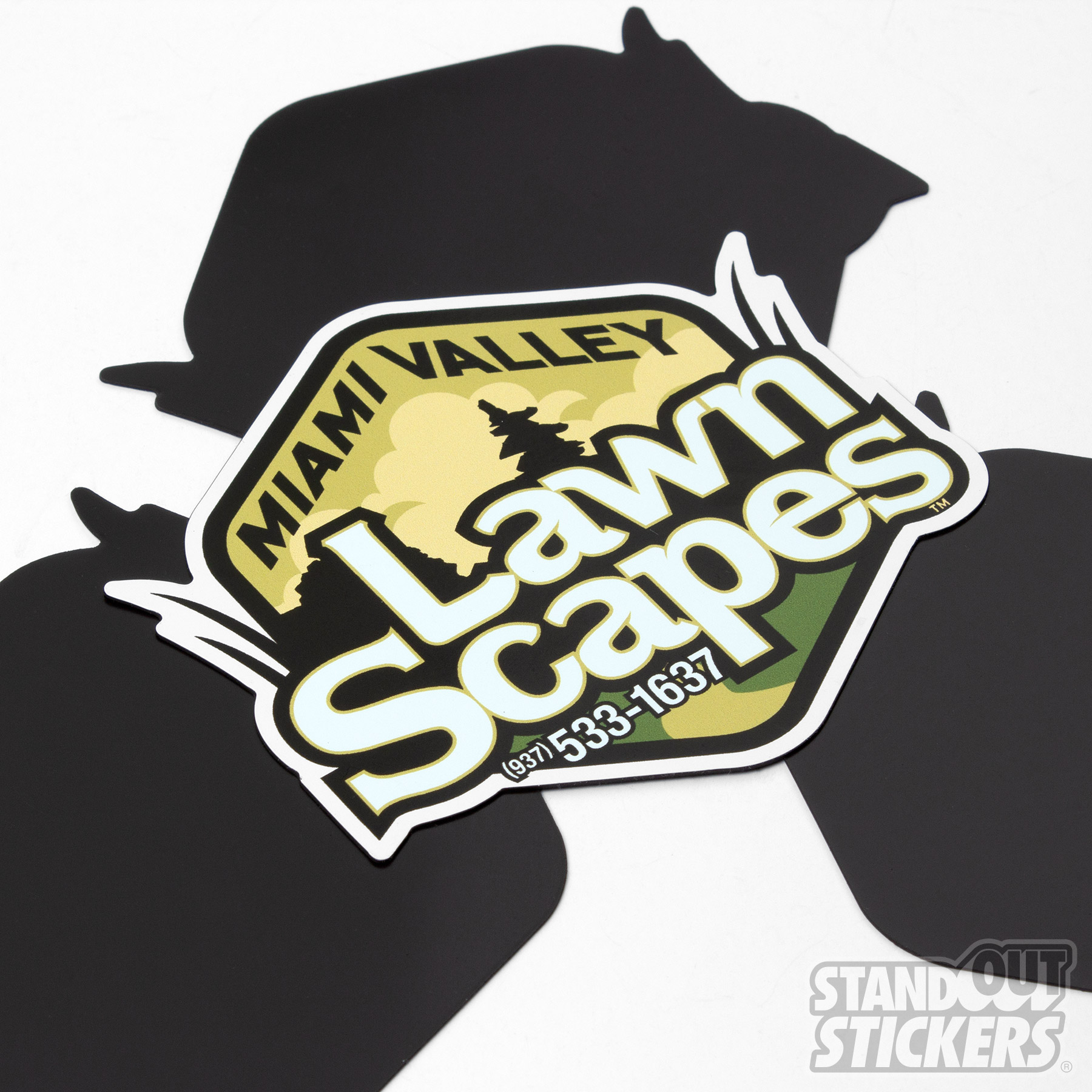 Square Magnet Examples
Square Magnets use every possible inch of magnetic material which means you maximize your magnetic pull! Our flexible magnetic material features 60lb of magnetic pull per square foot. Customize this thick magnet material (22mil / .56mm thick) with your own full color artwork and create a collectable, reusable, fun square magnet that your customers and fans will proudly display.
Our square fridge magnets can be ordered in any size and designed right in your web browser. Our easy customizer tool has all the fonts, colors and clip art you might need to create an excellent square magnet design, and you can also drop in your favorite photo, artwork or logo with ease. Instantly get a free digital proof to approve before you order and our checkout process is quick and easy.
When ordering square magnets from StandOutStickers.com you will also have the option of rounded or straight corners. Whichever corner option you choose, the custom magnet template generated by our online art tool will represent this choice.
If you want a logo magnet or have some artwork that you'd like printed on the magnets, it is also ok to just upload your file. Our fantastic magnet art team will prep a free digital proof for you to review and approve before we print your square magnets to make sure the magnets turn out perfect every time.
Take a look at the square magnet photos below to get an idea for how to design your own custom square magnets! If you're looking for more square magnet sample photos, visit our website.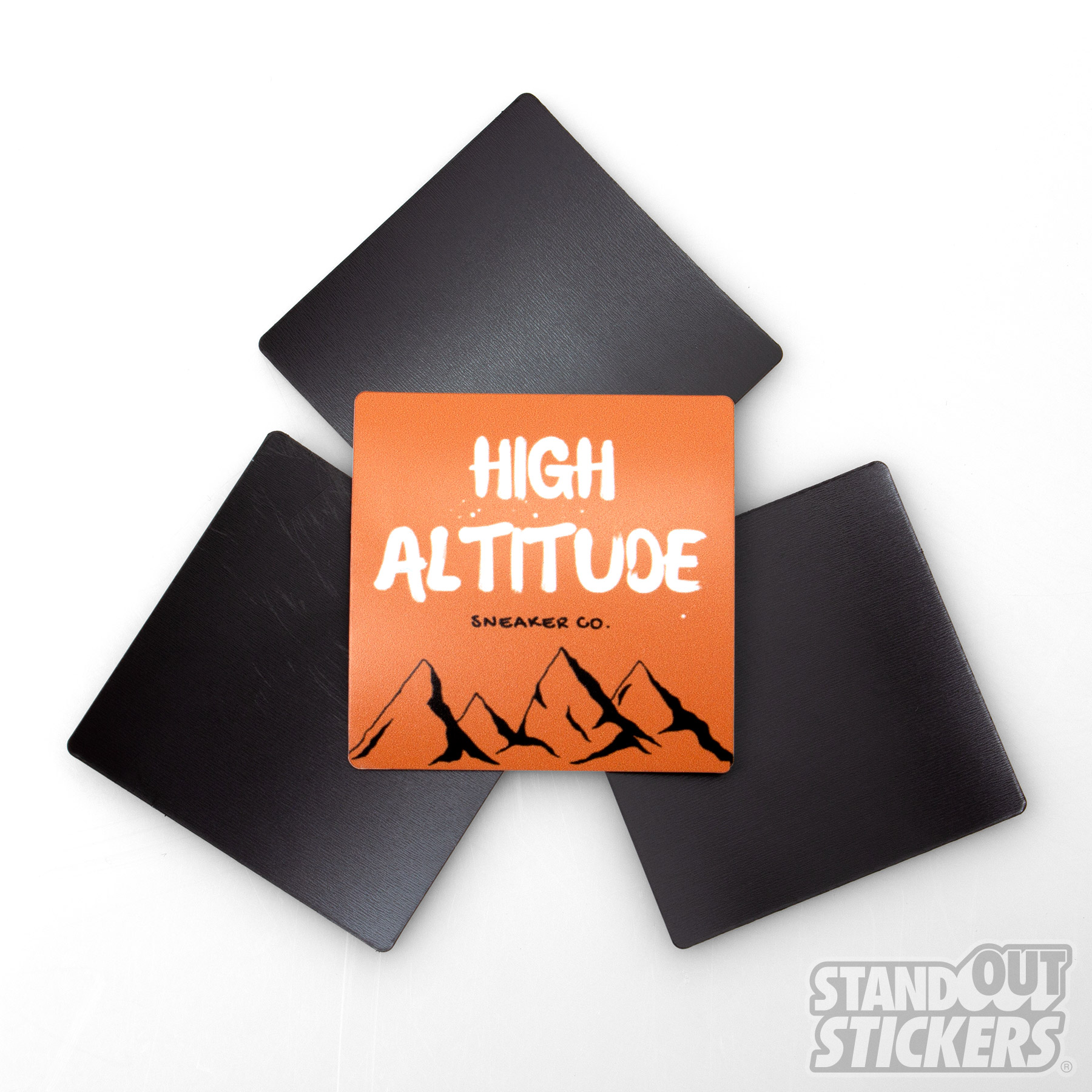 The square magnets above for High Altitude Sneaker Co are fairly small. You can see the slight texture of our high quality magnetic material with this close up magnet photo.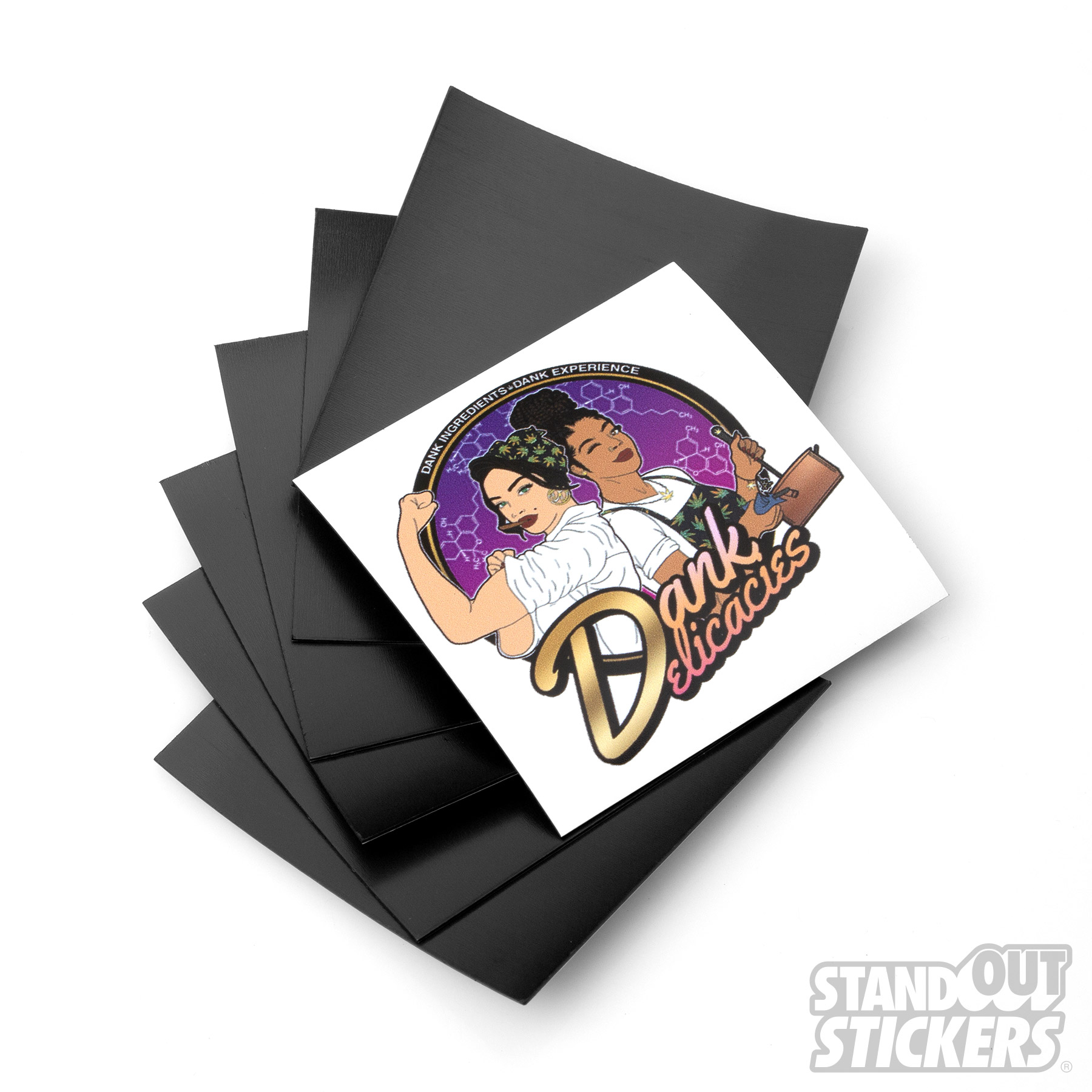 Dank Delicacies chose to advertise their business with square magnets featuring creative hand drawn artwork. Our square fridge magnets are perfect for advertising your restaurant, food delivery or catering service. Square custom refrigerator magnets are usually hung where customers are thinking about your food!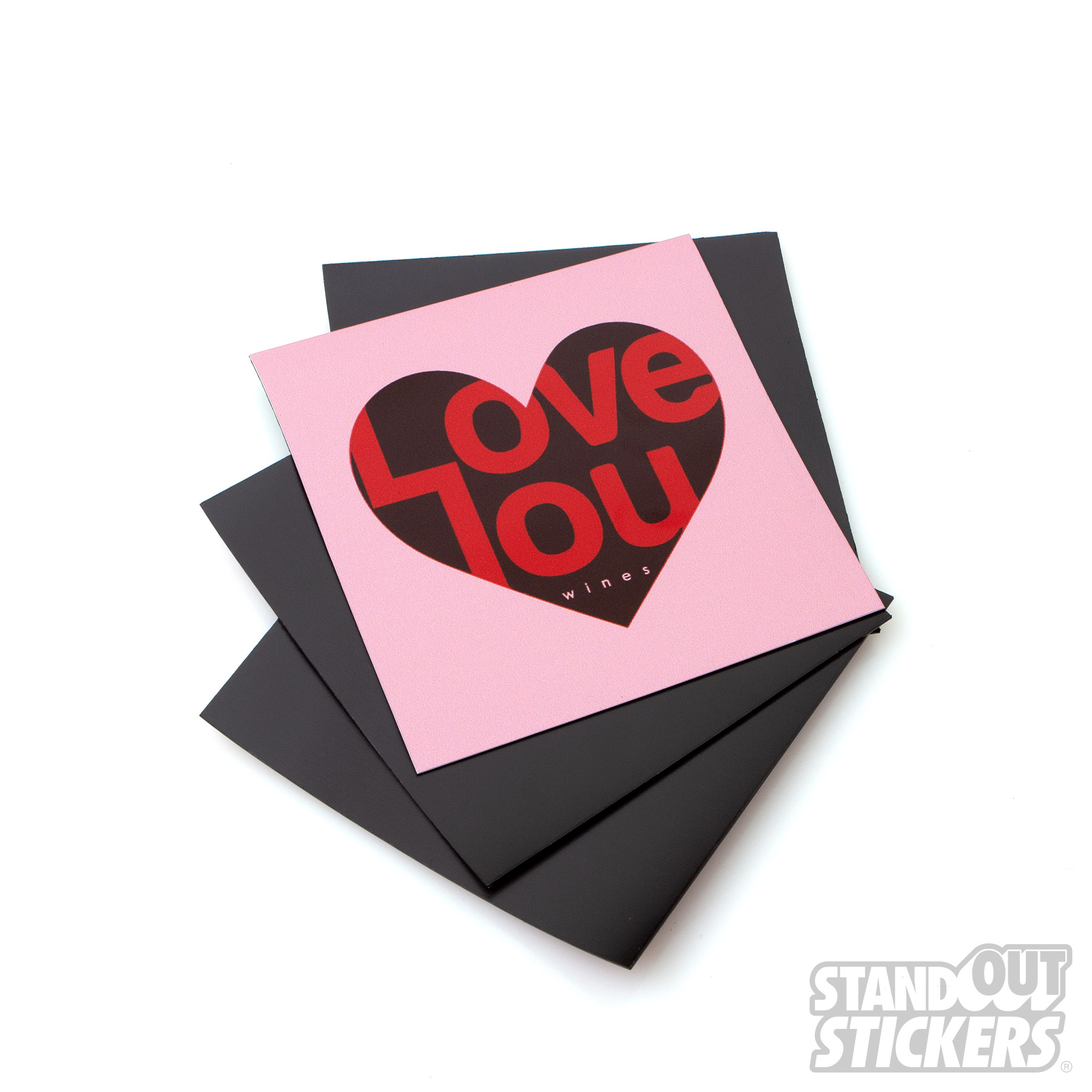 I Love You Wines chose square magnets to advertise. Again, a square fridge magnet is the perfect promotional product for any food industry because customers will enjoy displaying your name in the same environment they think about your product: the kitchen!
Order Square Fridge Magnets and get free shipping on orders over $25 shipped to the cont. USA with code FREESHIP
Call 800-710-2030