Unique Projects
Welcome to our Unique Projects category! Below you will find articles, posts, coupons or samples featuring Unique Projects. To see our latest content, visit Home.
Custom Wall Decals for Montrose Ford of Fairlawn Conference Room
Every now and then we are able to contribute to unique projects that involve off-menu products, or unique design, printing, or cutting requests by customers. We are back with another wall graphic job for our favorite local car dealership.
Montrose Ford of Fairlawn, OH had us back to give their conference room a makeover. We created wall decal graphics similar to the designs we printed for their automotive showroom earlier this year. To see more photos and details of that project, read more about our Massive Custom Wall Graphic! Wall Decal Design & Installation for Montrose Ford
This conference room is now decked out in incredible Ford Bronco graphics printed on our stucco texturized wall graphic material. The design, printing, and installation process was similar to the first wall decal installation, but on a smaller format. You can read in great detail about the steps used to produce a project like this in the link above.
Take a look at the full graphic and then the installed wall decal version below:

Above is the flat proof of the custom wall decal design. Below, you'll see the installed decal.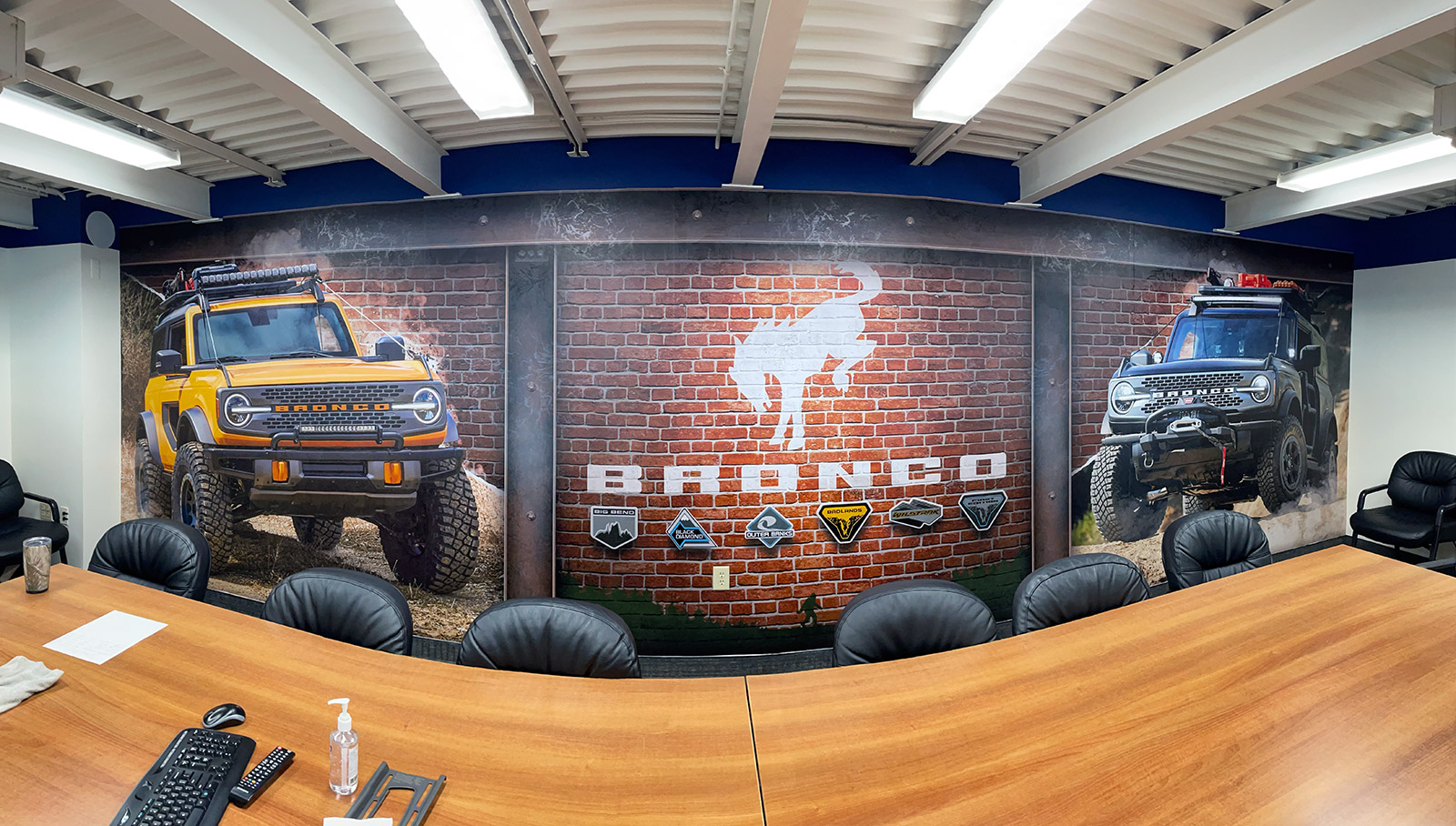 We think it turned out great! This custom conference room wall decal was produced by Rival Wraps and installed by our friends at Apex Signworks
Massive Custom Wall Graphic! Wall Decal Design & Installation for Montrose Ford
The gang at StandOut Stickers have been dipping our toe into wall graphic and wall decal printing in recent months. We have shared a few images on our instagram of these products in production. While we do not yet offer them on our website, we have begun working with local businesses for wall graphic design and installation services under the name Rival Wraps.
Recently Rival Wraps had the unique opportunity to work with an area Ford dealership to do something special for their Roush Performance showroom.
Concept
Montrose Ford had a massive blank wall that was begging for something unique to help showcase their collection of Roush Performance vehicles. Roush Performance offers a line of premium performance-oriented Ford vehicles such as Raptors, Super Dutys, Mustangs and more.
Clocking in at 13 feet tall by 65 feet wide, this jumbo blank canvas was transformed with an industrial brick and steel beam look wall graphic featuring exciting photos of Roush vehicles in action.

Design
During the design phase, several concepts were tested, and finally it was decided that an industrial brick look was the one to go with. We would split the wall into sections using steel beam graphics and this would allow us to feature photographs of vehicles that use diffrent lighting and source quality, while still feeling as if they were part of a cohesive design. To add excitement, we created the graphic as if these vehicles were tearing out of a printed poster. We added smoke and dirt effects to give a bit of life to these static images.
A large part of the design phase was considering the logistics of such a large canvas. What DPI should the final artwork be? What kind of computer is needed to process such a massive design? When designing graphics for such a large surface, you usually assume that they will be viewed from a considerable distance, but this graphic would be right next to people, even on the door they pass through, inches away from eyes. Extreme care needed to be taken with resolution and image quality.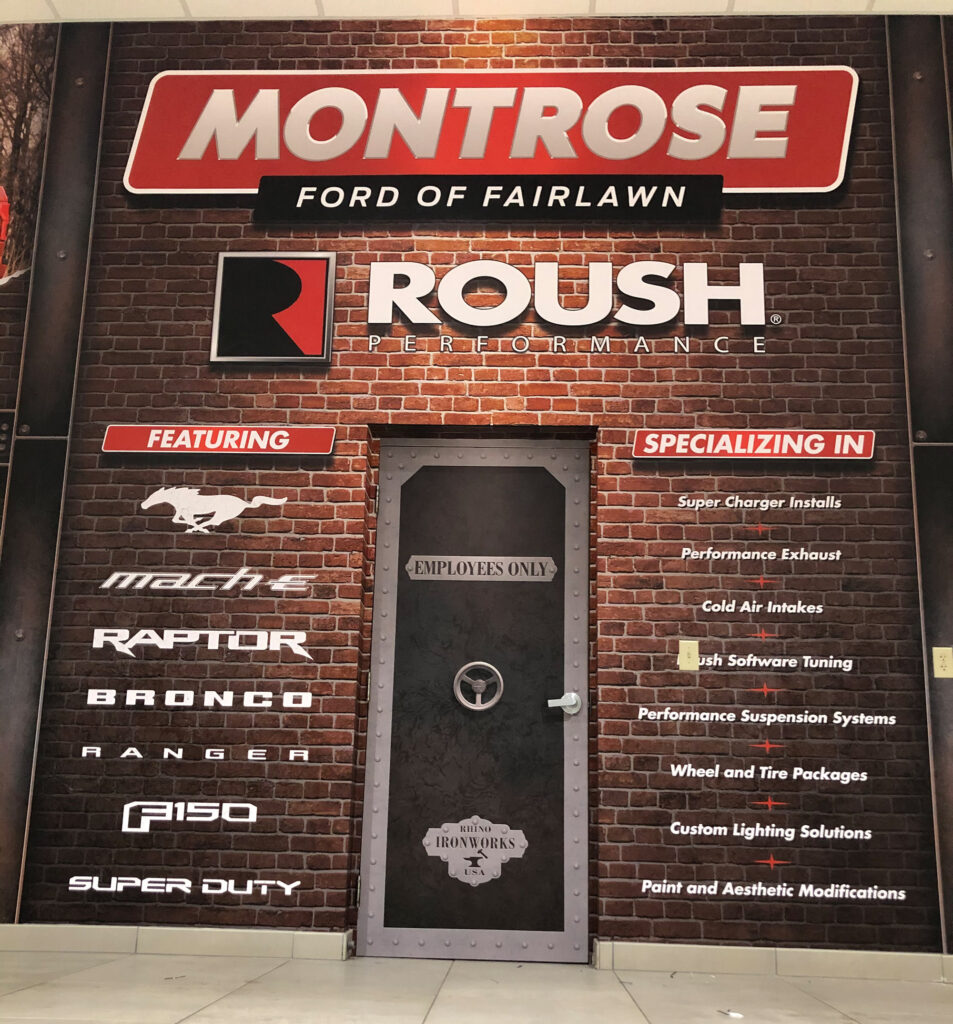 The plain white doorway was reimagined to look like a steel safe embedded in a brick wall. Flanked by logos and a menu of services. (the light switch was wrapped after this photo was taken to give a more seamless look)
During the design phase it was decided that the dealership logo and text around the doorway was the best anchor point to begin installation. In the process of setting up the panels for printing, the design was sliced in a way to facilitate installation anchored around the doorway.
Printing
The entire wall graphic was split into 16 unique panel files. Four inches of bleed was provided to account for any irregularities encountered during installation with 1/2 inch of overlap between panels.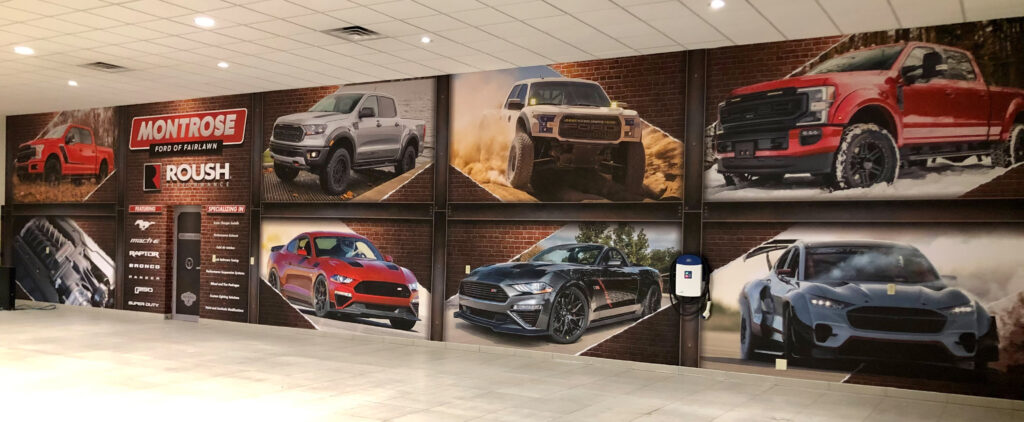 Our wall graphic material is a highly textured vinyl with a stucco look. This adds organic appeal to the surface and helps to hide some irregularities or seams in the installation surface. This texture also adds some three dimensional depth to the printed wall graphic.
The massive wall graphic panel files were then printed on a wide format sticker printer, filling the roll of material as wide as it could go, and then printing over 13 feet of length per panel. Extra care was taken to make sure such a large printing job did not encounter any visual flaws. Ink levels were closely monitored as over 845 square feet of image area was printed in rich saturated colors.
The printed panels were rolled carefully and set inside the orignal material boxes awaiting the installation team.
Installation
How do you start installing a graphic this large? Our friends at Apex Sign Works took the lead on installation. With years of experience installing larger than life decals on everything from walls like this to semi trucks and more, they were ready to tackle the job which only took about 8-10 hours from start to finish.
Starting over the doorway, the wall graphic panels were then installed to the left and right. Each panel included one half inch of overlap to help the seamless look of the installation.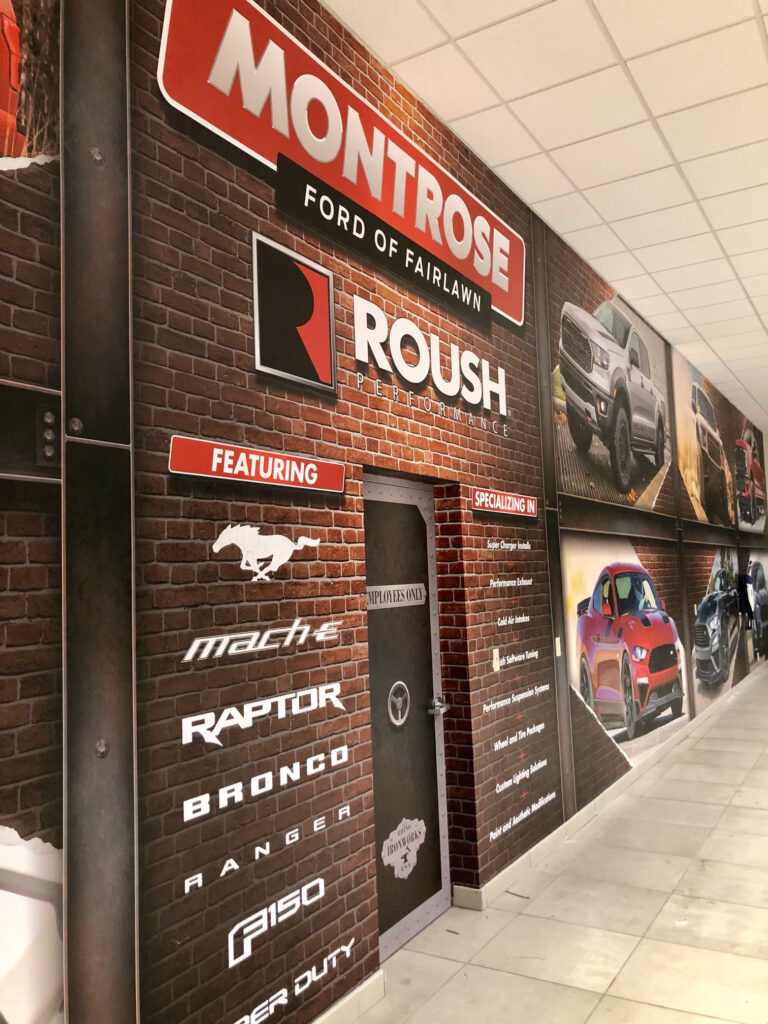 Extra care was even given to wrapping the inset doorway, with extra brick pattern wrapped into the threshold and a fully designed door graphic fashioned after an industrial metal safe.
The giant wall graphic installation was completed with precision in just one day. Using a scissor lift, the team carefully installed 17 panels that spanned from floor to ceiling. Taking extra care to align the large wall graphic panels for a seamless look was tricky, but in the end, it came look looking incredible!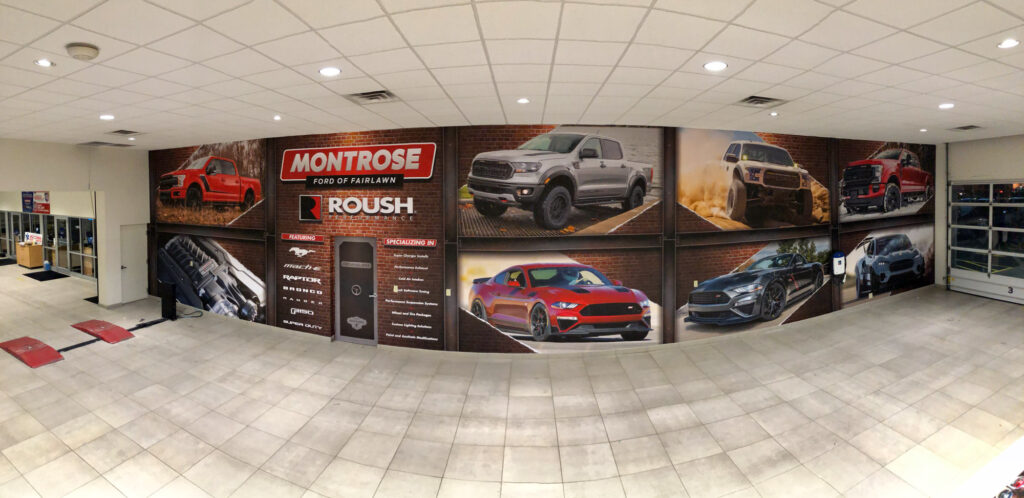 If you are in the northern Ohio area and are interested in a truly outstanding custom wall graphic design and installation like this, contact us to get started.
Unique Project: Snowboard Stickers!
A friend of ours is getting ready to hit the slopes in Colorado and wanted to rehab an old snowboard. We printed some of our custom vinyl stickers with a cool patriotic design and he was able to apply it to the board with professional results!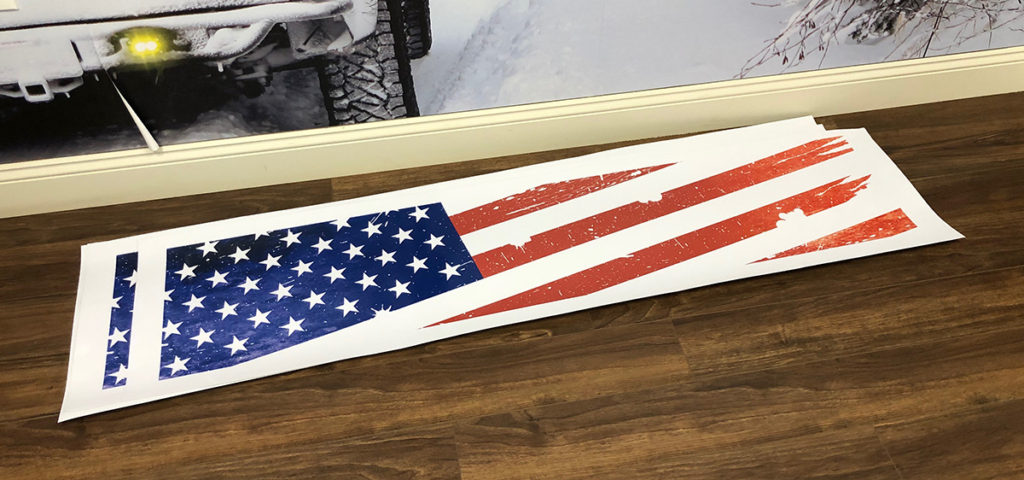 First, we printed a patriotic snowboard sticker design on our weatherproof vinyl at a general size needed to fill the board. Our full color stickers are coated with a high gloss laminate that protects the vivid colors from the elements and UV rays. We also offer a silky smooth matte finish which offers similar weather protection.
Then, the existing stickers were removed and the board was sanded and cleaned for maximum adhesion.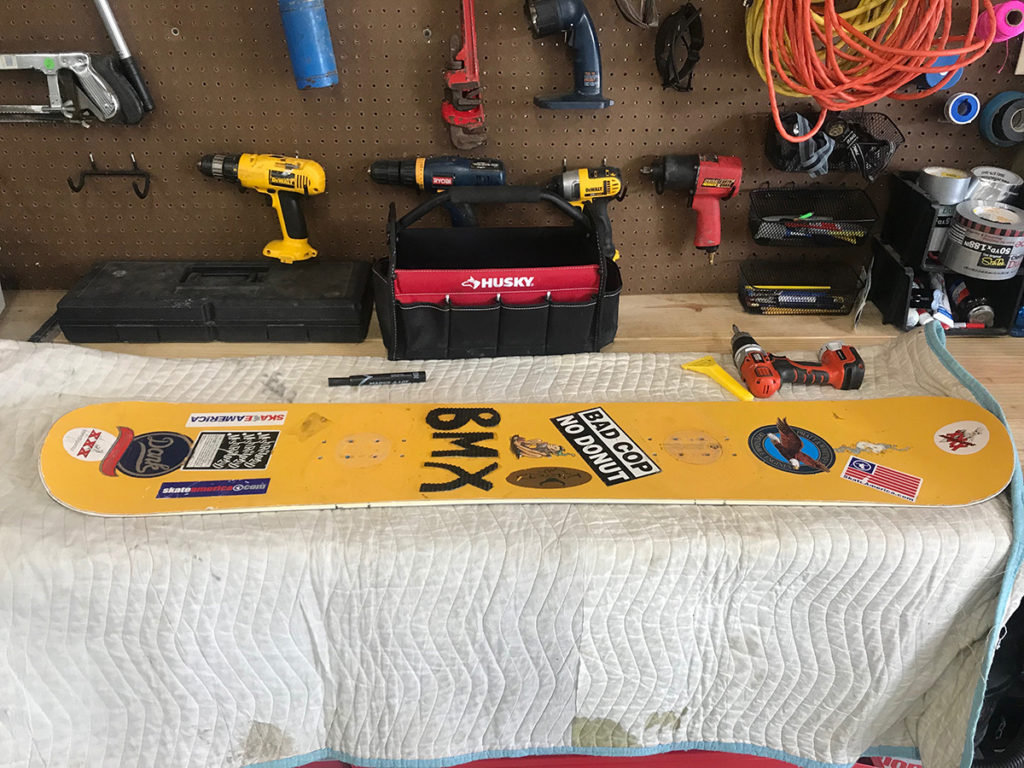 A prepped and clean board is now ready for application of the custom sticker material. The custom printed stickers were hand cut to fit the contours of the board.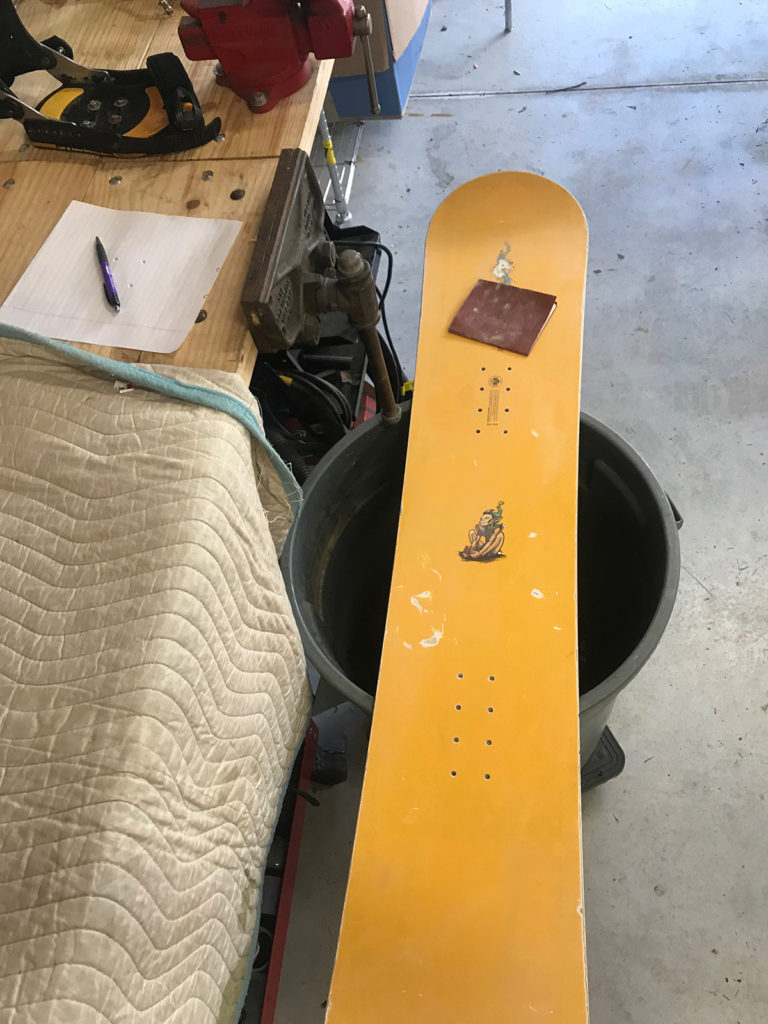 This snowboard is ready to go! Our weatherproof vinyl stickers have seen sun, rain, shine and snow! They've even survived the inside of a dishwasher when applied to stainless steel drink tumblers and water bottles! Try our custom stickers today and let us know if you have a unique project of your own in mind!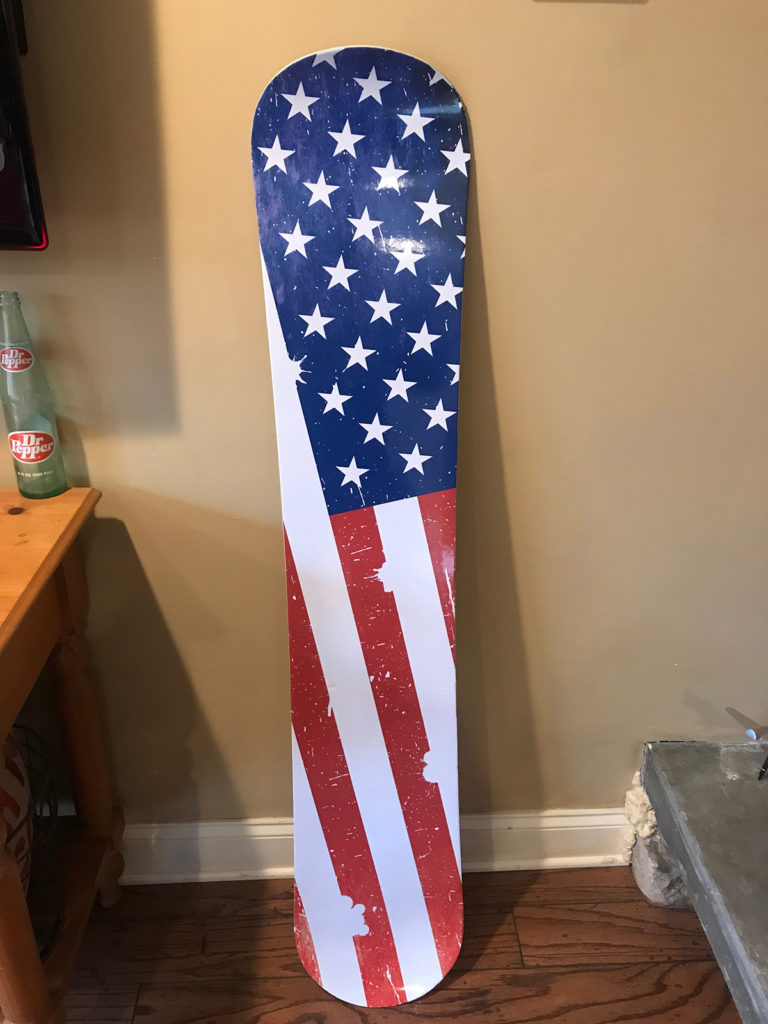 Of course, this kind of sticker application is not guaranteed by our 5 year fade-free outdoor exposure durability claim, (See: Sticker FAQ > Vinyl Sticker Material Details) but we wanted to share just how diverse some of our custom sticker applications can be!
Construction Trailer Custom Graphics
We recently helped out a local construction shop with a custom decal design and installation on their new trailer.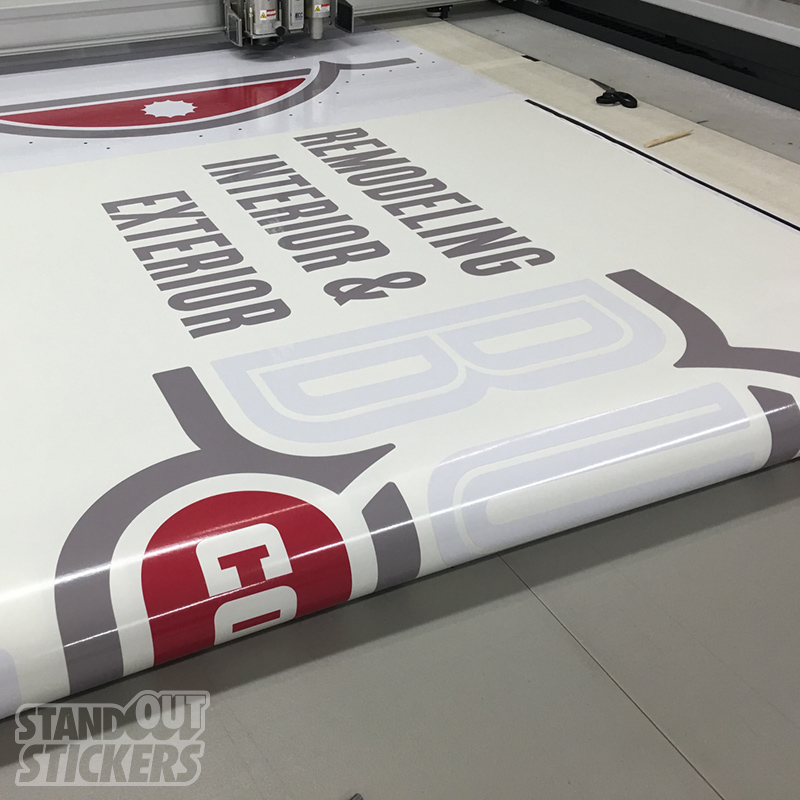 Rather than creating a large cut vinyl decal, we printed the design as a full color sticker and prepared it like a cut vinyl decal. This allowed us to match colors exactly while still having the same look of a cut vinyl decal.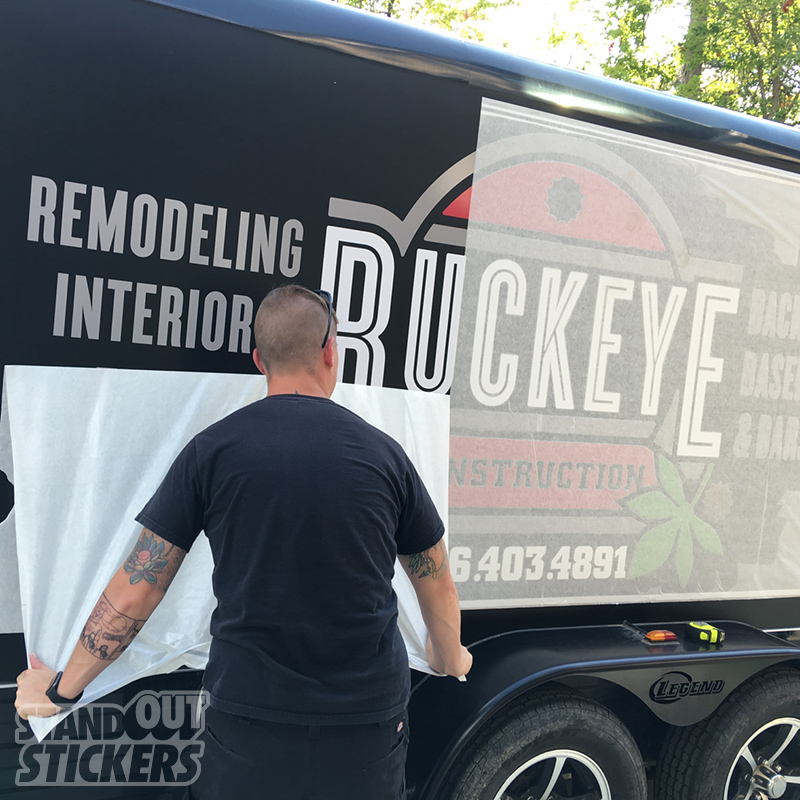 Our weather-resistant custom stickers are perfect for outdoor applications like this construction trailer.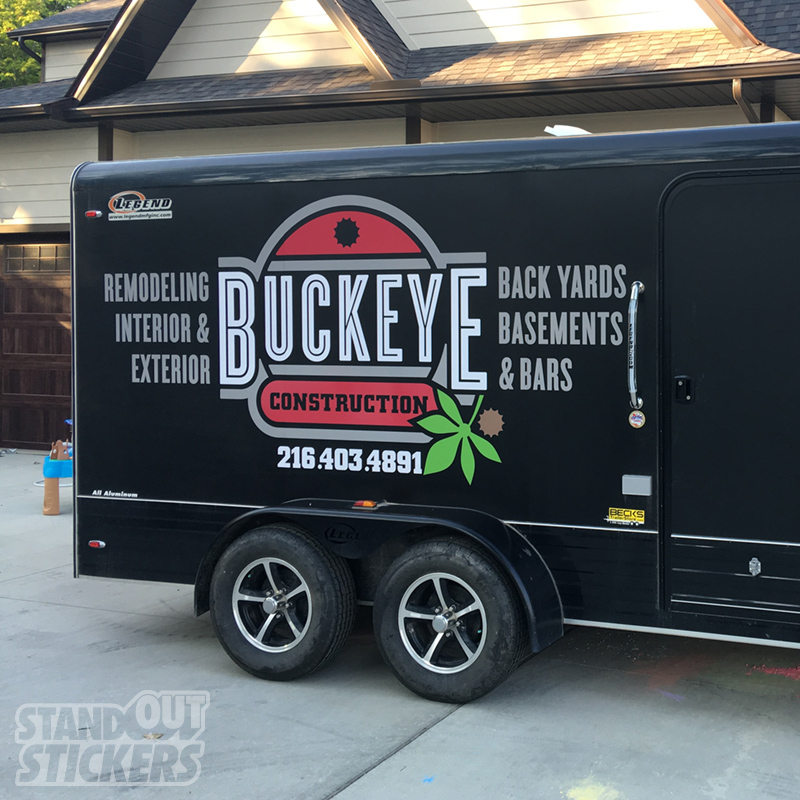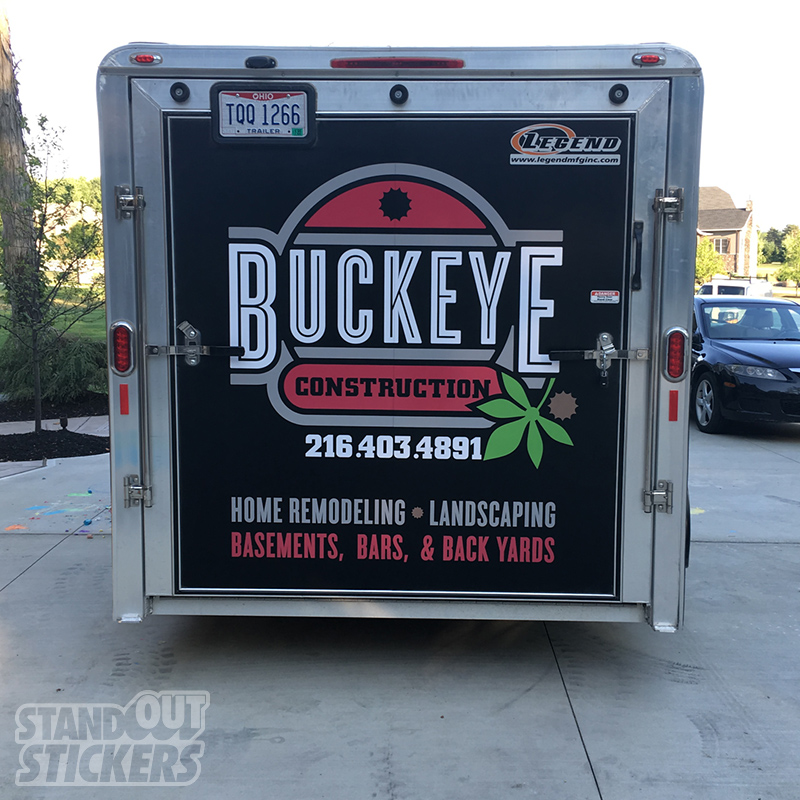 Unique Project: Custom Sticker Pack in a Nintendo Game Box!
This incredible package is a labor of love by 8-Bit Zombie. The package design includes a custom game box, game cartridge label, instruction booklet folder, and 8 custom sticker sheets. PureButtons / StandOut Stickers printed everything! We worked with 8-Bit Zombie to produce these limited run packs and we're thrilled with the final product.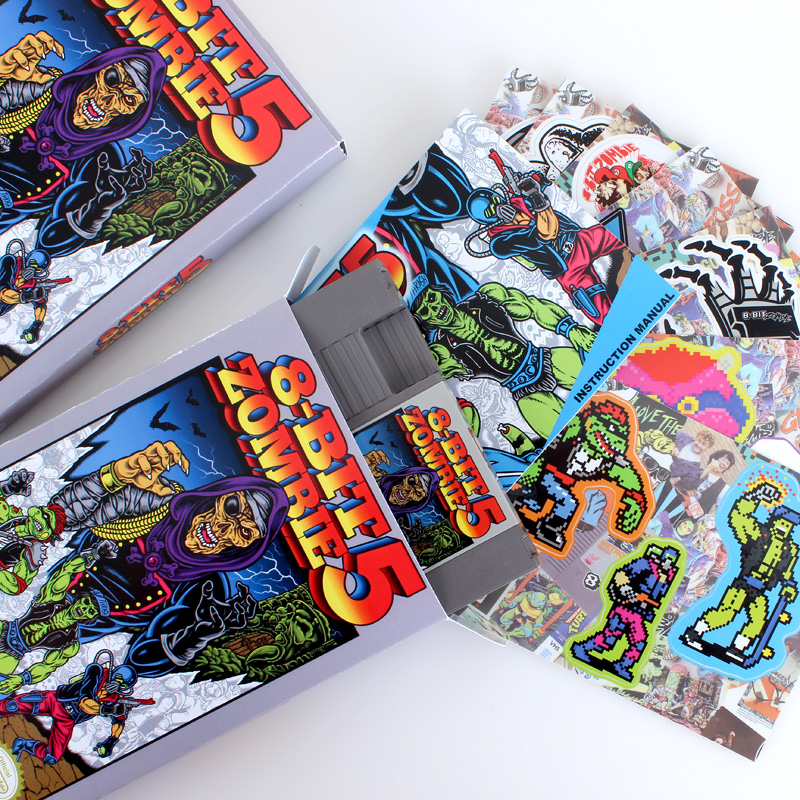 Call 800-710-2030