Custom Stickers
Welcome to our Custom Stickers category! Below you will find articles, posts, coupons or samples featuring Custom Stickers. To see our latest content, visit Home.
Strand Bookstore Stickers: Customer Showcase
One of our favorite customers is the famous Strand Bookstore in New York, NY. Strand is a gigantic bookstore offering a very valuable service and something that is becoming more and more rare: A place where you can go find actual books in person and get curated suggestions and help from real book-loving people.
Strand Bookstore claims "18 miles of books" and The New York Times called Strand "the undisputed king of the city's independent bookstores". Strand sells a wide variety of creative custom merch including many of our high quality custom stickers.
We recently found many of our custom stickers for Strand in the Stationery section of their webstore, and you can order from anywhere! Take a look at the unique sticker designs and see if any appeal to you! Many of the sticker designs feature New York landmarks but also cute, funny, or crass phrases.
Most of our custom stickers printed for Strand Bookstore are printed as sticker hang tags, making it easy for them to resell the stickers in a retail environment.
Here are a few of the excellent stickers Strand sells, printed by StandOut Stickers!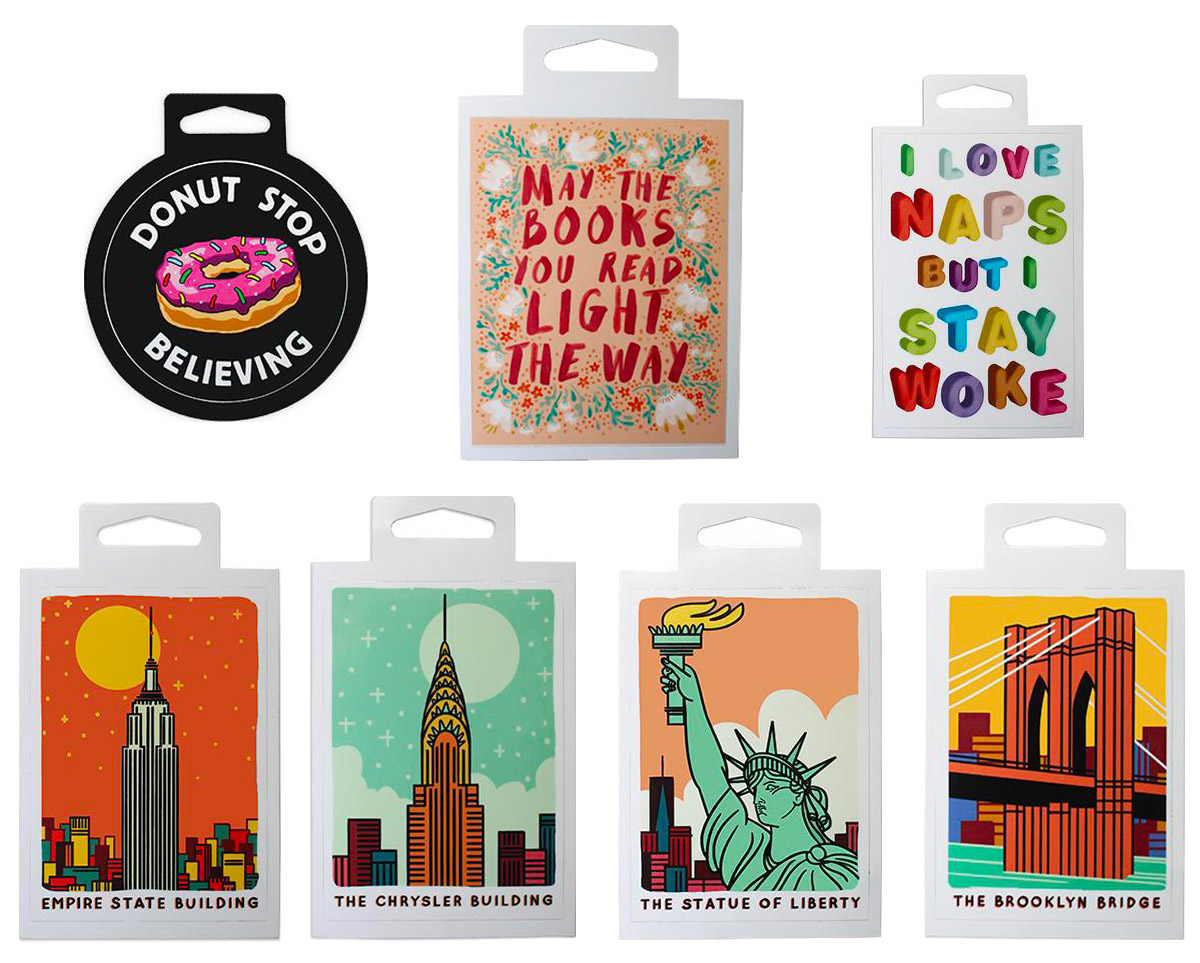 From left to right, top then bottom we have a fun circle sticker hang tag with a Donut Stop Believing Sticker design. The rest of the stickers are nice rectangle stickers with a hang tag feature. May The Books You Read Light The Way features a hand painted look. I Love Naps But I Stay Woke features a fun twist on a popular phrase.
The bottom row are nice clean vector illustrations of New York monuments:
1) Empire State Building Sticker
2) The Chrysler Building Sticker
3) The Statue of Liberty Sticker
4) The Brooklyn Bridge Sticker
All of these New York monument Strand Bookstore stickers are designed in the same way, so collecting them all would make for a nice collection!
Strand Bookstore have several other sticker designs available on their website, so please visit them and order something to support one of the greatest bookstores in the country, and a great StandOut Stickers customer!
New and Improved Sticker Pack Quality
We are excited to announce that the top cards of our sticker packs now feature improved print quality due to our investment in a brand new cutting-edge digital printing press.
This new printing press is used to print our high quality sticker pack top cards and has improved handling of the card stock material we use in our custom sticker packaging. The new printer also produces improved color and print clarity on the top card material.

Take a look at our sticker pack samples to get ideas for building your own packs. Packs are a great way to increase the retail value of your custom stickers. Our sticker packs are 100% retail-ready and can be manufactured with or without hanger holes.
Every pack is unique and we can even include vinyl decals, custom magnets or any of our other products. Mix and match various sticker finishes, sizes and shapes for a unique pack that your customers will be excited to buy!
Our packs are hassle free and come pre-assembled, ready to ship to your customers.
Our top card and pack assembly pricing is very affordable. Contact us today for a quote on your unique pack.

It's time to restock: 20% OFF Reorders for a limited time!
The groundhog has spoken. More winter is coming.
But we won't let it get us down!
Bundle up a bunch of your previously ordered sticker designs and take 20% off with code REORDER20
This offer is available for a limited time only!
Coupon code REORDER20 is valid on any previously ordered custom stickers, custom fridge magnets, or custom floor decals but is not valid on our gift cards.
Visit My Account > Order History to get started!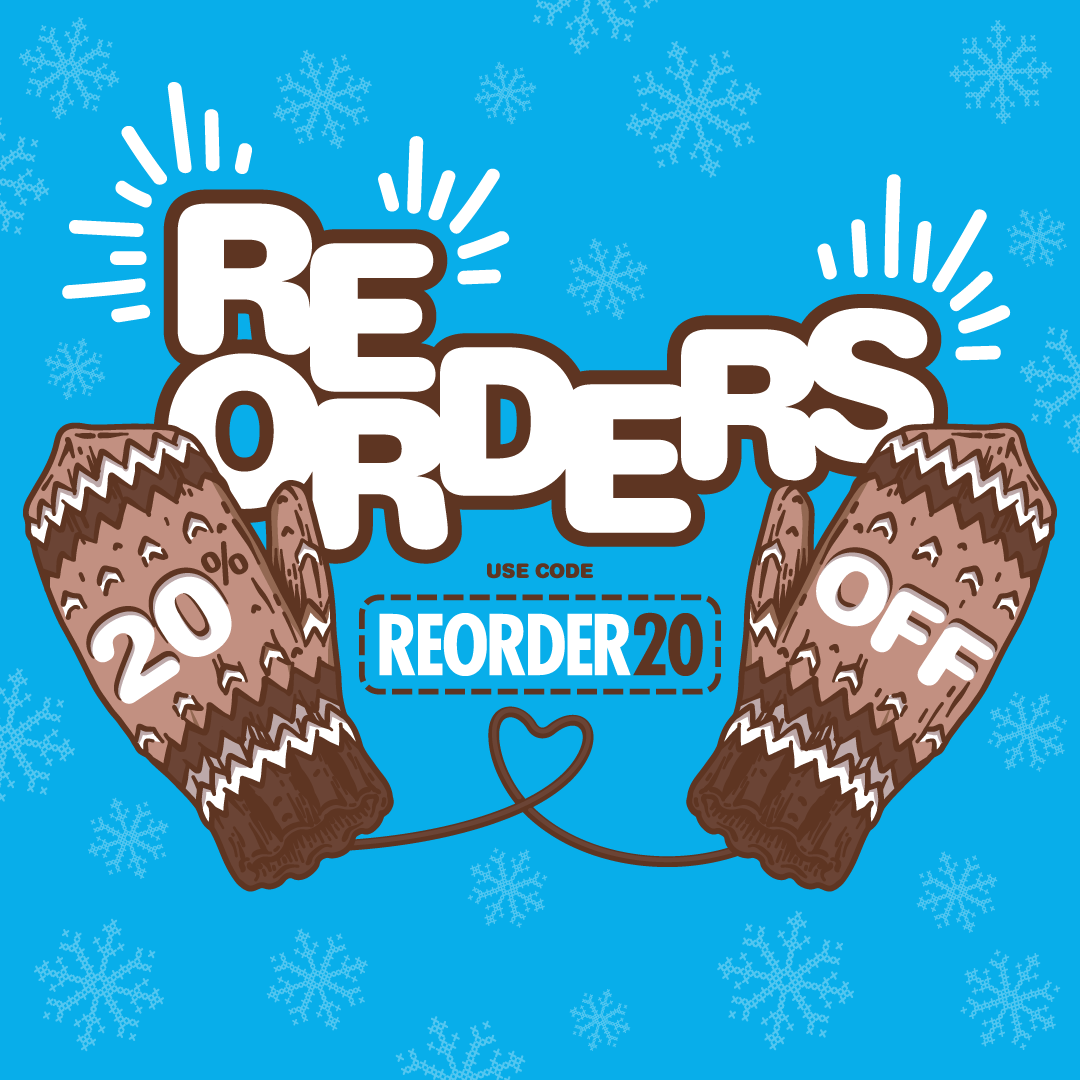 StandOut Stickers Sponsors Arizona Raptor Runs
We are proud to announce yet another sponsorship, this time with Arizona Raptor Runs! The guys at AZRR have been offering Ford Raptor meetups and guided off-roading trips through the Arizona desert and down through Baja for years.
We are happy to provide AZRR with all of the custom stickers, cut vinyl decals, placard stickers and other promotional stickers they need throughout the year.
We recently printed custom placard stickers featuring over 200 unique participant numbers for AZRR. These placard stickers were printed in two sizes as custom rectangle stickers.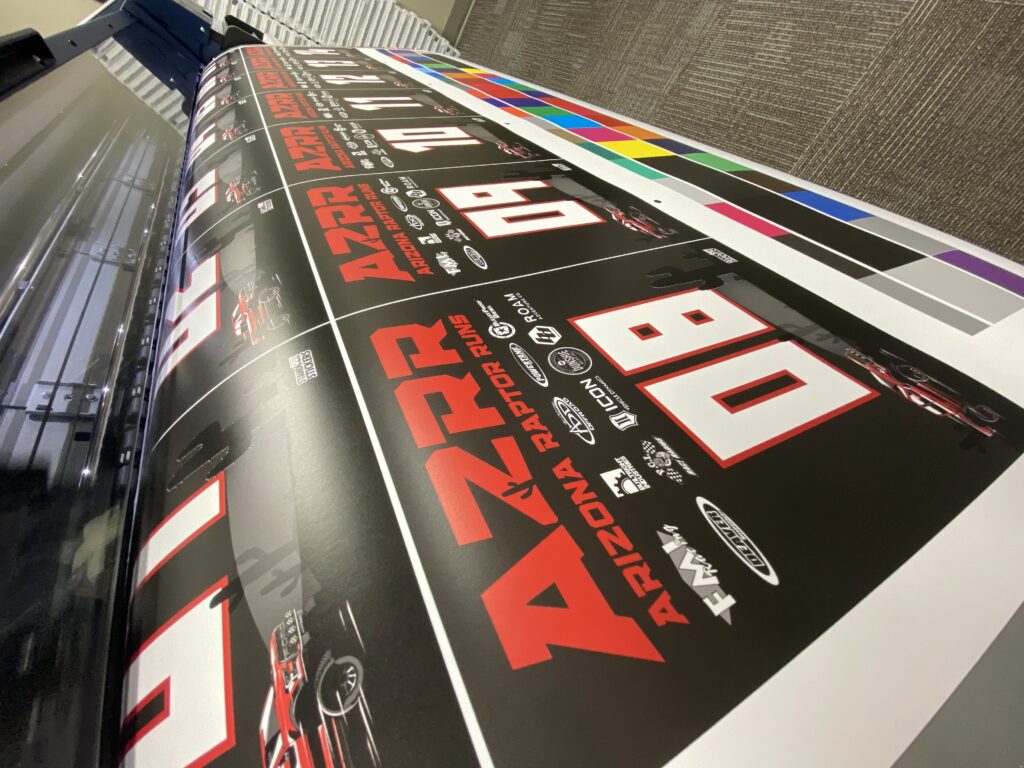 We also printed AZRR logo decals. These brake light decals are made of solid white vinyl that has been precisely die cut to the AZRR logo shape.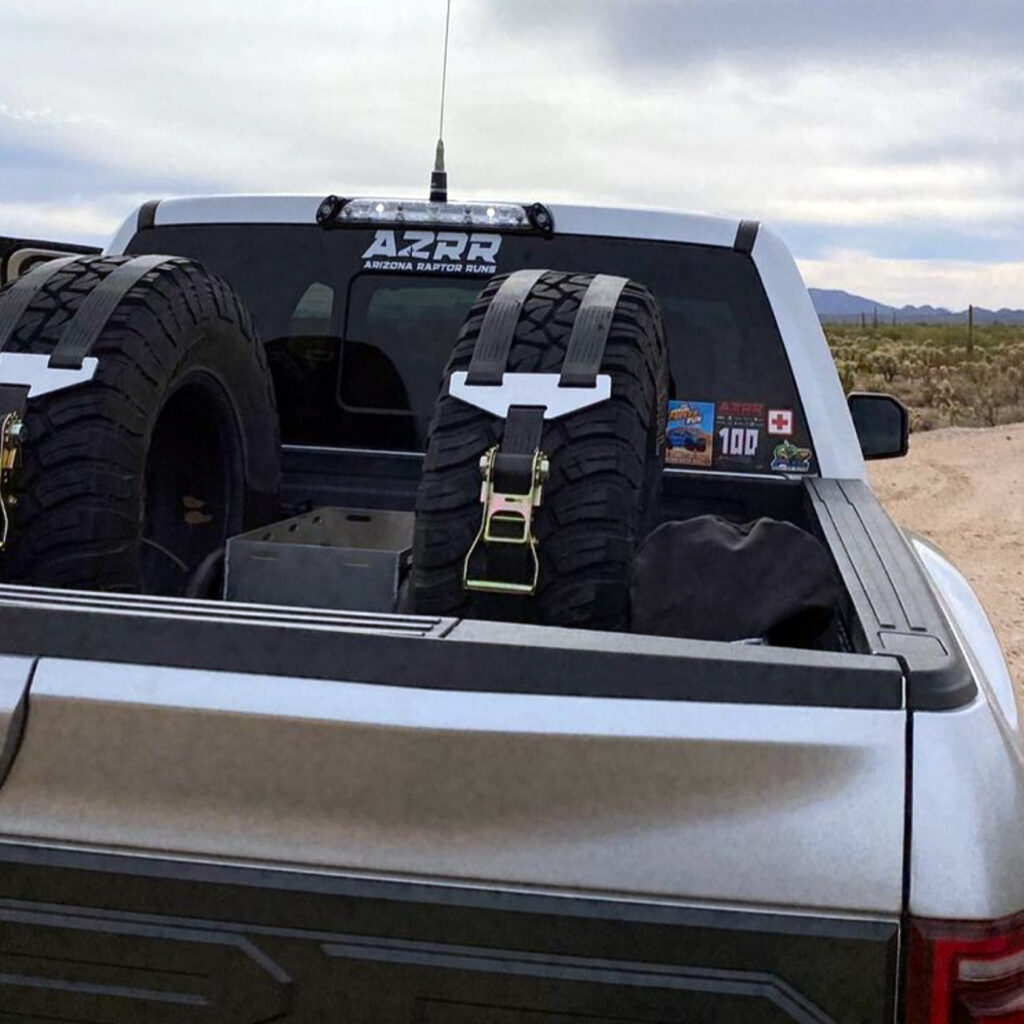 There's nothing more punishing on custom printed stickers than the Arizona outdoor sun and temperatures. AZRR trusts SOS to beat the heat!
When you need custom stickers and decals that will stand up to extreme conditions, look no further than StandOut Stickers.
If you're involved in motorsports we welcome you to try StandOut Stickers and see how our quality is second to none!
Check out AZRR on instagram for shots of their Raptor runs and meetups. You may spot some of our custom stickers and decals!
StandOut Stickers Sponsors Expedition X Off-Road
StandOut Stickers is proud to announce a sponsorship of Expedition X Off-Road!
Expedition X Off-Road, or EXO has been guiding adventurous Ford Raptor drivers through Baja excursions for years and we are pleased to provide them with a variety of custom sticker placards, cut vinyl decals, and sticker design services.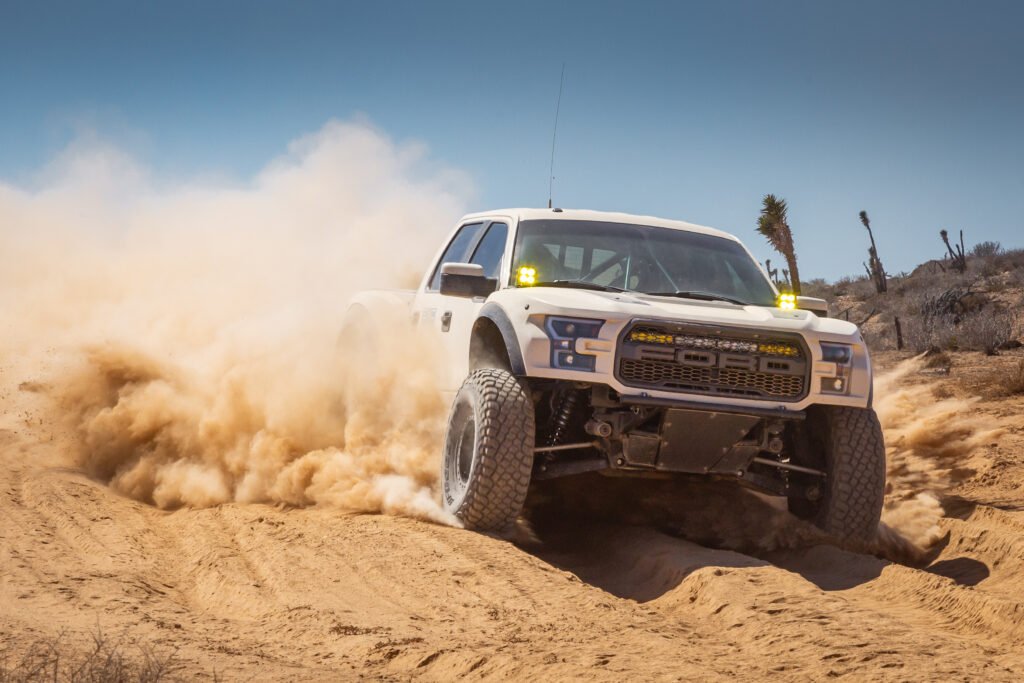 Photo courtesy of Expedition X Off-Road
Expedition X Off-Road stickers and decals are regularly exposed to extreme heat, rain, dust, dirt and debris. EXO trusts StandOut Stickers to provide durable, high quality products that stand up to the elements.
If you're an off-road enthusiast looking for a unique vacation idea, check out EXO's instagram and website to learn more about how to join them on a future outing!
They offer offer fast paced off-road expeditions as well as overland camping trips on the Baja California peninsula all year long.
These large placard stickers adorn every participant truck with a unique number so the group can easily identify other drivers.
Here is an example of a recent placard sticker for Expedition X Off-Road: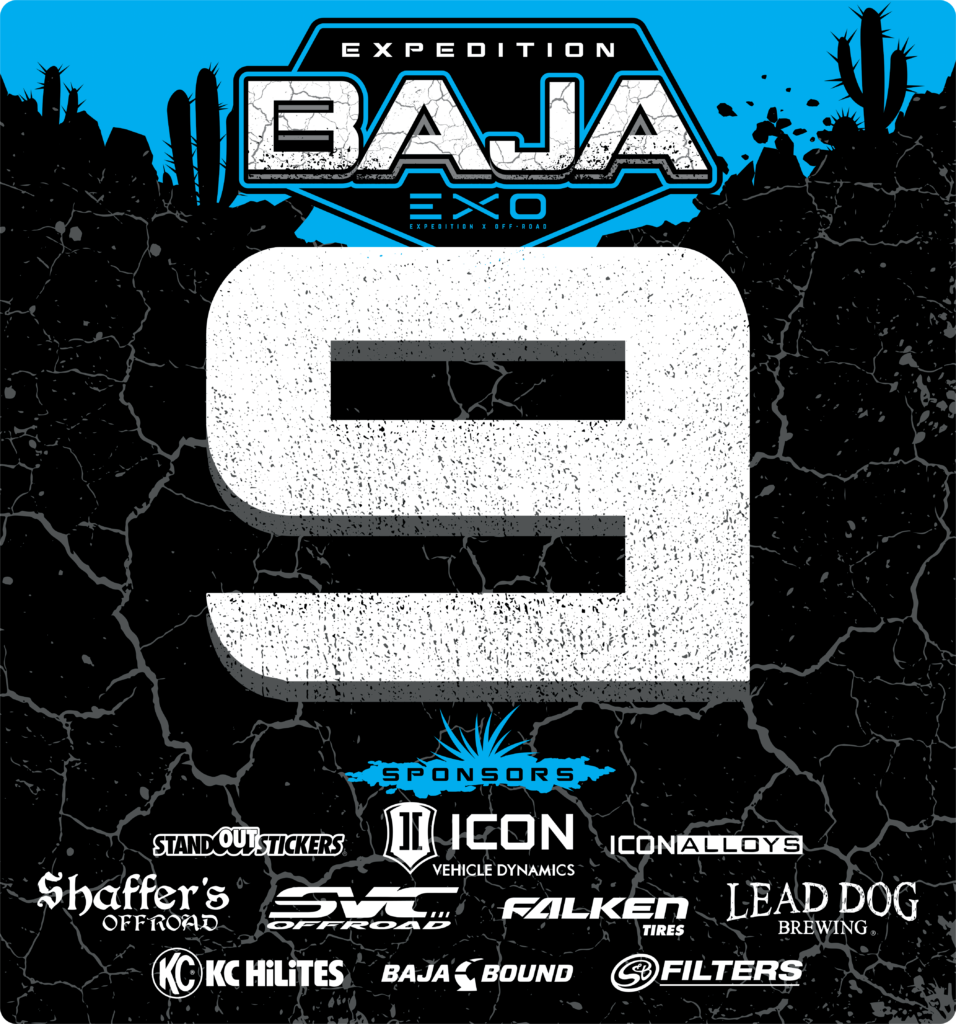 We have actually sponsored EXO since 2019! Since then, many other off-roading enthusiasts have turned to StandOut Stickers for high quality stickers and decals that offer extreme performance.
It's not just stickers and decals! We've printed a variety of custom merch for our sponsored friends, including these die cut fridge magnets: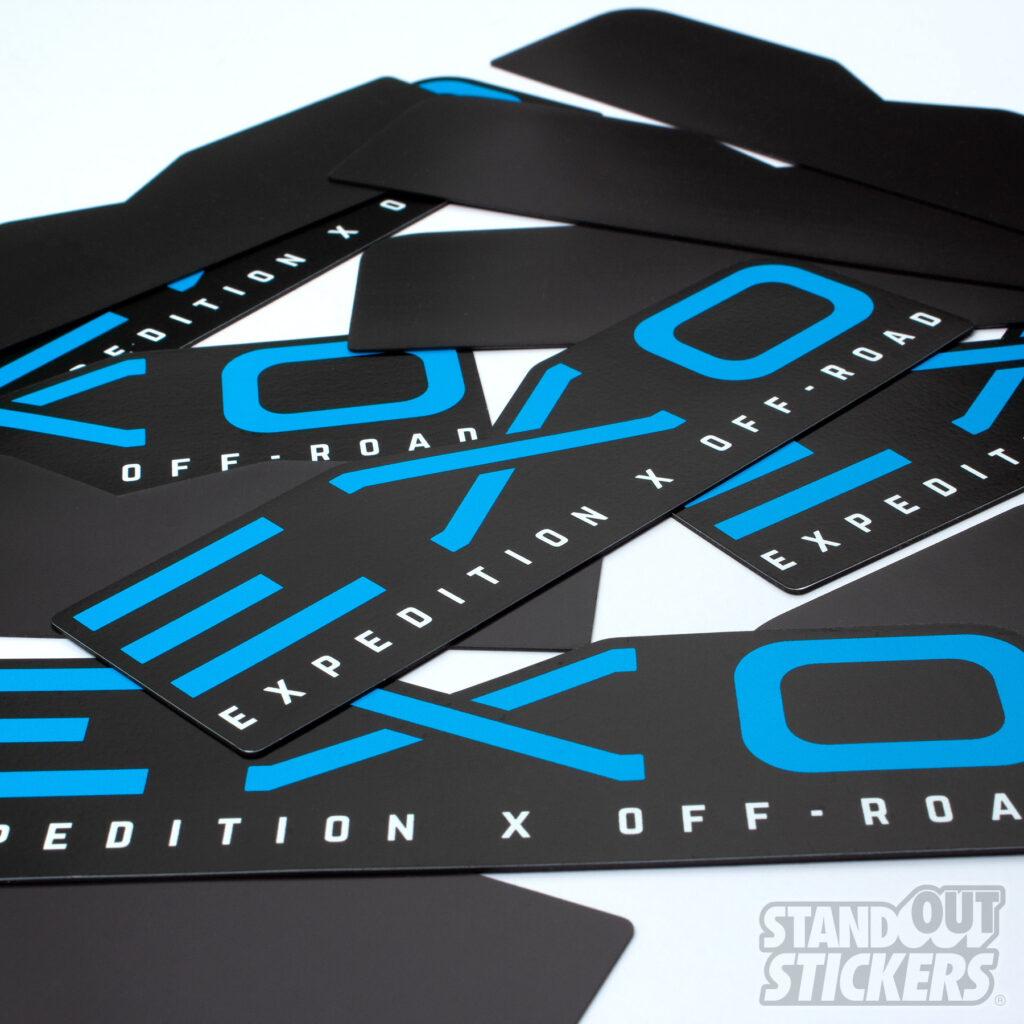 The image above is a sample photo of die cut fridge magnets featuring the EXO logo we recently printed for participants.
If you're in a similar recreational automotive industry we implore you to try StandOut Stickers and see how our quality and service is second to none.
Call 800-710-2030