Custom Stickers
Welcome to our Custom Stickers category! Below you will find articles, posts, coupons or samples featuring Custom Stickers. To see our latest content, visit Home.
High Quality, Yet Cheap Vinyl Stickers
The custom sticker printing industry is pretty big…. and for good reason! Companies around the world love advertising with cheap vinyl stickers, and more people love collecting and displaying stickers in a wide variety of locations.
Often when searching for a custom sticker printing company, you'll be served a bunch of advertisements for sticker printers who have opted to pay for top placement to score your business. There's a reason why these expensive ads are placed, they work! However you'll soon see how these companies pay for their large ad budgets…because they pass the pricing to you! All of a sudden what should be cheap stickers are anything but!
We got curious about just how much some of the top ranking sticker companies are charging customers for custom stickers and what we found was jaw dropping.
We're proud to announce that StandOut Stickers has BY FAR the best prices for cheap stickers when compared to the top four sticker printer competitors.
Shocking Results
Most of our competitors offer quantity tiers of 50, 100, etc. At StandOut Stickers we like to give you more for your money, so our tiers begin at 75 and 125, then 250 and so on. For this reason, we have decided to compare our competitions pricing at 100 stickers to our pricing for 125 stickers.
This means you get 25% more stickers for an incredible price when compared. See the shocking results for yourself: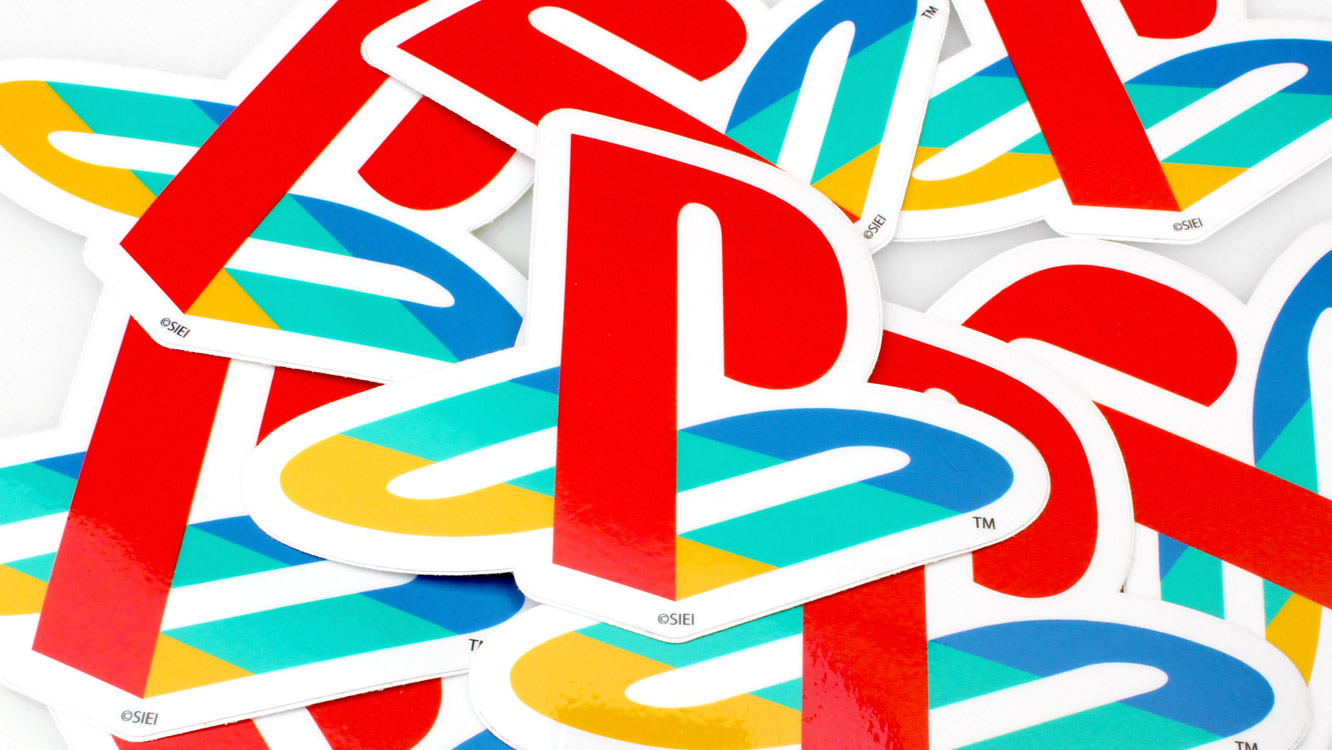 100 2″x2″ Die Cut Stickers Pricing:
Competitor 1: $73.00
Competitor 2: $62.64
Competitor 3: $61.00
Competitor 4: $69.92

125 2″x2″ Die Cut Stickers at StandOut Stickers: $46.25
As you can see, StandOut Stickers offers the best price by far. Our most expensive top 4 competitor is a whopping 58% more! Even the most affordable competitor is still 32% more for less stickers! Our 125 sticker pricing is that good!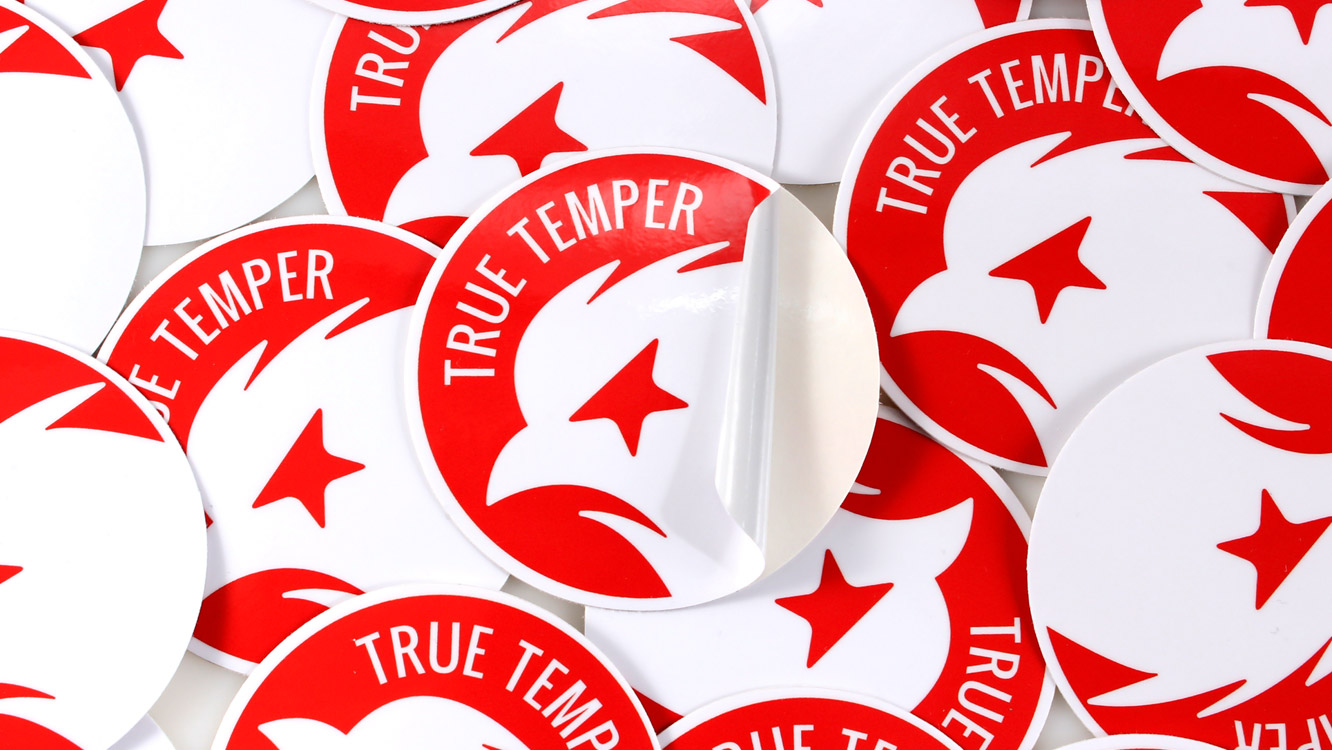 100 2″x2″ Circle Stickers Pricing:
Competitor 1: $57.00
Competitor 2: $62.64
Competitor 3: $61.00
Competitor 4: $53.62

125 2″x2″ Circle Stickers at StandOut Stickers: $32.50
Once again, StandOut Stickers comes out swinging with the lowest vinyl stickers price by a mile. The most expensive competitor was an unbelievable 93% more. The lowest-priced top 4 competitor was still a jaw dropping 65% more.
And remember, these are the top four sticker companies you'll find when you search for "custom stickers". We did not cherry pick random competition. Scouts honor!
Here's the best part: Our pricing gets even cheaper with higher quantities. We offer huge bulk discounts. The more stickers you order, the more you save! Pricing tiers can be found on our website under the Products menu. Feel free to browse for the best prices that fit your needs!
Final Thoughts
Ok, so we have cheap stickers, but are they "cheap" quality? Absolutely not! At StandOut Stickers, "cheap" only ever refers to the vinyl stickers price and never the quality and durability.
We pride ourselves on offering top quality products, and our custom sticker quality is some of the highest you will find anywhere. We print on thicker sticker vinyl (6mil total thickness) with better quality printers when tested against competitors. Check out this blog post from when we tested an order with our top competitor (the most expensive pricing above) to see how our cheap custom vinyl stickers quality measures up.
We also offer three quality vinyl sticker finishes, fast turnaround, free proofs, and free shipping to cont. USA with coupon code FREESHIP
Give us a shot if you're looking for low price vinyl stickers, you'll be glad you did!
All sticker pricing comparisons are from pricing checked on January 19, 2022.
Die Cut Stickers, Magnets & Floor Decals New Lower Minimum!
We are pleased to announce that our high quality die cut stickers, die cut magnets, and die cut floor decals now have a minimum order of just 75 pieces per design. This is lowered from the previous minimum of 125.
Now all of our custom products have the same low minimum of 75 pieces, making printing die cut stickers and the rest more affordable than ever!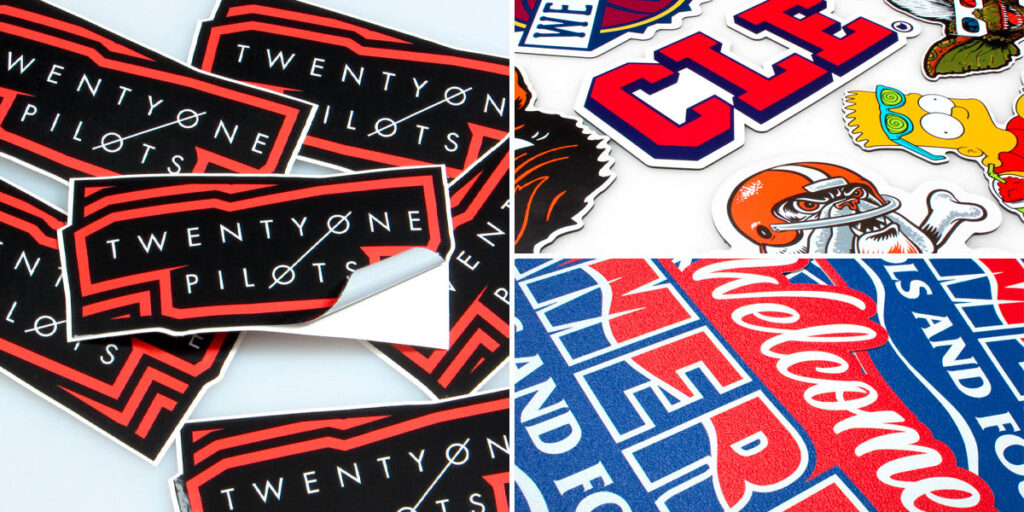 Why did die cut stickers have a higher minimum quantity?
Die cut shapes simply take longer to produce. 1) Setting up a unique path takes longer for our art team to carefully craft. 2) The physical act of cutting the unique shape is a slower process than clean and simple standard shapes like circle, square, oval, and rectangle.
In the past, we established incentives like a lower minimum quantity and lower pricing for standard sticker shapes because of how much easier they are to print and cut.
Now that we've grown, we have more printers and cutters available to produce more intricate stickers in better time, so we brought die cut stickers down to a lower 75 piece minimum! You can now order die cut vinyl stickers starting at just $25 with free shipping to cont. USA when you use coupon code FREESHIP
Our custom sticker pricing remains some of the lowest in the industry, however our quality remains as excellent as ever. Our thick vinyl stickers, flexible die cut magnets, and anti-slip die cut floor decals are all of the highest quality and sure to make your brand look its best.
Unfortunately die cut shapes are not available to be designed online. They require our expert art team to make sure the cut line looks perfect… but simply upload your artwork, logo or photo and provide cutline notes in the provided fields. Our team will get you a digital proof to approve before we print, and make any changes you request.
We take the hassle out of printing custom stickers and more at standoutstickers.com
Trick or Treaters Rewarded with Stickers at Marine Mammal Care Center
This Halloween we were happy to provide logo stickers for Marine Mammal Care Center in San Pedro, CA. Trick or Treaters visiting the care center were rewarded with a variety of Halloween activities, but also our weatherproof custom stickers! Our high quality stickers make a fun and healthy treat that everyone can enjoy.
We created a kiss cut sticker for the center that features their logo with a unique peel-out shape. This logo sticker is the perfect size for car windows, bumpers, laptops and water bottles. Our UV protected weatherproof stickers will hold up to any coastal applications!
The Marine Mammal Care Center is located just outside Los Angeles in San Pedro, CA. Their mission is to rehabilitate a wide variety of seals and then release them into the wild. They also provide valuable education on environmental conservation and how to protect seals and other marine life.
We're proud to support their efforts with our custom stickers!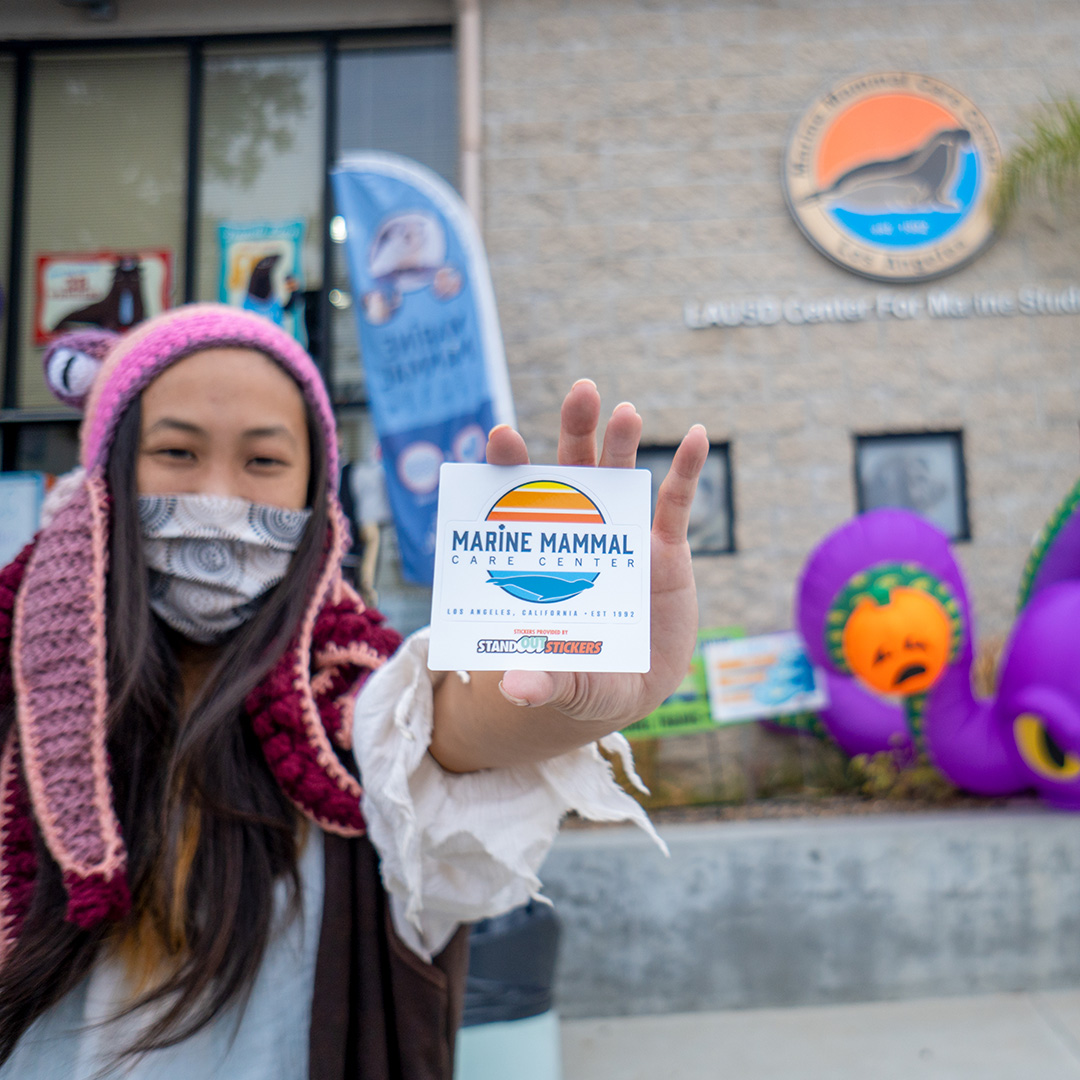 Strand Bookstore Stickers: Customer Showcase
One of our favorite customers is the famous Strand Bookstore in New York, NY. Strand is a gigantic bookstore offering a very valuable service and something that is becoming more and more rare: A place where you can go find actual books in person and get curated suggestions and help from real book-loving people.
Strand Bookstore claims "18 miles of books" and The New York Times called Strand "the undisputed king of the city's independent bookstores". Strand sells a wide variety of creative custom merch including many of our high quality custom stickers.
We recently found many of our custom stickers for Strand in the Stationery section of their webstore, and you can order from anywhere! Take a look at the unique sticker designs and see if any appeal to you! Many of the sticker designs feature New York landmarks but also cute, funny, or crass phrases.
Most of our custom stickers printed for Strand Bookstore are printed as sticker hang tags, making it easy for them to resell the stickers in a retail environment.
Here are a few of the excellent stickers Strand sells, printed by StandOut Stickers!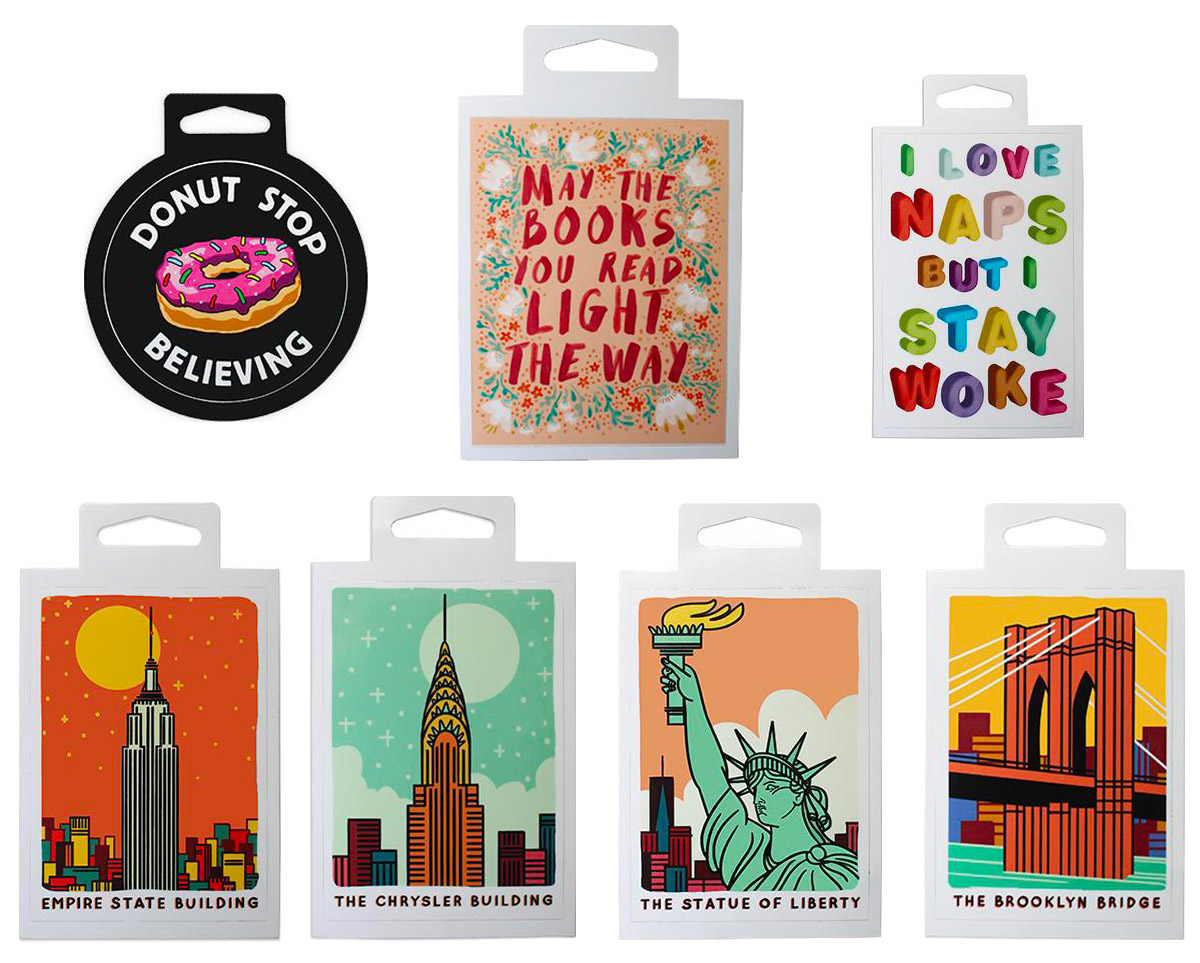 From left to right, top then bottom we have a fun circle sticker hang tag with a Donut Stop Believing Sticker design. The rest of the stickers are nice rectangle stickers with a hang tag feature. May The Books You Read Light The Way features a hand painted look. I Love Naps But I Stay Woke features a fun twist on a popular phrase.
The bottom row are nice clean vector illustrations of New York monuments:
1) Empire State Building Sticker
2) The Chrysler Building Sticker
3) The Statue of Liberty Sticker
4) The Brooklyn Bridge Sticker
All of these New York monument Strand Bookstore stickers are designed in the same way, so collecting them all would make for a nice collection!
Strand Bookstore have several other sticker designs available on their website, so please visit them and order something to support one of the greatest bookstores in the country, and a great StandOut Stickers customer!
New and Improved Sticker Pack Quality
We are excited to announce that the top cards of our sticker packs now feature improved print quality due to our investment in a brand new cutting-edge digital printing press.
This new printing press is used to print our high quality sticker pack top cards and has improved handling of the card stock material we use in our custom sticker packaging. The new printer also produces improved color and print clarity on the top card material.

Take a look at our sticker pack samples to get ideas for building your own packs. Packs are a great way to increase the retail value of your custom stickers. Our sticker packs are 100% retail-ready and can be manufactured with or without hanger holes.
Every pack is unique and we can even include vinyl decals, custom magnets or any of our other products. Mix and match various sticker finishes, sizes and shapes for a unique pack that your customers will be excited to buy!
Our packs are hassle free and come pre-assembled, ready to ship to your customers.
Our top card and pack assembly pricing is very affordable. Contact us today for a quote on your unique pack.

Call 800-710-2030