At StandOut Stickers, we specialize in printing high quality full color stickers. Our durable vinyl stickers are printed on cutting edge technology with long lasting eco-solvent inks and durable laminate finishes to protect your printed stickers from the elements, scratches, and fading.
We are capable of printing full color stickers in any size and shape and wanted to show a couple colorful samples and talk about what makes these particular full color sticker samples so excellent.
First we start with a die cut full color sticker for clothing company Big Bud. The brightly colored logo and bold black outlines make this uniquely-shaped sticker pop! Even if you don't know what this sticker is advertising, something about it makes you want one for yourself.

Next we have a logo sticker for ROAR Organic Electrolyte Infusion. This full color sticker design features an instagram-filter image of a palm tree and our satin matte finish for a high end look.

The colorful stickers below were part of a large sticker pack for a streaming platform called VRV. Featuring a wide variety of cartoon characters and caricatures of famous movie & TV icons. The bright colors make every one of these square sticker designs eye-catching and attractive!

The small die cut stickers below were printed for a food company called Blizz. Their brightly colored logo really jumps out at you when printed in full color with our glossy finish.

Red Rum International is an outdoor boating / sporting company and their full color logo is perfectly captured on this circle sticker with a glossy finish. The colors are fresh, vibrant, and on-brand!

This rainbow colored sticker for Buzzfeed is die cut in an eye-catching shape. Nothing says "full color stickers" quite like a literal rainbow sticker!

This black and gold die cut sticker for Gold Thumbz cannabis looks great in our glossy finish.

Finally, our glitter finish doesn't change the color of your full color stickers, but it does make them react to light in a dazzling way! This sparkly sticker finish is a great way to set your full color stickers apart from the crowd! Similar to a glitter flake found in automotive paint, add some sparkle and shine to your next order of full color stickers from StandOut Stickers!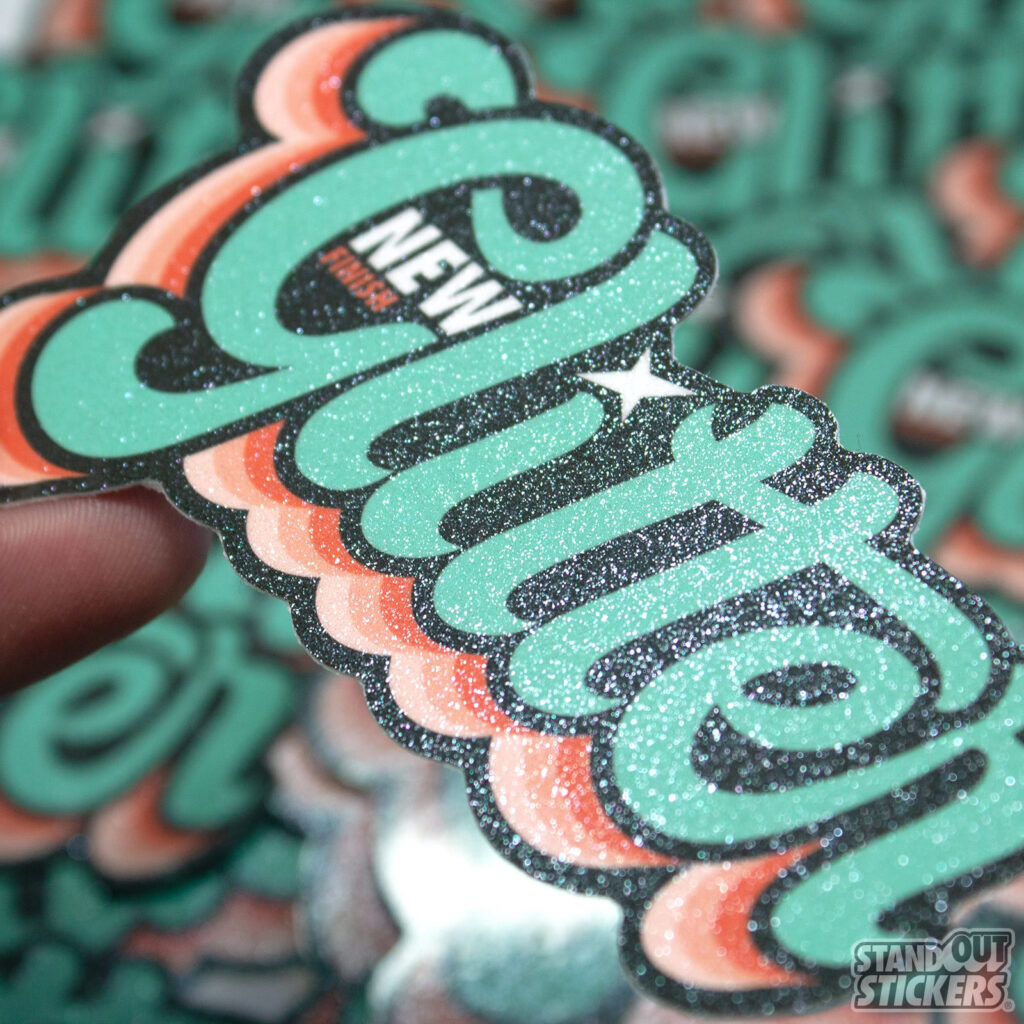 Last Modified: April 23rd, 2022