At StandOut Stickers our custom stickers can be printed in full color or black and white, it's up to you! We wanted to take a moment to showcase some striking black and white stickers and talk about ways to make your next black and white sticker design Stand Out!
Pro Tip: Rich Black Values
When designing a black and white sticker, make sure your black values will produce a dark, solid black called "Rich Black" Learn more about Rich Black Values in CMYK and tips for designing for print with black in our FAQ.

The sticker shown above for Beer Code Co. features our satin matte finish and an iconic die-cut badge shape with smooth rounded edges. This striking black and white sticker design is sure to get noticed from a distance!

This sticker keeps the good vibes highly visible with a strong black and white design and a unique die cut shape.

The stickers above for BELL Bicycles "Squid Bikes" brand were printed as easy peel matte stickers. We took a moment to color them in with Sharpie markers for a fun experiment!
We offer three unique finishes on our custom stickers. Our glossy finish offers the highest contrast of the three. But a lot of customers who choose black and white designs have found that our satin matte sticker finish makes black and white stickers look fantastic, almost "luxurious" if we can be so bold.
Our newest sticker finish is glitter, which makes black and white sticker designs look completely unique. Take a look at the sample below to see how light dances off the glitter when applied to a black and white sticker design.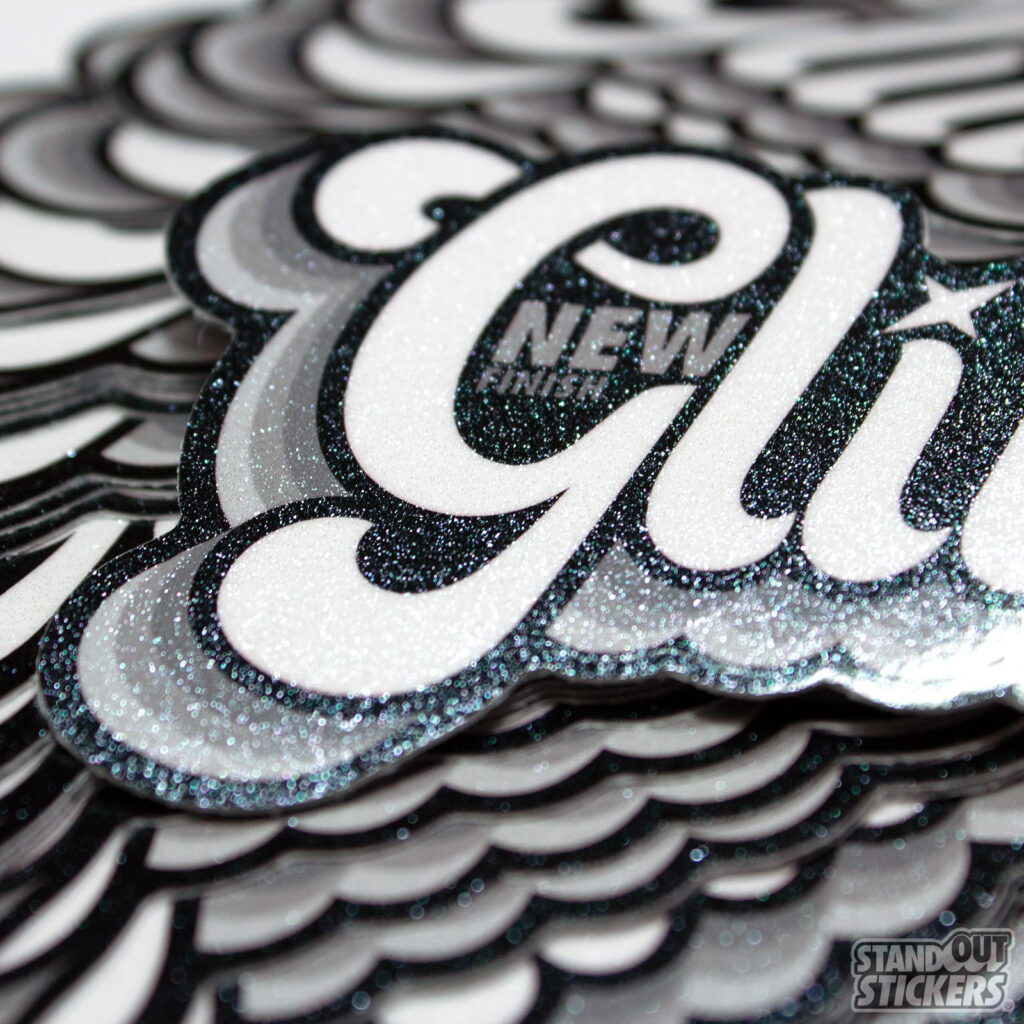 No matter what sticker finish you choose, you can rest assured that all of our stickers feature the same high quality printing, thick vinyl, and weather resistance!

This uniquely die-cut sticker for Moonshine Pipe Co. has a pleasing shape and a high contrast glossy finish.

These black and white stickers for GOO GOO Dolls (remember them?) feature a high contrast design in a glossy finish!

One of our favorite customers is Hank Sauce and they print their die cut logo stickers in a variety of colorways. This black and white version features a high gloss finish and its iconic fish shape can be identified easily from a distance.

Another local favorite, CLE Clothing Company prints their iconic guitar pick and crossbones logo in this hard-to-miss black and white color scheme that looks perfect as a die cut sticker.

This diamond-shaped sticker for Carolina Bauernhaus Artisinal Ales features a high-contrast black & white logo and an easy peel feature that makes applying this black and white sticker a breeze!

We love our coffeee, and this black & white sticker for Bindle Coffee is die cut in an eye-catching shape!
No matter what shape or size your custom stickers need to be, consider printing them in black and white for a classic look that will stand the test of time!
Last Modified: April 21st, 2022