Custom Stickers Blog
Welcome to the StandOut Stickers Blog! Here you can find news about our high quality kiss cut stickers, die cut stickers, coupons for cheap stickers and other posts about our custom vinyl stickers. But it's not all sticker talk! We also feature content and sales on custom magnets, custom floor decals and cut vinyl decals.
Large Format Sticker!
Our Biggest sticker yet! This job is for a local mexican restaurant and will be used as a temporary sign. The final sticker size will be a 60″ x 35″ (a MONSTER custom sticker)!

Our wide format printer running this job!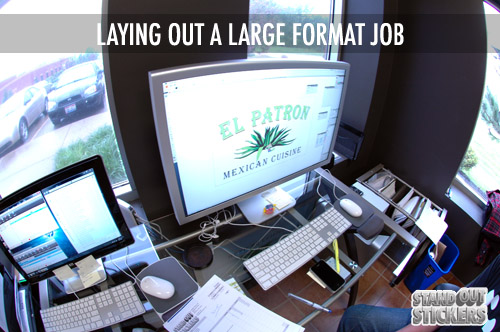 Setting up a layout for the 60″ x 35″ Custom Sticker.
Looking for a cheaper alternative for a custom sign? Give us a call and let us know what your next project is and we'll give you some options. Keep checking back for more unique projects.
Be sure to visit our freshly updated website: www.StandOutStickers.com
It's Featured Friday!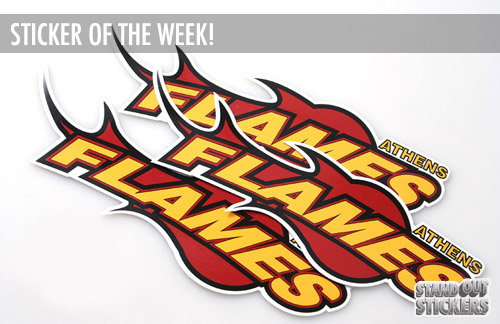 Quick Lunch Break Basketball Game!
With the weather finally giving us a break from the rain, the PureButtons & StandOut Stickers crew decided to get a quick basketball game in during lunch. Here are a few photos of the game!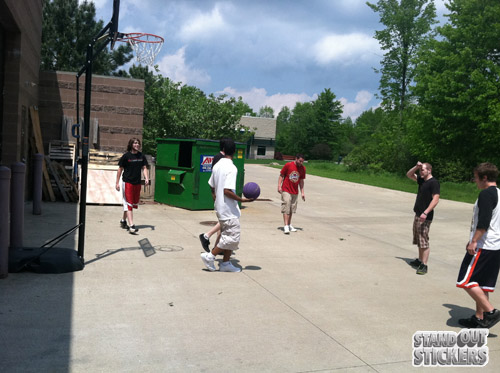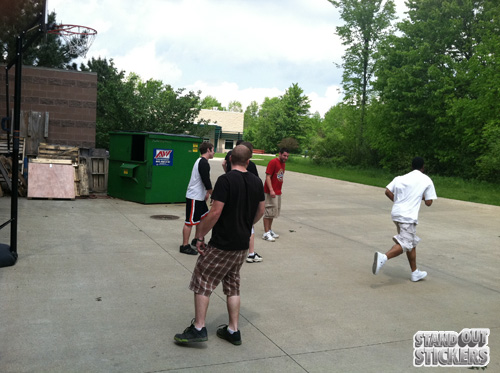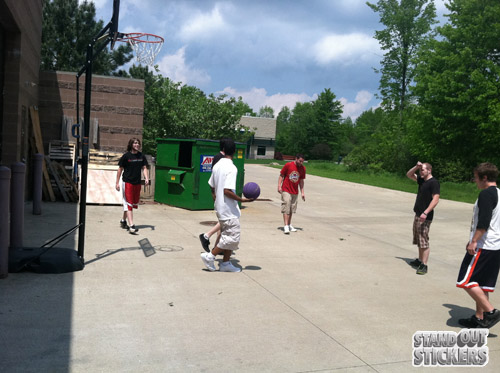 Now Offering Cut Vinyl Decals!
Have a simple one color logo design? Maybe you might just need your companies logo with your hours posted on your front door. What ever the job is… we've got you covered with our Cut Vinyl Decals. By popular demand we are now able to manufacture custom cut vinyl decals. Please visit our Custom Cut Vinyl Decals Pricing page to learn more.

5″ x 3″ Cut Vinyl Decals with a single color vinyl

4″ x 4″ Cut Vinyl Decals for the band "HIM"
Our Cut Vinyl Decals will last outdoors in the elements for years to come without fading. Whether you need just (1) decal or thousands we've got you covered. We've developed a way to do these in large production runs to help keep our cost low. In return we pass the savings onto you!
My Chemical Romance Sticker Pack
Custom Job for My Chemical Romance.
Details of the job Include the Following:
– 8.5″ x 11″ Backer Card Printed on 12pt Card Stock (done in house)
– (7) Assorted Stickers (Round, Rectangle & Die Cut Stickers)
– Poly Bagged with no zip top to give a clean professional presentation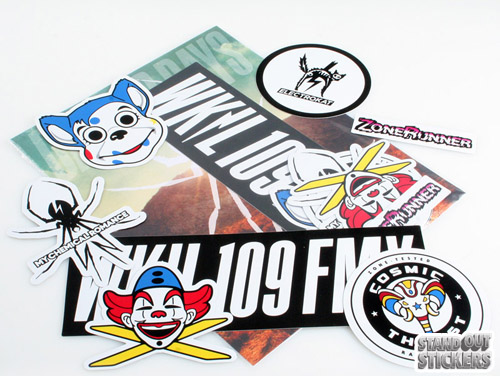 (7) Sticker Pack with 8.5″ x 11 Backer Card

Looking for a custom packaging solution for your next sticker job? Look no further, we can handle all of it in house (unlike other shops). We can manufacture everything in house which keeps our costs low!
Check us out: StandOut Stickers!
Call 800-710-2030