Sales
Welcome to our Sales category! Below you will find articles, posts, coupons or samples featuring Sales. To see our latest content, visit Home.
Rectangle Stickers on sale for a very limited time!
Our custom vinyl stickers are available in any size you want. And for a limited time you can Order Rectangle Stickers of any size and take 15% OFF with code RECT15
Use our free customizer tool to create high quality rectangle stickers of any size and design them right in your browser on any device!
Offer ends Thursday 5.31.18 at midnight.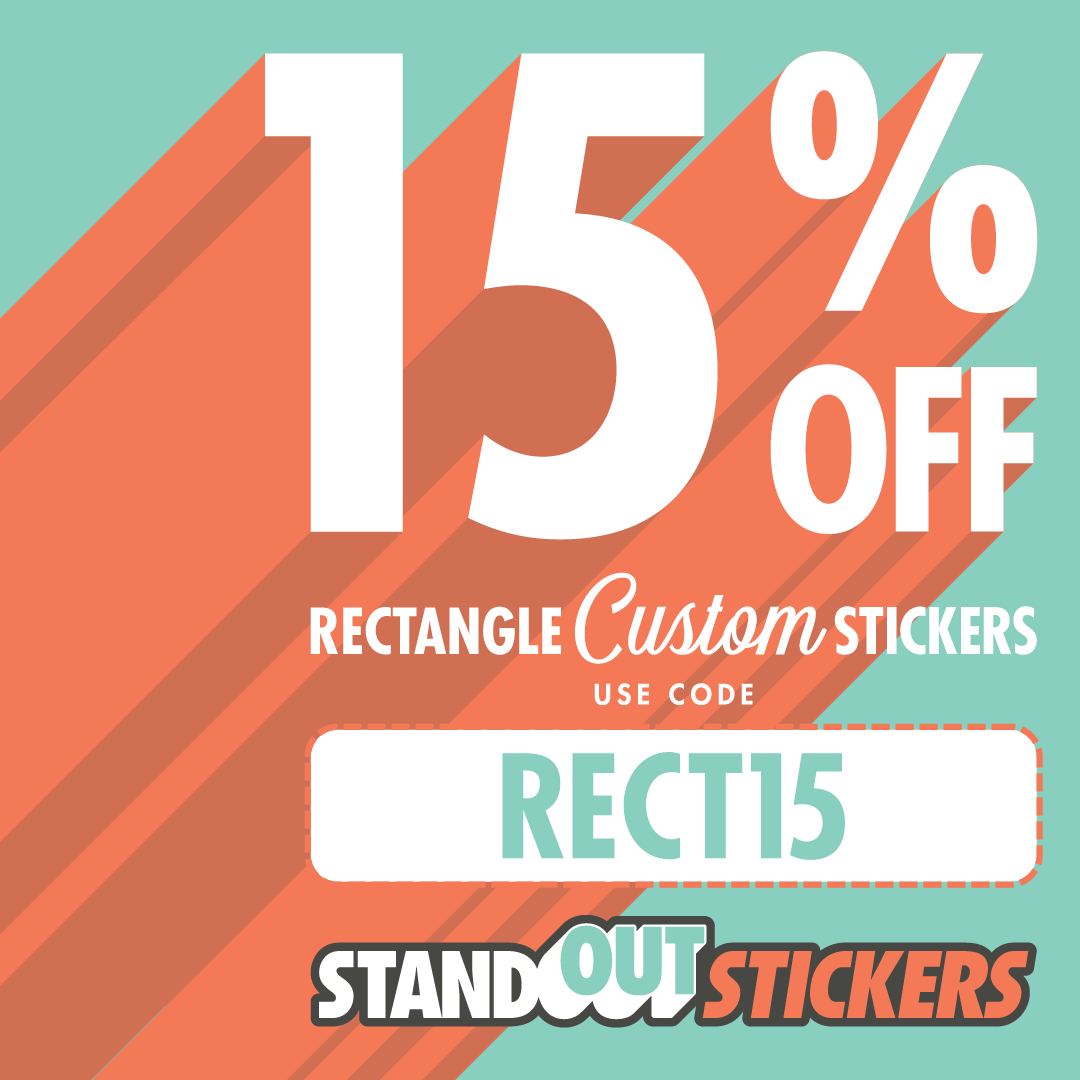 15% OFF Custom Vinyl Square Stickers
For a limited time take 15% OFF our incredible Custom Vinyl Square Stickers with code SQUARE15
Design your Square Stickers in our free online Customizer Tool and get a free instant digital proof! This easy tool lets you create custom stickers on any device, in any browser!
Order Square Stickers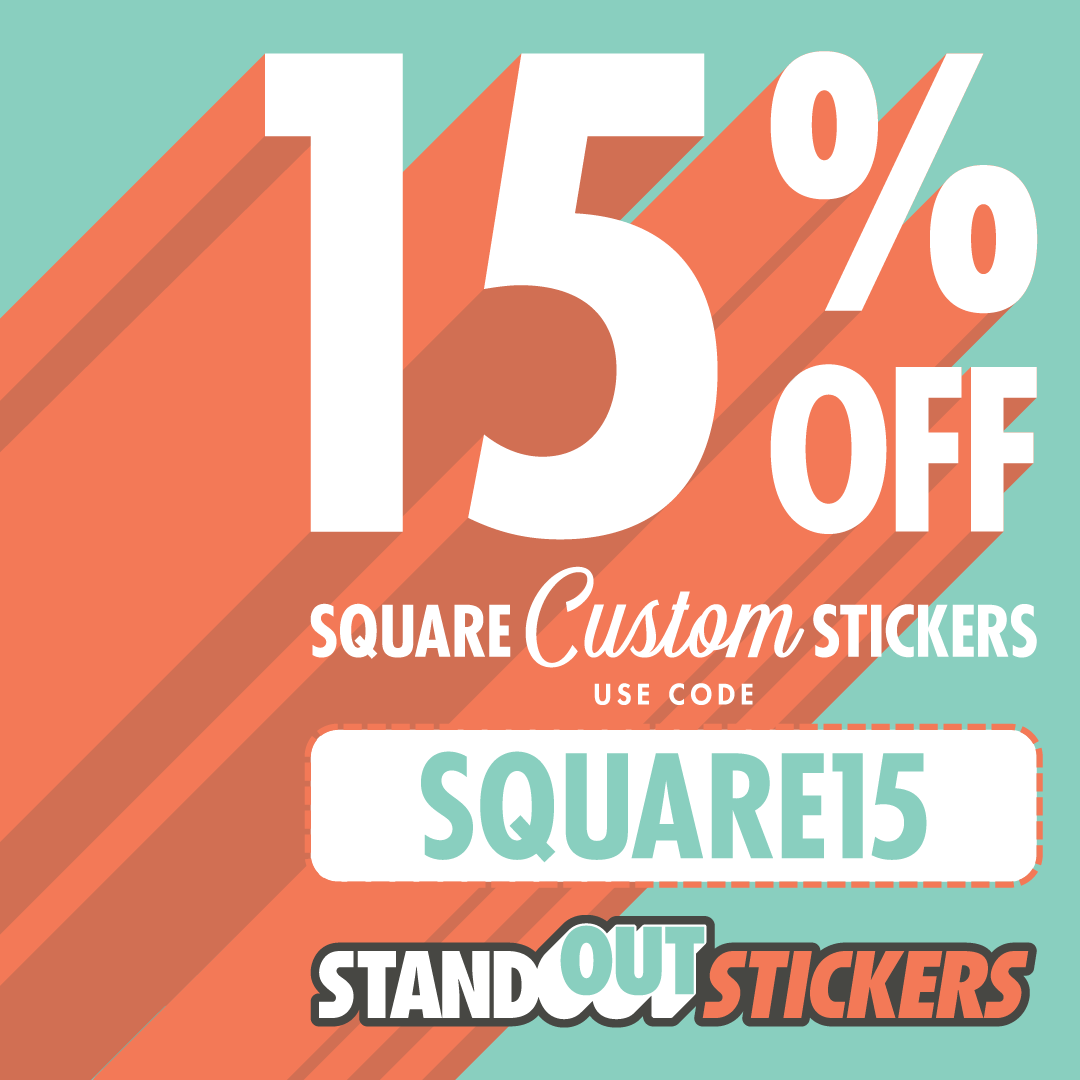 15% OFF Custom Circle Stickers
For a limited time, take 15% OFF our incredible circle stickers with code CIRCLE15
Design your circle stickers on any device in our free and easy online art tool!
Get a free instant digital proof, and checkout in seconds on the brand NEW standoutstickers.com
Offer ends 4.30.17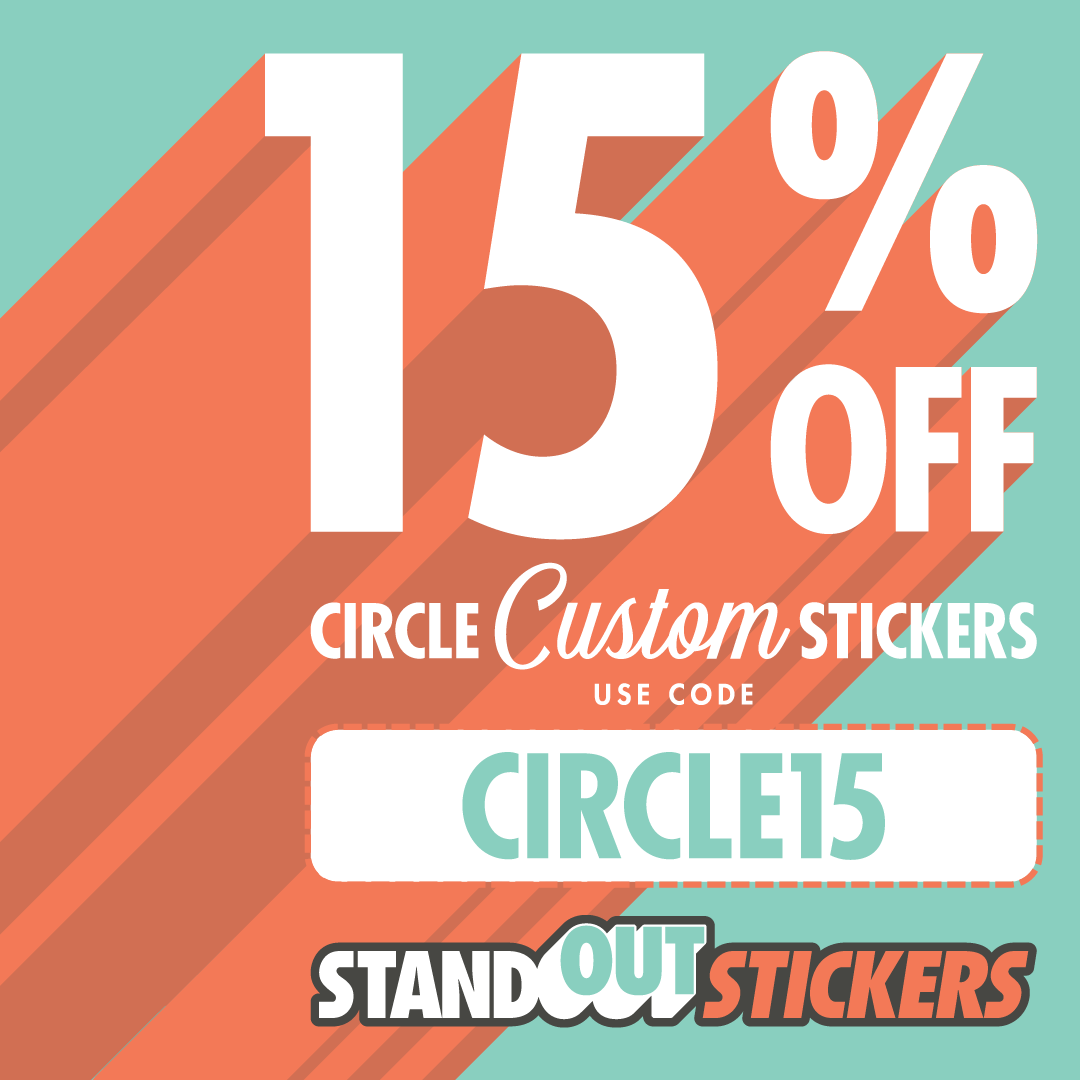 15% OFF Custom Stickers with Coupon LUCKY
You're in luck! 15% OFF custom stickers by StandOutStickers.com and all products at PureButtons.com when you use code LUCKY.
BOTH sites have the same easy & free art tool that lets you customize your products on any device! Checkout is a breeze with our one step Amazon Pay option, and customers LOVE us:
"Stand Out Stickers did a great job providing what we asked for. The ordering process was easy and quick. The shipping was true to expected date. I did a lot of research and their pricing is unbeat. Awesome product too! Overall, I am satisfied with them, and will use them again when we reorder."
Design Custom Stickers at StandOutStickers.com
Shop Custom Buttons, Fridge Magnets & more at PureButtons.com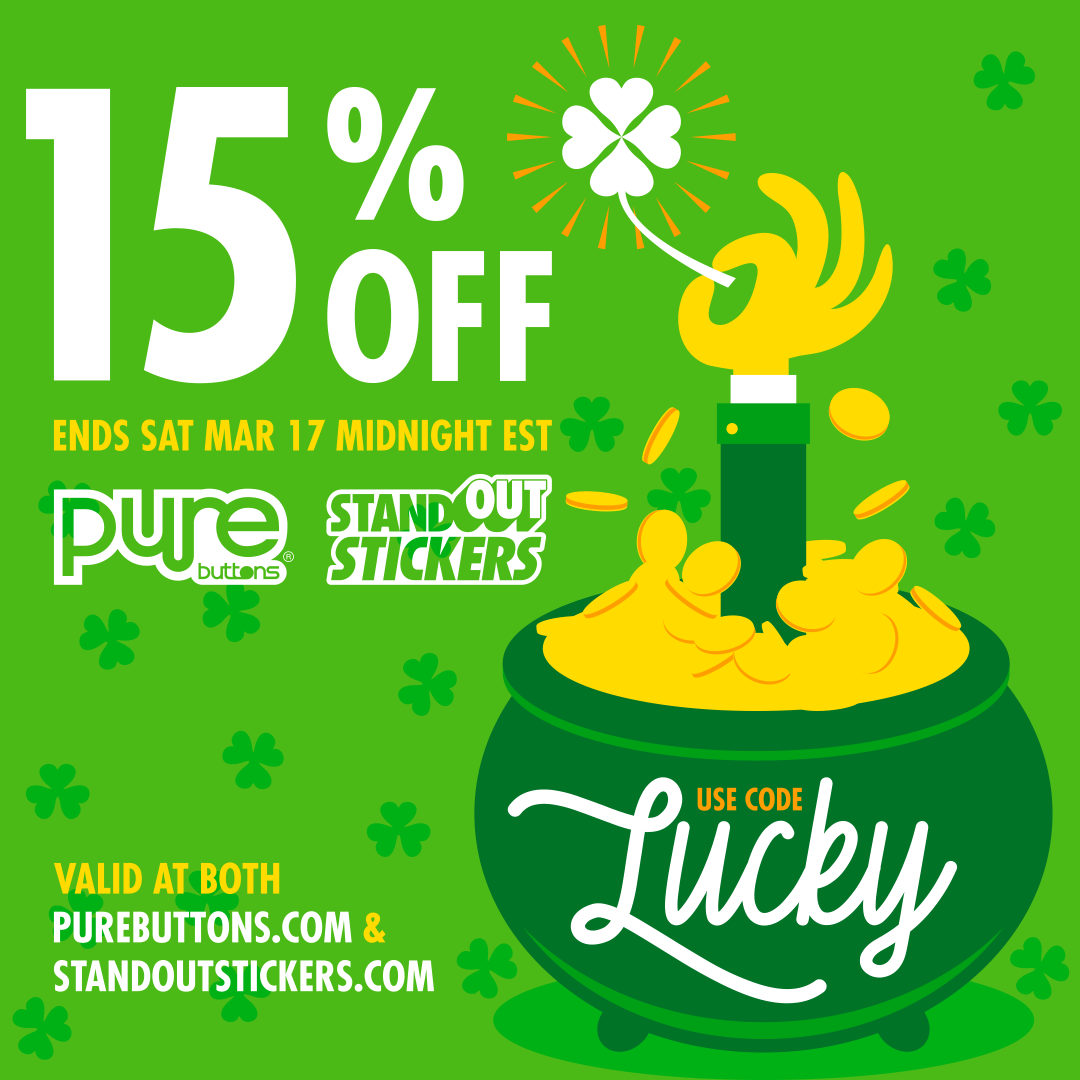 Flash Sale! 15% OFF Custom Stickers
Happy Monday! As February comes to an end, get yourself a sweet deal on our amazing custom stickers with code FLASH15
Order Custom Stickers
But act fast- this sale won't last long! Offer ends Wednesday 2/28/18.
Offer applies to custom vinyl stickers only. Cut vinyl decals are ineligible for this discount.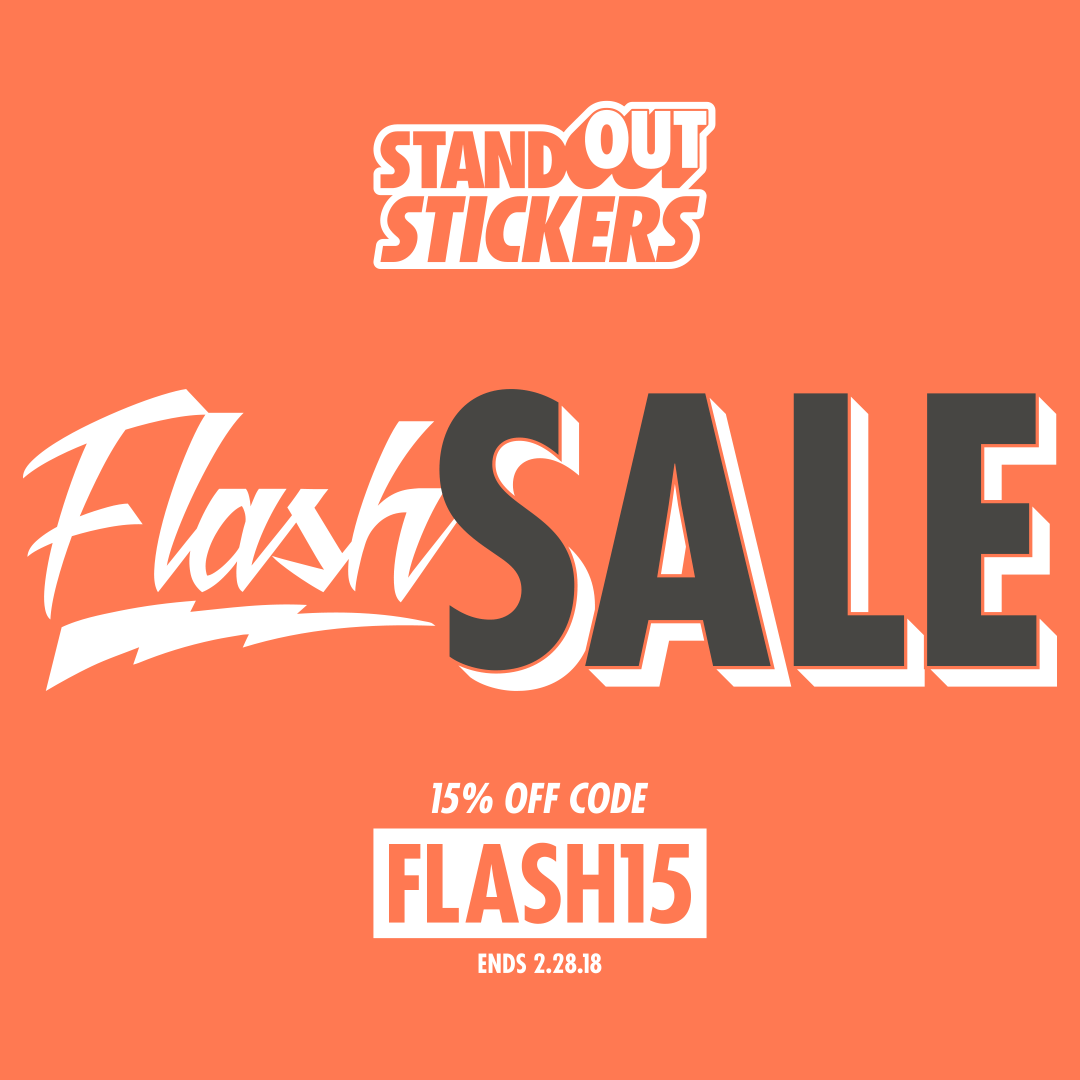 Call 800-710-2030