Welcome to our Halloween category! This is Page 1 of 2 of Halloween related content. Below you will find articles, posts, coupons or samples featuring Halloween. To see our latest posts, visit Blog Home.
Looking for a healthier alternative to candy this Halloween? Try printing custom stickers with your own spooky design! They're sugar free and more importantly, they don't go in your mouth so they don't spread germs!
Also, our high quality vinyl stickers last a lot longer than candy! Your ghosts and goblins will enjoy your custom stickers for years to come.
At StandOut Stickers, we have had an influx of spooky, scary sticker designs come in just in time for the Halloween season and we're loving it.
Check out this creepy sticker design we just printed for Cavity Colors.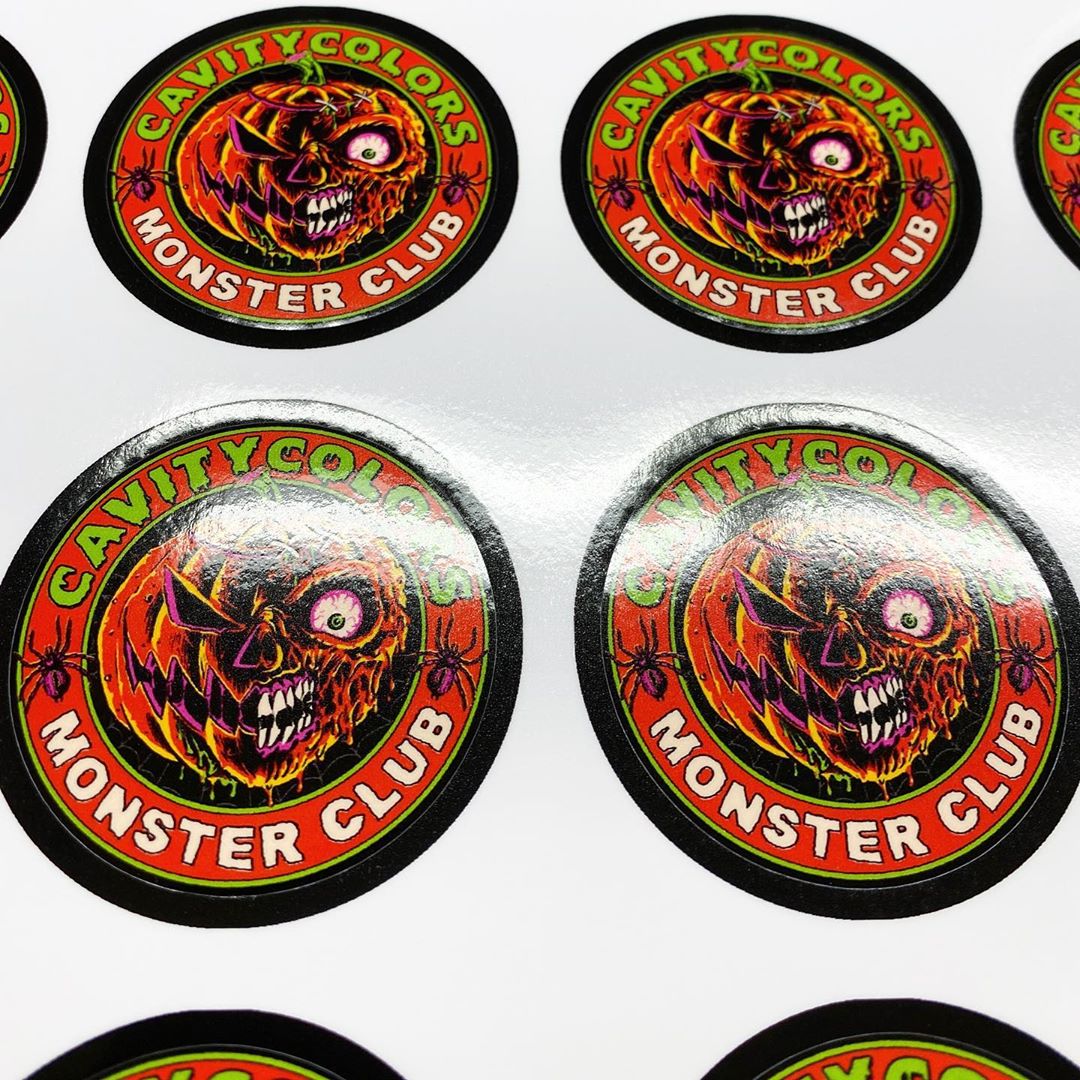 We make it easy to order custom stickers at StandOut Stickers – Simply choose a vinyl sticker size and shape, then upload your design, or create one in our free and easy online tool. You'll get a free digital proof and free shipping to cont. USA with code FREESHIP on orders over $25.
Our sticker printing is unmatched in quality, speed and professionalism. Give us a shot and you'll agree!
Stay safe and healthy this holiday season but don't forget to get creative with social distancing and have spooky fun in new ways!
Last Modified: October 14th, 2020
Happy Halloween! We've scared up a great deal: Take 20% OFF All Custom Stickers  at StandOutStickers.com and everything at PureButtons.com
Order Promotional Products like Custom Buttons, Fridge Magnets and more and take 20% OFF with code TRICKORTREAT
Offer excludes cut vinyl decals.
Offer will turn into a pumpkin on November 1! (Ends 11.1.18)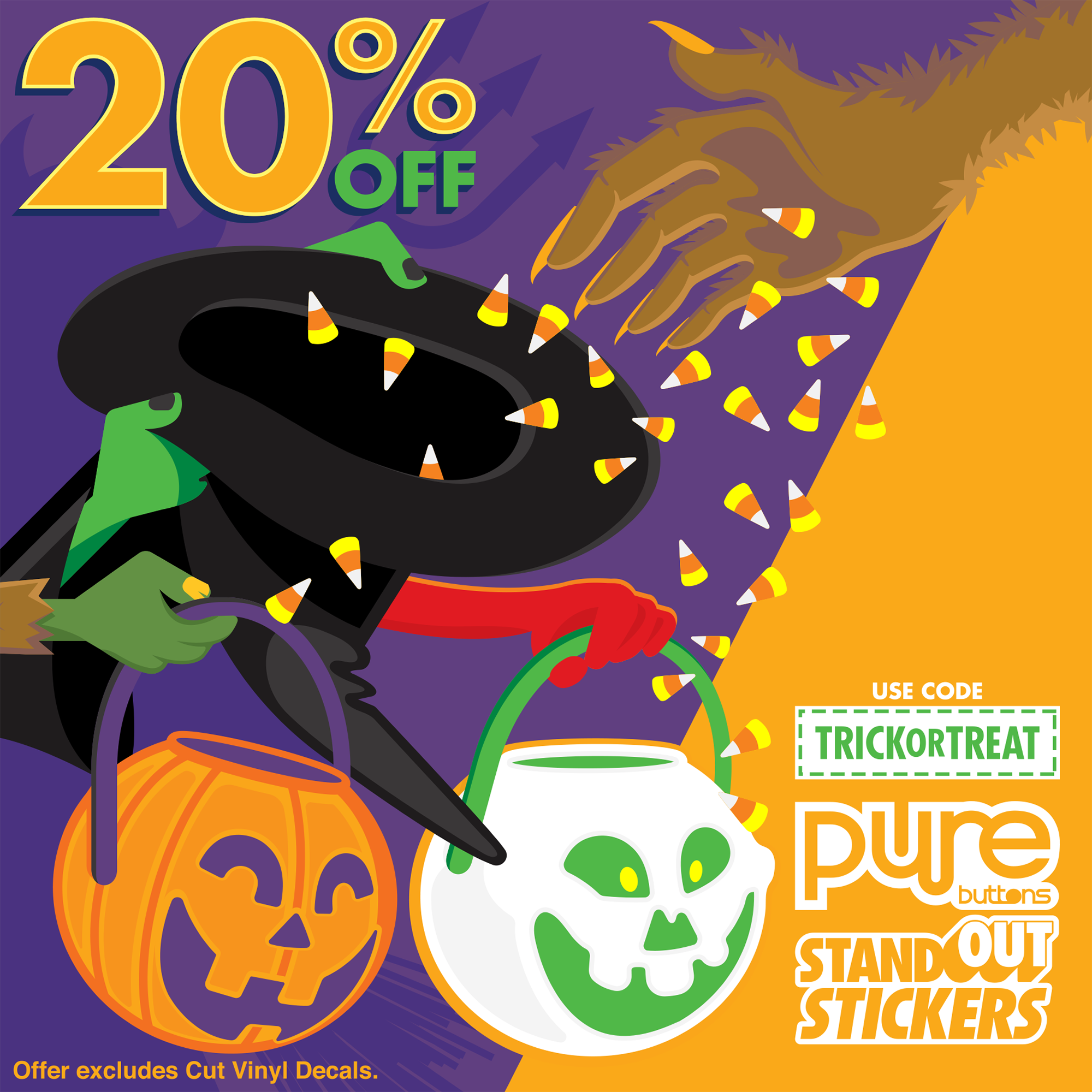 Last Modified: October 29th, 2018
You can run but you can't hide! We recently printed custom stickers for Rick and Morty featuring a character from one of our favorite episodes and perfect for the spooky halloween season. These Rick and Morty Stickers make us laugh and are printed in full color with a UV-resistant gloss finish that ensures years of outdoor durability.
You can design your own custom stickers in our free and easy tool. Simply pick a shape and size and get started. Drop in your favorite photos, text or logo and review your free instant digital proof before purchase. Order Custom Stickers made in USA from StandOut Stickers, for the easiest way to buy stickers online!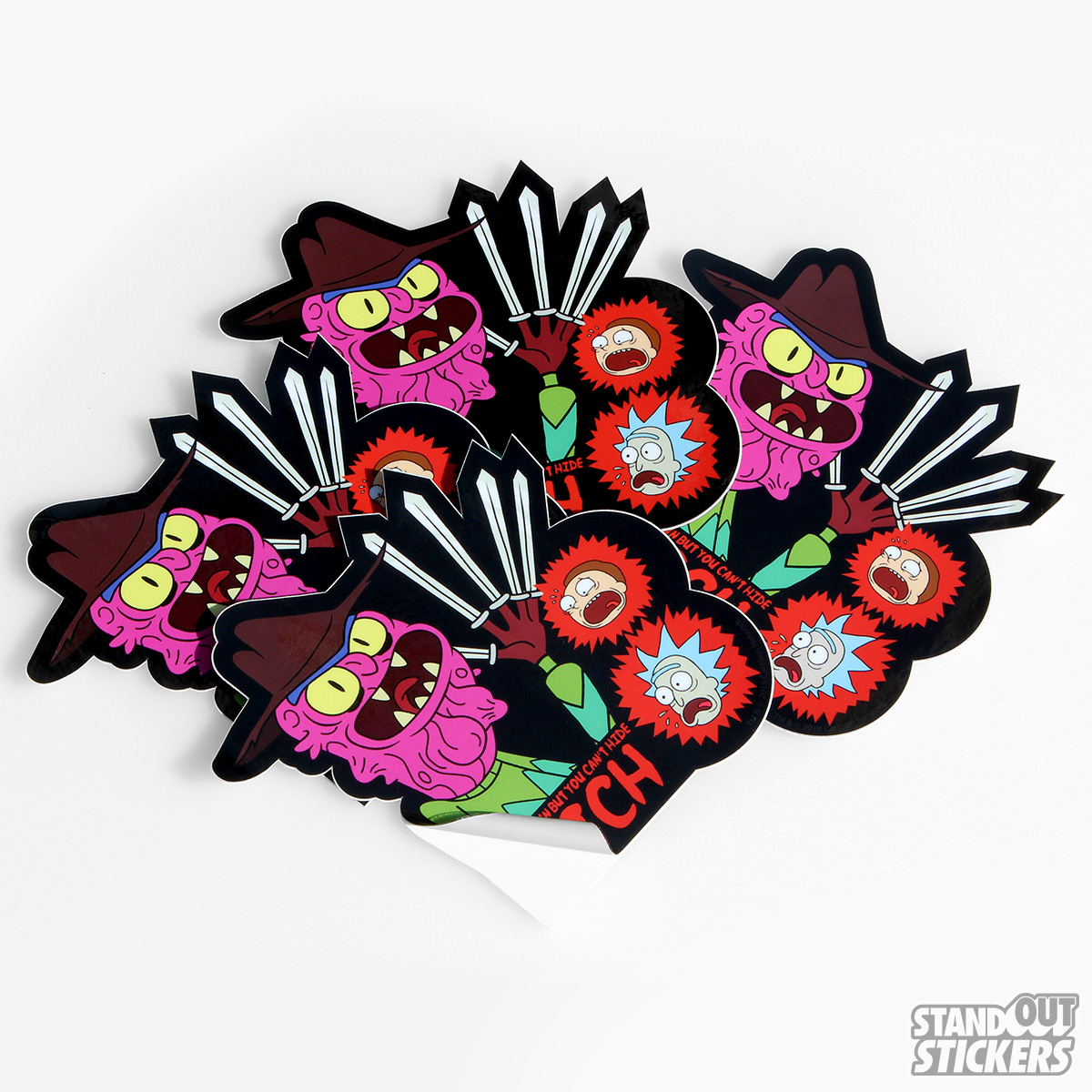 Last Modified: October 10th, 2018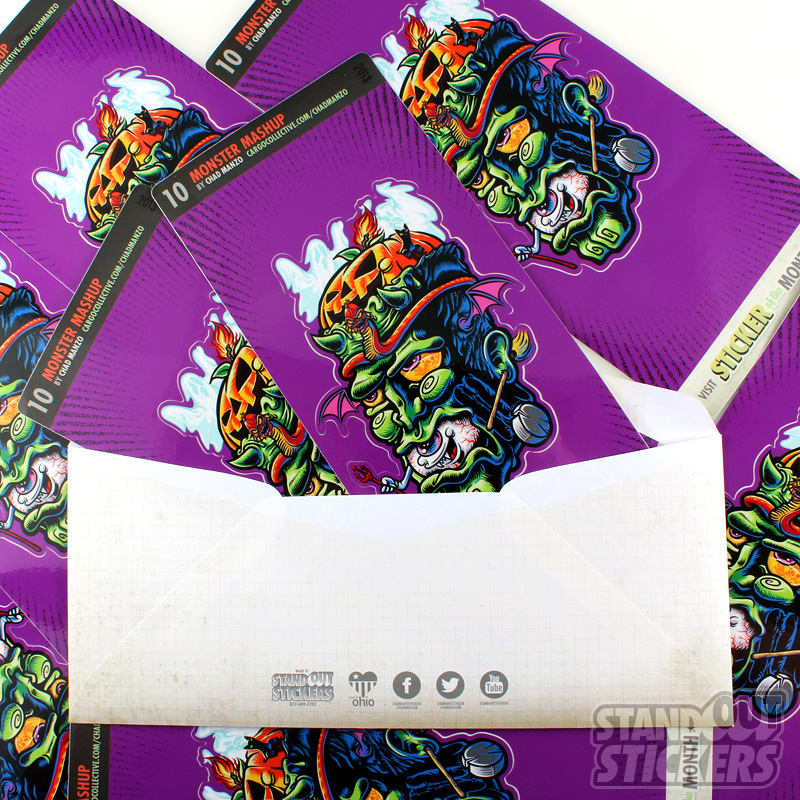 October is here, our favorite time of year, and with it comes a brand new Sticker of the Month featuring elements of almost everything spooky and fun about Halloween!
Monster Mashup by Chad Manzo is a premium weather-resistant sticker and is available for purchase individually or as part of our membership!
When we approached Chad Manzo to create a sticker of the month, he requested October for the very reason that he wanted to blend a bunch of great Halloween themes into one cool sticker design, and here it is!
These stickers look great and make for amazing party favors / halloween treats!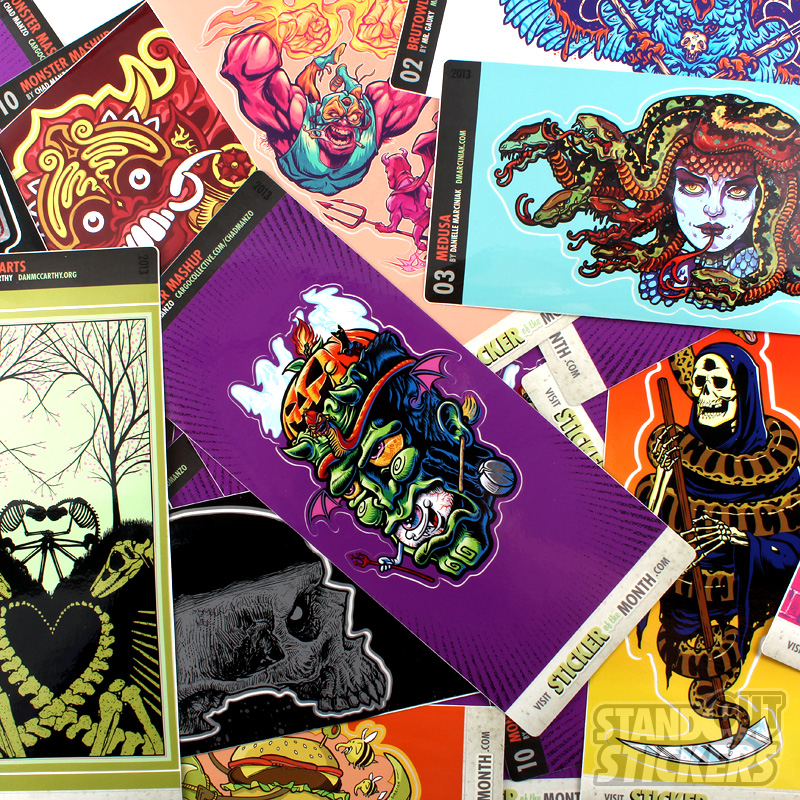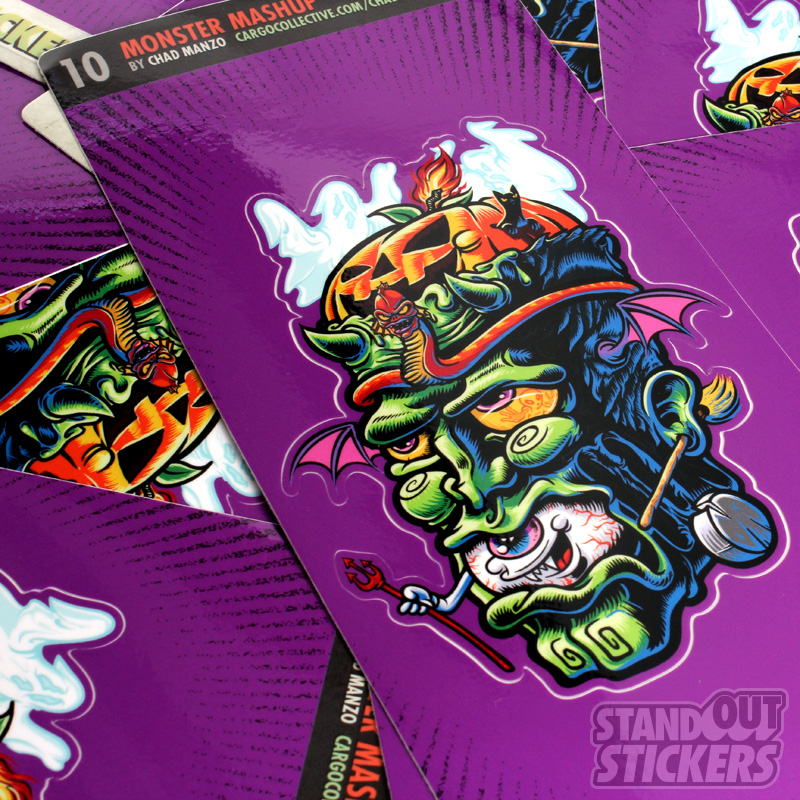 This amazing new halloween-inspired design is ready to ship! It makes a great healthy replacement for halloween candy and kids LOVE these stickers.
You can buy as many as you want with our individual ordering feature, in batches of 1, 5 and 10. Be the cool house on the block this halloween and give kids something unexpected.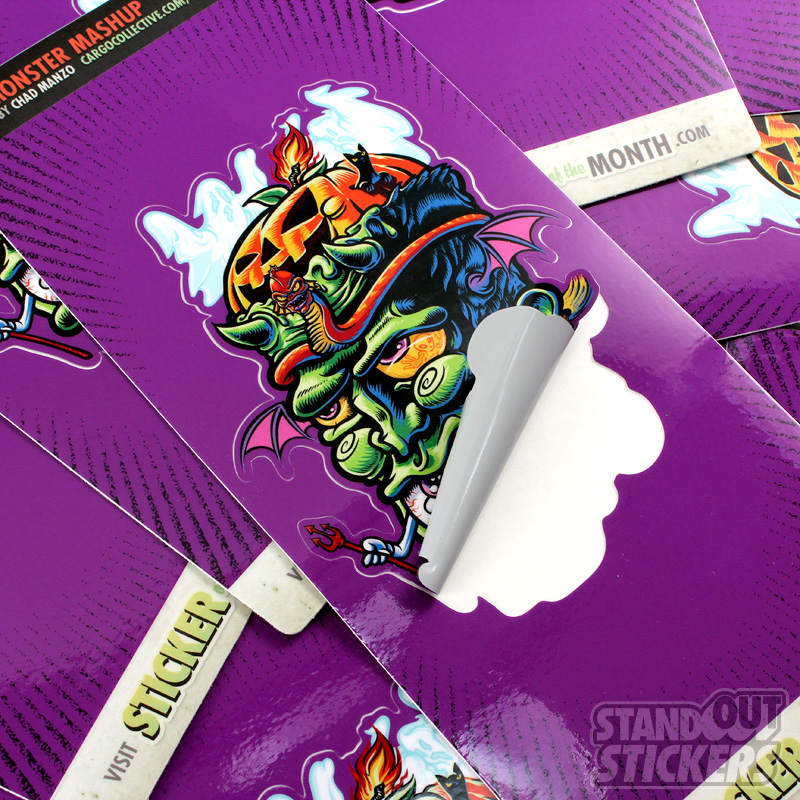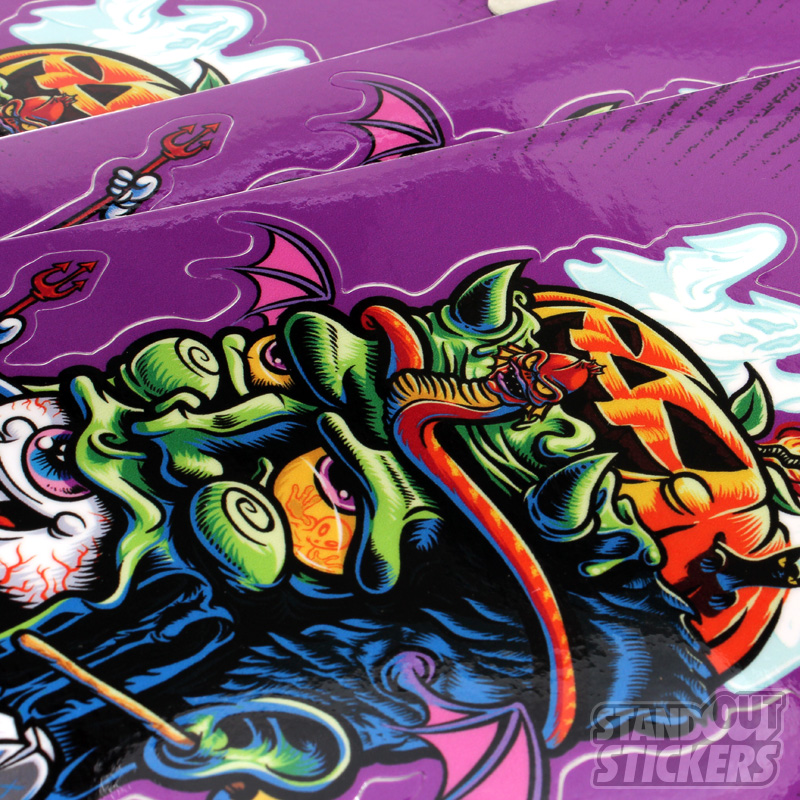 Every member gets TWO of each sticker mailed to them each month, with new members getting a large initial mailing of all current 2013 designs. We had a bonus month in July which added a unique design by Electric Zombie, for members only, so this adds 2 more stickers to your membership!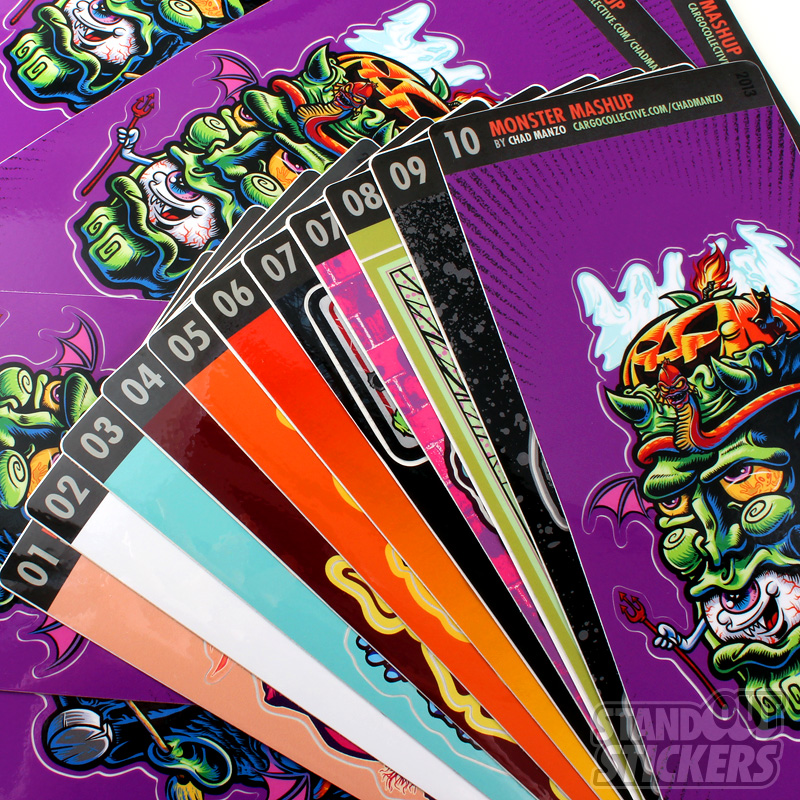 The Sticker of the Month club is a unique project, with amazing collectable artwork available nowhere else and featuring some of the hottest artists in the world.
Be a part of something great and support independent artists by buying your favorite stickers and sharing them with friends.
Last Modified: October 1st, 2013
With Halloween rapidly approaching, we felt it would only be suiting to pick these awesome sticker sheets by Kina Ink as this weeks sticker of the week. If you're not familiar with Kina Ink, it's time that you did. Kina designs custom shoes, crochet & knit toys, illustrations and many other awesome services. Please take a moment to check out Kina Ink!
Not only do these sticker sheets look amazing, but they're also very spooky! Take a look for yourself below.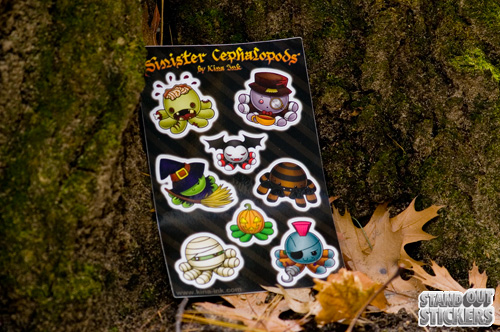 Custom sticker sheets from Kina Ink.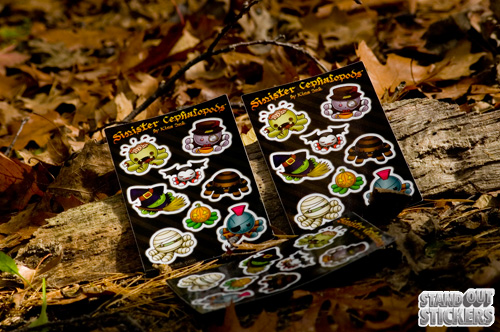 These sticker sheets are awesome!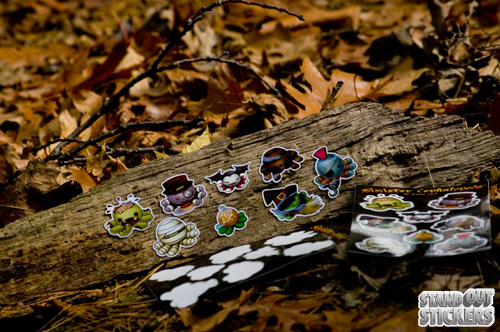 We couldn't resist peeling them off and sticking them onto things.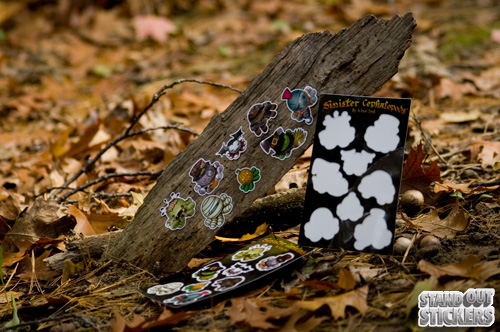 Happy Halloween everyone!
Last Modified: October 28th, 2011