You probably know that our custom stickers are printed on durable, weather-resistant vinyl material… To be precise our vinyl sticker material is 3mil thick before we add the protective laminate over your custom sticker artwork.
After printing, our stickers are finished with your choice of glossy, matte, or glitter finish. This protective laminate film adds another 3mil of high-quality thickness… making our stickers clock in at a total 6mil thick!

When all is said and done you're left with a thick vinyl sticker that stands up to whatever you throw at it. Indoors or outdoors, our thick vinyl stickers are more durable and good looking than the competition. And you can bet that our pricing always Stands Out!
Why does it matter how thick a sticker is? Well, to us, thick vinyl stickers mean quality. These are stickers that won't rip or tear. They scream "high quality" from a mile away and they'll make you look good. Plus they're easier to handle. They won't crease or bend in your hand like a thinner inferior sticker might. In short, thicker vinyl stickers are better vinyl stickers.

Above you can see how our thick vinyl stickers feature a gray backing adhesive. This lightly colored adhesive helps to block light, making your stickers appear more vivid when installed on windows and transparent surfaces! The printable face of our sticker material is a bright white to help your full color graphics pop! We then finish them off with a 3mil thick finish in your choice of glossy, matte, or glitter for ultimate weatherproof protection.

Good Year is known for their durable rubber tires. Also they make shoes! These stickers for Good Year Footwear support the brand's heritage by being made of long lasting thick vinyl.
We've even ordered from the competition and side by side our stickers are made of thicker vinyl and printed with higher quality resolution and color saturation.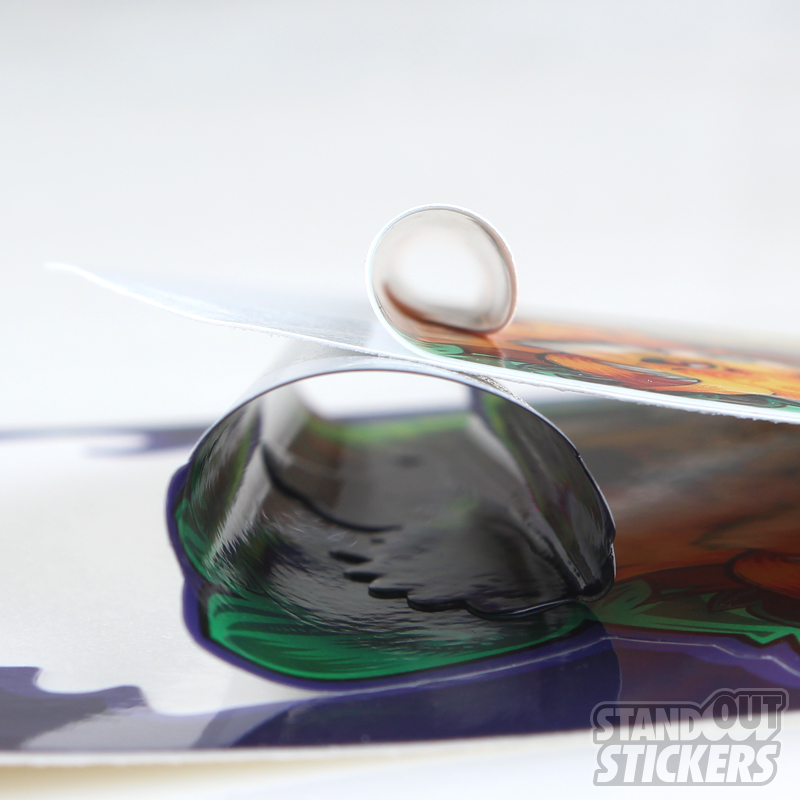 Just look at the shadows inside the roll on the edges of the sticker on the bottom. This sticker is for sure thicc and ready to look good indoors or outdoors, anywhere you want to stick it!
Last Modified: April 20th, 2022