Welcome to the StandOut Stickers Blog (Page 2 of 6)! Here you can find news about our high quality kiss cut stickers, die cut stickers, coupons for cheap stickers and other posts about our custom vinyl stickers. But it's not all sticker talk! We also feature content and sales on custom magnets, custom floor decals and cut vinyl decals.
We had a pleasant surprise waiting for us in our mailbox the other day from our friends over at Kill Hubris. They sent us a very nice, handwritten thank you card/testimonial as well as a few goodies.
They make awesome t-shirts and offer other cool merchandise, like stickers :). If you have a moment, check out their website by clicking here.
Here are some photos of what they sent us!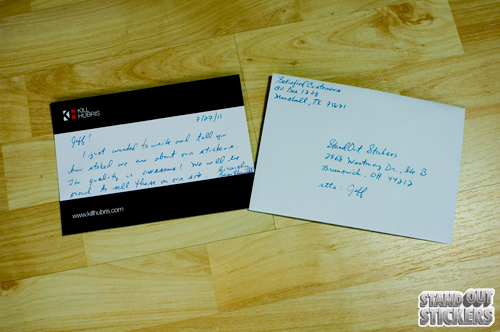 How awesome – a handwritten card!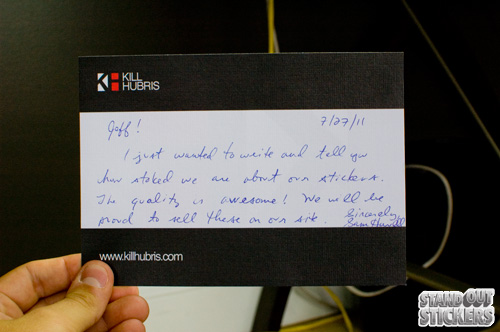 The card reads: "Jeff! I just wanted to write and tell you how stoked we are about our stickers. The quality is awesome! We will be proud to sell these on our site."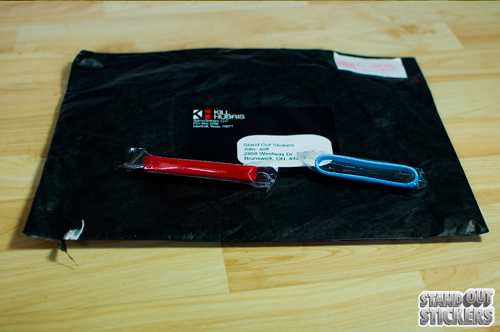 Goodies! They sent us their sweet wristbands!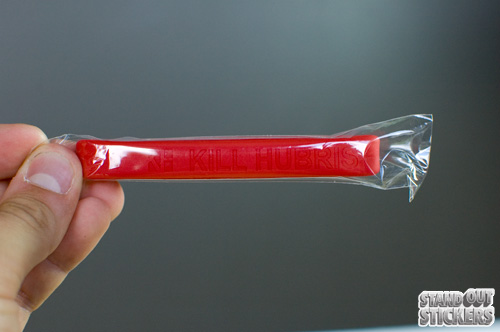 A close up shot of their wristbands in their packaging.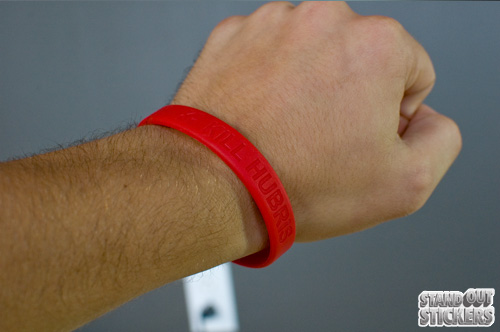 Another shot – this time wearing a Kill Hubris wristband!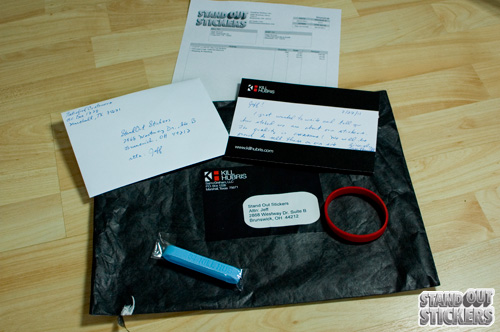 Another shot with everything they sent over to us.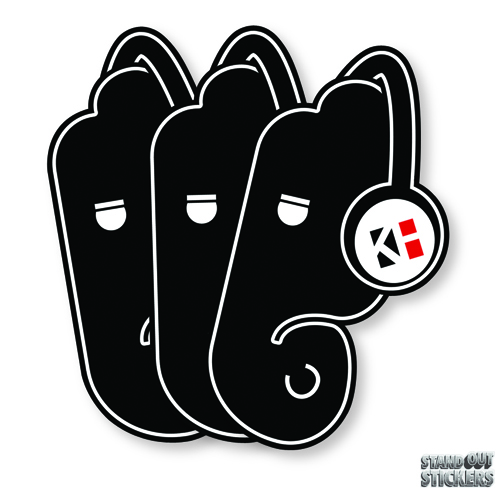 A digital proof of the stickers they ordered from us. You can purchase these awesome stickers by visiting their website – www.killhubris.com.
Last Modified: August 4th, 2011
It's finally time for Featured Friday! This week, we selected an order of sticker sheets from our friends over at 8 Bit Zombie (8BZ). 8BZ is a clothing company that produces some of the raddest, throwback shirts and apparel we have seen in a long time. If you're an old school gamer, you're bound to love their clothing. If you have a minute, be sure to check them out by clicking here.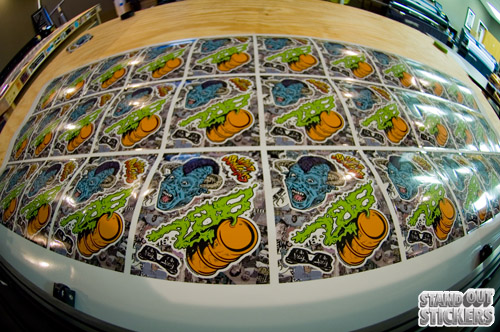 8 Bit Zombie's stickers rolling on our digital die cutter.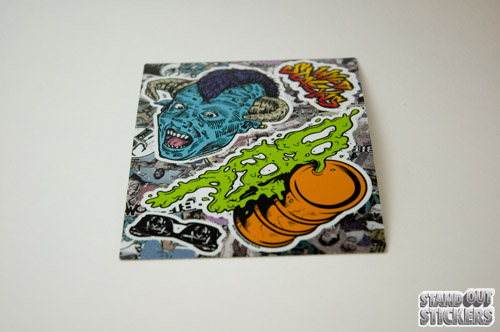 A close-up shot of their custom sticker sheet.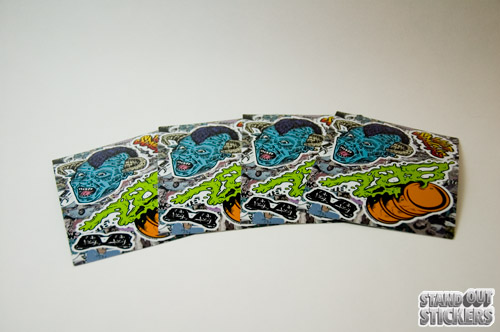 Multiple 8 Bit Zombie sticker sheets all fanned out.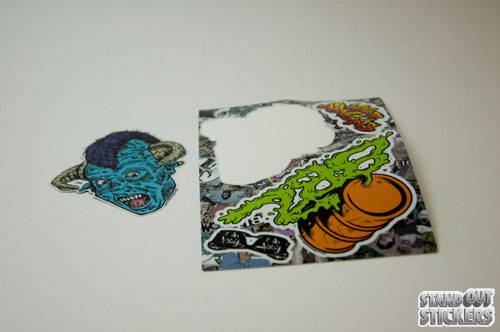 A nice shot with one of their kiss cut stickers removed from the sticker sheet. Their sticker sheets have 4 custom kiss cut stickers on them.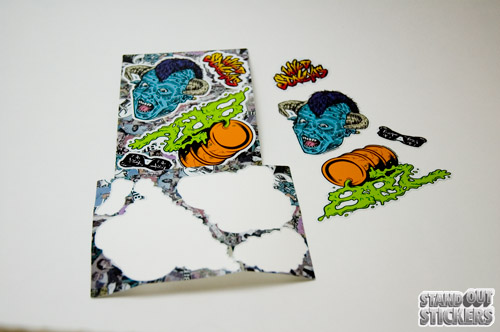 Another shot, but this time with all of their stickers removed from a sheet.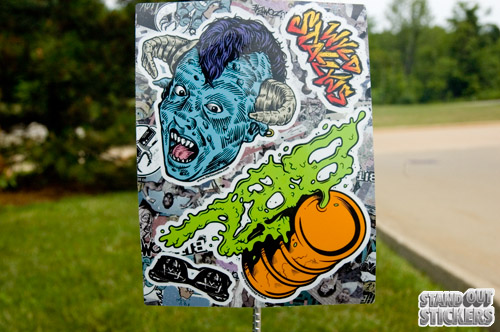 We couldn't resist going outside and snapping a quick photo of these awesome sticker sheets. Check out the detail!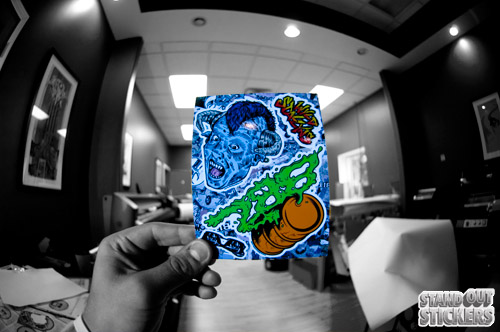 We decided to have a little bit of fun with this photo. Black and white with some color. Awesome!
Last Modified: August 1st, 2011
With it being Friday, we decided to mix things up a bit today. Instead of showing the typical "currently on the printer" or "currently die cutting" post, we opted to show everyone how we prepare everything for shipping. This includes counting out the stickers, shrink wrapping them and boxing them up for shipping. For our example today, we decided to use an order of custom 4×6 rectangle, kiss cut stickers ordered by Neon Afro Hamster.

Stickers all counted out – patiently waiting to enter our shrink wrapper.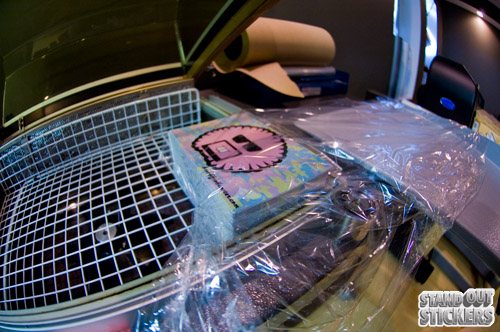 Neon Afro Hamster's custom stickers awaiting their imminent doom – being tightly wrapped in plastic!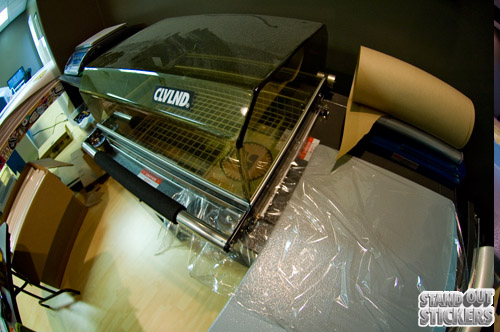 Now that the lid has been closed, the shrink wrapping process has begun.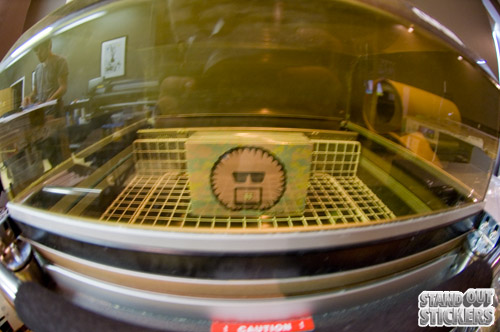 Once the stickers were done shrink wrapping in the bottom right corner, we move them into the middle of our shrink wrapper in order to ensure a tight seal so that your stickers remain safe during shipping.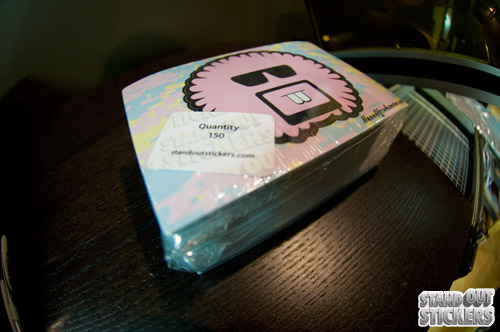 Now that they are shrink wrapped, a quantity sticker is put onto each stack of stickers.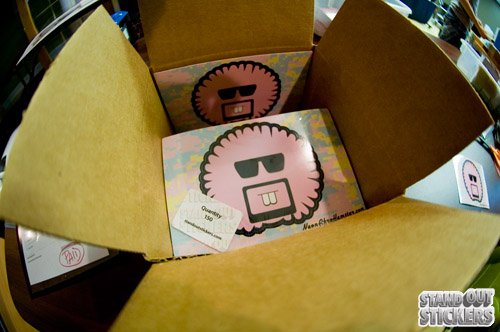 Once that is complete, it's finally time to box them up and prepare them for their journey.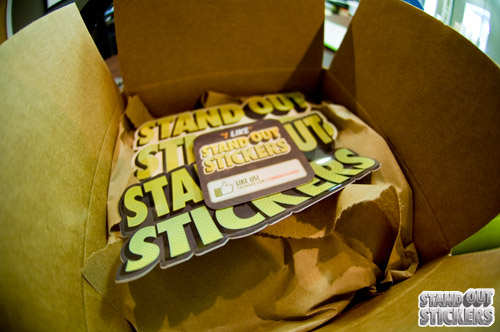 Every package shipped from StandOut Stickers is securely packaged with packaging paper to ensure your stickers make it to their destination unharmed. We also throw a few goodies in there as well :).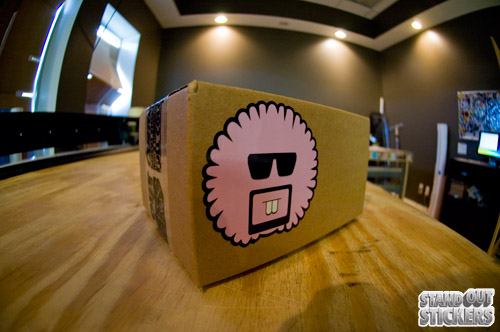 All boxed up and ready to go! This particular package is headed for Denmark!
Last Modified: July 29th, 2011
We are currently printing an order of custom die cut stickers for The Boojum Institute for Experimental Education. They are a non-profit, charitable organization that is dedicated to helping young people, as well as adults, learn more about nature, the environment and themselves. The Boojum Institute has provided life-changing experiences to more than 70,000 people since they started in 1975. To learn more about the Boojum Institute, you can visit their website by clicking here.
Check out their custom stickers below!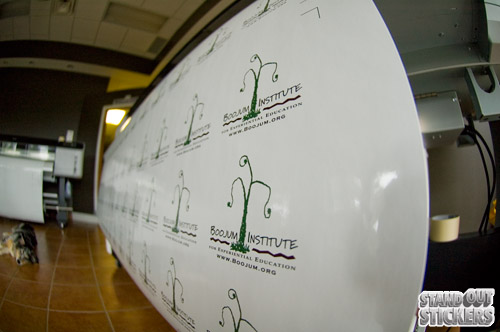 Boojum Institute's custom stickers rolling on our high quality printer.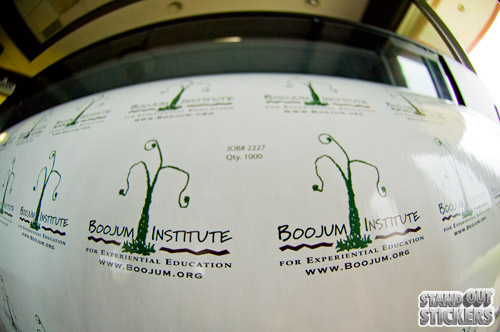 A nice close up shot of their custom stickers on the printer.

A nice wide angle shot of their entire order being printed.
Last Modified: July 28th, 2011
We are just finishing up die cutting an order of custom stickers for ilovethehype – iLTHY. They sell hats, tees, artwork and other accessories. If you enjoy their stickers, you're bound to like the rest of their products. Check them out if you have a moment – iLTHY.com.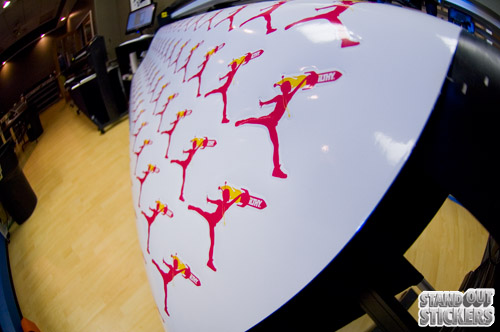 iLTHY's custom stickers rolling on our digital die cutter.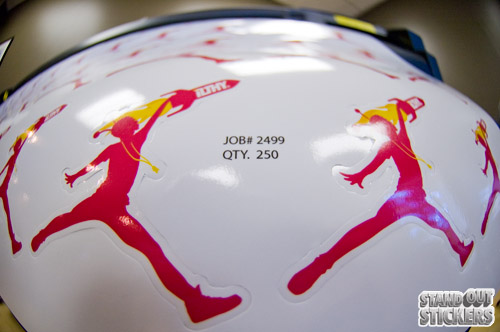 Another shot of iLTHY's custom stickers.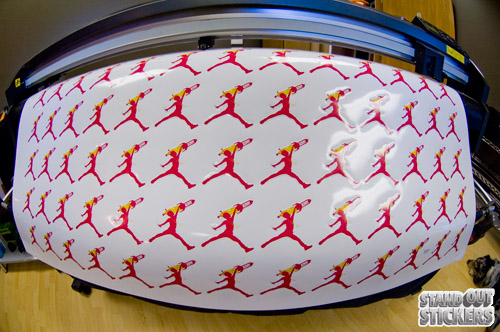 Almost done die cutting!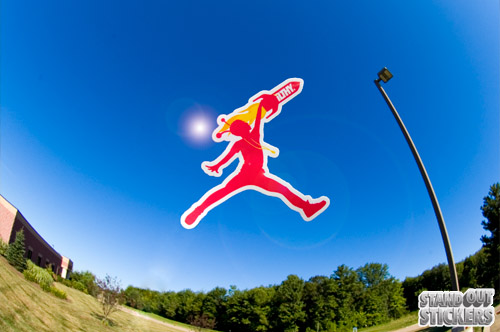 Now that they're cut out, they're ready for take off!
Last Modified: July 27th, 2011