Sales
Welcome to our Sales category! Below you will find articles, posts, coupons or samples featuring Sales. To see our latest content, visit Home.
Flash Sale! 20% OFF Custom Sticker Reorders!
If your inventory is running low and it's time to reorder custom stickers, good! We just launched a reorder sale where you can take 20% OFF any previously ordered custom sticker designs that are in your order history.
Reordering is easy, simply visit Order History and choose any of the custom sticker designs that you need more of. You can edit the quantity once they're in your cart.
This offer is valid on any previously ordered custom stickers only.
It's our way of saying "thanks for being an awesome StandOut Stickers customer!"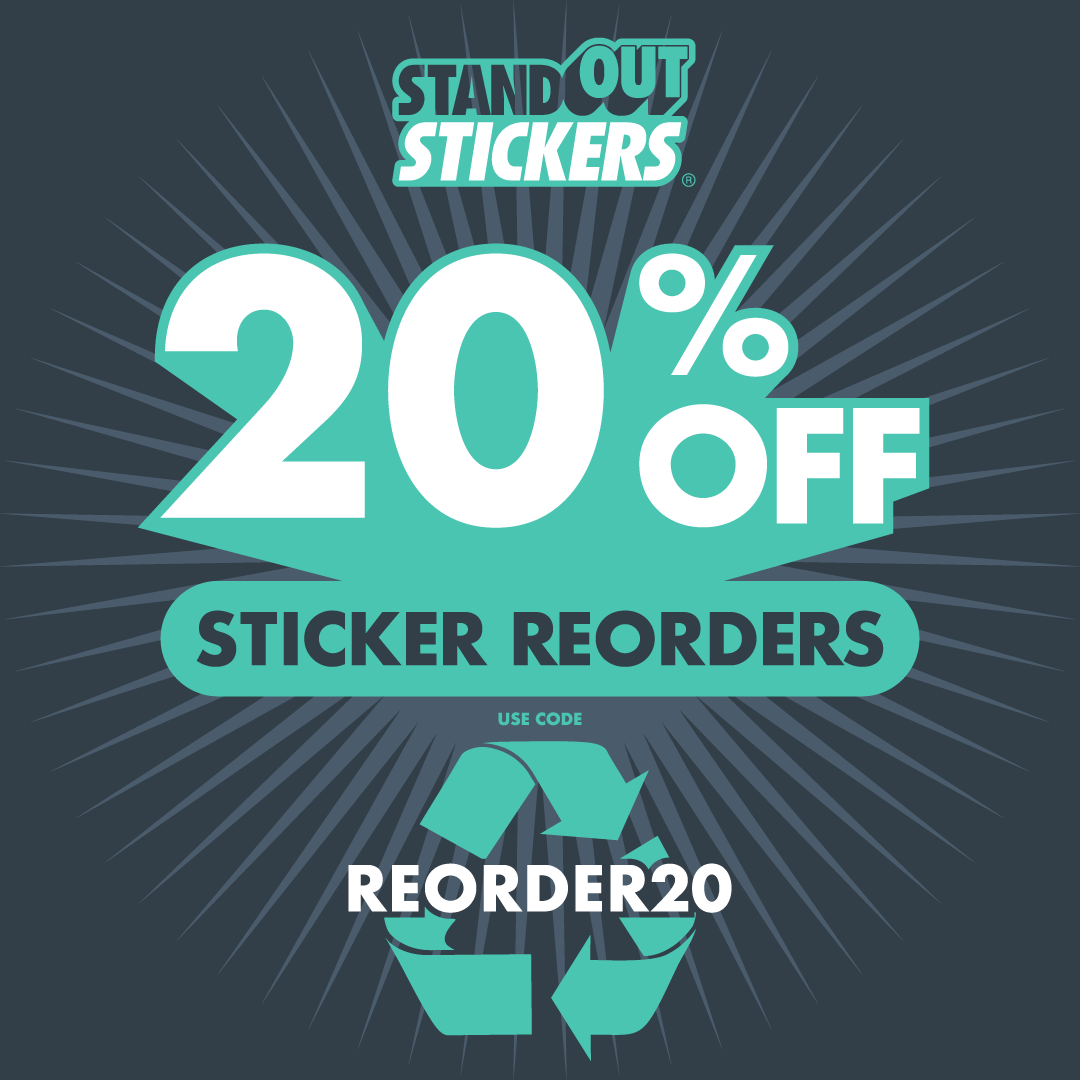 Oval Stickers Are Trending! 20% OFF
Our Oval Stickers are 20% OFF this week only!
You can easily design your own online in our customizer tool. Just drop in your favorite artwork or logo and approve you instant digital proof.
You might have noticed that Oval Car Stickers are a trend in the realm of bumper stickers. This shape is trending and for a good reason! It's eye catching and durable.
All of our oval stickers are printed on durable vinyl and coated with a weatherproof finish of your choice! Choose glossy for the classic shine, or go with our satin matte finish for a touch of class. We also offer a glitter sticker finish that is out of this world!
Take a look at some of our oval sticker samples to get an idea for your own oval stickers, or dive right in and order now!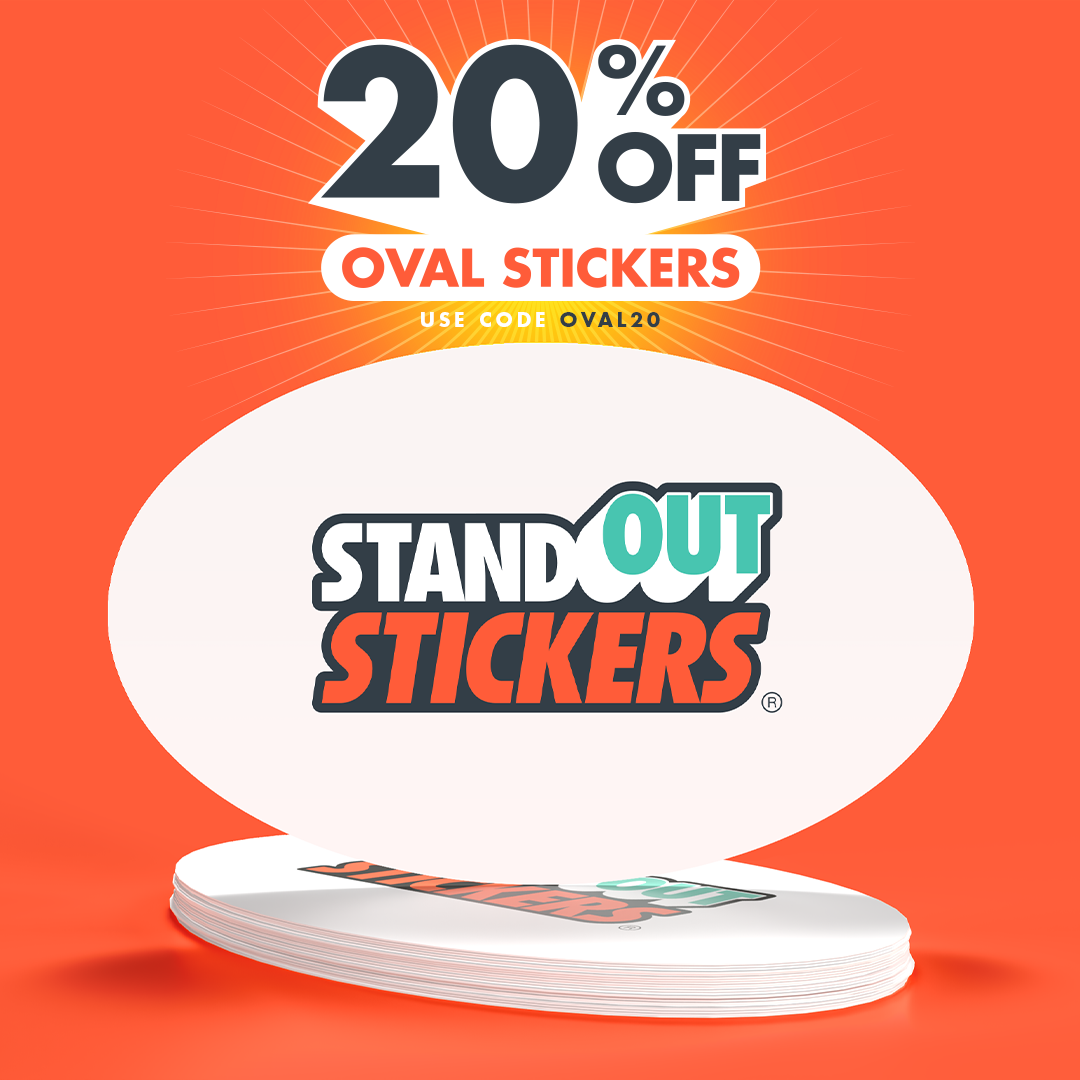 Custom Sticker Sheets are 20% OFF this week!
Our custom sticker sheets can be configured in any size with any number of kiss cut sticker shapes that peel out with ease!

This week, take 20% OFF custom sticker sheets with code SHEETS20
Sticker sheets can be ordered with any of our sticker finishes: Choose from Glossy, Matte or Glitter sticker sheets! All of our custom sticker finishes help protect from fading and scratches in any environment!
Our team is waiting to help set up your sticker sheet and send you a digital proof to ensure that your custom sticker sheets print perfectly every time!
Order Custom Sticker Sheets
Cut 20% OFF the Price of Die Cut Stickers
This week we are excited to announce that our popular die cut stickers are 20% off with code DIECUT20

Our Custom Die Cut Stickers can be printed at any size or shape, and we make it easy with free digital proofs. Our team of experts will take your artwork and prepare a beautiful contoured path to make sure that your die cut stickers turn out perfect every time.
A sale on die cut stickers only comes around every now and then, so make sure to take advantage of this offer while you still can!
Order Die Cut Stickers
Rectangle Stickers 20% OFF!
Our lovely Rectangle Stickers are 20% OFF this week with code RECT20
Use them as custom bumper stickers or custom sticker sheets when you add kiss cuts to any size or shape of rectangle sticker!

Our rectangle stickers can be designed at any size all online, right in your browser! When you do, you'll get an instant digital proof!
Or, if you're more of a creative professional, use our sticker templates to create CMYK artwork and our expert team will email you a free digital proof before printing your stickers to ensure perfect results.
Our rectangle stickers come in three unique finishes. Our original Glossy stickers are bold and attractive. Our satin Matte sticker finish has a bit of a sophisticated look. Our latest sticker finish offering, Glitter adds a sparkling finish that really stands out!
Whatever you choose, take 20% OFF any rectangular stickers this week with code RECT20
Order Rectangle Stickers
Call 800-710-2030