Laptop stickers are an emerging trend! You might even call them a sticker subculture. In the computer programming community laptop stickers are used to advertise technologies, interests and even hackathon participation. But for the rest of the world laptop stickers are a great way to express yourself.
Our high quality vinyl stickers are perfect for decorating your laptop. The durable stickers even add some protection from scratches to the shell of your laptop screen.
Many emerging tech companies choose to print laptop stickers to promote their brand. Laptop stickers make for desirable and affordable swag for events like conventions and trade shows.
Our custom laptop stickers can be printed at any size or shape, however most laptop stickers are smaller in size (3 inches or less), which is great, because that makes them more affordable!
You can design laptop stickers in any of our standard shapes right in your browser. Our free customizer tool lets you create sticker designs and approve an instant digital proof before checking out. Nobody makes creating custom stickers for laptops easier than StandOutStickers.com

One of our long time customers is the website Buzzfeed! They use laptop stickers to generate "buzz" for their brand at a wide variety of in person-events.

These die cut vinyl stickers for a vinyl record subscription service VNYL are cut with precision to really stand out!
Some of the biggest names in tech trust StandOut Stickers to print custom logo stickers for laptops, like this one for Twitter. This Twitter logo was printed as an "easy peel" laptop sticker, which not only makes applying the sticker easier, but it also protects the fragile points of the laptop stickers from bending in storage.

Design company Teague trusted StandOut Stickers to produce laptop stickers that stand out! These beautifully designed stickers are from a series of designs about air travel services.

The Yetee makes fun and collectable limited edition t-shirts. This Yetee sticker sheet is an excellent example of how to print a collection of themed laptop stickers on one sheet!

Buzzfeed NEWS back at it with this USA political styled laptop sticker.

This Playstation logo makes an excellent laptop sticker. When we're not on our laptops, we're playing our PS5 and we're psyched that Sony chose us to print these high quality laptop stickers.

This Oculus VR sticker is designed in the style of oval car stickers that are so common these days. Makes an excellent laptop sticker to promote the virtual reality headset company owned by Meta (facebook).

Finally, Open Sesame is a software company that creates OSHA training services. These amusing laptop stickers feature humorous pictorials of how to be unsafe. A wide variety of designs were printed so there's really something to amuse everyone!
Get creative with your laptop sticker designs and trust StandOut Stickers to print the highest quality vinyl stickers you'll find, at prices you won't believe!
Last Modified: April 19th, 2022
For years, Major League Hacking (MLH) has turned to StandOut Stickers to print die cut laptop stickers to reward Hackathon participants. We're proud to announce that we're now the preferred sticker vendor for all MLH Hackathon events.
Major League Hacking is a non-profit organization that is dedicated to running student "Hackathon" events on a global scale.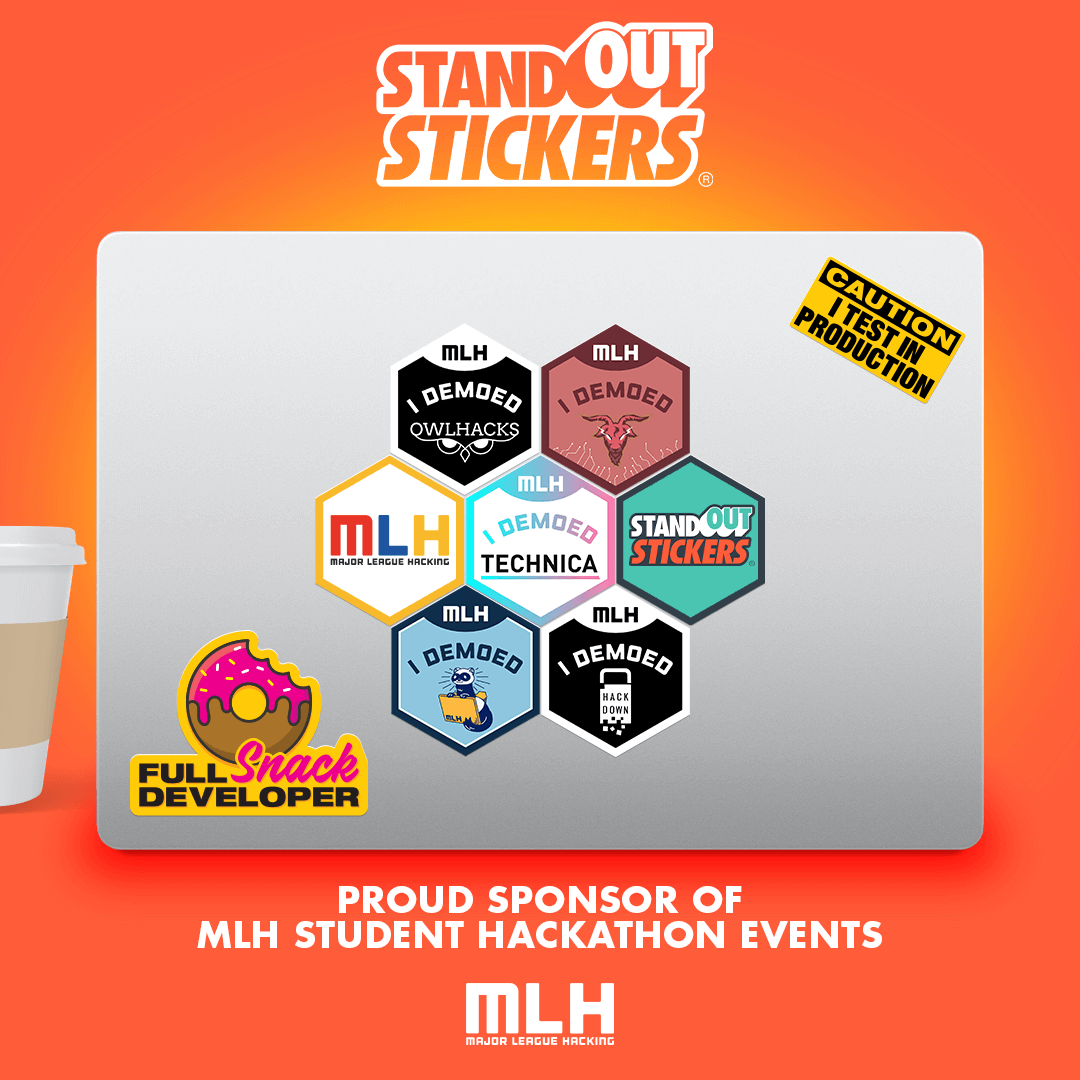 What is a Hackathon?
MLH Hackathons are weekend-long competitive events where college-age computer science students team up and work on an idea, or small project, from start to presentation. Events can be in-person or virtual, but they all help to push students to the limits of their technical knowledge, organization, delegation and teamwork skills.
At the end of the event, teams have the opportunity to demo their work for the audience. The best projects are awarded for a variety of categories. And at MLH Hackathons, all participants receive durable vinyl laptop stickers printed exclusively by StandOut Stickers.
If you've participated in a Hackathon event, you might even have a StandOut Sticker on your laptop right now! If you're a computer science major, please consider joining an event and pushing yourself while meeting new people with similar interests!
Visit mlh.io to learn more and get involved!
We understand that the students who participate in these MLH events will go on to create some of the most fascinating future technologies and services. StandOut Stickers is excited to help support this cause in the best way we can – printing custom laptop stickers!
Last Modified: March 29th, 2022