We are pleased to announce our second new product line this year! Custom Floor Decals are now available to order online. Your floors have a LOT of potential for advertising to or informing your visitors, so why aren't you putting them to work?
If you're familiar with our website and ordering process, we offer the same shape options when ordering floor decals:
Die Cut Floor Decals
Circle Floor Decals
Square Floor Decals
Oval Floor Decals
Rectangle Floor Decals
Simply choose the floor decal shape you desire and enter a size and quantity. Our standard shaped floor decals have a minimum of 75 floor decals (circle floor decals, square floor decals, oval floor decals, rectangle floor decals) and our die cut floor decals have a minimum of 125 decals.
If you're interested in ordering large floor decals, our minimum quantity lowers based on surface area per decal. 100 sq inches per decal (10″x10″) has a minimum order of 10 floor decals. 144 sq inches per decal (12″x12″) has a minimum of 5 floor decals. Floor decals with a surface area of 400 square inches or more have a minimum order of just one floor decal. Please contact us to place a low minimum quantity order of large floor decals.
For floor decals under 144sq inches (12″x12″), you can design them in your browser in our free customizer tool and get an instant digital proof to approve before you checkout.
Our custom floor decals are made of a heavy duty, thick pvc vinyl material with a textured slip-resistant surface. Floor decals are reinforced with a fabric material and strong adhesive on the back.
Floor decals are meant as temporary floor signs and can be removed easily with little to no residue left behind.
Take a look at our Custom Floor Decal Samples below to see the incredible textured anti-slip surface of our full color floor decals.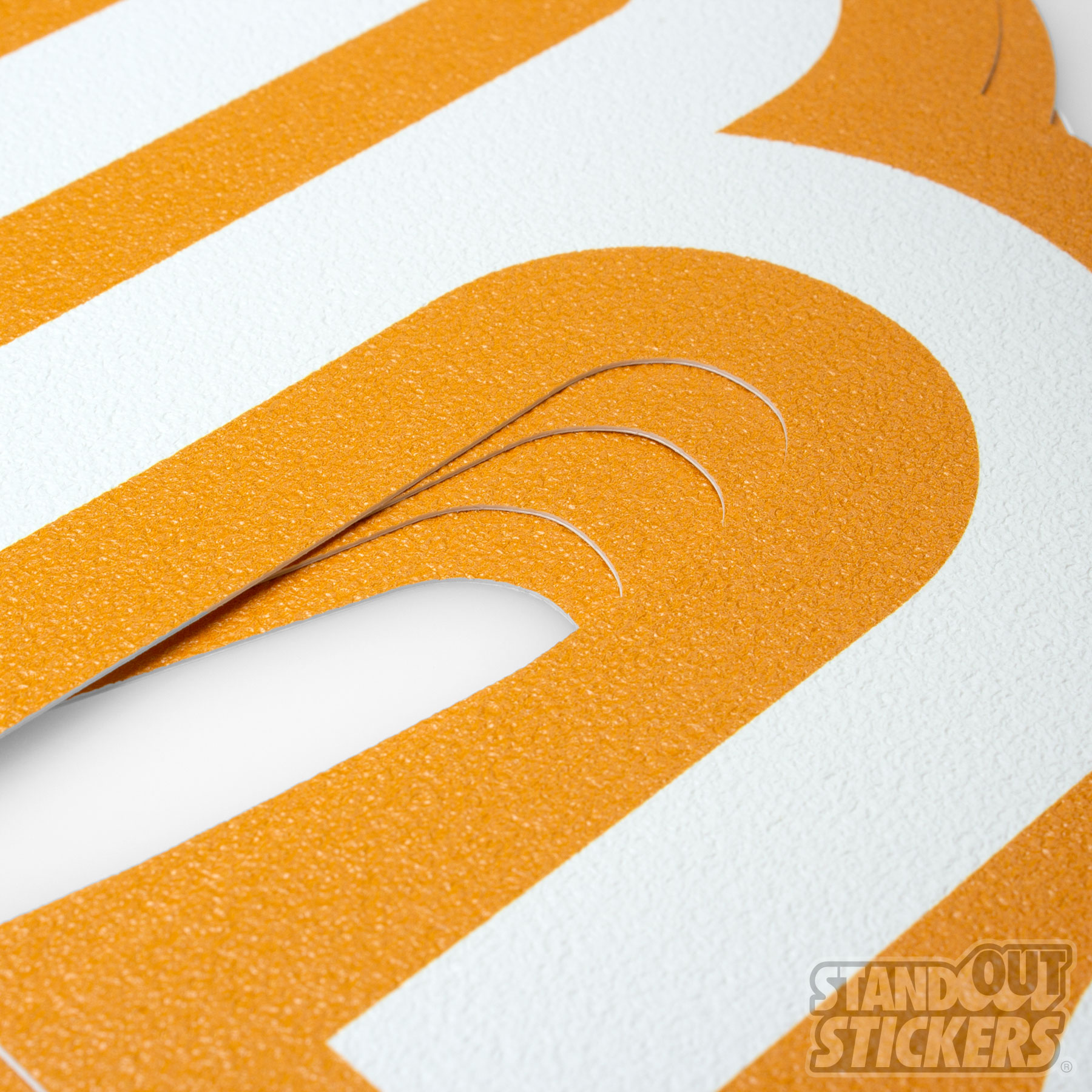 Our floor decals have a textured anti-slip surface seen above. We print our full color floor graphics with resilient eco-solvent inks for brilliant color reproduction.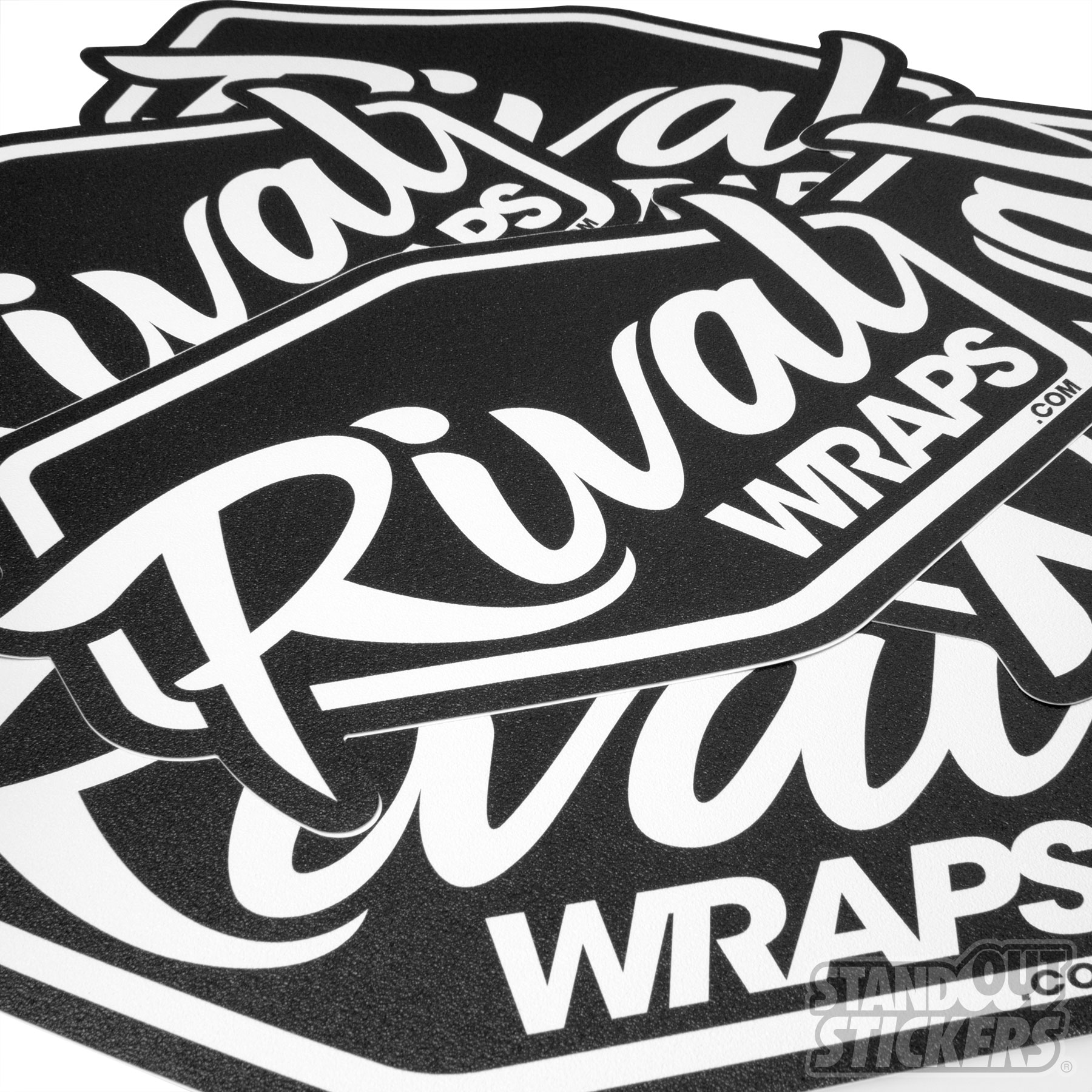 We print full color floor decals but the black and white floor decals for Rival Wraps pictured above are stunning. Consider a bold floor graphic design for floor decals that will get noticed!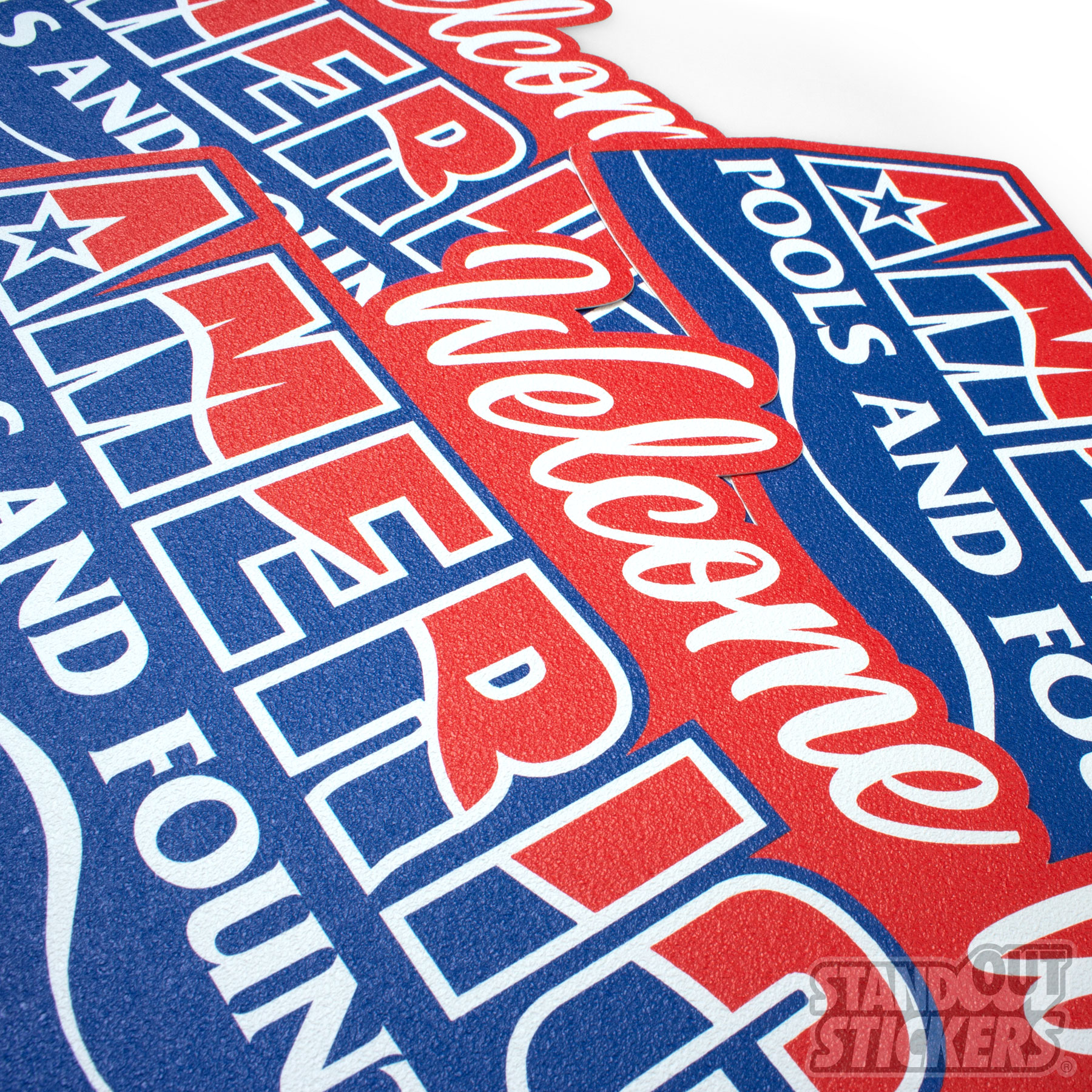 Use our custom floor decals to welcome visitors to your business. The die cut floor decal above welcomes visitors to American Pools and Fountains.
Whether you call them floor decals, floor signs or floor graphics, our newest product will help you grab attention. This versatile product can help direct foot traffic, encourage social distancing, advertise, or welcome visitors. Order custom floor decals today and put your floors to work for you!
Last Modified: July 22nd, 2020