One of our favorite customers is the famous Strand Bookstore in New York, NY. Strand is a gigantic bookstore offering a very valuable service and something that is becoming more and more rare: A place where you can go find actual books in person and get curated suggestions and help from real book-loving people.
Strand Bookstore claims "18 miles of books" and The New York Times called Strand "the undisputed king of the city's independent bookstores". Strand sells a wide variety of creative custom merch including many of our high quality custom stickers.
We recently found many of our custom stickers for Strand in the Stationery section of their webstore, and you can order from anywhere! Take a look at the unique sticker designs and see if any appeal to you! Many of the sticker designs feature New York landmarks but also cute, funny, or crass phrases.
Most of our custom stickers printed for Strand Bookstore are printed as sticker hang tags, making it easy for them to resell the stickers in a retail environment.
Here are a few of the excellent stickers Strand sells, printed by StandOut Stickers!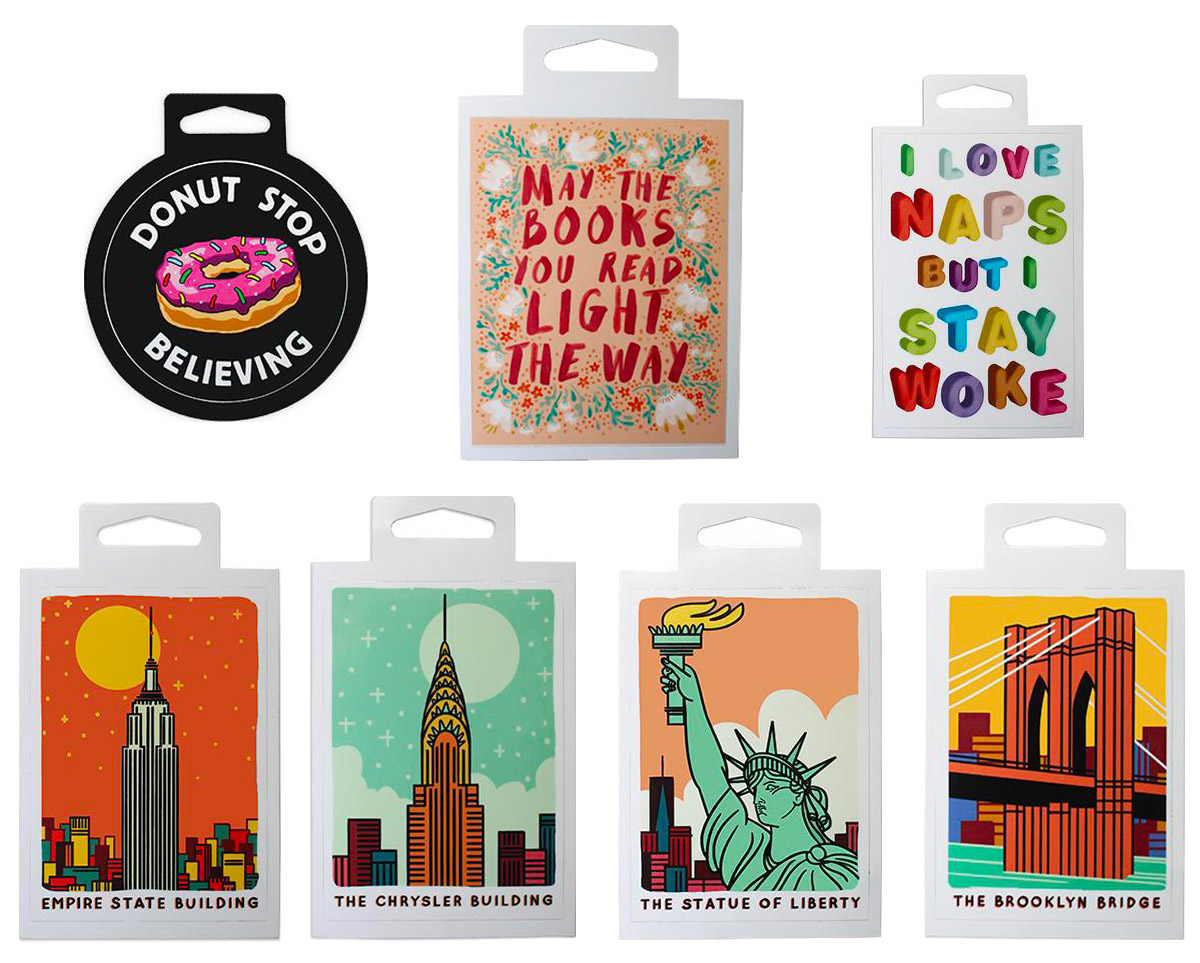 From left to right, top then bottom we have a fun circle sticker hang tag with a Donut Stop Believing Sticker design. The rest of the stickers are nice rectangle stickers with a hang tag feature. May The Books You Read Light The Way features a hand painted look. I Love Naps But I Stay Woke features a fun twist on a popular phrase.
The bottom row are nice clean vector illustrations of New York monuments:
1) Empire State Building Sticker
2) The Chrysler Building Sticker
3) The Statue of Liberty Sticker
4) The Brooklyn Bridge Sticker
All of these New York monument Strand Bookstore stickers are designed in the same way, so collecting them all would make for a nice collection!
Strand Bookstore have several other sticker designs available on their website, so please visit them and order something to support one of the greatest bookstores in the country, and a great StandOut Stickers customer!
Last Modified: April 22nd, 2021
This seems to be a popular item lately! With the requests rushing in we've decided to start promoting the Custom Sticker Hang Tags! Below we did a custom job for PLAANT (People Looking At A Newer Today)
Project Details: Custom Die Cut Sticker with a Hang Tab that needed to be kiss cut as well as drilled. A pretty custom job!
The results were nothing but great!
Last Modified: May 9th, 2011
Recently, we completed a custom hang tag sticker for a clothing company. The job consisted of a custom kiss cut, custom die cut and a .125″ drill hole. View below to see the details. This project turned out great and was everything the customer was looking for.
Last Modified: September 7th, 2010