Custom Sticker Packs
Welcome to our Custom Sticker Packs category! Below you will find articles, posts, coupons or samples featuring Custom Sticker Packs. To see our latest content, visit Home.
Custom Sticker Packs Pricing
StandOut Stickers is a leader in producing high quality custom sticker packs and we have recently updated and clarified our sticker pack pricing. Our custom sticker packs feature a fully customized folded top card, printed with your unique graphics, and a clear mylar bag holding your custom stickers. Sticker packs are a truly retail-ready sticker packaging solution.
To calculate your custom sticker packaging costs, first you must decide on how many sticker packs you'd like to order. Pricing for the top card & assembly fee is now listed on our website. The cost is between $1.25 and $0.80 per pack based on quantity ordered.
Next, decide how many unique custom sticker designs you will include in each pack. You must order at least a matching quantity or multiples of the quantity of sticker pack top cards so that they evenly sort into the packs.
For instance if you wanted 125 packs, you'd need to order 125 custom stickers for each design you include in your pack. If you want multiples of the same custom sticker design, you'd double or triple the number of packs you're ordering.
To get a few ideas for your own sticker pack design, take a look at what other customers have done in our custom sticker pack sample photos.
Once you've decided what your sticker pack will look like, please contact us with the details and our world-class customer service will make ordering custom sticker packs easy and fun!
Comlax Commonwealth Lacrosse Custom Sticker Packs
These custom sticker packs for Comlax Commonwealth Lacrosse are full of high quality lacrosse stickers! These large packs were recently created for Comlax.com, a provider of lacrosse gear. Each custom sticker pack includes 5 different sticker designs including a kiss cut sticker sheet with 4 circle kiss cuts.
Contact us to order your own custom sticker packs today! Sticker packs increase retail value and make great fundraisers.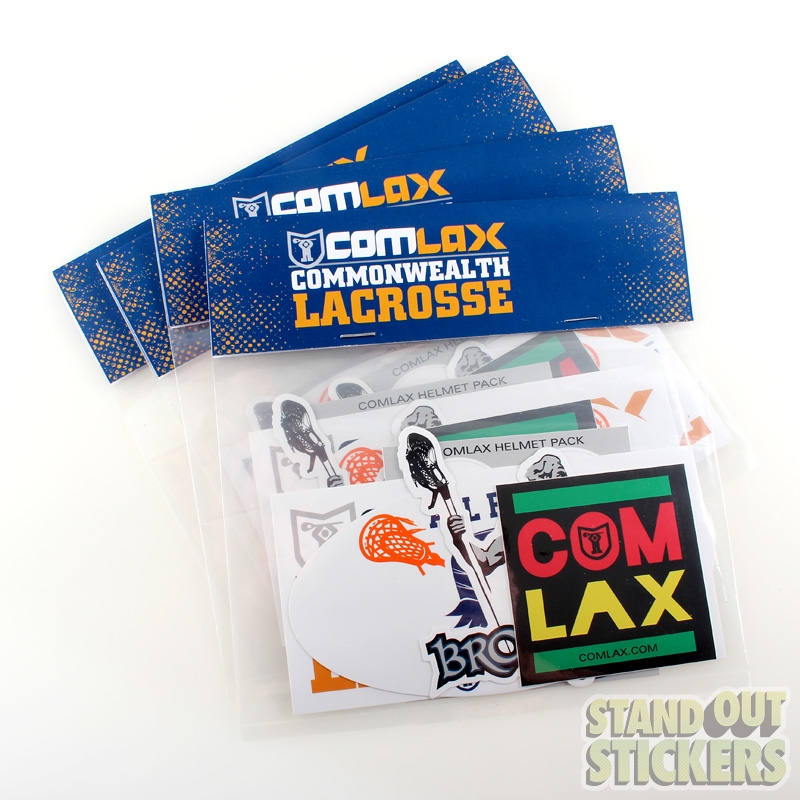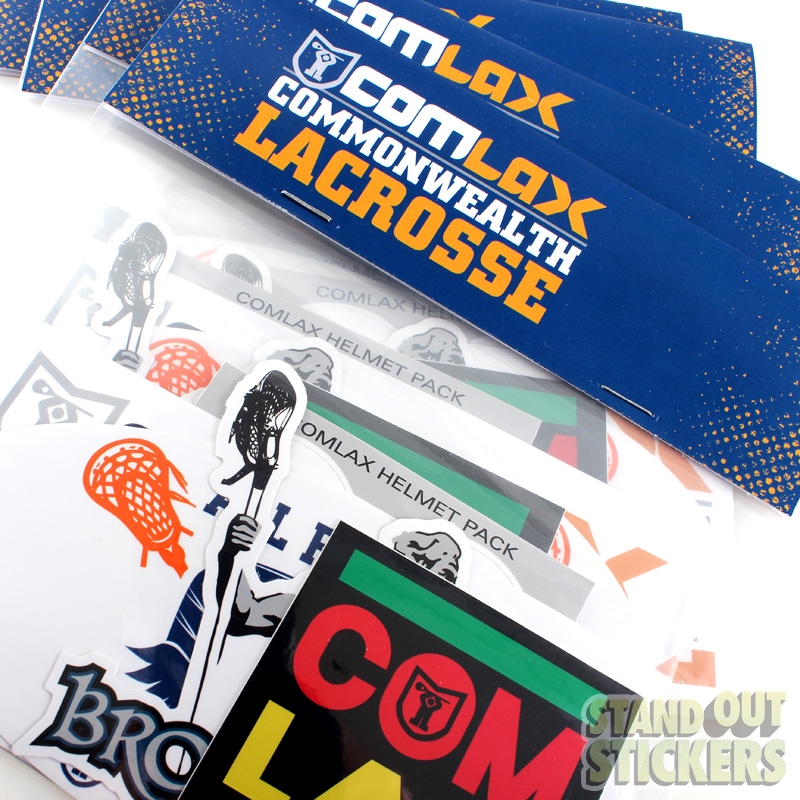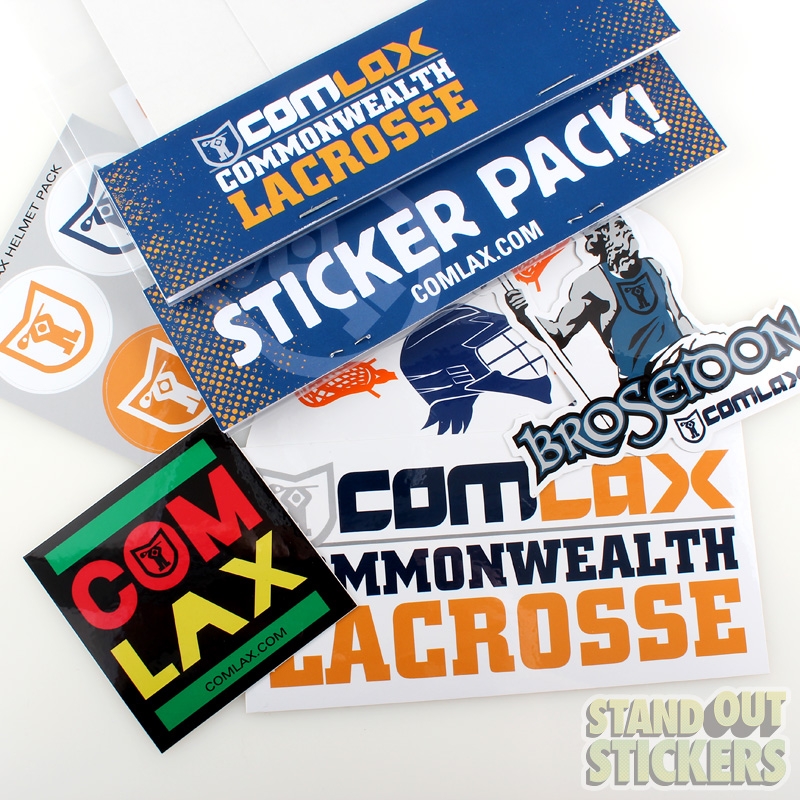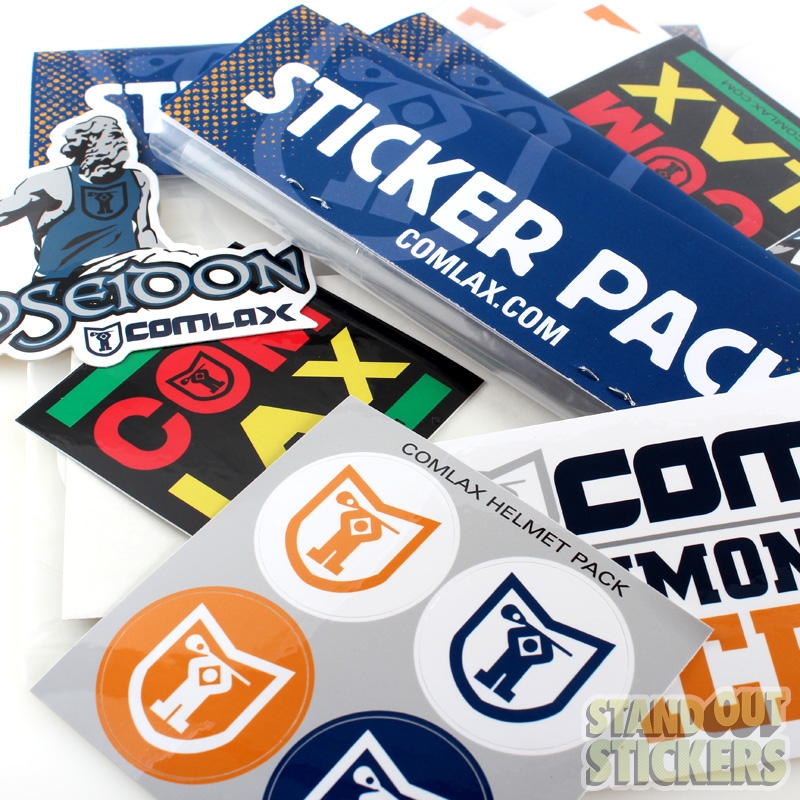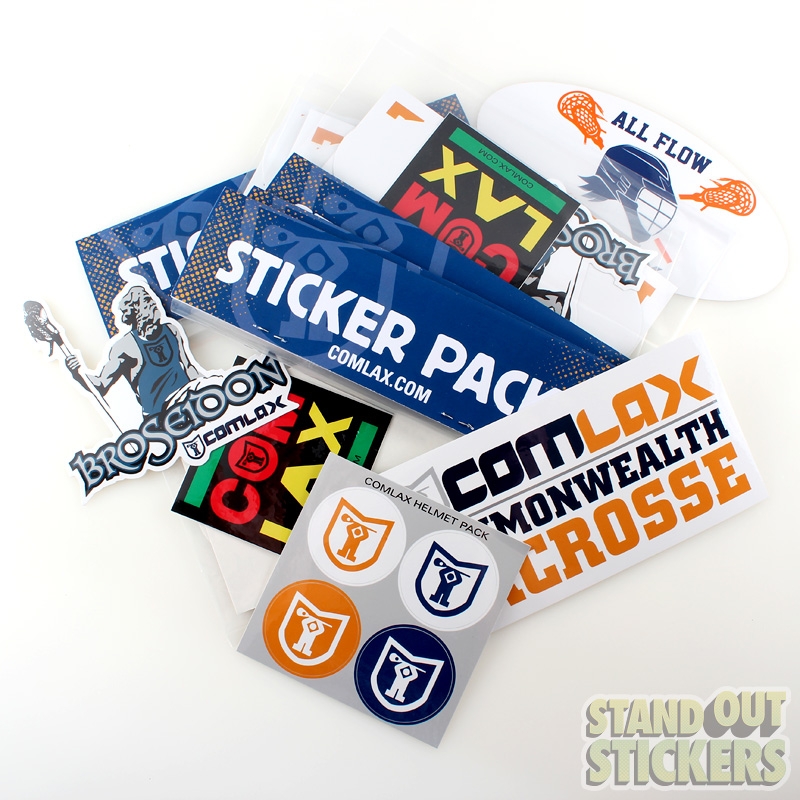 Electric Zombie Custom Sticker Packs! New!
We recently had the pleasure of printing these fantastic stickers for Electric Zombie. The Electric Zombie Barf Bag is a huge custom sticker pack featuring 16 custom die cut stickers with gnarly artwork on each.
This custom sticker pack is a brand new product that we offer at StandOut Stickers. Custom Sticker Packs can contain any number of custom die cut stickers in a clear poly bag with a custom-printed cardstock top card. This is a great way to package multiple-designs into a retail-ready product! Contact us for pricing on your own custom button pack!
Call 800-710-2030