Welcome to our Square Stickers category! This is Page 1 of 1 of Square Stickers related content. Below you will find articles, posts, coupons or samples featuring Square Stickers. To see our latest posts, visit Blog Home.
Did you know that our square stickers can be cut to any size? No foolin'! Also, we can add kiss cuts to your stickers to make square sticker sheets. Or add a hang tag option to your smaller square stickers… the possibilities are endless. Square stickers also come in durable weatherproof coatings like Glossy or Matte to help create the exact sticker look you're going for.
For a limited time you can take 20% OFF our already low square sticker prices with coupon code SQUARE20
Our custom square vinyl stickers are the gold standard for full color printed stickers. Give us a shot and see why we're called "StandOUT Stickers".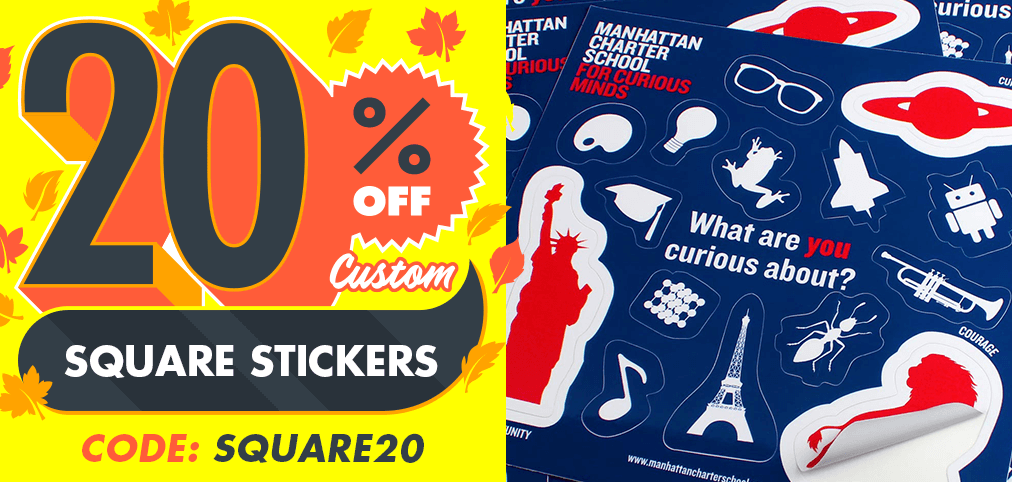 Last Modified: September 19th, 2022
This week it's hip to be square! Take 20% OFF our vinyl square stickers with code SQUARE20. You can customize your sticker design online and get an instant digital proof before checking out.
Our square stickers come in three unique finishes. All sticker finishes provide weather-resistant protection and help keep your square stickers looking great for years to come. Choose our glossy sticker finish for ultimate shine and bold colors. Try our satin matte finish for a more luxurious look, and pick our newest Glitter stickers finish for a sparkle and shine that grabs attention!
Order Square Stickers and use coupon code SQUARE20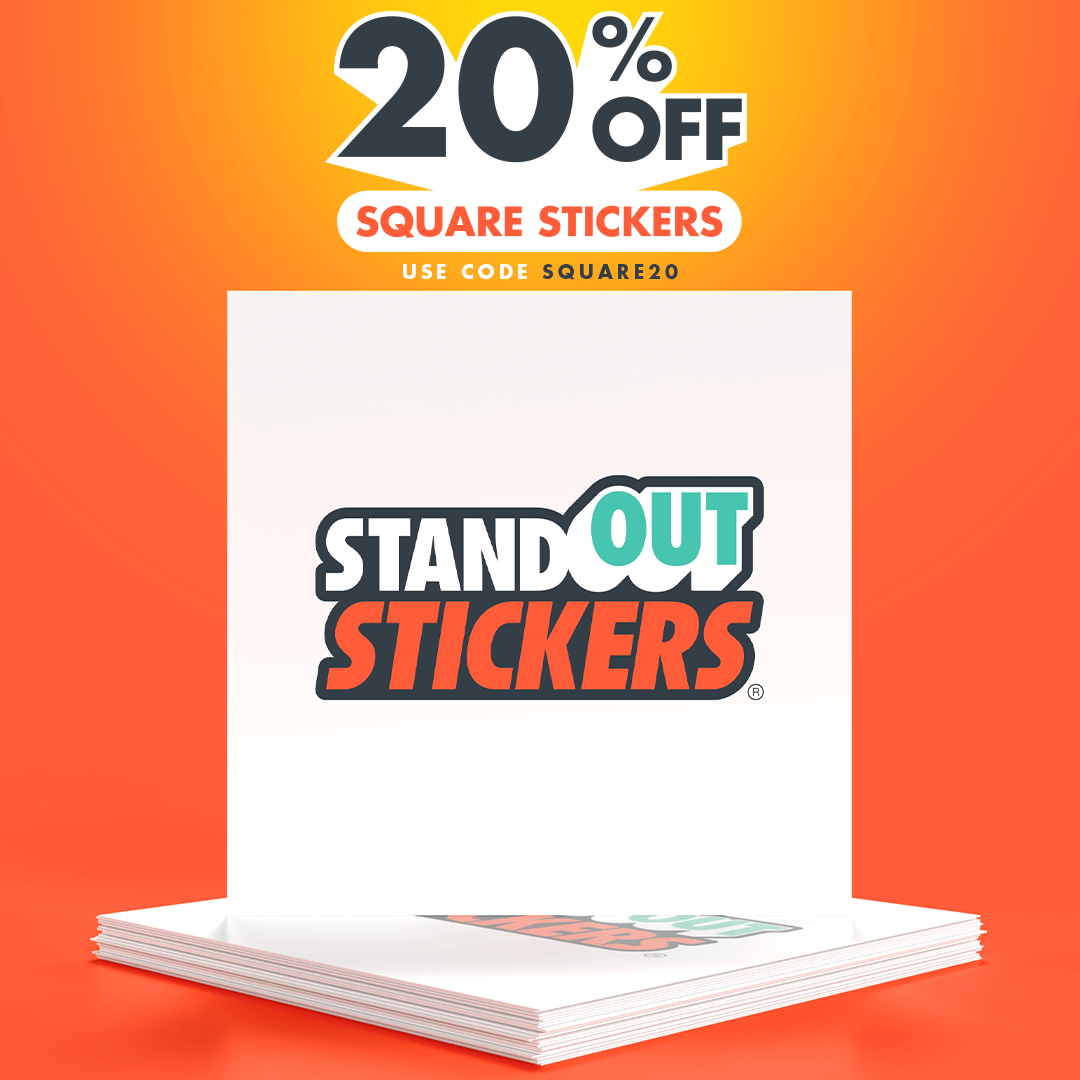 We offer huge discounts on bulk orders, so it pays to stock up. Now with this 20% OFF coupon, you can save even more off our already low custom sticker prices.
Looking for another square way to promote yourself?
Our sister company PureButtons.com has square buttons on sale this week as well! Enjoy a similar customization experience when you use the same art tool to personalize square buttons in five different sizes from 1″ to 3″ wide.
Custom buttons by PureButtons.com feature three finish choices (glossy, soft-touch matte, and metallic acetate finish) and are the gold standard for pin-back buttons. Try them and see why pin-back buttons are an eternally popular promotional product!
Use the same coupon SQUARE20 to take 20% OFF square buttons as well.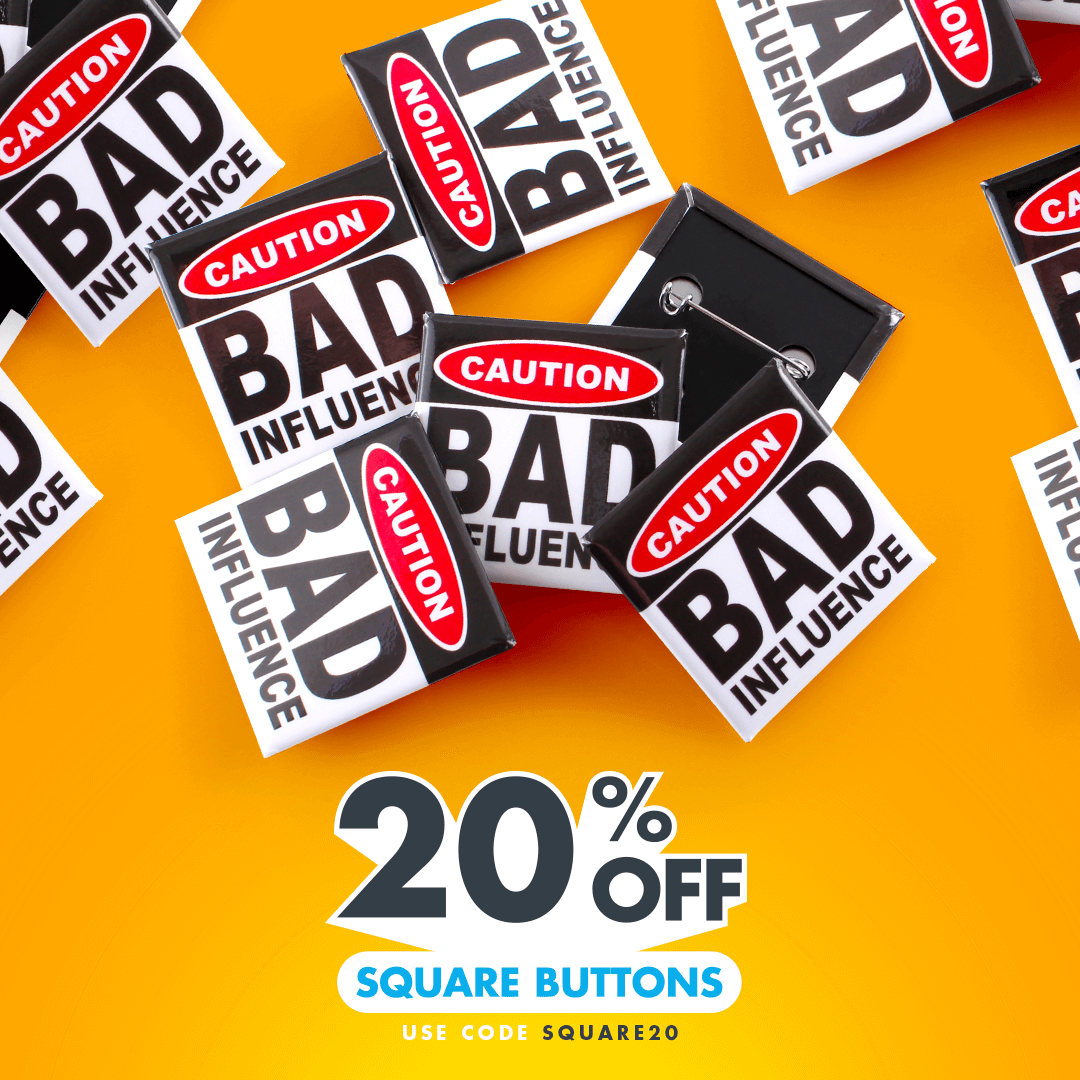 Last Modified: May 2nd, 2022
We're here to cut you a square deal on custom square stickers! For a limited time, take 20% off Square Stickers with code SQUARE20.

Our custom square stickers are printed in full color on high quality vinyl with your choice of three unique sticker finishes!
Choose from glossy, satin matte or glitter finish on your square stickers to make them really stand out!
Design square stickers online and get an instant digital proof.
Our minimum order is just 75 square stickers and you can enjoy huge bulk discounts when you order more!
Order Square Stickers and take 20% off with code SQUARE20
Last Modified: February 7th, 2022